S'il me fallait dresser ne serait-ce qu'un embryon de biographie de cet immense compositeur contemporain qu'est Jad Fair, autant prononcer de suite mon oraison et mettre une croix en guise de signature à ces quelques lignes. L'œuvre est colossale, inébranlable dans les vestiges du temps et d'un rock alternatif n'ayant de cesse de célébrer ses pères fondateurs. La faute à la profusion actuelle de groupes du genre, rendant peu lisible son actualité première, la faute surtout à ce talent dont ne saurait se prévaloir qu'en singeant cette meute à l'éphémère célébrité. 1975, dans un garage d'Austin au Texas, les autodidactes Jad et David Fair donnent corps à leurs impulsions primales et expérimentales et créent Half Japanese, brouillon lo-fi d'un punk bientôt consacré des deux côtés de la Manche. S'en suivent une dizaine d'années émaillées d'autant d'albums, tous plus spontanés que surprenants, tant par les thèmes abordés – les histoires surnaturelles, la science-fiction, les monstres – que par un son bringuebalant, désaccordé. Jad l'avoue sans peine, « la seule corde que je connaisse est celle qui relie la guitare à l'ampli. » Milieu des années quatre-vingt, David quitte le groupe, renâclant aux tournées s'organisant un peu partout sur le globe. Jad s'ouvre lui à tombeau ouvert sur l'immense génération dont il procède. Half Japanese devient alors un groupe, un vrai – avec John Sluggett, Jason Willett, Mick Hobbes et Gilles Rieder – et Jad se met à collaborer à tout va, mettant au service de ses invités sa sémillante et fertile imagination. Proche de Daniel Johnston, Mark Jickling ou Don Fleming, Jad invite au sein d'Half Japanese Moe Tucker, Fred Frith ou John Zorn quand, en solitaire, il va croiser la route de groupes ou artistes tels que God Is My Co-Pilot, Richard Hell, J. Mascis, Jason Willett, R. Stevie Moore, Thurston Moore, The Pastels, Steve Shelley, Teenage Fanclub ou encore Yo La Tengo. Si la liste laisse pantois, que dire de son récent best of paru via Fire Records et Differ-ant et comportant pas moins de cent neuf morceaux ? Encore heureux que le bonhomme consacre désormais le plus clair de son temps à la rédaction de nouvelles et au cutting par le biais duquel il donne corps à ses monstres fantasmés – et exposé à partir du 3 juin à Nice. S'invitant aux deux festivals parisiens et printaniers les plus pointus, le 28 mai à la Villette Sonique (lire) pour une date exceptionnelle avec Thurston Moore et le Glenn Branca Ensemble (que l'on a récemment présenté par ici) et le 4 juin à la Gaîté Lyrique pour Filmer La Musique (lire), l'entrevue à distance avec cette figure tutélaire s'avérait plus qu'évidente. Primordiale même pour un enfant des années quatre-vingt.
Entretien avec Jad Fair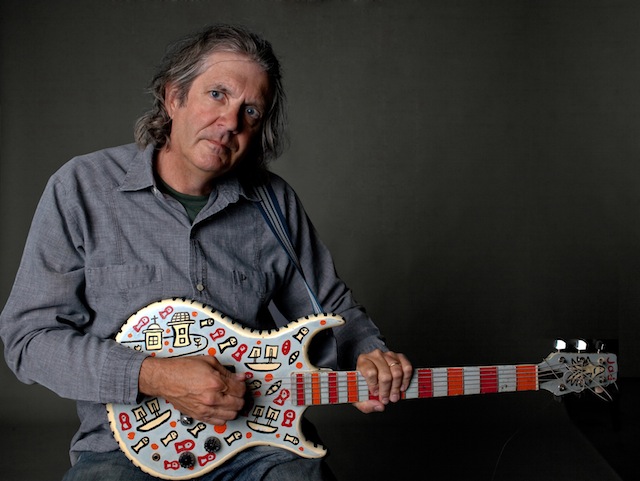 Vous avez collaboré avec une liste ahurissante de musiciens… Half Japanese était une « collaboration » avec David, votre frère, ou était-ce réellement un groupe de rock ?
You have been collaborating with a staggering list of musicians… Do you consider Half Japanese like a collaboration with your brother David or like a real a rock band?
J'ai été très chanceux d'avoir eu l'occasion d'enregistrer avec certains de mes groupes préférés. J'ai récemment enregistré un album à Tokyo avec Tenniscoats. Ils sont super. Cette année, je vais enregistrer avec Brave Combo. Ça va être cool. Ces dix dernières années, je me suis principalement concentré sur mes autres activités artistiques. Je fais plus d'expositions que de concerts, mais je considère Half Japanese comme un véritable groupe. On joue ensemble depuis tellement d'années. John Sluggett est dans le groupe depuis 1988, Gilles, Jason et Mike depuis 1991. Mon frère, David, a arrêté de jouer avec Half Japanese au milieu des années 80. On commençait à tourner pas mal et David n'aime pas voyager, donc il a décidé de quitter le groupe. Depuis cinq ans, David est responsable d'un festival de musique qui s'appelle ShakeMore. La formation initiale du groupe joue d'ailleurs à ce festival chaque année (Mark Jickling, John Dreyfuss, Rick Dreyfuss, John Moremen, mon frère et moi).
I've been so lucky to have had the opportunity to record with some of my favorite bands. I recently recorded an album in Tokyo with Tenniscoats. They're great. Later this year I'll be recording with Brave Combo. That will be fun. For the last ten years my main focus has been on my art. I'm doing more exhibitions now than music shows, but I do think of Half Japanese as being a band. We've played together for so many years. John Sluggett has been in the band since 1988, and Gilles, Jason and Mick since 1991. My brother David stopped playing in Half Japanese in the mid 80s. We started touring a lot and David doesn't like to travel, so he decided to leave the band. For the last five years David has been in charge of a music festival called ShakeMore. The early lineup for the band plays at the festival every year. (Mark Jickling, John Dreyfuss, Rick Dreyfuss, John Moremen, my brother and me).
D'ailleurs, comment définissez-vous, avec le recul des années et plus de trente albums, le son d'Half Japanese ? On parle à propos de vous de punk ou d'anti-folk, mais n'est-ce pas avant tout une musique américaine, texane ?
Besides, how would you define, with years of retrospection and after more than thirty albums, Half Japanese's sound? You are often labelled as a punk or anti-folk band, but isn't your music, before all, an American, Texan music?
Il n'y a pas un seul son Half Japanese. On est capable d'aller dans plein de directions et c'est ce que l'on fait. Je vois bien certains trucs qu'on a fait correspondre à plusieurs catégories… punk, anti-folk, blues et « audio erotica ». J'ai été très influencé par la musique américaine, mais on a aussi des influences européennes. Le batteur d'Half Japanese (Gilles-Vincent Rieder) est suisse et notre guitariste (Mike Hobbs) est britannique. On est capable de jouer beaucoup de styles de musique différents.
There isn't just one Half Japanese sound. We're able to go in many directions, and we do. I can see some of what we've done fitting well in several categories, punk, anti-folk, blues, and audio erotica. American music has had a strong influence on me, but we also have influences from Europe.The drummer for Half Japanese (Gilles- Vincent Rieder) is Swiss and our guitar player (Mick Hobbs) is British. We're able to play many different styles of music.
De quels musiciens vous sentez-vous proche ?
Which musicians do you feel close to?
Je me sens assez proche de R. Stevie Moore. Lui et moi faisions des enregistrements DIY quand c'était encore très rare. Au milieu des années 70, mon frère et moi commencions à sortir des cassettes et des disques. A ce moment-là, j'étais en relation avec la Los Angeles Free Music Society (L.A.F.M.S.), R. Stevie Moore, Destroy All Monsters, Armand Schaubroeck, Jandeck et The Residents. D'autres l'étaient peut-être aussi, mais très peu de musiciens.
Par rapport au style, c'est de Jason Willett que je me sens le plus proche. Il est capable de réaliser bien plus de choses que moi mais son approche musicale est, parmi ceux avec qui j'ai collaboré, celle qui est la plus proche de la mienne. Jason joue de la basse sur cette tournée.
I relate well to R Stevie Moore. He and I were doing DIY recordings back when very few others were. In the mid 70s my brother and I started to release cassettes and records. At that time I was contact with L.A.F.M.S., R Stevie Moore, Destroy All Monsters, Armand Schaubroeck, Jandeck,and The Residents. There may have been others doing it too, but very few musicians were.
Style wise I feel the closest to Jason Willett. He's able to do many things I'm not, but his approach to music is as close to mine as anyone I've worked with. Jason is playing bass on this tour.
Quelle place la science-fiction tient-elle dans vos compositions ? Qu'est-ce qui vous fascine depuis vos débuts dans les 70's dans ce genre cinématographique ?
What is the place of science fiction in your compositions? What do you find so fascinating about this cinematographic style?
Je suis un énorme fan de films de science-fiction et de films de monstres. Beaucoup de mes paroles se rapportent à des films. J'ai fait la bande originale de quelques films de Martha Colburn. Martha a un immense talent. J'espère pouvoir à nouveau travailler avec elle.
I'm a huge fan of science fiction and monster movies. Many of my lyrics relate to movies. I've done sound tracks for some of the films of Martha Colburn. Martha is a major talent. I hope to be able to work with her again.
Qu'est-ce qui vous pousse avec autant de ferveur à composer et jouer votre musique ? Votre rythme est aussi surnaturel que les chemins de votre inspiration !
What motivates you with such passion to compose and to play your music? Your rythm is as supernatural as the paths of your inspiration!
Je considère l'inspiration comme innée. J'en ai toujours eu. Elle a toujours été là. Très rares sont les jours où je ne m'adonne pas à l'art ou à la musique. Ça me vient aussi naturellement que de respirer.
I take inspiration for granted. I've never been without it. It's always there. There are very few days that I don't make art or make music. It comes as natural to me as breathing.
Jeff Feuerzeig a réalisé un documentaire à votre sujet, Half Japanese : The Band That Would Be King. Avez-vous réellement eu l'ambition que suggère le titre du film ou s'agissait-il (encore une fois) de science-fiction ?
Jeff Feuerzeig produced a documentary about you, called Half Japanese : The Band That Would Be King. Have you really had the ambition suggested by the title of the movie or was it once again science-fiction?
On a toujours essayé de faire du mieux qu'on pouvait. Ce n'est pas qu'on avait l'ambition d'être les rois. On a simplement une attitude royale naturelle. Jeff a compris ça et c'est la raison pour laquelle il a fait le film.
We have always tried to do the best we can. It not that we had an ambition to be king. We just naturally have a kingly manner. Jeff recognized that, and that's why he made the film.
La reformation de Half Japanese sur scène sera-t-elle enregistrée et publiée ?
Will Half Japanese's comeback on stage be recorded and released?
On a prévu de filmer quelques concerts. Je ne sais pas si nous sortirons ces enregistrements.
We plan to video tape a few of the shows. I don't know if we will release it.
Half Japanese a-t-il encore un futur ?
Does Half Japanese still have a future?
Tout le monde s'entend très bien dans le groupe. Aujourd'hui, je passe beaucoup plus de temps à faire de l'art que de la musique, mais ce serait génial d'enregistrer avec eux à nouveau.
Everyone in the band gets along well together. I'm spending much more time now on my art than on my music, but it would be great to record with them again.
Lorsque l'on parle de vous, Jad, on n'a de cesse de mesurer votre talent à l'immensité de vos collaborations. Est-ce un moyen d'expression pour vous que d'entremêler vos idées à celles de vos contemporains ?
Talking  about you, Jad, people always rate your talent in terms of your collaborations' immensity. Is entertwining your ideas with your contemporaries a mean of expression?
J'aime les collaborations. Pas seulement dans la musique. C'est aussi un élément social. Les gens avec qui je travaille sont mes amis. Ma façon de faire de la musique est très différente de celle de la plupart des autres musiciens. Je n'accorde pas ma guitare et je répète très rarement. J'aime pouvoir faire ce que je fais et essayer de le faire correspondre avec la musique d'autres musiciens.
I like doing collaborations. Not just for the music. It's also a social thing. The people I work with are my friends. The way I do music is very different than the way most musicians work. I don't tune my guitar and I very seldom practice. I like being able to take what I do and try to make it fit in with the music of other musicians.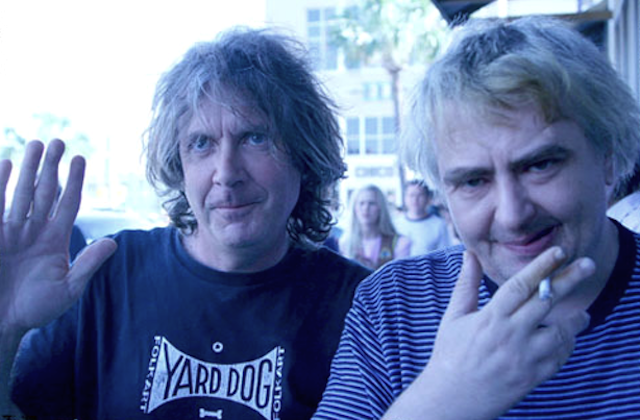 Parmi celles-ci je retiendrai Daniel Johnston et Thurston Moore. Quelles sont tes relations avec ces deux autres figures de l'underground américain ? Est-ce-que tu écoutes toujours leurs disques respectifs ?
Among those, I shall mention Daniel Johnston and Thurston Moore. What is your relationship with these two other figures of the american underground? Do you still listen to their respective records?
Quand je vivais près de New-York, je voyais beaucoup Sonic Youth et passait pas mal de temps avec eux. Maintenant, j'habite à Austin et j'ai très rarement l'occasion de les voir. Ce sera cool de voir Thurston pendant le festival. Daniel Johnston vit au Texas et je le vois de temps en temps. Je l'ai vu il  y a deux mois à son anniversaire. Il était de bonne humeur et très disert. Il veut enregistrer avec moi à nouveau.
When I lived near New York I used to see Sonic Youth a lot, and spent a good bit of time with them. I now live in Austin and it's very seldom that I get to see them. It'll be good to see Thurston at the festival. Daniel Johnston lives in Texas and I see him a few times each year. I saw him a couple months ago at his birthday party. He was in a good mood and very talkative. He wants to record with me again.
Quels souvenirs gardez-vous de ce groupe formé avec Tim Foljahn et Steve Shelley, Mosquito ?
What memories do you have of Mosquito, this band with Tim Foljahn and Steve Shelley?
Ma tournée préférée avec Mosquito était au Japon. On était en tournée avec Free Kitten (le groupe de Kim Gordon, ndlr) et Eye. Thurston Moore jouait avec Mosquito pour ces concerts. C'était assez dingue. C'était la première fois que j'étais au Japon et j'ai adoré. C'est un pays fascinant.
My favorite tour with Mosquito was in Japan. We were on tour with Free Kitten and Eye. Thurston Moore played in Mosquito for those shows. It was pretty wild. That was my first time to be in Japan and I loved it. It's such an interesting country.
A l'heure où sort une compilation best of démentielle de vos compositions solos, toujours parues sur de petits labels, quel jugement portez-vous sur la musique indépendante ? Existe-t-elle encore et sous quelle forme ?
Now that a crazy best of is being released, with your solos compositions which had all been released on small labels, how do you consider the indepedent music? Do you think it still exists and, if so, in what?
C'est une période étrange pour les labels indépendants. Les ventes de CD sont très faibles. Internet a permis aux groupes de rendre l'accès à leur musique beaucoup plus facile mais c'est aussi plus compliqué d'en vivre. C'est une période très difficile pour les petits labels. Je ne pense pas que ça empêchera la musique d'exister mais ça aura un impact sur la manière dont elle sortira.
It's an odd time for independent labels. CD sales are way down. The internet has made it very easy for a band to have their music available, but it's also made it difficult to make money from it. It's a very tough time now for small labels. I don't think that is going to stop the music, but it will impact the form in which it's released.
Mise à part votre carrière de musicien, vous êtes aussi auteur/écrivain et artiste plastique. Que cherchez-vous dans les mots et les découpages que vous ne pouvez trouver dans la musique ?
Except you musician career, you are a writer and a plastic artist. What are you looking for in these arts that you can't find in music?
Avant de commencer à jouer de la musique je savais que je serais un artiste. A la sortie du premier album de Half Japanese, la musique a été bien reçue et j'ai passé la plus grande partie de mon temps à faire ça. C'est difficile de gagner sa vie en faisant de la musique sans tourner. J'aime rester chez moi. C'est quelque chose que je peux faire en étant artiste. J'aime voyager mais j'essaie toujours de ne pas faire de longues tournées. C'est difficile d'être loin de ma femme, de mes chiens et de mes chevaux.
Before I started playing music I thought I would be an artist. After the first Half Japanese record was released the music was well received and I spent most of my time doing that. It's hard to make a living off music without touring. I like to be at my home. That's something I'm able to do as an artist. I enjoy traveling, but I always try to keep the tours short. It's difficult to be away from my wife, dogs and horses.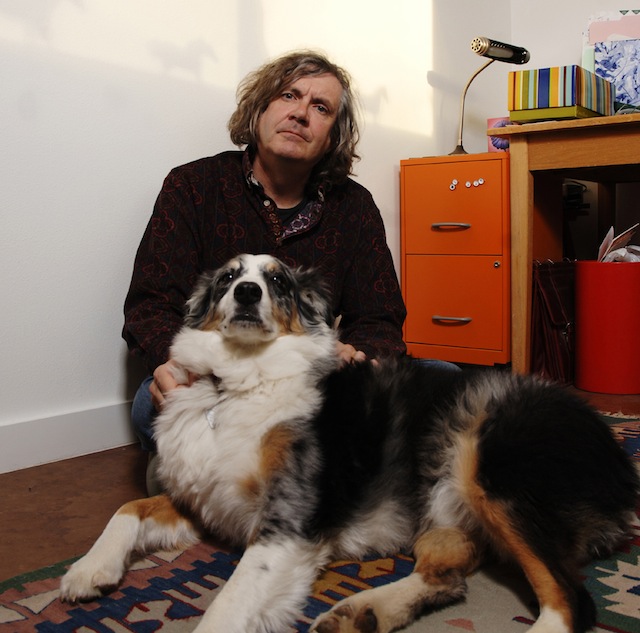 A la manière de Lee Ranaldo, on vous sent très proche du monde de l'art – vous exposez d'ailleurs très bientôt à Nice. Cette implication s'est-elle affirmée avec le temps ou a-t-elle toujours été présente dans votre approche de la musique ?
We can feel you're close to the world of art in the manner of Lee Ranaldo. You will organize very soon an exhibition in Nice. Has this involvement been asserted with time or has it always been present in your music approach?
J'ai toujours eu un intérêt pour l'art. Ces onze dernières années, je me suis principalement dévoué à la sculpture en papier. J'ai été exposé au Japon, en Australie, en Nouvelle-Zélande, au Canada, en Allemagne, aux Pays-Bas, au Royaume-Uni, au Portugal, en Espagne, en Belgique, en Islande et aux Etats-Unis. Seize livres traitant de mon art ont aussi été publiés. Je commence à être aussi connu pour mon art que je le suis pour ma musique. J'attends avec impatience l'exposition à Nice. Ce sera génial de retourner là-bas. Gilles-Vincent Rieder et moi ferons un concert le lendemain du vernissage.
I've always been involved with art. For the last eleven years my main focus has been paper cutting. I've had exhibitions in Japan, Australia, New Zealand, Canada, Germany, The Netherlands, The UK, Portugal, Spain, Belgium, Iceland, and the US. I've also had 16 books of my art published. I'm starting to be know as much for my art as I am for my music. I'm looking forward to the exhibition in Nice. It will be great to go there again. Gilles-Vincent Rieder and I will have a music show the day after the exhibition opening.
Pour terminer, pouvez-vous nous dire ce que le groupe jouera à Paris le 28 mai ?
Finally, could you tell us what you're going to play in Paris on the 28th of May?
Ce sera tout un éventail de morceaux. C'est la même formation que sur l'album Hot, soit John Sluggett, Gilles-Vincent Rieder, Jason Willett, Mick Hobbs et moi. On jouera quelques morceaux de cet album, ainsi que d'autres tirés de la discographie de Half Japanese. On gardera un rythme rapide et rock.
It will be a wide range of songs. It's the same line up as on the album Hot. It will be John Sluggett, Gilles-Vincent Rieder, Jason Willett, Mick Hobbs and me. We'll do several songs from that album, as well as songs taken off many other Half Japanese records. We're going to keep it fast paced and rock.
Traduction : Marie-Eva Marcouyeux
Merci à Clarisse Vallée
Tracklisting
Jad Fair – Beautiful Songs : The Best Of Jad Fair (Fire Records/Differ-ant, 2011)
Disque 1
01. All the Angels Said Go to Her
02. A Real Mix Up
03. Go Go Go
04. True Love Will Find You in the End
05. Principal Punishes Students with Bad Impressions and Tired Jokes
06. Do You Have a Friend?
07. School of Love
08. Big Boots
09. I Know How It Feels… Bad
10. Smile Pretender
11. Frankenstein Meets Wolfman
12. On the Town
13. If I'd Only Known
14. Song of Joy
15. She Went Downtown
16. Lifted
17. Postcard from Far Away
18. Amnesia
19. 1,000,000,000 Kisses
20. Beverly
21. Sticky Cotton Candy Dress
22. Until Now
23. Girl Trouble
24. Firecracker
25. Fish
26. Don't Hang Up
27. Amy You Went Away
28. Ride Ride Ride
29. Lucky
30. This Time
31. You Do That
32. Honey Bee
33. Open Your Eyes/Close Your Eyes
34. Diamonds and Rubies
35. Shy Around Girls
36. U.S. Teens Are Spoiled Bums
37. Cinnamon Roll
38. I'm Gona Come Back to You

Disque 2
01. This Could Be the Night
02. Apples and Strawberries
03. Vampire
04. Tarzan Escapes
05. A Great Big Tiger
06. I Comb My Hair with My Hand
07. Dead Men Walks
08. True Believers
09. We're Gona Have a Party
10. Sex at Your Parents' House
11. Hillbillies
12. Miracles Happen Every Day
13. Headless Horseman
14. Absolute Pure
15. Better Than Before
16. Mule
17. Dreamy Eyes
18. Angela
19. If He Says He Did
20. Blue Horizon
21. The Only One Left
22. Daytona Beach
23. Thing with the Atomic Brain
24. XXOO
25. Pajamas
26. I Want to Live
27. Blessed by Angels
28. It Walks at Night
29. Sweet Soda Pop
30. Penny in the Fountain
31. Me and the Boys
32. The Wrong Man
33. Robot
34. Our Love Has Come
35. A Little Bit More
36. Brigham's Coffee Shop
37. The Invisible Ray
38. Charmed Life
39. You Must Obey Me

Disque 3
01. The Zombies of Mora-Tau
02. Outlaw Blues
03. Eyes on the Road
04. Circus Strongman Runs for PTA President
05. Twist and Shout
06. Silver and Katherine
07. Ask Me About Vampires
08. Snake on My Head
09. Lonely Song
10. The Beast with a Million Eyes
11. Love and Comfort
12. OK
13. Loony Take Me Home
14. Everything Is Right
15. Eat That Cake
16. Goin Hog Wild
17. Ship Ahoy
18. Stationary
19. AOK
20. Starry Eyes
21. Put Some Sugar on It
22. A Certain Smile
23. Pearl Earrings
24. Patty
25. She Can't See Me
26. Star Power
27. Frankenstein Must Die
28. Checkers
29. Stand Up
30. Mothership Singapore
31. Red Dress
32. Monster Island