Alors qu'une partie de la foisonnante friche culturelle berlinoise continue à se déployer discrètement à une heure de train vers le Sud en direction de Leipzig et sa qualité de vie plus abordable, les projets fleurissent sur les mausolées rouillés des infrastructures industrielles de l'ancienne ville sidérurgique. Monté en 2014 entre la capitale et le nouvel espoir de la gentrification allemandes, le jeune label NYT (Not Yet Titled) n'assume pour l'heure que quelques sorties mais celles-ci se positionnent déjà aux confluents d'alchimiques mélanges qui ont ponctué l'histoire de la musique outre-Rhin. Entre une bande son tech minimale pour un film, Entropie, et le krautrock lo-fi de Webermichelson se glisse donc presque logiquement la house ethno-expérimentale de Map.ache et David Schnell, ce dernier également cofondateur du label avec Sebastian M. Kretzschmar. Sans titre (on y reviendra) mais pas sans antécédents, les deux artistes visuels routards de l'expo plastique rassemblent fond et forme dans un discours à la cohérence nourrie de l'expérience, et nous en font ci-dessous la démonstration à l'échelle d'un label dans un Anglais et un Français impeccables.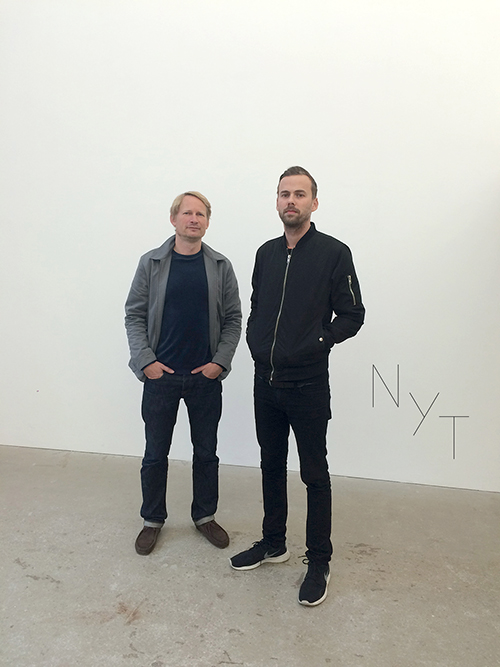 Quelle est l'histoire de votre jeune label? Qu'est-ce qui vous a donné l'idée d'en créer un et quand avez-vous finalement décidé de le mettre sur pied?
What's the story behind your young label? What led you to the idea of making one and when did you eventually decide to bring it to life?
Nous avons appris à nous connaître grâce et à travers notre intérêt commun pour la musique et par notre affinité commune pour le vinyle. L'idée et le concept de notre label viennent de notre passion pour la musique mais aussi de la volonté de créer des connexions avec l'art et nos pratiques artistiques respectives. Nous avons pris le temps qu'il fallait pour nous lancer; du choix de notre nom à l'élaboration de notre logo jusqu'à finalement notre premier lancement. C'est l'envie et l'idée de produire et sortir l'album de Webermichelson sur vinyle (qui était jusque là uniquement disponible online) qui a réellement déclenché le projet. À côté de l'album, il y a la version remaniée de Timoka aka Benjamin Kilchofer, comme une extension musicale pour ainsi dire. Cette interaction entre les musiciens a aussi servi de modèle et de base aux designers. Et c'est ainsi que la première sortie de NYT est apparue en un triple vinyle.
We got to actually know each other because of our common interest in music and affinity with vinyl. Our passion for music and the notion to connect our art somehow with this interest, resulted eventually in the idea for our label. We did take our time with it, starting from the name and logo to the first release. But what actually triggered the whole thing was the idea to release the album by webermichelson – which at that point was only available online – on vinyl. Besides the actual album there was a rework from Timoka aka Benjamin Kilchofer planned, a musical extension so to say. This interaction between the musicians also offered a type of template for the designers. And so it happened that the first release of NYT emerged as a triple vinyl.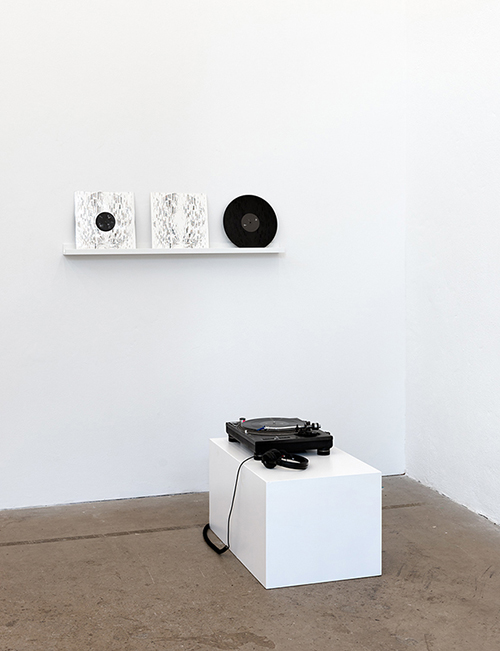 Et votre nom, d'où vient-il? J'imagine que vous prévoyez de ne jamais lui donner de "titre"…
What about the name, where does it come from? I guess you actually expect to never give it a « title »…
Le nom NYT (Not Yet Titled) est le résultat du process en lui-même, celui de trouver un nom. Comme nous l'avons mentionné juste avant, nous avons pris notre temps et l'espace nécessaires parce que le nom devait refléter vraiment l'intention de notre label. Nous avons directement senti que c'était exactement le nom qui collait à notre idée. D'un côté, il souligne notre relation avec l'art (dans ce domaine, c'est assez commun de trouver cette mention sur les travaux n'ayant pas encore de nom attribué). D'un autre côté, il sous-entend aussi une ouverture, il ne ferme pas complètement le champ des possibles. Le label garde un état d'évolution éventuel permanent. Nous ne voulons pas enfermer notre idée dans un style ou un genre musical particulier. Pas de classification.
The name NYT (Not Yet Titled) is the result of the process itself – the process of finding a name. Like we mentioned before, we took the time and space to do this because the name should reflect the intention of the label. We directly thought of this name as very fitting. On the one hand it points to our relationship with visual arts – in that field, it is common to refer in this way to new works that haven't yet been given a title. On the other hand it implies also an openness, it doesn't lock it up (or tie it down), the label stays in an ongoing evolutionary state. We don't want to establish an articulated style or set musical preferences. No classifications.
Vous ne vous attachez pas exclusivement à l'expérimentation électronique. Webermichelson, par exemple, s'écoute comme un groupe de rock prog. Cette diversité, vous voulez la poursuivre? Comment voudriez-vous voir évoluer le label?
You're not focusing only on experimental electronics. Webermichelson, for instance, sound like a progressive rock band. Is this diversity something you want to carry on? How would you like your label to evolve?
Nos influences musicales sont très diverses. Nous n'avons pas de style musical spécifique ou de préférences. On peut aussi le remarquer dans nos mixtapes. Avec WM, il a été clair très vite que nous devrions avoir une réaction électro à leur son. Les gens doivent se retrouver et agir ensemble. Le tout est en plus rendu visible et tangible avec le travail de direction artistique mené par le graphiste. Pour notre projet, nous avons prévu pour les prochaines années de travailler à la fois avec des musiciens et/ou artistes qui développent une pratique indépendante, quelque chose d'original qui ouvre à l'expérimentation. Un exemple passé serait la performance de l'artiste Carsten Tabel. Le premier enregistrement que nous avons entendu était axé ironiquement sur « l'auteur-compositeur-interprète » de ces dix dernières années et les clips les plus récents qu'il nous a montrés faisaient référence à des chansons hip-hop. Nous aimons quand la musique se développe et nous montre finalement un status-quo, comme un snapshot que nous pouvons graver sur vinyle.
Our musical influences are very diverse. There is no specific musical style or preference. This reflects in our mixtape as well. With WM it was soon very clear that we should have an electronic reaction to their sound. People should find and react to each other. This is made visible or tangible in the artwork and art direction from the graphic designer. For the project we plan for the coming year we'll work with musicians and/or artists who are developing something independent, something original and use the possibility to experiment. An example is the performance artist Carsten Tabel. The first recordings we heard were based on the singer songwriters of the last ten years, but used as ironic quotation. The most recent material he showed us was a reference to Hip Hop songs. We like it when the music develops, and finally shows us a status-quo, like a snapshot, that we can record on vinyl.
Vous êtes tous deux des artistes visuels. Quel est le lien avec le label et comment ces deux activités se chevauchent-elles? Prévoyez-vous de mieux les entrecroiser?
Both of you are visual artists. What's the link with the label and how these two occupations overlap? Do you plan to have them more interlinked?
Nous gardons aussi cela ouvert. À la base, nous voulions plus avoir une position de curateurs ou d'advisers, mais ensuite il y a eu la coopération entre Jan Barich aka Map.ache et David Schnell, qui a été très excitante. Une coopération similaire est en train de se mettre en place entre Sebastian M. Kretzschmar (FAMED) et Jeremy Jay. Nous sommes très ouverts à ce genre de chose bien sûr; être impliqué soi-même en tant qu'artiste et gérer la partie vinyle en parallèle est très intéressant. Mais cet investissement direct dans les projets reste tout de même assez exceptionnel. Nous aimons vraiment trouver des moyens de connecter la musique contemporaine à l'art. C'est bien sûr lié au fait que notre propre travail est – au moins indirectement – très influencé par la musique.
We also keep this open. Originally we wanted to be more like a curator or adviser, but then the corporation between Jan Barich aka Map. ache and David came up, which was very exiting. A similar cooperation is happening between Sebastian (FAMED) and Jeremy Jay. We welcome this off course; to be involved as an artist and to deal with the medium of vinyl. But these direct involvements in the projects will be more like the exception. We really like to find a way to connect contemporary music with visual arts. Of course this is partly so because our own work is – at least indirectly – influenced by music a lot.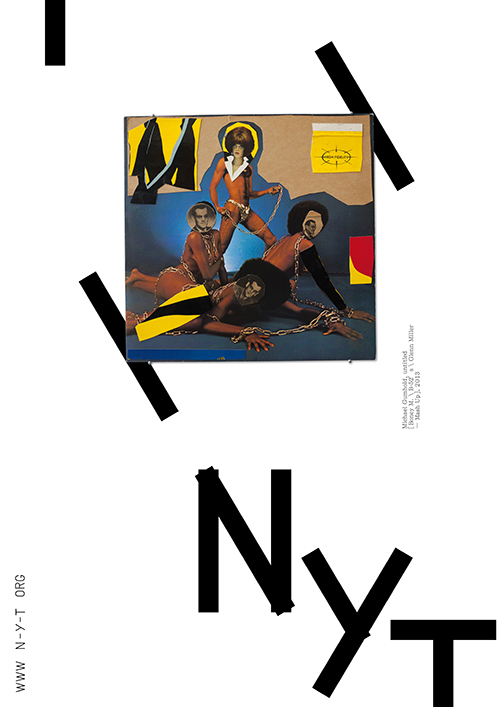 Comment choisissez-vous vos artistes? Il faut votre accord à tous deux pour chaque projet?
How do you pick your artists? Do you need to both agree on every project?
C'est très différent et nous surprend aussi à chaque fois. La plupart du temps, c'est à travers des discussions sans vraiment se prendre la tête. Carsten Tabel, par exemple, nous a contactés de lui-même – et nous en avons été ravis. Lorsque nous avons entendu ses premiers « essais » – nous avons directement pensé « cool, c'est exactement ce que nous recherchons! ». Nous sommes ravis que les choses aient tourné ainsi et nous nous réjouissons encore des choses à venir. Jusqu'à présent, nous sommes toujours tombés directement d'accord lorsque nous avons été confrontés à l'éventualité d'un nouveau projet.
This differs very much and surprises us all the time as well. Mostly just coming out of the dialogue, without thinking about it beforehand. Carsten Tabel, for example, came to us on his own account, for which we were very happy. When we heard his first 'sketches we directly though 'cool, this is exactly what we want to have!' We are pleased that everything just turned out as it did and are looking forward to the things that await us. So far we have agreed on things pretty much directly if confronted with the possibility of a new project.
Entropie est une bande son collaborative. Pouvez-vous expliquer le projet et comment vous l'avez monté?
Entropie is a collaborative soundtrack. Can you explain the project and how you set it up?
Pour Entropie, le soundtrack du film du même nom réalisé par l'artiste Nadim Vardag et Michael Franz, la coopération entre les musiciens Andreas Reihse (Kreidler) et Isaac B. Trogdon et les artistes a pris la forme d'un film. Le soundtrack sur vinyle est juste une nouvelle et différente forme de la collaboration, un peu plus autonome d'une certaine façon. Le design est signé Nadim Vardag.
For Entropie, the soundtrack for the film of the same name from artist Nadim Vardag and Michael Franz, the cooperation between the musicians Andreas Reihse (Kreidler) and Isaac B. Trogdon and the artists took the form of a Film. The soundtrack on vinyl is just a new and different form of the collaboration, a bit more autonomous so to say. The design comes from Nadim Vardag.
Que prévoyez-vous pour 2016 et au-delà?
What are your plans for 2016? Later?
Pour le moment, nous avons prévus trois projets. Nous aimerions garder un peu profil bas maintenant, car c'est encore « in progress« . Nous en avons déjà donné quelques indications juste avant. Ce que nous pouvons dire, c'est que nos prochains projets nous ouvrent de nouveaux challenges, et les idées que nous proposent les artistes nous ouvrent de nouvelles approches. Nous sommes très pressés de savoir vers quoi tout cela va mener…
At the moment we have three projects planned. We'd like to keep it a bit low profile for now, because we're still in the process. We already gave some indications before. What we can say is that our new projects provoke new challenges, also in regard to different ideas and approaches the respective artists bring along. We are very excited ourselves where this will lead to…
Mixtape
01. The Sound – Can't escape myself
02. John Maus – Cop Killer
03. Darkside – A3
04. Mount Kimbie – Meter, Pale, Tone (feat. King Krule)
05. WhoMadeWho – The Morning
06. No Age – I Won't Be Your Generator
07. Frank Ocean – Lost
08. Blur – Pyongyang
09. Honey Cocaine – Dead Azz
10. Vince Staples – Norf Norf
11. Health – New Coke
12. Jeremy Jay – Graveyard