Jessica Pratt l'interview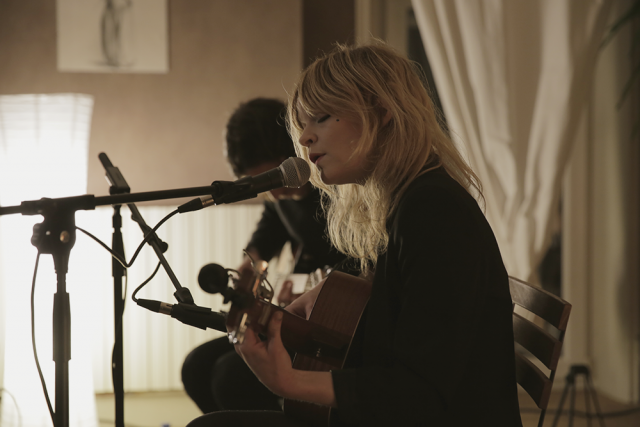 Photos © Chloé Bernard
Repérée en 2012 à la faveur d'un album éponyme et involontaire, Jessica Pratt est une séductrice au charisme ondoyant et versatile. Derrière sa silhouette délicate et sa voix frêle, ou peut-être l'inverse, la Californienne dissimule un cheminement musical mature et bardé d'influences qui inspirent ses arrangements lo-fi aux résonances psych, rock, pop. Son sophomore à l'intimité douce-amère, On Your Own Love Again, aux huit pistes enregistrées chez elle dans une approche faussement amateur, se lit comme un diaporama pêle-mêle de sa vie ces huit dernières années. La trame vintage et décontractée qu'elle compose aussi bien autour de son approche informelle que de sa voix, parfois comparée à celles de Vashti Bunyan ou Joanna Newsom, le dispute à la qualité de son chant modulé aux extrêmes et à un niveau d'exigence qui refuse le cloisonnement aux traditions folk.
Timide mais loquace, Jessica m'a accordé un entretien juste avant son concert intime donné le 22 mars dernier à Nancy pendant le festival Off Kultur. Les yeux à moitié masqués par son imposante frange blonde et relevés par un eyeliner plaqué sur sa paupière inférieure pour appuyer son regard mélancolique, la fragile gamine de la côte ouest m'a discrètement parlé de son album sorti chez Drag City en janvier dernier, de son évolution artistique, de son timbre atypique, de son affection pour la mièvrerie de Burt Bacharach et de ses collages qu'elle garde secrètement par-devers elle.
Jessica Pratt l'interview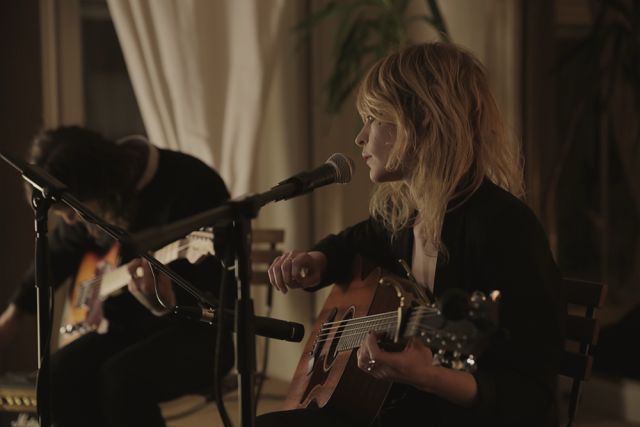 Tu as enregistré la majorité de ton précédent album en 2007 avant que Tim Presley ne rassemble tes morceaux sur un premier album en 2012. Près de dix ans plus tard, te revoilà. Qu'est-ce qui a changé dans ta méthodologie ?
You recorded most of your previous album in 2007 before Tim Presley gathered your songs in a debut album back in 2012. Almost a decade later, here you are again. What has changed in your process in the meanwhile?
Tellement de choses ! Par exemple, il y a deux chansons du premier enregistrement qui ont été enregistrées à la maison de la même façon que le deuxième album. J'ai donc simplement affûté ma technique d'enregistrement pendant ce temps. J'ai amélioré la qualité de mes enregistrements et, globalement, je pense qu'à l'âge que j'ai, 7 ou 8 ans représentent un grand vide dans l'évolution d'un compositeur, et c'est pareil pour le savoir et la confiance. Je me sens complètement différente. En 2007, j'avais 19 ans et je n'avais quasiment jamais joué en live, j'étais bien plus complexée, et c'est peut-être pour ça que ces morceaux plus vieux paraissent très fragiles. Et c'est peut-être pour ça que les gens les aiment bien. Pour moi, ces nouveaux sons sont plus riches et intéressants.
So many things! I mean, there are two songs on the first record that were recorded at home in the same way the second record was recorded, so I've basically been honing the skill of recording at home over that period of time. I've gone a lot better at recording myself and, overall, I think that at the age that I have now, 7 or 8 years is a huge leap in somebody's development as a songwriter, just like knowledge and words and confidence. I feel like a completely different person. In 2007 I was 19, I had barely even played any shows before so I was just much more self-conscious and maybe that's why those older songs sound very frail or something. Maybe that's why people like them. I just feel that the new stuff is a lot more layered and interesting.
Dans On Your Own Love Again, on sent des différences de style, d'ambiance et de qualité de l'enregistrement. On dirait que Strange Melody et Moon Dude ont été enregistrées il y a quelque temps de cela, si on les compare à Greycedes, par exemple. Pourquoi choisir de ne pas rendre le tout plus cohérent ?
There are differences in style, mood and quality of the record in On Your Own Love Again. I mean, Strange Melody or Moon Dude sound like they've been recorded some time ago compared to Greycedes for instance. Why choose not to make the whole thing more consistent?
En fait, je pense vraiment que tout l'album a de bonnes vibrations, même s'il n'est pas complètement cohérent. Je pense que, parfois, quand des albums ont un style de production très affirmé, ça ne marche pas toujours. Mais j'ai commencé cette nouvelle fournée de chansons avec Strange Melody, Wrong Hand et I've Got A Feeling, qui ont été enregistrées à peu près deux ans avant. Je me suis donc appuyée sur ces trois morceaux et je pense que, pour moi, c'est dangereux de tenter de réenregistrer par la suite, qu'on y perd un peu de magie. J'aime ces chansons et on peut dire que je m'en sers pour de nouvelles choses. J'aime l'aspect brut de l'ensemble.
Well, I do feel like the whole record has a good flow to it, even though it's not completely consistent. I think sometimes when records have a very concrete production style throughout the entire thing, it doesn't always work. But I started out the new batch of songs for that record having Strange Melody, Wrong Hand and I've Got A Feeling, those were recorded like two years prior. So I started out with those three songs already and I think it's dangerous for me to try to re-record things much later, I think you lose the magic a little bit. I like those songs and then I just sort of continue from there with new things. I like the blunt of them together.
Comme beaucoup d'artistes, tes morceaux ont un rapport avec les événements de ta vie, mais d'après ce que j'ai pu lire, on dirait que tu as besoin d'enregistrer plus ou moins au moment précis où ils surviennent, comme si tu prenais une photo. La chronologie est importante pour ta catharsis ?
Like many artists, your relate your songs to things happening in your life, but according to what I've read, it looks like you need to record more or less at the exact time these things occur. As if you were taking a pic. Is chronology important in your catharsis?
Ça pourrait être le cas, mais je ne l'ai pas vu de cette façon. Je pense que si quelque chose nous affecte très profondément, cela peu résonner longtemps après. Mais je pense que la composition, comme d'autres pratiques artistiques ou créatives, fonctionne d'une manière plus immédiate parce que les sentiments sont plus frais, j'imagine, et que c'est un moyen de gérer l'évènement qui te préoccupe, ce qui était mon cas. J'étais très en colère, perdue, triste et un peu déprimée à ce moment-là, et c'était bon de pouvoir écrire ces morceaux. Ça fait partie de ces choses dont tu n'as pas conscience au moment où tu les fais, ou juste un peu, et sur lesquelles tu reviens plus tard.
It might be that way and I haven't acknowledged it as such. I think if something affects you very deeply, it can still resonate a long time afterward. But I think maybe songwriting, like anyone's chosen artistic or creative outlet, usually functions in a more immediate fashion because the feelings are freshest I guess, and it's a means of coping with the thing you're currently dealing with, which it was for me. I was very angry, confused, sad and a little depressed at that point and so it was nice to be able to write those songs. It's one of those things where it's sort of unconscious when you're doing it, maybe a little bit, and then later you look back on it.
Quel serait le thème d'une chanson de 2015 ?
What would be the theme for a 2015 song?
[rires] Les nouvelles ? Je ne sais pas encore. J'ai beaucoup joué cette année, pour des live et à m'exercer pour ces live. Quand tu joues beaucoup, même sur un mois, tu t'améliores à la guitare, tu es immergé, et j'ai eu beaucoup d'idées. Ç'a été assez difficile pour moi de me faire à la vie à Los Angeles, où je me suis installée il y a un an et demi. Je m'y sens plus à l'aise aujourd'hui, mais je sens que j'ai beaucoup de choses qui inondent mon cerveau et sont prêtes à sortir. Pour moi, On Your Own Love Again est un album de chagrin avec des émotions très pures à la surface, et je pense que mes chansons sont toujours émotionnelles, mais cette fois elles pourraient être plus contemplatives et surréalistes. Je suis curieuse de voir à quoi ça ressemblera.
[laughs] The new ones? I don't know yet. I've been playing a lot this year. Shows and trying to practice  for these shows. Anytime you play live a lot, even like a month period, you just get better at guitar, you're more flooded, so I had a lot of ideas. I don't know, it's been kind of slightly difficult adjusting to living in Los Angeles where I moved like a year and a half ago. I feel more comfortable now, but I feel like I have a lot of stuff flooding around in my head and ready to come out. I feel like On Your Own Love Again is kind of a heartbreak record with really raw emotions at the surface and I think that my songs are always emotional but it might be a more contemplative, surreal deal this time. I'm curious to see what it'll be like.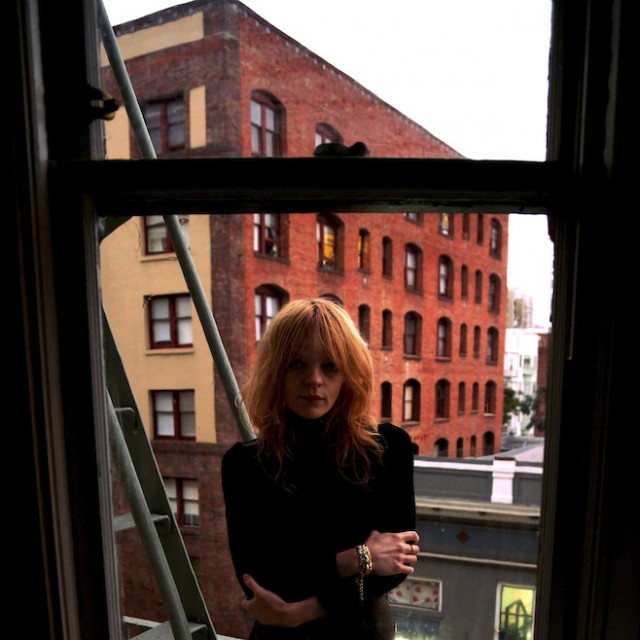 Nous aussi. Est-ce que le silence granuleux au début de la plupart de tes morceaux est important ? Il complète l'ambiance intime, comme les quelques secondes de ce moment de flottement avec un morceau live. C'est ce que tu cherches ?
So are we. Is the noisy silence starting most of you songs important? It adds to the intimacy, like the few seconds of this floating moment before a song during a gig. Is it what you're looking for?
Je pense que mes anciens morceaux par exemple –  tu parlais de Strange Melody et d'autres – paraissent plus granuleux, vu qu'ils sont plus vieux d'au moins deux ans, alors que je n'avais pas vraiment confiance dans mes techniques d'enregistrement. Et je pense que les autres aussi. C'est surtout un produit de ma méthode, mais j'aime entendre les sons alentours.
I think that for example the older songs – you were talking about Strange Melody and stuff -, since they're more than a couple years old now and it wasn't at the point where I was super confident with recording, are a little grittier-sounding and I guess the rest of them are a bit too. It's mostly just a product of the setup that I have, but I like hearing the sounds of around you know.
Pourquoi avoir choisi de pitcher certaines parties de tes chansons, comme dans Greycedes ou Jacquelyn In The Background ? On dirait un vieil enregistrement qui passe mal.
Why did you choose to pitch down some parts in your songs, like in Greycedes or Jacquelyn In The Background? It sounds like a vintage record having some issues.
En réalité, Greycedes n'est pas pitchée, je chante simplement très bas. Mais c'est le cas de Jacquelyn In The Background. J'ai toujours été fascinée par les augmentations de la vitesse, du rythme ou de la voix. Je suis une grande fan d'Ariel Pink ou Frank Zappa and The Mothers Of Invention, qui sont partisans d'isoler la voix et des ajustements bizarres. J'aime ça, c'est intéressant.
Actually Greycedes has no pitching, I just sing very low. But Jacquelyn In The Background has. I've always been fascinated by any kind of speed, or rhythm, or vocal augmentations. I'm a big Ariel Pink fan, or Frank Zappa and The Mothers Of Invention who do a lot of voice isolation and weird tweaking. I just like that stuff, it's interesting.
C'est un choix purement esthétique ?
Is it only an aesthetic choice?
Je pense qu'on peut l'exploiter de bien des façons, et le moment où ça l'est dans cette chanson n'a pas été prémédité, c'est arrivé, j'aime ça parce qu'on dirait que la chanson fond un peu. C'est esthétique mais ça fait aussi ressentir quelque chose. Ce n'est pas superficiel.
I think it can be used in a lot of different ways, and the time that it's used in that song wasn't premeditated, it just kind of happened and then I liked it because it sort of feels like the song is melting a bit. So it's aesthetic but it also makes you feel something. It's not shallow.
Cet album est clairement apaisant et calme, mais il parle de détresse, de solitude ou de déception. C'est ce que tu fais aussi dans la vie ? Parler de choses sérieuses avec une voix douce et un sourire ? Quelle sagesse !
Though this album is clearly peaceful and quiet, it mostly deals with distress, loneliness or disappointment. Is it something you do in life too, talking about serious things with a soft voice and a smile? Sounds wise!
Oh peut-être ! J'utilise sans doute ma voix comme un mécanisme de défense [rires]. J'ai eu un grand frère très drôle que je voulais imiter. Mais même si parfois je me sens triste – je ne sais pas si je suis triste plus souvent qu'une autre personne – je ne suis pas du genre à dramatiser. Tu as peut-être raison.
Oh, maybe! I might use my voice as a defense mechanism [laughs]. I had a really funny older brother that I wanted to emulate. But if I feel sad sometimes – I don't know if I feel sad more than the average person – I'm generally not very dramatic in person. So maybe you're right.
On sent un contraste entre ce que tu traduis dans tes paroles et le son de ta musique.
There's a contrast between what you convey in your lyrics and the sound of the music.
J'imagine, oui ! En fait, j'aime beaucoup la pop, surtout la pop classique, comme une chanson de Burt Bacharach sur la tristesse de perdre quelqu'un et la futilité de l'amour, entre autres. On y trouve des mélodies pop très lyriques et ce genre de choses m'a beaucoup influencée, même si je ne pense pas être un jour Burt Bacharach. Je ne pense pas que ce soit une question de contraste, mais plutôt une musique qui passe bien et son contenu qui peut être différent.
Yeah, I guess! Well, I really like pop music a lot. I like a lot of classical pop music, like a Burt Bacharach song about the really sad thing about losing somebody and the futility of, whatever, love or something. But it has a really sweeping beautiful pop melody and I don't think I'll ever be Burt Bacharach but that kind of thing has really influenced me a lot. So I think maybe it's not a contrast thing either, but the music that feels good and the contempt of it is maybe something else, you know.
Pourquoi donner à l'album le nom du dernier morceau, et le plus court ?
Why did you give your album the name of the shortest and last song?
Parce que je sentais que ça collait avec ce truc pop autour de Burt Bacharach. J'aime bien ce titre de chanson parce qu'il manque un peu de sens, il est un peu vague, pas vraiment correct, et qu'on peut y appliquer différentes intonations sur différents termes et que cela peut en modifier un peu le sens. Je l'ai bien aimé parce que quand tu l'entends sans y réfléchir, ça ressemble pour moi à un album d'easy listening, un truc comme ça.
Because I felt actually in line with that Burt Bacharach pop stuff. I like it because that song title is slightly non sensical, is a little vague, not quite correct so you can put different intonations on different words and it can make the meaning fluctuate a bit. I liked it because when you just hear without thinking about it, to me it sounds like kind of an easy listening record or something like that.
Ton style est tellement personnel qu'on ne peut pas le classifier. Tu as un background folk évident, mais il est complété par de nombreuses strates en rapport avec la pop, le psych, l'expérimental… Si tu devais créer un mot pour décrire ton approche, ce serait quoi ?
Your style is so personal that noone can really classify it. You obviously have a folk background, but there are many layers above this that deal with pop, psych, experimental… If you had to create a word to define your approach, what would it be?
Je ne sais pas… Je pense à un thème pertinent, qui m'a interpellée après coup à propos de cet album, c'est qu'il s'agit d'un genre de fusion entre réalité et imaginaire, à 50-50. J'ai essayé de le rendre onirique et fantastique, mais en même temps un peu sinistre. Je ne pense pas pouvoir choisir un terme pour le décrire mais j'aime ces éléments. C'est flatteur que tu penses que ma musique puisse être pertinente à ce point.
I don't know… I feel like a relevant theme that occurred to me retrospectively, thinking about the album, is kind of a fusion of reality and fantasy, like totally fifty-fifty. So I tried to make it dreamy and fantastical but maybe a little sinister at the same time. I don't think I can choose one word to describe it but I like those elements. That's very flattering that you think my music could be that relevant.
Mais tu as été classifiée dans la freak folk…
But you've been classified as freak folk…
La première fois que j'ai entendu ce terme me concernant, j'ai trouvé ça amusant parce que la freak folk est démodée. Je me souviens l'avoir entendu adolescente, mais je ne savais pas que les gens l'utilisaient encore.
When I first started hearing that term used in relation to me, I found it funny because freak folk is outdated at this point. I mean, I remember hearing it as a teenager and I didn't know people were still using it.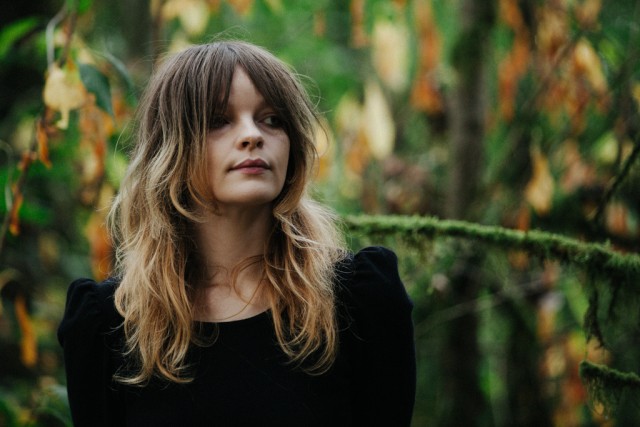 Peut-être parce que c'est vintage, un peu comme toi.
Maybe because it's vintage, like you sound too.
Sûrement, et honnêtement je n'ai jamais pensé que j'avais une voix inhabituelle, mais les gens en ont beaucoup parlé après la sortie du deuxième album. Et j'aime ça parce que j'aime les chanteurs à la voix inhabituelle, mais je pense que c'est de là que vient ce truc de freak folk, de Devendra et Joanna Newsom, et même Animal Collective, qui modulent leurs chants par exemple. Oui, c'est plutôt amusant.
Sure, and honestly I didn't really ever think of myself having an unusual voice but after the second record came out, people really talked about that a lot. And I like that because I like unusual singers, but I think that's where the freak folk thing is coming from, like Devendra and Joanna Newsom, even like Animal Collective who are tweaking their singing voices or whatever. So yes, it's a funny thing.
Sur Pitchfork ou Stereogum, on t'a comparée à Vashti Bunyan à cause de ta voix. C'est évidemment flatteur, mais je ne comprends pas. On dirait qu'elle chante dans une église un dimanche matin, et on dirait que tu chantes dans une maison en bord de mer entourée d'amis. Quel est ton ressenti sur cette comparaison ?
You've been compared to Vashti Bunyan on Pitchfork or Stereogum, because of your voice. This is obviously flattering, but I don't get it. She sounds like she's singing in a church on a Sunday morning, you sound like you're singing in a beach house with friends. What's your feeling about this comparison?
[rires] C'est très flatteur d'être comparé à elle, mais ça doit plus porter sur les tons que sur un sentiment général. Je peux comprendre sur le style. C'est un peu décontracté et intime, comme si quelqu'un se trouvait dans ta chambre. C'est comme ça que je le vois personnellement. Et c'est intéressant de ce que ça dit de la généralisation musicale, en particulier en ce moment. Ça a peut-être toujours été comme ça, mais je trouve ça un peu paresseux, juste un tas de comparaisons sans vraie description.
[laughs] It's a very flattering company to be included in, but maybe it's just tonal as opposed to a general feel. I can kind of understand it in the delivery maybe. I mean, it's like kind of casual you know,  and intimate, like someone's in your bedroom. That's what I take from that personally. And that's an interesting thing about music generalization, and especially currently. Maybe it's always been this way, but I find it a bit lazy, as far as it's just a slew of comparisons without really describing it.
C'est une classification, comme pour les animaux : on compare et on comble les vides.
It's a classification, like for animals: categorizing and filling the gaps.
Oui, c'est comme ça que font les humains. Je le fais, tout le monde le fait. Puis tu tombes sur un bon rédacteur qui parfois écrit un article long, cool et informé, et ça fait du bien.
Yeah, that's how humans work. I mean, I do that, everyone does. And then you get good writers that sometimes write a long, cool, informed piece and that's a good treat you know.
Tu as un homonyme, une soprano en Australie. As-tu jamais envisagé d'autres façons d'être créative, musicalement ou non ? Tu aurais pu par exemple rêver d'être soprano. Pourquoi pas peintre ou autre ?
You have a homonym, a soprano singer from Australia, only a few years older. Have you ever considered other ways to be creative, would it be musically or not? I mean, you could have dreamed of being a soprano for instance. Why not a painter or whatever?
[rires] En fait, j'ai pensé devenir beaucoup de choses en grandissant. J'aime beaucoup les vêtements et quand j'étais petite, je voulais être créatrice de mode. Je fais aussi beaucoup de collages mais je pense que c'est trop simple pour être considéré comme une forme d'art. Mais j'aime beaucoup en faire.
[laughs] Well, I actually thought about being lots of things when I was growing up. I really like clothes a lot and when I was a little kid I thought I would be a fashion designer. I also make a lot of collages but I think it's too easy to be considered as an art form or something. I really like doing it though.
Pourquoi ne pas mettre ces collages sur ta pochette dans ce cas ?
So why not have these collages on your cover?
Je pense que je commence seulement à m'améliorer. Et j'ai pratiqué la musique longtemps avant de prendre finalement conscience que je pouvais le faire avec légitimité. Il a fallu que quelqu'un vienne me dire : "Je veux sortir ton album, parce que c'est assez bon pour être enregistré", mais avant ça je ne le pensais pas. J'imagine que j'ai besoin d'une approbation extérieure et je devrais travailler dessus. Mais je pourrais m'y mettre et t'envoyer quelques collages si tu veux [rires]. C'est difficile d'équilibrer deux choses et quand je fais des collages, je me sens coupable du temps que je ne passe pas à faire de la musique. Il faut passer tellement de temps à s'entraîner et écrire de nouveaux morceaux, je ne sais pas. Quand tu mets de l'énergie dans une chose, il ne t'en reste plus beaucoup pour l'autre.
I feel like I've just started getting good at them. And I've played music for a very long time before I finally realized that I could do it legitimately. It took someone else saying: "I want to bring your record out, because it's good enough to be on a record", but before that I kind of really didn't think that. I guess maybe I need an outside approval or something and I should work on that. But yeah I might do that and send you some of the collages if you want [laughs]. It's hard to balance two things and when I make collages I feel guilty for the time I'm not spending making music. I don't know, because you only have so much time to practice and focus and write new songs. If you're channeling energy into one thing you don't have any left for the other.
Du coup, tu prévois de sortir un album avant les huit prochaines années ?
Do you plan to have another album out within the next eight years then?
[rires] Oui, c'est plus que certain. J'ai vraiment hâte d'écrire et enregistrer à nouveau. C'est comme être enceinte et accoucher d'un bébé. C'est très amusant, introspectif, délicieux. Un monde onirique, et j'ai envie d'y retourner. Il n'y a que comme ça que je serai mère, sans doute.
[laughs] Yes, most definitely. I'm very excited to write and record again. It was like being pregnant and then having a baby. It's very fun, introspective, delightful. A dreamworld and I'd like to go back to it. That's the only way I'll be a mother I guess.
Audio
Tracklisting
Jessica Pratt – On Your Own Love Again (Drag City, 2015)
01. Wrong Hand
02. Game That I Play
03. Strange Melody
04. Greycedes
05. Moon Dude
06. Jacquelyn in the Background
07. I've Got a Feeling
08. Back, Baby
09. On Your Own Love Again