Who are you Rocket Recordings?
Combien de labels à l'heure actuelle peuvent se prévaloir d'une grosse dizaine de sorties annuelles sans pour autant débiter du kick à tout va et en se concentrant quasi-exclusivement sur des groupes à guitares qui, s'ils ne sont pas dénués de toutes perspectives historiques et stylistiques, ne sont en rien reproductibles à merci ? Combien ? A première vue, aucun. A première vue seulement, car l'Angleterre, celle que l'on aime arpenter et louvoyer, en compte au moins un, à l'aura inversement proportionnelle à l'infinie richesse des groupes qu'il promeut. Son nom ? Rocket Recordings, fondé à la fin des années 90's à Bristol par une triplette de graphistes constituée de Chris Reeder, John O'Carroll et Simon Haley — ce dernier s'étant dissocié de l'aventure assez tôt — et autant passionnés de krautrock que de musiques expérimentales, psyché ou noise. Des débuts difficiles et une menace de faillite, à l'aide de Geoff Barrow et de sa structure Invada Records, en passant par la mise en selle médiatico-discographique de nombre de ses poulains tels que Goat, Gnod, Shit and Shine, Oneida, Teeth of Sea, White Hills et désormais Hey Colossus, Gnoomes ou Hills, le premier nommé a pris le temps de répondre à nos questions tout en nous confectionnant une mixtape commentée à découvrir en fin d'article, le tout flanqué d'un sampler du label retraçant son incroyable année 2015. Attention, pour ceux n'ayant jamais entendu parler des artistes précités, les claques risquent de pleuvoir à l'écoute du tubesque single It's Time For Fun des Suédois de Goat, de l'insubmersible lourdeur des deux albums d'Hey Colossus, In Black And Gold et Radio Static High, du krautrock savamment nimbé d'électronique des Russes de Gnoomes, serti du très recommandable LP NGAN!, des prouesses electro-barrées de Shit And Shine et de ce 54 Synth-Brass, 38 Metal Guitar, 65 Cathedral paré pour la postérité, ou encore de la folie furieuse que provoque chaque embardée psyché-noise de Gnod et notamment son ultime Infinity Machines parcouru de quelques féroces cuivres. Pour les autres, vous savez.
Chris Reeder l'interview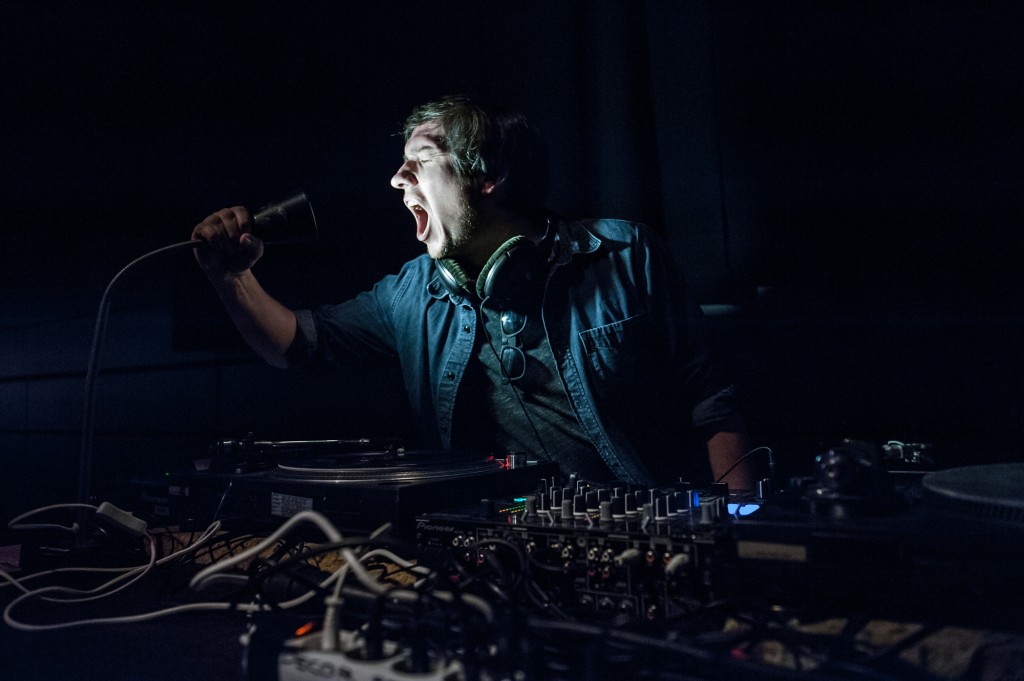 Photo © Chris
Raconte nous comment Rocket Recordings a été lancé ? Quelle a été ta motivation principale pour ce projet ? Est-elle toujours intacte ?
Tell me how did Rocket Recordings get started? What was your main motivation in this project? Is it still the same?
Rocket est né au cours d'un concert des Heads au Louisiana, à Bristol, en 1997. Simon Haley (qui a malheureusement quitté Rocket en 2008) et moi-même étions là, et un très bon ami, Gareth Turner (aujourd'hui dans Anhtropomorphh/Big Naturals) jouait en première partie dans un groupe appelé Lillydamwhite. Après le set psych-punk dégueulasse de Damwhites, Simon et moi nous sommes dits, bourrés, que nous devrions monter un label et sortir un 7" de Lillydamwhite. Le lendemain matin, une fois passés les excès de la nuit, nous en avons reparlé et réalisé que c'était une sacrée bonne idée et qu'on devrait monter un label. En toute logique, notre première release six mois plus tard était un 7" split avec The Heads et Lillydamwhite. Peu après, les deux releases suivantes (des 7" de Sawdust Caesars et Thee Hypnotics) sortaient et John rejoignait Rocket. C'était génial parce qu'on travaillait à temps plein et on pouvait donc se répartir à trois la gestion de Rocket. La motivation ? L'amour des productions indépendantes, des 7" et sans doute parce qu'on voulait s'impliquer dans le monde de la musique !
Rocket was born at a Heads show at the Louisiana in Bristol in 1997. Myself and Simon Healey (who unfortunately left Rocket in 2008) were there and our close friend Gareth Turner (now in Anthroprophh/Big Naturals) was in a band called Lillydamwhite who were supporting. And after the Damwhites scuzzy, psych-punk set, myself and Simon drunkenly said to each other that we should set up a label and release a 7″ by Lillydamwhite. Then the next morning once the nights excesses had faded we chatted again and realised that it was a damn fine idea and we should set up a record label. Apt then that our first release 6 months later was a split 7″ with The Heads and Lillydamwhite. Then soon after the first couple of releases (7″s by Sawdust Caesars and Thee Hypnotics) were out there John joined Rocket which was great as we all worked full time so we could spread the running of Rocket out between the three of us. And what was the motivation? A love for independent records, a love of 7″s, and probably because of just wanted to be involved in the world of music!!
Chris & John, vous êtes des artistes visuels. Pouvez-vous nous expliquer le lien enter votre label et votre art ? Avez-vous réalisé vous-mêmes tous les artworks du label ?
Chris & John, you are visual artists. Can you explain to us the link between your label and your art? Have you realize yourselves all the artwork of your label?
Disons que 'l'art' de la musique a toujours été important parce que les pochettes créatives ont toujours eu une grande influence sur nous. La façon dont une production est perçue est ce qui nous connecte en premier à la musique. C'était davantage le cas avant l'ère d'Internet, où la plupart des découvertes musicales se faisaient chez le disquaire, en s'arrêtant sur les jaquettes dans les bacs. Mais il y a aussi cette fascination de la pochette créative quand on écoute pour la première fois un album en particulier, et qu'on étudie la pochette et son insert alors que la musique est jouée à fond, ça en représente l'univers sonore. Et étant tous deux artistes visuels, on essaie d'apporter une bonne esthétique à toutes nos pochettes, c'est très important pour nous !
Well the 'art' of music has always been important because sleeve art has always been a big influence on us. The way a record looks is what first connects you to the music. Well it used to be more – before the internet age most musical discovery was done in record shops and seeing sleeves on the racks was what pulled you in. But also the fascination of the sleeve art when you first listen to a particular record, you study the sleeve and it's inserts as the music blasts out, it visualises the world the music soundtracks. And as we are both visual artists we try and ensure a good aesthetic in all our sleeves, as it is very important to us!
Le label a dix-sept ans. Pouvez-vous nous préciser les dates charnières de cette aventure ?
The label is seventeen years old. Can you indicate us the big dates of this adventure?
On a connu quelques étapes importantes, je n'arrive pas à me rappeler les dates exactes, mais voilà certains événements clés :
 La sortie de Launch001, notre première release en 1998,
 La sortie de notre premier album, par le groupe Suncoil Sect de Bristol,
 Après avoir touché le fond financièrement et avoir été lâché par une certaine personne, nous avons joint nos forces avec Geoff Barrow d'Invada Records pendant quelques années, ce qui nous a beaucoup aidé. Nous avons une dette éternelle envers Geoff, Paul et Redg pour leur soutien d'alors qui continue aujourd'hui !!!
 Notre fête pour nos dix ans, où ont joué The Heads, White Hills, Notorious Hi Fi Killers, Big Naturals, Teeth of the Sea et Sawdust Caesars,
 Nous quittons Invada en bonne santé et juste après avoir découvert Teeth of the Sea et Gnod,
 Organiser le deuxième Supernormal Festival et remplir l'affiche avec des groupes de Rocket et de proches amis,
 Sortir World Music de Goat et les voir retourner le cerveau des gens en live partout dans le monde,
 Sortir notre compilation des quinze ans, un mélange de groupes de notre roster et de futures stars de l'univers noise imprégné de psyché,
 Organiser des scènes aux festivals psychés de Liverpool et Eindhoven, et voir des milliers de gens s'enflammer sur les sons de nos groupes,
 Voir l'album Commune de Goat rejoindre le top 30 et les voir remplir le Roundhouse à Londres et en tête d'affiche de grands festivals,
 It's Time For Fun, le 7" de Goat, numéro 1 du classement officiel des singles vinyles britanniques.
Well there have been some big chapters for us, can't remember exact dates, but some key events are:
 release of Launch001 our first release in 1998
 release of our first album, by Bristol band Suncoil Sect
 due to hitting rock bottom financially and by being severely let down by a certain (unamed) person we joined forces with Geoff Barrow's Invada Records for a few years which was a massive help for us. We are forever indebted to Geoff, Paul and Redg for the support they gave us and continued support today!!
 our 10th anniversary party where The Heads, White Hills, Notorious Hi Fi Killers, Big Naturals, Teeth of the Sea and Sawdust Caesars played
 leaving Invada in a really healthy state and very soon after discovering Teeth of the Sea and Gnod
 curating the second Supernormal Festival and filling the bill with Rocket bands and close friends.
 the release of Goat's World Music and seeing them blow peoples minds live around the world
 releasing our 15th Anniversary compilation which was a mix of bands in our roster and future stars of the world of psych infused noise
 curating stages at Liverpool and Eindhoven psych fests and seeing thousands of people losing their shit to the music of our bands
 seeing Goat's Commune album go top 30 and seeing them sell out London's Roundhouse and headline major festivals
 Goat's It's Time For Fun 7″ going straight to No.1 in the Official UK vinyl singles chart.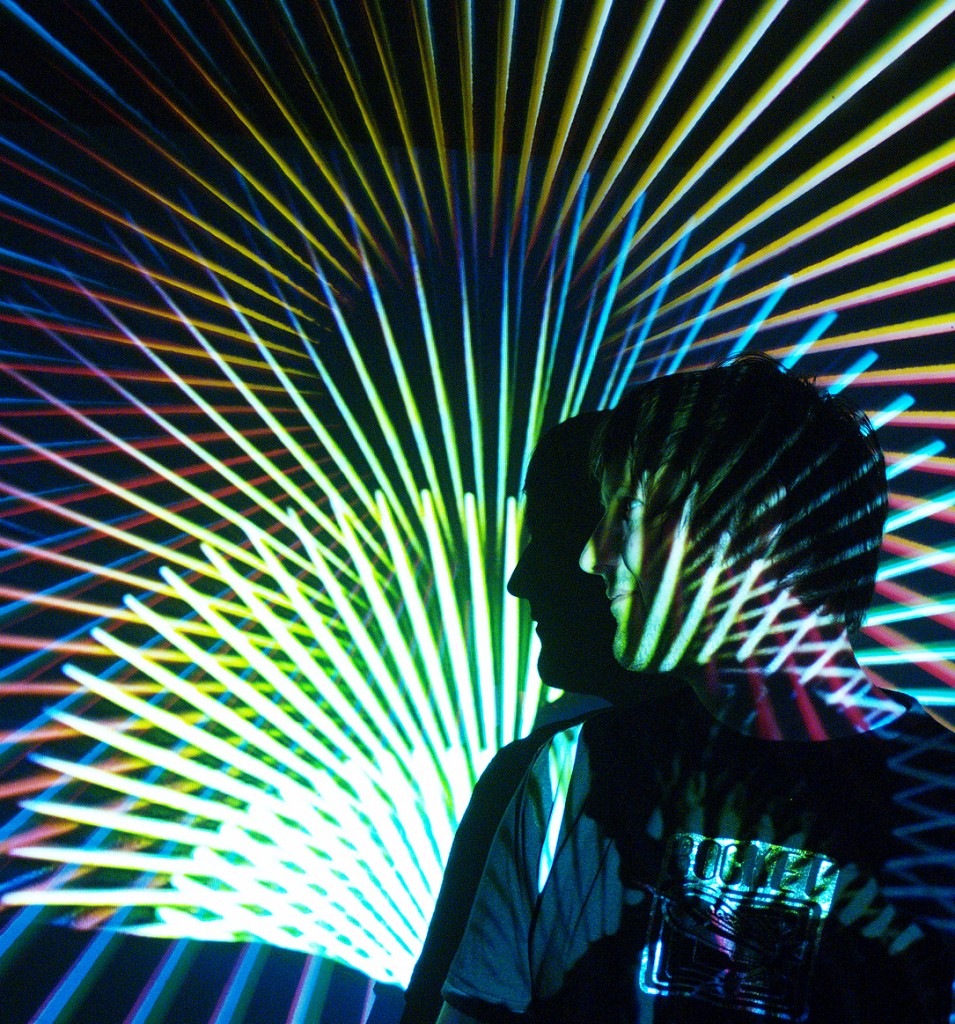 Photo © John
Quelle est la direction artistique du label ? Y a-t-il une esthétique musicale, un concept que vous essayez de faire perdurer à chaque sortie ? Il y a une évolution avec les origines, non ?
What's the artistic guideline of the label? Is there a musical aesthetics, a concept which you try to keep at every release? There is an evolution compared with the origin, no isn't it?
Notre son a indiscutablement évolué avec le temps, mais je dirais qu'il y a plus ou moins un fil conducteur 'psyché' qui se traduit dans nos sorties depuis Launch01 jusqu'à la dernière Launch089. Je dirais qu'on est devenus plus subjectifs qu'à nos débuts où il y n'avait pas trop de groupes psychés, alors qu'aujourd'hui il y en a vraiment, vraiment beaucoup. Avant, on produisait des groupes psychés qui sonnaient un peu plus 'tradi' là où maintenant on se concentre uniquement sur les groupes qui ont de la valeur ajoutée, des groupes qui ne se limitent pas à copier la musique qu'ils entendent sur les galettes de leurs collections : ils prennent les sons qu'ils aiment et en font quelque chose de neuf !
Our sound definitely has changed over the years, but I would say there is a loose 'psych' thread that has gone through all our releases since Launch01 all the way up to the latest Launch089 release. I would say we have become more subjective as when we started there weren't too many psych bands where now there are so, so many. Before we would of released, maybe a more 'trad' sounding psych band where now we only really go for bands that bring something new to the table, bands that don't just copy the music they hear in their records in their collection, they take the sounds they like and create something new grom them!
Quels genres de labels vous ont inspirés dans votre approche ? 
What kind of labels inspired you in your approach? 
Quand nous nous sommes lancés, nous avons surtout été influencés par des labels comme Sub Pop, Sympathy for the Record Industry, Amphetamine Reptile, Alternative Tentacles. Mais depuis notre naissance, d'autres labels nous ont influencés. Personnellement, il s'agit de vieux labels comme Vertigo, Brian, Sky, Rough Trade, Factory, etc., et des labels qui se sont développés en même temps que nous comme Warp, Lex, Mo Wax, Domino, Drag City, Not Not Fun, Invada, Finders Keepers, Diagonal, etc. En gros, les labels qui nous influencent sont les labels qui ont toujours pris des risques, des labels qui n'ont pas eu peur de porter des groupes qui ne rentrent pas dans des cases, des labels qui voient l'importance de l'art de la musique et essaient de dépasser les normes du design et du packaging.
Well when we started it was labels like Sub Pop, Sympathy for the Record Industry, Amphetamine Reptile, Alternative Tentacles that influenced us the most. But since our birth many other labels have influenced us. For me personally it has been old labels like Vertigo, Brian, Sky, Rough Trade, Factory etc and labels who have been going while we have been around like Warp, Lex, Mo Wax, Domino, Drag City, Not Not Fun, Invada, Finders Keepers, Diagonal etc. Basically the labels who influence us are the labels who have always taken risks, labels who have not been afraid of championing the bands that don't fit into boxes, labels that see the importance of the art of the music and try to push the design and packaging beyond the norm.
En tant que gérants de label, le DIY a-t-il une forte influence sur votre travail ? Considères-tu toujours Rocket Recordings comme un label artisanal ?
As label owners, does the DIY have a strong influence on your work? Do you still consider Rocket Recordings like a home-made label ?
Le DIY reste évidemment extrêmement important, puisque c'est ce que nous sommes ! John et moi sommes les A&R du label, les designers du label, les gestionnaires du label, les comptables du label, on crée nos propres vidéos, on crée des light shows pour nos groupes, on joue les DJ à nos concerts, on fait tout. Alors oui, on est vraiment un label artisanal… Oui, on a un studio/hangar à Bristol où vit John, mais je continue à travailler sur la table de ma cuisine à Hackney Wick, à Londres !
Of course, DIY is still extremely important, as that is what we are! Myself and John are the labels A&R, we are the labels designers, we are the labels managers, we are the labels accountants, we create our own videos, we create light shows for our bands, we DJ at our shows, we do everything. So yes, we really are a home made label…yes we have a studio/warehouse in Bristol where John is based, but I still work from my kitchen table at my home in Hackney Wick in London!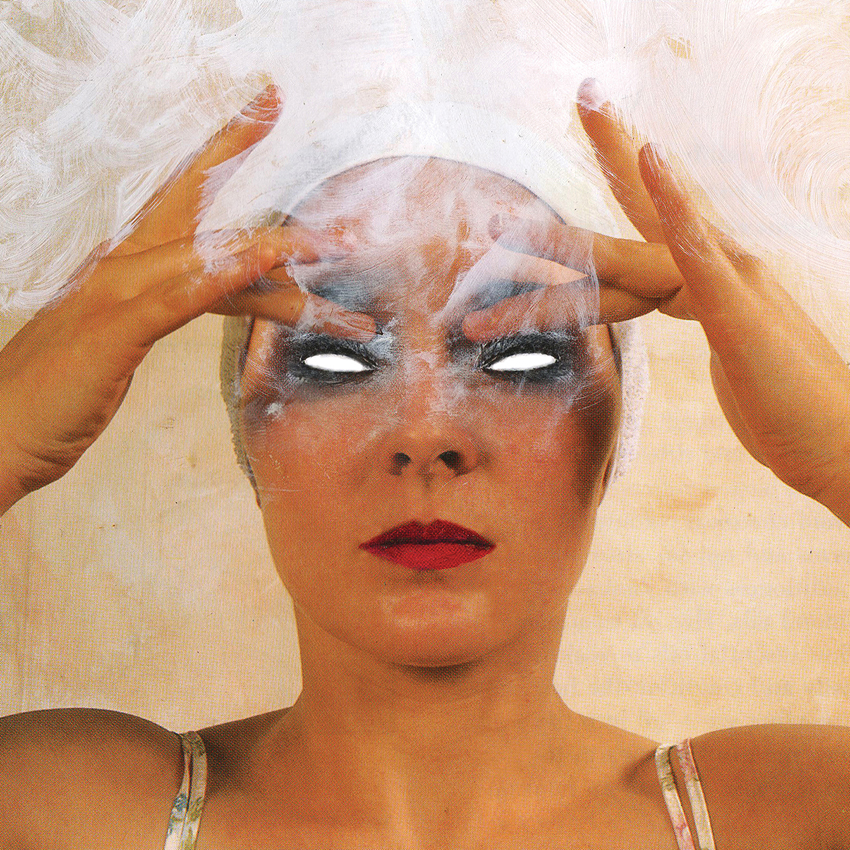 Hey Colossus – Radio Static High
D'après vous, quels artistes ont formé la direction du label ? Comment avez-vous rencontré Gnod, White Hills ou Craig House ?
According to you, what artists shaped the direction of the label? How did you meet Gnod, White Hills or Craig Clouse?
En fait, on a rencontré tous nos groupes de façons différentes ! Mais pour ceux que tu as mentionnés : avec Gnod, nous nous sommes rencontrés aux portes ouvertes de Lava Thief (un label/promoteur tenu par celle qui est aujourd'hui ma femme et Charlie Romijn, un membre du groupe Thought Forms du label Invada) à Townbridge, où jouait Teeth of the Sea. On avait parlé plusieurs fois par mail avec Gnod sans jamais se rencontrer et quand c'est arrivé, c'était complètement naturel. Quand on les a vu jouer, on a su qu'il fallait travailler avec ce groupe. C'était et c'est encore une bande de types géniaux. White Hills, ça s'est aussi passé par mail, ils nous ont contactés pour nous demander si ça nous intéressait de travailler avec eux, on s'est rencontrés, on a encore discuté et on s'est très bien entendus. Shit & Shine, je me rappelle qu'ils ont ouvert pour Part Chimp au Buffalo il y a quelques années, et on a discuté un an et quelques plus tard parce qu'on avait beaucoup d'amis en commun, la plupart tournant autour des Notorious Hi-Fi Killers et de la scène noise de South London.
Les artistes qui ont développé ou développent notre direction artistique ? Dans l'ordre de découverte, je dirais : The Heads, Oneida, Ufomammut, White Hills, Teeth of the Sea, Gnod, Goat, Shit & Shine, Hey Colossus et aujourd'hui les sons de Josefin Öhrn & The Liberation et Gnoomes.
Well, we have met all our bands different ways! But for the ones you have mentioned – Gnod we met at a Lava Thief (label/promoter run by my now wife and member of the Invada band Thought Forms, Charlie Romijn) all-dayer in Trowbridge where Teeth of the Sea were playing. We had spoken to Gnod a few times via email but never met and when we did we hit it off straight way. Then when we saw them live we knew we had to work with this band. They are and have been an amazing bunch of people. White Hills was again via email, they contacted us asking if we would be interested in working with them, so we met up, had a chat and again, really got on well. Shit & Shine, well I remember seeing them supporting Part Chimp in the Buffalo bar years ago and we just got chatting a year or so later as we had lots of mutual friends, mainly all centred around Notorious Hi-Fi Killers and the South London noise scene.
As for what artists have shaped/are shaping our direction? Mmmmmm, I would say, in order of discovery: The Heads, Oneida, Ufomammut, White Hills, Teeth of the Sea, Gnod, Goat, Shit & Shine, Hey Colossus and now the sounds of Josefin Öhrn + The Liberation and Gnoomes.
Comment choisissez-vous les artistes avec lesquels vous travaillez et quelles sont vos relations ?
How do you choose the artists with whom you work and what are your relations with them?
Je n'ai pas vraiment l'impression qu'on choisisse nos artistes, en général c'est eux ! S'agissant de nos relations, honnêtement on a des relations incroyables avec la plupart de nos groupes passés et présents. En fait, on a eu BEAUCOUP de chance. Je pense que les gens que nous avons rencontrés sur le parcours ont fait le succès du label. Nous nous sommes vraiment faits des amis pour la vie grâce au label, et nous en sommes extrêmement fiers !
I don't think we choose our artists really, they usually choose us! And as for relationships, tbh we have amazing relationships with most our bands past and present. We have been VERY LUCKY indeed. The people we met along the way has been the greatest success of the label I think. We genuinely have made some friends for life through the label, which we are extremely proud of!
Quels sont les différents styles ou approches qui vous motivent aujourd'hui ? L'électro ludique et expérimentale de Shit and Shine est-elle selon toi une perspective pour le label ?
What are the different musical approach/styles who motivate you most today? The playful and experimental electronics of Shit and Shine is for you one of the perspectives of the label?
Comme dit plus haut, on essaie d'éviter les clichés. On veut travailler avec des groupes qui font les choses à leur façon, des groupes qui veulent repousser les limites. Certains le font avec subtilité, d'autres comme Shit & Shine et Teeth of the Sea sont complètement indépendants et sculptent un trip musical unique. On est très fiers de chacune de nos sorties, et je pense que si tu reprenais le fil de tous les albums qu'on a sortis et que tu les rassemblais sur une compilation, tu aurais une expérience d'écoute complètement unique… et différente des autres labels, à mon avis ! Je dirais aussi que nous sommes motivés par les groupes et labels qui ont une approche et une éthique similaires.
Well as said earlier, we try and avoid the cliche. We want to work with bands who do things their own way, bands who want to push things. Some do it subtly and some like Shit & Shine and Teeth of the Sea are completely on their own and carving a unique musical journey. We are really proud of every releases we have put out, and I think if you took a track off all of the albums we had put out and put them on a compilation it would make a very unique listening experience… and not like any other label out there I don't think!  And I would say we are motivated by bands and labels who have a simillar approach and ethos.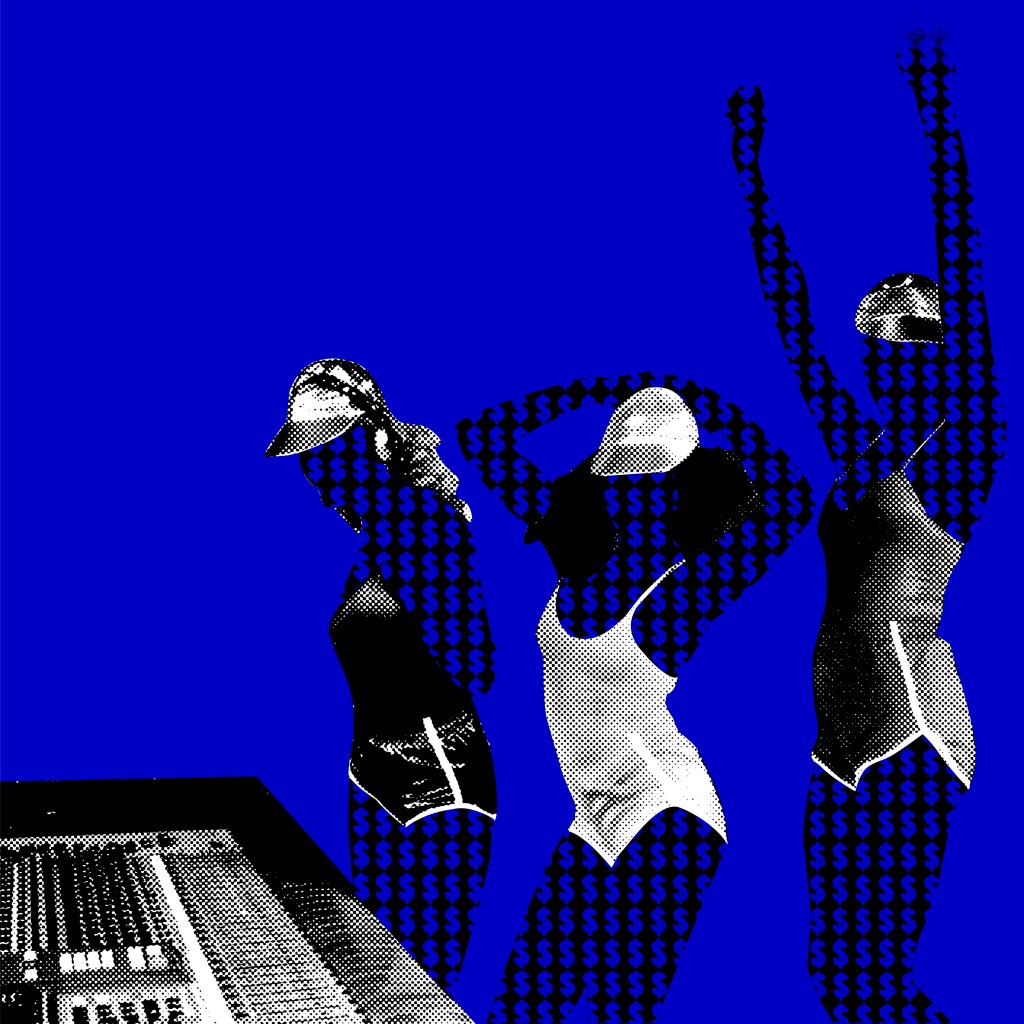 Shit and Shine – 54 Synth​-​brass, 38 Metal guitar, 65 Cathedral
Avec les sorties de Shit and Shine, Hey Colossus et Goat, 2015 a été une grosse année. Tu peux nous parler de vos prochaines releases ?
With records of Shit and Shine, Gnod, Hey Colossus and Goat, 2015 is a massive year. Can you speak to us about your next releases?
C'est vrai, 2015 est de loin notre plus grosse année en termes de sorties. Après celles que tu as mentionnées, on va aussi sortir le nouvel album du super groupe suédois Hills. En novembre, on a aussi un nouvel album de Teeth of the Sea qui s'appellera Highly Deadly Black Tarantula. Un deuxième album de l'année par Hey Colossus intitulé Radio Static High, sorti le 2 octobre. Plus un deuxième EP de l'année par Mamuthones, et un EP par notre perle new-yorkaise Oneida, en novembre. Avec ça, on a le debut LP du groupe Suédois Josefin Öhrn + The Liberation et la groupe russe Gnoomes, et le debut EP du rejeton de Goat, Capra Informis. On a de quoi s'occuper ! On a aussi quelques sorties dans les tuyaux pour 2016. C'est trop tôt pour en parler, mais soyez assuré que d'autres bonnes nouvelles sont à venir !
Well yes, 2015 is easily our biggest year to date with releases. After the ones you have mentioned we also put out a new album by the great Swedish band Hills. We have a new album by Teeth of the Sea called Highly Deadly Black Tarantula out in November. A second album of the year by Hey Colossus called Radio Static High that came out on 2 October. Plus a second EP of the year by Mamuthones plus an EP by New Yorks finest Oneida coming out in November. Plus we have debut LP's by Swedish band Josefin Öhrn + The Liberation and Russian band Gnoomes, plus the debut EP by Goat offshoot Capra Informis. So yeah, pretty busy! We also have several releases in the pipeline for 2016 but it is too early to start talking about them, but rest assured, more seriously great things coming out!
Tu peux nous présenter votre mixtape ?
Can you present us your mixtape? 
Sans problème… Voici un mix dingue avec du groove, du fuzz et de la répétition… Bonne écoute !
Of course… Here is a killer mix full of groove, fuzz and repetition… Enjoy!!
Mixtape
01. Bitchin Bajas – No tabac
02. Container – Complex
03. Sunroof – Zero
04. Holden – Go Feral
05. Cave – Arrow's Myth
06. African Head charge – Elastic Dance
07. Powell – The Ongoing Significance Of Steel And Flesh
08. Fabulous Diamonds – Downhill
09. Urdog – Ice on Water
10. Funkadelic – The rat kissed the cat on the navel
01. Bitchin Bajas – No tabac
L'un de nos morceaux préférés pour le moment. Une bonne tranche de répétition cosmique, afro, psyché et jazz… Sur l'excellent label Hands in the Dark.
One of our favourite tracks of the year so far. A great slice of cosmic, afro, psych and, jazz repetition… On the great label Hands in the Dark.
02. Container – Complex
Ce titre est une tuerie… L'un des meilleurs exemples de techno infusée au kraut que nous ayons entendus ces dernières années.
This is a banger of a track… One of the best example of kraut infused techno we have heard in the last few years.
03. Sunroof – Zero
À la surface, on dirait un simple morceau noise, mais le groove kraut qui l'habite est contagieux. J'adore le jouer en DJ à des concerts et voir les gens perturbés au début, puis remuer dans tous les sens à la fin.
On the surface it appears to be just a noise track, but the kraut groove that runs through it is infectious. I love DJing this out at gigs and see people confused at the start but shuffle dancing by the end of it.
04 Holden. – Go Feral
Une électro-acoustique primitive dirigeant des boucles de beats vers des oscillations à la dissonance viscérale, une mélodie et des rythmes qui évoluent en direction de territoires plus perturbés sur la longueur du morceau.
A electronic-acoustic primitive driving beat loops against visceral dissonance​ oscillations​, melody and rhythms switching places into more distorted territories as the track proceeds.
05. Cave – Arrow's Myth
Voilà un groupe qui existe depuis quelques années maintenant, et leur dernier album Threads, dont est extrait ce morceau, donne l'impression de ne pas avoir trouvé son public. C'est dommage parce qu'on pense que c'est de loin leur meilleur album, et qu'on aurait pu y choisir n'importe quel titre pour ce mix.
They are a band who have been around for several years now and their last album Threads that this track came off seemed to come out without any fanfair at all which is a shame as we believe it is easily their best album and we could of picked any of the tracks off of it for this mix.
06. African Head charge – Elastic Dance
Jetez pêle-mêle quelques rythmiques percussives rituelles comme pratique méditative commune avec de puissantes lignes de basse post punk soufflantes, et cela vous projette par l'hypnose hors de l'univers dub habituel pour jouer avec vous comme avec un yoyo krautrock d'avant-garde en caoutchouc.
Throw together some percussive ritual drumming performed as a communal meditative practice, with heavy chugging post-punk bass lines, this hypnotically moves out of your typical Dub world and toys with you like a Avant-Garde Krautrock rubber band yo-yo.
07. Powell – The Ongoing Significance Of Steel And Flesh
L'un des artistes les plus passionnants du moment. Ce morceau et 'Fizz' sont des fulgurances postkraut/postpunk/posttechno !
One of the most exciting artists around at the moment, this and the track 'Fizz' are works of postkraut/postpunk/posttechno genius!
08. Fabulous Diamonds – Downhill
On adore l'obsession de ce groupe australien pour la répétition… J'espère juste qu'ils passeront au Royaume-Uni un jour, j'adorerais les voir jouer en live.
We love this Australian band's obsession of repetition… Just hope they make it over to the UK for some shows someday, love to see them live.
09. Urdog – Ice on Water
Un excellent groupe américain du milieu/fin des années 2000… Ils ont malheureusement splitté après seulement deux albums, mais quels albums !
Great US band from the mid/late '00s… Sadly they split up after only making 2 albums, but what great albums they are.
10. Funkadelic – The rat kissed the cat on the navel
Peu de personnes connaissent ce morceau car il est estampillé U.S. (United Soul), mais en réalité c'est un titre jamais publié de Funkadelic, enregistré à l'époque où le groupe était à sa féroce apogée… Tout ce que nous en dirons, c'est d'attendre que le fuzz arrive… Une conclusion parfait à ce mix !
Not many people know this track as it is billed as U.S. (United Soul), but infact it is an unreleased Funkadelic track and it was recorded at the time when the band were at their most ferocious best… All we will say is, you wait for that fuzz to kick in… A perfect climax to the mix!
Sampler Rocket Recordings
01. Hey Colossus – Radio Static High
02. Josefin Öhrn + The Liberation – Horse Dance
03. Gnod – Infinity Machines
04. Gnoomes – Ngan!
05. Goat – It's Time For Fun
06. Shit & Shine – 54 Synth-Brass, 38 Metal Guitar, 65 Cathedral
08. Teeth of Sea -Highly Deadly Black Tarantula
09. Capra Informis – Womb of the Wild EP
10. Hills – Frid
11. Mamuthones – Symphony for the Devil EP