Prince Innocence interview & Mixtape
Prince Innocence est l'écho féminin, sensuel et synthétique de Little Girls (lire), groupe d'obédience shoegaze par lequel son géniteur, Josh McIntyre, s'est fait remarquer, sautant avec autant de facilité de labels en labels (Paper Bag Records, Captured Tracks, Mexican Summer, Sixteen Tambourines, Hand Drawn Dracula), qu'il n'eut de brio pour rendre ses chansons addictives – de White Night à Delaware (Cults EP), en passant par Last Call (Concepts LP). L'influence de Talvi Faustmann, à la voix délicieusement suave et à l'implication croissante, n'est pas étrangère à cette dissociation des projets qui, au départ, ne sonne pas telle une évidence. Suffit-il d'écouter Night People, titre donnant son nom à leur premier EP, pour s'en rendre compte. Sans doute parce que Josh est trop habitué à travailler seul et que Talvi débute, presqu'à contrecœur, au chant, les choses ne peuvent en retourner autrement. Avec la volonté de l'un de partager ses expériences musicales – Little Girls, désormais quatuor, sort dès 2013 sur Hand Drawn Dracula – et l'assurance vite acquise de l'autre, Prince Innocence se meut en l'espace de quelques mois en duo usant uniquement de claviers et de boîte à rythme, dressant un pont noctambule cold-wave et minimal-disco, soit entre les Lyonnais de Deux – dont l'EP Golden Dreams a récemment été réédité par Minimal Wave (lire) – et la formation orégonaise Glass Candy de l'intarissable Johnny Jewel. N'hésitant pas à transgresser le genre, en confiant par exemple un remix de Girls (écouter) à Deniro Farrar, ou à rendre hommage aux pionners de la synth-wave, avec une reprise ci-après en écoute de l'éthérée Cheree de Suicide, Prince Innocence jette les bases d'un futur majuscule et dont les prémisses seront déflorés dès l'automne avec un EP à paraître sur Pretty Pretty Records, en plus d'une imminente vidéo confiée à Sandy Miranda de Fucked Up. Josh et Talvi livrent, en fin d'entrevue, une mixtape comprenant une version instrumentale de Glow, morceau figurant sur ledit EP.
Audio
Entrevue avec Josh & Talvi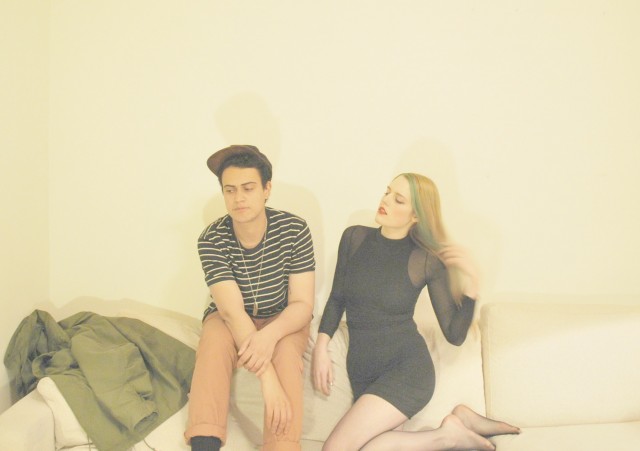 Après avoir sorti quelques singles et un LP sous le nom de Little Girls, comment est apparu le concept de Prince Innocence et d'où vient le nom ?
After releasing some singles and one LP under the Little Girls moniker, how did the whole concept of Prince Innocence come about and how did you come up with the name?
Josh : À l'origine, le concept de Prince Innocence devait être un projet à base de synthés où j'aurais joué de tous les instruments et chanté. Après avoir enregistré quelques démos, je me suis rendu compte que les morceaux ressemblaient trop à ceux de Little Girls. En février 2012 – après des semaines de travail de persuasion – Talvi et moi avons enregistré l'EP Night People. J'avais toujours eu en tête le nom de Prince Innocence sans jamais avoir vraiment su ce que ce serait.
Josh: The concept for Prince Innocence was originally going to be a synth based project where I played all the instruments and sang. After recording a few demos, I realized the tracks sounded too similar to Little Girls. In February 2012 (after weeks of convincing) Talvi and I recorded the Night People EP. The name Prince Innocence was always something I was toying around with but never really knew what it would be.
Comment vous-êtes vous rencontrés ?
How did you meet?

Josh : Talvi et moi nous connaissons depuis le lycée.
Josh : Talvi and I have known each other since high school.
Talvi, avais-tu déjà chanté dans un groupe avant Prince Innocence ou s'agit-il de ta première expérience musicale ?
Talvi, you sang in a group before Prince Innocence or is it your first musical experience?
Je n'avais jamais fait partie d'un groupe avant Prince Innocence mais je chantais tout le temps (en secret) et j'ai joué de la flûte pendant de nombreuses années quand j'étais plus jeune.
I have never been in a band before Prince Innocence but sang all the time (secretly) and played the flute for many years when I was younger.
Comment décririez-vous Prince Innocence et qui sont vos plus grandes influences pour ce projet ?
How would you describe Prince Innocence, and who are your biggest influences in this project?
Josh : Je dirais que Prince Innocence est un groupe de synthé minimal. Nos influences vont de Broadcast à Deux en passant par Molly Nilsson, Suicide, J Dilla. Plus récemment, je me suis mis à écouter beaucoup de dance music, particulièrement de la house et de la techno.
Talvi : Je suis inspirée par des voix froides et simples comme celles de Trish Keenan de Broadcast et d'Ida No de Glass Candy. J'aime beaucoup les mélodies irrégulières de voix que Robert Pollard de Guided by Voices utilise dans ses chansons. Les morceaux de My Bloody Valentine sont beaux et tristes sans être bidons et c'est clairement ce que nous essayons d'approcher.
Josh: I would describe Prince Innocence as minimal synth band. Our influences range from Broadcast, Deux, Molly Nilsson, Suicide, J Dilla. More recently I've been listening to a lot of dance music specifically house and techno.
Talvi: I am inspired by cool unaffected voices like Trish Keenan from Broadcast, and Ida No from Glass Candy. I really like the irregular vocal melodies that Robert Pollard from Guided by Voices'does in his songs. I think that My Bloody Valentine songs are beautiful and sad without being cheesy and that's definitely something that I think we try to achieve.
Quels genres de sentiments mettez-vous dans vos morceaux ?
What kind of feelings do you put in yours songs?
Talvi : Nos morceaux ont des éléments sombres et graveleux inspirés par la ville et mélangés avec une sorte d'espoir doux-amer. Bien qu'il y ait toujours une composante de résignation dans nos morceaux, une lueur d'optimisme est toujours présente ça et là.
Talvi: I think our songs have elements of darkness and grittiness inspired by the city but mixed with a sort of bittersweet hopefulness. While there is a resigned quality to most of our songs, there will always be a small glint of optimism here and there.
Josh, tes premières sorties avec Little Girls était très lo-fi. Avec Prince Innocence, vous semblez être extrêmement soucieux de la production de vos albums. Pourquoi ?
Yours first releases with Little Girls were very lo-fi. With Prince Innocence, you seem very worried by the production of your albums. Why?
Josh : Je crois que la principale différence avec la production de ces projets est simplement qu'on s'améliore avec le temps. Prince Innocence est toujours enregistré avec le même matériel que j'avais utilisé pour Little Girls. Le son est beaucoup plus propre et plus poli mais encore un peu brouillon par endroit.
Talvi : J'ai aussi insisté pour enregistrer les morceaux encore et encore et je suis devenue obsédée par ma contribution aux morceaux.
Josh: I think the main difference between the production on these projects is just getting better over time. Prince Innocence is still recorded with the same gear I use for Little Girls. It's a lot cleaner and more polished sounding but still a little rough around the edges.
Talvi: I also insist on recording things over and over and become obsessive about what I contribute to songs.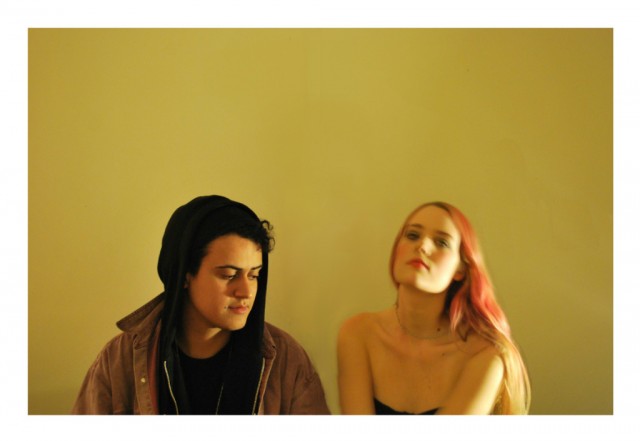 Prince Innocence, est-ce que c'est une façon d'échanger la guitare pour un synthétiseur ?
Prince Innocence, is it your way of exchanging your guitar for a synthesizer?
Josh : Pendant l'enregistrement du dernier EP de Little Girls, Cults, j'ai commencé à vraiment expérimenter avec les synthétiseurs mais en gardant toujours beaucoup de guitares sur le disque. Quand j'écrivais pour Prince Innocence, j'ai vraiment voulu sortir de ma zone de confort et essayer de m'en tenir à l'idée d'utiliser uniquement des synthés. Je suis très à l'aise pour écrire des chansons à la guitare mais c'était un peu un défi de me limiter à utiliser principalement des synthétiseurs.
Josh: While recording the last Little Girls EP Cults I started really experimenting with synthesizers but still maintained a lot of guitar on the record. When writing for Prince Innocence I really wanted to get out of my comfort zone and try to stay within the realm of strictly using synths. I'm very comfortable writing songs on guitar but it was a bit more of a challenge to limit myself to mainly using synthesizers.
Les disques de Little Girls sont sortis sur les labels Paper Bag Records, Sixteen Tambourines & Hand Drawn Dracula. Quel sera celui de Prince Innocence ?
The Littles Girls records were released on Paper Bag Records, Sixteen Tambourines & Hand Drawn Dracula. What will be the one for Prince Innocence?
Josh : On va sortir un nouvel EP à l'automne sur Pretty Pretty Records.
Josh: We will be releasing a new EP in the fall on Pretty Pretty Records.
Comment avez-vous rencontré James Mejia et quels sont vos sentiments sur son travail ?
How did you meet James Mejia and what's your feeling with his work?
Josh : J'ai rencontré James il y a quelques années et nous sommes restés amis depuis. Le nouvel LP de Little Girls sortira sur Hand Drawn Dracula.
Josh: I met James a few years ago and we've been friends ever since. The new Little Girls LP will be coming out on Hand Drawn Dracula.
De quels groupes actuels vous sentez-vous proches ?
Which actual bands do you feel close to?
Josh : Il y a beaucoup de super groupes originaires de Toronto à l'heure actuelle. Ell V Gore, Tezeta, Mausoleum, Cellphone, Kontravoid.
Josh: There are a lot of great bands coming out of Toronto right now. Ell V Gore, Tezeta, Mausoleum, Cellphone, Kontravoid.
Josh, tu viens de Toronto et Talvi, tu vis à Montréal. Donc… quelle est la meilleure scène musicale : Toronto ou Montréal ?
Josh you're come from Toronto and Talvi you're living in Montreal. So… What's the best music scene : Toronto or Montreal?
Josh : Les deux scènes sont géniales. J'ai vécu à Toronto toute ma vie et il est évident que j'ai plus de liens avec cette scène mais ceci étant dit, j'aime vraiment beaucoup de musique qui vient de Montréal. L'année dernière j'ai partagé mon temps entre Montréal et Toronto et j'ai eu l'occasion de rencontrer tellement de personnes géniales à Montréal.
Talvi : La scène musicale de Montréal que je connais est principalement composées d'anglophones vivant à Mile End. Leur musique est plus expérimentale et utilise souvent des synthés et des sampleurs. Il y a plus de liberté et de pression pour être original à Montréal. Le coût de la vie y est aussi beaucoup moins élevé ce qui contribue à attirer des gens dans une communauté créative. La musique à Montréal est très orientée pour les soirées étant donné qu'il y a beaucoup de jeunes qui vivent ici avec cette soif de danser toute la nuit.
Josh: I think both scenes are great. I've lived in Toronto my whole life and obviously have more ties to the scene here but that being said I really love a lot of the music coming out of Montreal. Last year I divided my time between Montreal and Toronto and got to meet so many great people in Montreal.
Talvi: The Montreal music scene that I know consists of mostly anglophone kids who live in Mile End. Their music seems to be more experimental and often uses synths and samplers. There's more freedom and pressure to be unique in Montreal. Also the cost of living is a lot cheaper so that always helps attract people to a creative community. Music in Montreal is also very party-oriented because there are so many young people who live there who want to go out and dance all night.
Qu'est-ce qui vous attend et préparez-vous une tournée avec Prince Innocence ?
What's next for you & are you going on tour with Prince Innocence?
Josh : Notre EP sort à l'automne sur Pretty Pretty Records, suivi par un 7″. Un clip sort bientôt et on prévoit de jouer le plus possible. Il y aura aussi un nouvel LP de Little Girls en 2013.
Josh: Our EP on Pretty Pretty Records is coming in the fall, followed by a 7 ». We have a new music video coming out soon and plan to play as much as possible. Also a new Little Girls LP in 2013.
Enfin, pourriez-vous nous présenter votre mixtape ?
And last, can you introduce us your mixtape?
Josh : Pour ce mix, on voulait capturait une certaine atmosphère. C'est définitivement de la musique à écouter la nuit.
Josh : For this mix we wanted to capture a certain mood. This is definitely music to be listened to at night.
Traduction : Marie-Eva Marcouyeux
Prince Innocence Hartzine Mixtape
(TC/DL)
01. Symmetry – The Nightshift
02. Tropic Of Cancer – The One Left
03. Jan Hammer – Crocketts Theme
04. Ariel Pink – Symphony Of The Nymph
05. Nicolas Jaar – Space Is Only Noise If You Can See
06. Aluna George – You Know You Like It
07. Prince Innocence – Glow (Instrumental)
08. Suicide – Diamonds, Fur Coat, Champagne
09. Oppenheimer Analysis – Scorpions
10. Symmetry – Magic Gardens
11. Mark E – Black Moon
12. Mike Simonetti – The Stroms (Instrumental)