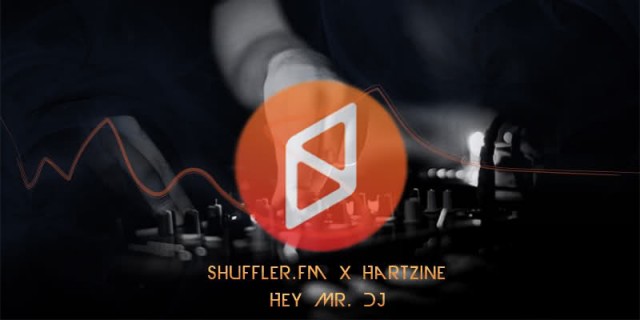 Shuffler.fm est un agrégateur de blogs, et plus particulièrement des mises en ligne audio de ces derniers. En cela, on peut le décrire tel un immense radiozine étalonnant par l'audience les tendances musicales émanant de la blogosphère. Rencontre et présentation avec Andriana qui, en plus de signaler notre existence sur cette toile d'un nouveau genre – Hartzine ayant donc une sorte de webradio hébergée sur leur site – nous a concocté une mixtape aussi éclectique que ne l'est Shuffler.fm.
Entretien
Peux-tu te présenter en quelques mots ?
Can you introduce yourself in a few words?
Mon prénom est Andriana mais mes amis m'appellent Dre. Je suis simplement une fan avec une oreille tendue vers ce qui est bon et je diffuse la musique que j'aime sur le web et le plus de blogs possibles.
Avant Shufler.fm, je tenais mon propre blog tout en travaillant dans une start-up de technologie en médias sociaux à Venice, Californie. J'aime beaucoup travailler pour Shuffler.fm (job de rêve).
My name is Andriana, but my friends call me Dre. I'm just a fan with an ear for what's good, spreading the music I love across the interwebs and on as many blogs as possible.
Before Shuffler.fm I was running my own music blog and working at a social media technology start-up in Venice, CA. I like working for Shuffler.fm a lot (Dream job).
Comment Shuffler.fm est né ?
Tell me how Shuffler.fm was born? 
Shuffler.fm a été fondé par le développeur Tim Heinke. L'idée était de créer un site/application qui génère des recommandations musicales basées sur des sources déjà connues de l'auditeur, les blogs.
Shuffler.fm was founded by developer Tim Heinke. The idea was to create a music site/app that generated music recommendations based on taste you already trust, music blogs.
Peux-tu présenter les rubriques de Shuffler.fm ? 
Can you explain us all the categories of Shuffler.fm?
Shuffler.fm est divisé en catégories qui facilitent la navigation entre les milliers de blogs et de sites référencés dans notre base de données.
Lecture par genre (radio) : lire le web par genre, style radio.
Lecture d'un blog spécifique : nous convertissons tout les blogs/sites musicaux en station de radio. Tu aimes ce que t'entends ? Clique sur « play this blog » ou recherche le site dans notre répertoire.
Buzz/Charts (populaire en ce moment) : lecture des derniers morceaux qui montent.
Marquer comme favoris des titres sur les blogs/sites : marque les chansons que tu aimes et garde-les pour plus tard.
S'abonner à un blog/site/artiste : reçois l'actualité de tes chroniqueurs du web préférés sur ton iPhone, iPad, site internet ou email.
Le magazine personnel : abonne-toi à tes chroniqueurs et artistes préférés directement depuis le player et construit ton propre magazine. Si tu souhaites en savoir plus sur tes artistes favoris, clique sur le bouton « subscribe« .
Shuffler.fm is divided into categories to make surfing the thousands of blogs and sites in our database much easier.
Play by genre (Radio) : play the web by genre, radio style.
Play a specific blog (Blogs) : we turn every music blog/site into a radio station. Like what you hear? Click on play this blogon the player or find the site from the blog directory.
Trending/Charts : play the latest, hottest, fastest rising songs or featured sections.
Subscribe to blogs/sites/artists : receive updates from the coolest tastemakers on the web to your iPhone, iPad, web or in your e-mail.
Personal magazine : subscribe to your favorite tastemakers or artist straight from the player and build your own personal magazine. Want to know the latest news from your favorite new artist, hit the subscribe button.
Pourquoi ce nom ?
Why this name Shuffler.fm? 
Et bien, nous sommes essentiellement un radiozine (fm). Nous offrons à nos utilisateurs la possibilité de naviguer au travers de milliers de sites musicaux et de blogs tenus par des chroniqueurs qui filtrent la surcharge d'information. Ensuite l'utilisateur construit son magazine personnel basé sur ses artistes, genre, blogs etc. favoris (shuffler). Le mieux est que c'est une plateforme auto-entretenue qui se met à jour toute seule, ce qui fait de chaque visite une expérience unique. Le web est ton lecteur et les blogueurs sont tes DJ, c'est ça Shuffler.fm !
Well essentially we are a radiozine (fm). We allow users to channel surf the music web through thousands of music sites and blogs, curated by tastemakers who filter the music information overload. Then you build your own personalized magazine based on your favorite blogs, artists, genres and more (Shuffler). The best part is, it's self-sustaining and updates on it's own, so it's always a unique experience, every time you visit. The web is your player and bloggers are your DJs, and that's how you get Shuffler.fm!
Qu'est-ce qu'un bon blog ?
What's for you a good blog/site…?
J'adore les blogs super indé qui se focalisent sur des projets DIY, mais également les plateformes plus importantes qui font plus que simplement poster des mp3. Ils cherchent à supporter la communauté musicale et à offrir une vitrine à ces talents au travers d'une large variété de médias, vidéos, collaborations, et plus. Ces deux types de blogs ont une manière de me faire découvrir de nouveaux artistes qui tranche avec le reste des médias du web. J'aime ça.
La blog culture est ce qui est arrivé de mieux et de pire à l'internet. La gratification immédiate est la boisson de choix et tout le monde est alcoolique. Tout le monde peut se sentir célèbre. Les musiciens, artistes et blogueurs ont poussé l'idée de « publier ou périr » à l'extrême. Je ne sais pas si cela a eu un effet pervers sur la créativité ou si au contraire ça l'a aidé à jaillir mais ce que je sais, c'est que je peux découvrir et avoir accès à une multitude de nouveaux titres musicaux géniaux tout les jours grâce aux blogs, ce que je ne pouvais pas faire aussi facilement il y a cinq ou dix ans. Après, je n'ai pas de vie sociale (Shuffler existe pour ceux d'entre vous qui en ont une).
I love those super indie blogs that are obsessing over these DIY projects, but also those bigger blogs/sites that do more than just post mp3s. They are looking to support the music community and showcase those talents in a variety of mediums, videos, interesting collaborations, art and more. Both types of sites are introducing me to new artists in ways the rest of the internet isn't. I dig that.
Blog culture is the best and worst thing to ever happen to the internet. Instant gratification is the drink of choice and everyone's an alcoholic. Everyone gets to feel like a celebrity. Musicians, artists, and bloggers alike have taken the term "publish or parish" to an extreme. I don't know if that has hindered or helped spark creativity, but what I do know is I'm able to discover thrones of fantastic new music every day because of blogs, something I wasn't able to do with such ease five or ten years ago. Then again I have no life (Shuffler.fm exists for those of you that do).
Comment choisissez-vous le blog du jour ?
How do you choose the blog of the day?
Parfois ce sont des recommandations, mais la plupart du temps il s'agit du site le plus écouté sur Shuffler.fm
Sometimes it's recommendations, but most of the time, it's whatever site we have been listening to most on Shuffler.fm.
Quel est le futur proche de Shuffler.fm ?
What's the near future of Shuffler.fm?
Nous avons lancé notre application iPhone en août dernier, ce qui vous permet d'écouter, de vous renseigner et de partager toute la musique géniale de notre site sur votre iPhone. En plus ça a de la gueule. Nous avons également lancé la V2 du site qui présente beaucoup d'options pour faciliter la découverte et le partage de la musique que vous aimez. Nous travaillons également sur la V2 de l'application iPad qui devrait voir le jour en 2013, et nous avons beaucoup de nouveaux projets pour l'année à venir que j'ai hâte de vous faire partager. De grandes choses.
We just launched our iPhone App in August, which allows you to listen, read about and share all the great music on our site on your Iphone. Plus it looks really cool. We also, recently launched V2 of our website with lots of new features to make it easier to discover and share the music you are digging. We are also working on V2 of our iPad App, due out in 2013, plus we have several more product announcements later this year that I can't wait to share. Big things.
Tes espoirs les plus fous ?
And what's your craziest hopes?
De l'argent gratuit, ce serait fou… haha. J'espère que Shuffler.fm aura un impact sur la manière dont les gens appréhendent la musique, et que ça devienne une référence en terme d'expérience de découverte musicale totale.
Free money. That would be my craziest hope.. Haha. My hope is that Shuffler.fm can make an impact on the way people discover, and can eventually become a household name when it comes to a complete music discovery experience.
Des addictions ?
Addictions? 
Live shows and music festivals, Schoolboy Q, the comments on SoundCloud tracks (love/hate), house and techno documentaries, Andy Stott's Luxury Problems, The Warehouse Project in Manchester, UK, clear vinyl, Rihanna not giving a fuck, T. Williams, oversharing on Twitter, Yours Truly sessions, Dropbox, The Soundtrack to Lost in Translation, Holy Other, stupid music genre names, doing on camera interviews for The Line of Best Fit, electronic projects putting on a show with live instruments, Disclosure, chopped up jazz samples & Shuffler.fm (obviously).
Traduction : Alexandre Z Poveda.
Mixtape
01. Beastie Boys – No Sleep Till Brooklyn
02. Joey BadA$ – FromdaTomb Feat Chuck Strangers
03. Ryan Hemsworth – Cold & Tempted
04. TNGHT – Gooo
05. Alunageorge – You Know You Like It
06. Kendrick Lamar – Money Tree (Feat. Jay Rock)
07. Goldroom – Fifteen
08. Chromatics – Kill For Love
09. Lapalux – Forgetting and Learning Again (ft. Kerry Leatham)
10. Frank Ocean – Thinkin Bout You
11. The xx – Angels
12. Fiona Apple – Every Single Night
13. Wild Nothing – Shadow
14. Flying Lotus – See Thru U feat. Eryka Badu
15. Dirty Projectors – Dance For You
16. Haim – Forever
17. Lemonade – Softkiss
18. Disclosure – Latch ft. Sam Smith
19. Little Boots – Headphones (Todd Edwards Remix)
---
Les opinions du lecteur
---