Focus Berlin Atonal: interview JK FLesh
On conclut avec ce dernier entretien nos rencontres artistiques avec les artisans musicaux qui illumineront cette édition 2016 du Festival Berlin Atonal avant de rentrer dans le dur de la programmation. Et franchement pour cette dernière on ne s'est pas foutu de vous. C'est au tour de JK Flesh de répondre à nos questions. Et pour ceux qui ne connaîtraient pas le bonhomme, il suffit de savoir que derrière cet obscur pseudonyme se dissimule en fait l'immense (autant par la taille que le talent) Justin K. Broadrick, tête pensante de Godflesh, Jesu, Techno Animal, The Blood of Heroes et j'en passe. L'occasion de faire un bilan de carrière et de s'épancher sur son passé, son présent et son futur.
Tes débuts musicaux remontent au milieu des années 80, pas trop dur de se dire qu'à tout juste 46 ans tu es déjà un vétéran de la musique ?
Your musical beginnings date back to the mid-80s, at 46 years old do you feel like a veteran of the music ? 
Je pense en réalité que je débute toujours, que je suis toujours en apprentissage, comme si ces années n'avaient été que des mois!
I actually feel like i am still beginning, and still learning, these years feel like months!
Tu as joué à peu près tous les styles de musique et tu fais parti des précurseurs des mouvements metal-indus, grindcore ou encore abstract hip-hop… D'où te vient ce besoin de constamment te renouveler ?
You played almost all styles of music and you are part of the precursors of metal-indus movements, grindcore or abstract hip-hop … Why do you constantly need to reinvent yourself ? 
Je ne prévois jamais l'invention, je ne la force pas. Je pense que je me lasse rapidement, souvent alors que je me suis totalement immergé dans un son singulier / un concept / un projet particulier, j'ai ensuite envie de créer le total opposé. C'est un processus entièrement naturel, rempli d'accidents créatifs. Mon unique réel besoin est de d'exprimer ma créativité de façon permanente.
I never pre-conceive invention, it's never forced. If anything I get bored of things quickly, and once I submerge myself in a singular sound / concept / project, and the task at hand has been achieved, I often feel like then creating the opposite. This is a entirely natural process, full of creative accidents. If I need anything then it's to express myself creatively, consistently.
Depuis peu JK Flesh est devenu ton projet principal, et bien que son acte de naissance officiel date de 2012 avec la sortie de Posthuman, on retrouve ses racines dans certains de tes projets beaucoup plus anciens comme Final par exemple… Penses-tu être arrivé à un certain aboutissement avec JK Flesh ou bien est-ce le début d'un renouveau?
Recently JK Flesh became your main project, and meanwhile his official birth date of 2012 with the release of Posthuman some of his roots can be find in some of your older projects such as Final for example … Do you see JK Flesh as a sort of outcome or is it the beginning of a revival? 
C'est un projet qui a toujours été présent, depuis le tout début des années quatre-vingt dix, si ce n'est depuis les années quatre-vingt ! A vrai dire il l'est depuis que j'ai posé les mains sur des machines et que j'ai su construire du son.
Comme je l'ai récemment écrit dans une autre interview, j'ai essentiellement commencé à produire de l'electronica en solo y intégrant différentes influences de la musique électronique basée sur le beat (techno, hip-hop, drum'n'bass, etc.) à partir du début des 90's. Voire des 80's.
Presque tout a été intégré à des projets collectifs, mais certains sons sont restés en attentes dans un coin tandis que j'ai mettais mon énergie dans ces productions collectives.
J'ai estimé à la fin des années 2000 que je souhaitais poursuivre en solo et le pseudonyme de JK Flesh s'est affirmé tout naturellement car c'était mon pseudonyme dans les projets que j'ai partagés avec Kevin Martin – Techno Animal, The Sidewinder, etc. C'est simple pour moi, d'explorer le côté plus heavy de ce que j'aime de la techno, grime/garage, drum'n'bass, etc.
It's in constant motion, and has been since the very early nineties, if not even the eighties! Once I got my hands on electronic equipment and could build beats.
I recently wrote this in another interview: I essentially began producing solo electronica that embodied all corner of beat oriented electronic music (be it techno, hip-hop, drum'n'bass, etc.) in the early 90's. If not even the 80's.
But nearly everything usually got absorbed into collaborative projects, but some didn't, and often this material just sat gathering dust whilst I constantly put my energies into collaborative projects.
I felt in the late 2000's that I finally wished to pursue this solo, and the JK Flesh pseudonym seemed most fitting since this was my pseudonym in the projects Kevin Martin and I shared – Techno Animal, The Sidewinder, etc. It feels free, basically for me to explore the heavier side of what I love about techno, grime/garage, drum'n'bass, etc.
Avec JK Flesh, tu dévoiles une musique industrielle sous influence techno plutôt que l'inverse, ce qui donne à ta musique une direction très différente de ce que l'on a pu entendre jusqu'à maintenant. Est-ce une manière détournée de revenir à tes origines musicales ou cherches-tu à pousser la musique industrielle à un autre niveau ?
With JK Flesh you unveiled the industrial music with a techno influence rather than the reverse, that gives your music a very different touch than what we heard so far.
Is this a roundabout way back to your musical background or are you trying to push industrial music to another level? 
Depuis que j'ai découvert les débuts d'une techno la plus primitive, j'ai constaté qu'il y avait une relation directe avec la musique industrielle, spécifiquement le côté rythmique de l'industriel, qui une fois découverte était toujours quelque chose que je ressentais le besoin d'explorer, ceci se manifesta aussi quelque peu dans Godflesh, mais était aussi présent dans Techno Animal, et maintenant JK Flesh. La musique industrielle et le punk étaient les premières musiques qui m'ont touché comme un enfant, elles m'ont frappé d'une façon très pure, donc toutes mes créations musicales sont en fin de compte éclairées par ces genres, tant esthétiquement que musicalement. Ces styles ont aussi reflété l'environnement  dans lequel j'ai été élevé – les quartiers de logements sociaux très peuplés de Birmingham au Royaume-Uni.
Ever since I discovered the most primitive early techno, I found it had a direct relationship with industrial music, specifically the rhythmic  side of industrial, which upon discovery was always something I'd felt the need to explore, this also somewhat manifests itself in Godflesh, but was also prominent in techno-animal and now JK Flesh. Industrial music and punk were the first musics that touched me as a kid, they hit me in a very pure fashion, so all my musical creations are ultimately informed by these areas, both aesthetically and musically. these areas also reflected the environment I was raised in – the densely populated council estates of Birmingham, UK. 
En 2013 tu as enregistré Worship is the Cleansing of Imagination, split EP avec Dominick Fernow aka Prurient. Comment c'est organisée cette collaboration ? Vous cultivez des univers très proches, n'est-ce-pas ?
In 2013 you recorded Worship is the Cleansing of Imagination, split EP with Dominick Fernow aka Prurient. How this collaboration is born ? You grow very close universe, right ? 
Nous avons beaucoup dans commun et avons unprofond respect pour nos travaux respectifs. C'est un artiste extrêmement intelligent et talentueux et en tant qu'être humain, une inspiration constante et un ami très proche.
We have a lot in common, and have a deep respect for each others work. He is an extremely intelligent and gifted artist, and human being, a constant inspiration and a very close friend.
Cette année, tu as eu une double activité avec la réédition de Nothing is Free sur Downwards et la sortie de ton album Rise Above sur Electric Deluxe. Si l'on est pas surpris de te retrouver sur le label de Karl O'Connor, on l'est plus de te retrouver sur celui de Speedy J. Comment se sont réalisés ces deux projets ?
This year, you had a dual activity with the re-edition of Nothing is Free on Downwards and output of your album Rise Above on Electric Deluxe. If we are not surprised to find you on Karl O'Connor's label, it is more unexpected to see you on the one of Speedy J. How do you manage those different projects ?
Speedy J a entendu du projet JK Flesh via un remix que j'ai fait pour AnD sur Electric Deluxe, il a aimé le remix et a demandé si j'avais des matériaux semblables pour la sortie possible sur label, je lui ai envoyé 8 morceaux et il a voulu les compiler tous comme un LP (2 x 12″) d'où la sortie de Rise Above. J'enregistre constamment sous JK FLESH donc je suis toujours heureux de sortir autant de disques que possible! En parlant de Dominick Fernow, il a sorti  une double cassette  extrêmement limitée, Suicide Estate by JK Flesh l'année dernière sur son label Hospital Productions, que je sortirai sous forme digitale très bientôt.
Speedy J heard the JK Flesh project via a remix i did for AnD on Electric Deluxe, he loved the remix and asked if I had any similar material for possible release on his label, i sent him 8 tracks and he wished to release them all as an LP (2 x 12″)hence the Rise Above release. I'm constantly recording as JK Flesh so I'm always happy to release as much as possible! Speaking of Dominick Fernow, he  released on his Hospital Productions label an extremely limited 2 x cassette Suicide Estate by JK Flesh last year, which I will release digitally very soon.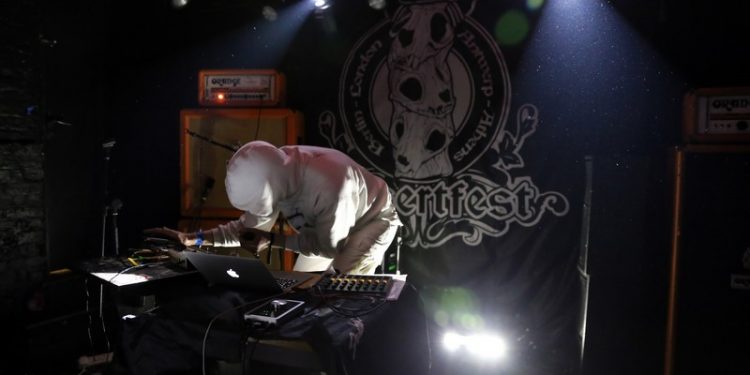 On te verra bientôt sur la scène du Festival Atonal à Berlin aux côtés d'ORPHX. Comment s'est organisée cette rencontre avec le duo canadien ? A quoi ressemblera ce projet ?
We'll soon see you on the stage of the Atonal Festival in Berlin with Orphx. How do you meet he Canadian duo ? What will this project look like?
Nous devons remercier Harry d'Atonal pour cette suggestion étonnante de collaboration et en tant qu'admirateurs de nos travaux respectifs, tant ORPHX que moi ne pouvions être plus ravi de cette occasion! Quelque part, j'avais manqué ORPHX, mais toujours entendu parler d'eux avec estime, puis je les ai entendu par coïncidence pour la première fois cette année et j'avais aimé immédiatement leur travail Outre l'inattendu ;) Attendez-vous à une véritable rencontre de nos concepts sonores. Nous serons également accompagnés par un artiste visuel, Thorsten Fleisch, qui fournira des visuels en live.
We must thank Harry @ Atonal for this amazing suggestion that we collaborate, and as admirers of each others works, both ORPHX and I could not be more thrilled for this opportunity! Somehow I had missed out on ORPHX, but always heard them referenced in reverence, then coincidentally heard them for the first time this year, and loved their work immediately! Besides the unexpected ;). We will also be joined by an visual artist, Thorten Fleisch, who will supply live visuals.
Changeons de sujet. Ta musique est depuis toujours un condensé de hargne et de violence, on t'a d'ailleurs souvent vu martyriser tes instruments sur scène jusqu'à la rupture et pourtant j'ai découvert que tu écoutais pas mal d'ambient et de musique expé plutôt calme voir onirique. Qu'est-ce qui t'intéresse dans ce type de musique ?
Let's talk about something else. Your music has always been a mix of spite and violence, you have often been torturing your instruments onstage to rupture and yet I discovered that you were rather listening to a lot of ambient music and expe, quiet dreamlike and peacefull. What do you find intesrtering in that kind of music? 
Je suis une personne très énergique mais calme- mais, comme beaucoup je ressens beaucoup de frustrations – la musique intense est un moyen de canalisation, mais jamais exorciser, l'intensité physique et mentale, soulager la tension. Ma façon de gérer cette variété d'émotions négatives est de les canaliser de façon créative et je me sens chanceux d'avoir cette échappatoire.
MAIS, j'adore toutes les couleurs de la musique, et peut-être que la musique ambient est le reflet le plus immédiat l ma personnalité, un son pur.
I am an extremely energised yet peaceful person – but, like many feel many frustrations – intense music is a way of channeling, but never exorcising, physical and mental intensity, relieving the tension. My way of dealing with a variety of negative emotions is to channel them creatively and i feel fortunate to have this outlet.
BUT, i adore all colours of music, and maybe more immediately reflective of my personality is ambient music, pure sound.
Pour beaucoup tu resteras l'homme derrière Streetcleaner avec Godflesh et Brotherhood of the Bomb avec Techno Animal. Est-ce définitivement derrière toi ou verra-t-on peut-être un jour ces projets renaître de leurs cendres ?
For many you will stay the man behind Streetcleaner Godflesh and Brotherhood of the Bomb with Techno Animal. Is this definitely behind you or those projetcts will one day be reborn from ashes?
Eh bien Godflesh continue encore pour quelques années avec un nouvel album et EP, Techno Animal n'existera plus jamais bien que Kevin Martin et moi-même collaborions toujours – je suis à présent sur certains enregistrements de The Bug, et je dois faire les voix sur deux chansons du nouvel album de Earth vs The Bug. L'avenir devrait apporter un nouveau projet de collaboration.
Well Godflesh has existed again for a few years now with a new album and EP, Techno Animal will never exist again althogh Kevin Martin and I still collaborate – I'm to be found on some records by The Bug, and I have vocals on two songs on the new album from Earth vs The Bug. The future should bring a new collaborative project.
Audio
JK Flesh – Nothing Is Free