Dead Gaze l'interview + Chronique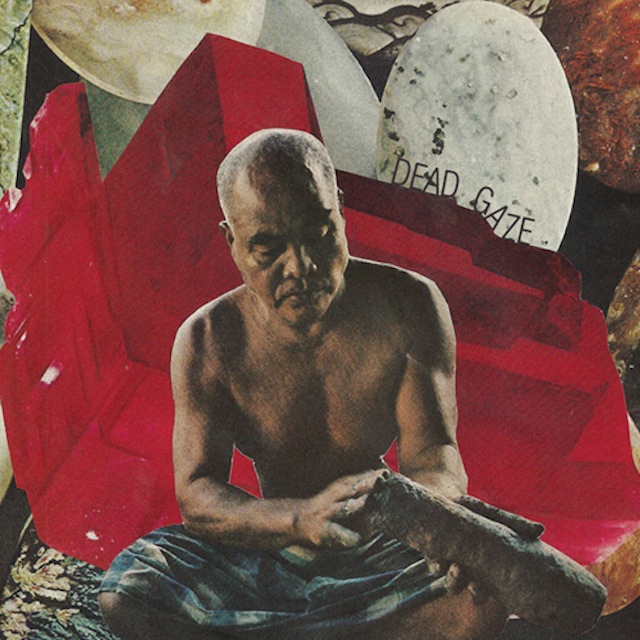 Fishing with Robert 7″ de Dead Gaze est disponible depuis le 15 mars dernier via les labels La Station Radar et Atelier Ciseaux. Soit l'occasion idoine pour rentrer en correspondance, sporadique et spontanée, avec Cole Furlow, dépositaire unique d'un groupe ardemment révélé à la faveur de deux EP,The Pride of Calling Panther Lake (lire) et Small Lava (télécharger), d'une cassette, End of Days, Why Not You ? (disponible par ici), sur Mirror Universe Tape et d'une split tape en compagnie de feu Gray Things via Clan Destine Records (lire). Bien aidé de James Alexander Warren à la batterie, Cole, que l'on jure proche cousin de Jeans Wilder (lire) par la voix et de Nathan Willians (lire) par l'intention, distille du fin fond de son Mississipi natal, et ce depuis presque trois ans, autant de bonnes chansons qu'il n'en compose, parant son inaltérable amertume d'une intense et confondante production lo-fi. L'ossature mélodique, si ténue soit-elle, n'est jamais ainsi supplantée par un ferraillage en règle, où distorsions crasses et cymbales crash se tirent la bourre sur fond de vocalises réverbérées. Si les apparats du vide, le bruit pour le bruit, guettaient l'animal, Fishing with Robert enfonce une bonne fois pour toute le clou de quelques décibels, dévoilant d'un même mouvement les contours délicats d'une sensibilité jusqu'alors écorchée. Comptine aquatique, le spleen langoureux de Somewhere Else trouve son exact contrepoint pop et entrainant avec le morceau-titre, Fishing with Robert. Sans douter que le bonhomme est aussi attachant que ses réponses sont sibyllines, une interrogation subsiste quant au futur même de l'entité Dead Gaze, duo mutant en quintet, et ce dans l'optique d'un premier LP furtivement évoqué ci-après. Et si Fishing with Robert constituait les prémisses de quelques fabuleuses épopées indie pop ? Une tentative de réponse prend d'ores et déjà la forme d'un 10″ à paraître en octobre sur le label new-yorkais Group Tightener.
Audio
01. Fishing with Robert
02. Take Me Home Or i Die Alone
03. Remember What Brought Us here
04. Emanuel Can't Come Close Enough
05. Stay, Don't Say
06. The Simple Man (Wishes And Daydreams)
Entrevue avec Cole Furlow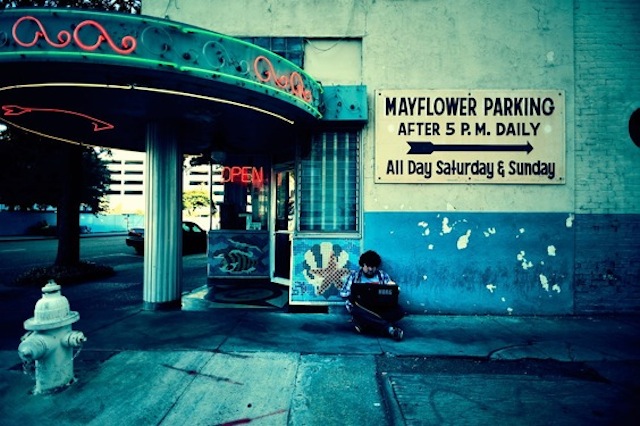 Peux-tu te présenter en quelques mots ? D'où vient cette envie de se consacrer à la musique ?
Can you introduce yourself and Dead Gaze in a few words? Where did your envy to make some music come from?
Je voulais faire de la musique car je n'étais pas très bon dans les autres domaines. Dead Gaze est fait de morceaux pop plutôt fun, parfois avec des paroles dérangeantes.
I wanted to make music cause I really wasn't very good at many things other than playing musical instruments. Dead Gaze is blown out pop songs with fun, sometimes self-loathing lyrics.
Si tu devais décrire ta personnalité en trois mots, lesquels choisirais-tu ?
Moreover if you had to define your personality in three words, which words you would choose?
Moi. Pas. Comprendre.
I. Don't. Understand.
Peux-tu expliquer ce nom, Dead Gaze ?
Can you explain the name of the band, Dead Gaze?
Il n'y a rien à expliquer. C'est juste un nom auquel j'ai pensé un matin avant d'aller travailler. Je l'ai lu quelque part et ça m'a frappé. J'ai pensé que ça collait bien à ma musique.
There's really nothing to it. It's just a name I thought of one morning before I went to my job. I read it somewhere and it stuck. I felt like it does a good job explaining the music.
Tu vis à Jackson dans le Mississipi. Peux-tu nous dire comment est « ton » Mississipi ? Est-ce un bon endroit pour trouver l'inspiration ?
You live in Jackson, Mississipi. Can you tell us about « your » Mississipi? Is it a good place for your inspiration?
En fait, je viens de quitter Jackson, mais cet endroit m'a en effet beaucoup inspiré. Il n'y avait pas beaucoup à faire donc je pouvais me concentrer sur les enregistrements et le processus d'écriture.
I actually just moved from Jackson, but Jackson was definitely inspiring to me. There wasn't too much going on ever, so I could really focus on the recordings and the overall writing process.
Si tu es obligé de t'exiler sur une île déserte, quels disques fourres-tu dans ton sac ?
If you were obliged to exile yourself on a desert island, which records would you take in your bag?
Loin, je souffrirais. Il y a trop de disques à citer. Puis-je juste dire Waylon Jennings avec Waylon Live ?
I would just suffer away. Too many records to name. Can I just say Waylon Jennings with Waylon Live ?
Quelles influences mélanges-tu dans tes chansons ?
What influences do you mash in yours songs?
J'essaie de penser à ce que les autres voudraient entendre et je traduis cela en une chanson, à ma manière. Je me focalise sur le côté pop des choses.
I try to think about what other people would want to hear and I translate that into some form of a song in my own way. I would rather stay on the pop side of things.
Comment définirais-tu ta musique ? Quel sentiment essayes-tu de faire passer à travers ta musique ?
Can you explain how you define your music? What feeling do you try to retranscribe by your music?
Je veux juste que tout le monde s'amuse et comprenne que les choses ne doivent pas toujours être prises au sérieux. Il n'y a rien de pire qu'un artiste qui se prend trop au sérieux. Je dédie mon art à l'émotion. L'émotion que je veux transmettre a des racines fun profondes.
I just want everyone to have fun and understand that stuff doesn't have to be serious all the time. There is nothing worse than an artist who takes themselves too seriously. Its art for emotion and the emotion I want to convey is deep rooted fun.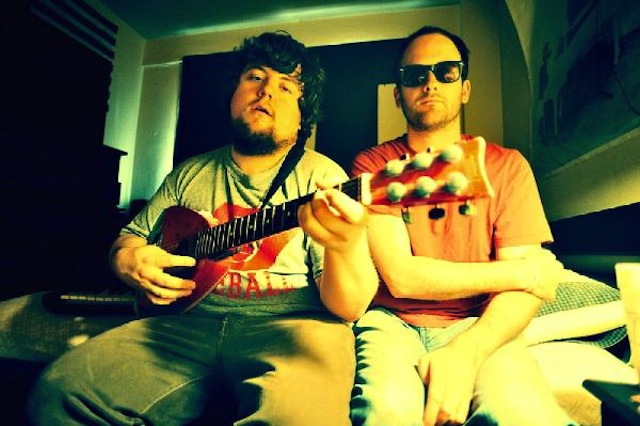 Comment décrirais-tu ton évolution en terme de songwriting et de son depuis ton premier EP, The Pride of Calling Panther Lake ?
How would you describe your evolution in terms of songwriting and sound since your first EP, The Pride of Calling Panther Lake?
J'ai travaillé sur l'élargissement de notre horizon. Je pense que mes morceaux actuels sont mieux harmonisés. L'album sur lequel nous travaillons actuellement est bien plus doux en termes de sonorité, mais d'une certaine façon plus énergique.
I've definitely been working on expanding our horizons. I think the songs I have now-a-days are much more put together. The full length we are working on now is much softer as far as tones go, but way more energetic.
End Of Days, Why Not You sort en cassette sur Mirror Universe Tape. Pourquoi un tel format ?
End Of Days, Why Not You went out on cassette on Mirror Universe Tape. Why such a format?
J'aime les cassettes. Je trouve que leur son est bon. Beaucoup de gens pensent que je suis fou mais moi je pense que ce sont eux qui le sont. Vous pouvez presser plus pour moins d'investissement, l'artwork est aussi sympa si pas plus que sur le support des CD. Au moment où nous avons sorti cette cassette, cela nous semblait évident de le faire sous ce format. J'ai vraiment aimé nos sorties cassettes.
I like cassettes. I think they sound good. A lot of people think I'm crazy, but I think they are crazy. You can press more for much less, and the artwork options are just as cool if not cooler then a CD. At the time we put that tape out, it felt right to release those songs on that format. I really enjoyed our tapes.
Quel est ton sentiment vis-à-vis du 7″ que tu sors sur Atelier Ciseaux et La Station Radar ?
What's your feeling with the new 7″ on Atelier Ciseaux & La Station Radar?
Mon sentiment ?? Je ne sais pas. Fishing With Robert parle d'une discussion existentialiste entre mon ami Bobby et moi. Nous jetions par l'occasion des cigarettes dans un étang pour voir si les poissons les mangeraient. C'est pourquoi la première phrase du morceau est Je pêche avec ma dernière cigarette. C'est une histoire vraie : on pêchait avec des cigarettes !
The feeling ?? I really don't know. « Fishing With Robert » is about my friend Bobby and I having a massive conversation about existentialism. We were also throwing Cigarettes into a pond to see if the fish would eat them. That's why the first line of the song is « I'm fishing, with my very last cig ». That's a true story, we fished with cigarettes.
Comment en es-tu venu à travailler avec eux ?
How did you come to work with them?
C'est grâce à internet. Cela fait un bon bout de temps que je suis leurs productions avec intérêt. Mon ami William Cody Watson aka Pink Priest a sorti un disque magnifique sur la Station Radar et depuis ce moment je suis accro.
The internet brought me to them. I have admired their releases for sometime now. My friend William Cody Watson aka PINK PRIEST released an amazing record on La Station Radar and from that moment on I was hooked.
L'esthétique des disques a-t-elle autant d'importance que la musique elle-même ? Peux-tu expliquer le processus pour le 7″ ?
Has the aesthetics of a record so much importance for you as the music itself? Can you explain the process for the 7″?
Mon ami Jheri a réalisé le collage. Je lui ai tout confié. Je lui ai envoyé les morceaux et il m'a envoyé le collage. J'ai pensé que c'était cohérent. Le rouge est chaleureux et j'aime à penser que Somewhere Else est quelque part une chanson chaleureuse.
My friend Jheri made the collage. I left it all up to him. I sent him the songs and he sent me back the collage. I thought it was a nice feel. The red is warm, and I like to feel like Somewhere Else is somewhat of a warm song.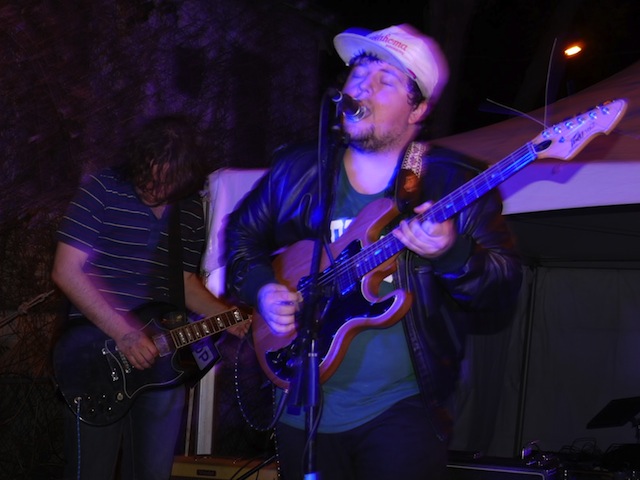 Parlons de tes projets. Travailles-tu sur un nouveau disque ?
Let us speak about yours projects… Are you are working on new records?
On travaille sur un album en ce moment. C'est un travail beaucoup plus long maintenant que nous sommes un groupe à part entière.
Working on a full length right now. The process is taking a lot longer now that we have a full band.
Dead Gaze est-il un bon groupe de scène ? Quel est la configuration ? Vous venez nous montrer ça quand en France ?
Is Dead Gaze a good live group? What is the configuration in concerts? When will you come and show it to us in France?
Je tuerais pour venir jouer en Europe, c'est probablement un de mes plus grands objectifs à ce stade. Le groupe live comporte cinq musiciens maintenant, c'est beaucoup. C'est cool parce que je peux davantage me focaliser sur le chant.
I've been dying to tour in Europe, that's probably one of my biggest goals at this point. The live group is big. 5 guys now. Its nice because I can focus more of my attention on singing.
As-tu des side-projetcs ?
Do you have side projects?
J'ai quelques trucs sur le feu mais rien d'important.
I have a couple things in the works but nothing huge.
Quels sont les amis de Dead Gaze ? Y-a-t-il une scène aux USA à laquelle tu as l'impression d'appartenir ?
Who are Dead Gaze's friends? Is there a « scene » in US you feel you belong to?
Nous avons des amis partout. Nous passons toujours de grands moments à NYC. J'aime assez le fait de vivre dans le Mississippi et de voyager pour les plus grandes scènes.
We have friends all over. We always have a great time when we play in NYC. I rather enjoy being in Mississippi and traveling to the bigger scenes.

Quelle est ton opinion sur l'industrie musicale ?
What's your opinion about music business now?
En réalité, je n'ai pas d'avis. Je suis super immature au sujet de l'industrie du disque et de son fonctionnement.
I really have no opinion. I'm super immature when it comes to my knowledge of how the big music business machine works.
Et de la culture blog ?
And the blog culture?
Je me suis tissé un réseau d'amis à travers la blogosphère. C'est d'une certaine manière aussi facile maintenant qu'impossible avant. Les amitiés que j'ai créées sont quelque chose de très cher à mes yeux.
I've made a lot of good friends through the blog culture. It just makes sense in a way that was never possible before. The friendships i have made have been something very special.
Traduction : Calogero Marotta
Vidéo