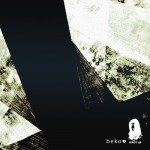 Skrot Up !, label danois utilisant essentiellement les supports cassettes et vinyles, est la septième micro-structure – après Free Loving Anarachist, Amdiscs (lire), La Station Radar (lire), Clan Destine Records (lire), Hobo Cult (lire) et Seven Sons Records (lire) – à poser sa griffe digitale en plein coeur d'un grimoire numérique chaque dimanche mis à jour par l'entité brestoise Beko DSL. Etant donnée la qualité des sorties proposées depuis 2009 – parmi lesquelles on retient sans effort Grave Babies, Gape Attack!, Rape Faction ou High Marks – l'occasion était toute trouvée pour contacter Morten, pierre angulaire de Skrot Up !, afin qu'il nous retranscrive son histoire, ses méthodes et ses projets. Un futur proche prenant corps notamment par la sortie le mois prochain d'un LP de Kid Romance, Scared of Outside. En fin d'interview, Morten présente chacun des groupes ayant participé à cette collaboration/compilation, où l'on slalome non sans effroi entre spectres synthétiques (Endless Endless Endless, Braindamage), hip-hop vicié (Public Pubes), hybridations torturées (Venganza de Cochino), road trip narcotique (Heroin in Tahiti, Fwy!) expérimentations lysergique (Loopgoat, German Army) et saturations décharnées (Syentology, High Marks). A noter l'impeccable reprise tout en apesanteur d'I Wanna Be Your Dog des Stooges par Portable Morla. 
Entretien avec Morten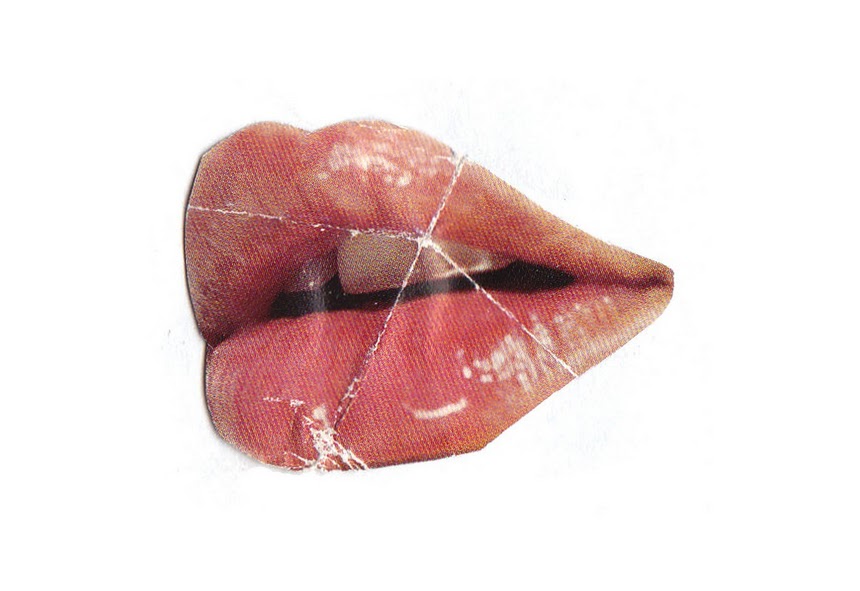 Peux-tu te présenter en quelques mots ? Qui es-tu et qu'as-tu fait avant la création du label Skrot Up ! ? D'ailleurs, que fais-tu aujourd'hui au sein de celui-ci ?
Can you introduce yourself in a few words? Who are you Morten and what did you do before/during Skrot Up!?
Je suis un adepte des loyers bon marché car cela me permet de me perdre dans des projets ésotériques tout en préservant un lien équilibré avec l'humain. J'ai un boulot qui n'est pas routinier, dans lequel je ne me tue pas à la tâche et qui m'aide à payer mes factures tout en m'en laissant suffisamment de côté pour pouvoir enregistrer des albums pour le label. Quand je ne suis pas occupé à tout cela… je prends du bon temps avec ma famille, je vais à des concerts tout en essayant d'apprendre de nouvelles conneries dès que j'en ai l'occasion.
I'm a big fan of cheap rent, because it allows me to get lost in esoteric projects and remain in a somewhat balanced state of humanness. I have a fairly varied job that doesn't kill me and helps me pay the bills with enough left over to play record label and when I'm not doing that I hang out with my family, go to a show now and then and try to learn new shit whenever I can.
Quelles sont tes toutes premières influences musicales ?
What were your first musical influences?
Mes toutes premières influences musicales sont héritées de la collection d'albums de mon père. Les Beatles, les Beach Boys et la pop française et belge de la fin des années soixante et du début des années soixante-dix. Joe Dassin ! Mes parents ont vécu en Belgique pendant plusieurs années et mon père a régulièrement acheté des albums lorsqu'il vivait là-bas. J'ai grandi en écoutant cette musique. Avant que j'achète moi-même mes propres CD, j'écoutais aussi des cassettes audio faites par un ami et regroupant différentes musiques extraites d'émissions d'une radio suédoise. Il y avait des morceaux des Pet Shop Boys ou encore de Mantronix, ainsi que du rap old school. Parmi mes préférences, il y avait aussi la B.O. de Star Wars… Quand j'étais adolescent, j'étais fan des Guns'n'Roses, Niggaz Wit Attitudes et Grievous Bodily Harm. Pour moi, le punk représente une certaine approche de la vie que je n'ai jamais vraiment reflétée.
My very first musical influences came via my father's record collection. Beatles, Beach Boys and French and Belgian pop from the late 60s/early 70s. Joe Dassin! My parents lived in Belgium for a few years and my dad bought records on a regular basis while they lived there. I grew up listening to those. Before I started buying records myself I also listened to mix tapes a friend recorded for me with Swedish radio shows on. I remember there were Pet Shop Boys and Mantronix songs on them, plus some early Rap music. The soundtrack from Star Wars was a personal fave, too. I was a fan of Guns'n'Roses, N.W.A. and G.B.H. all at the same time when I was a teenager.  To me Punk is a certain way of approaching life and I didn't reflect much on that until later.
Peux-tu nous dire comment Skrot Up ! est né ? Qui sont les initiateurs du projet ? Comment vous êtes-vous rencontrés et quelle était l'idée d'origine ?
Tell me how Skrot Up ! was born? Who is behind? How did you meet and what was the idea of origin?
J'ai lancé le projet Skrot Up ! avec Thomas en 2008. Notre approche de la musique est différente mais il y a certaines sonorités que nous apprécions tous les deux. Nous nous sommes rencontrés dans un disquaire de la ville de Copenhague et nous sommes par la suite devenus amis. Skrot Up ! est en quelque sorte apparu du jour au lendemain. FNU Ronnies m'avait envoyé une démo avec trois nouvelles chansons et Thomas discutait depuis quelques temps  avec les gars de Blood ! via leur MySpace. Aucun de nous deux n'avait d'argent, mais par chance ces deux groupes étaient d'accord pour enregistrer leur musique sur des cassettes. Voilà comment tout cela a commencé. Il y a dix ans, je jouais de la batterie dans un groupe qui s'appelait The Moronics et encore avant cela, j'avais aidé quelques amis qui avaient un label, notamment dans l'organisation de concerts. J'ai aussi collectionné un bon nombre de disques… J'imagine que tous ces intérêts musicaux très divers se sont agrégés dans le projet qu'est Skrot Up !. Nous n'avons jamais réellement eu de plans concernant le label, ni de ligne directrice, ni aucune idée de la musique que nous allions promouvoir. Si cela semble être ainsi, c'est une coïncidence. Des choix ont été faits durant le parcours, mais ils n'ont jamais été planifiés en amont. Thomas, en ce moment, arrête provisoirement son activité au sein de Skrot Up !. Ces derniers temps, c'est donc tout seul que j'entreprends les choses.
I started Skrot Up ! with another dude in 2008. His name is Thomas. Our taste in music is different, but we have a few sounds we like in common. We met in a local record store in Copenhagen a while ago and have been friends since. Skrot Up ! sort of just happened one day. FNU Ronnies had sent me a demo with three new songs and Thomas had been talking to Blood! on MySpace for a while. None of us had any money, but luckily both bands were down with releasing their music on cassette and that's how it started. Ten years ago I played drums in a band called the Moronics and before that I helped out some friends who had a record label, as well as arrange shows. I've also been collecting records a while and I guess all these different musical interests have reincarnated into Skrot Up. We never really had any plans for the label about how it should look or what music we wanted to release. If it looks that way, it is a coincidence. Choices are made along the way, not planned ahead. Thomas is currently on hiatus from Skrot Up !, so I'm doing it by myself these days.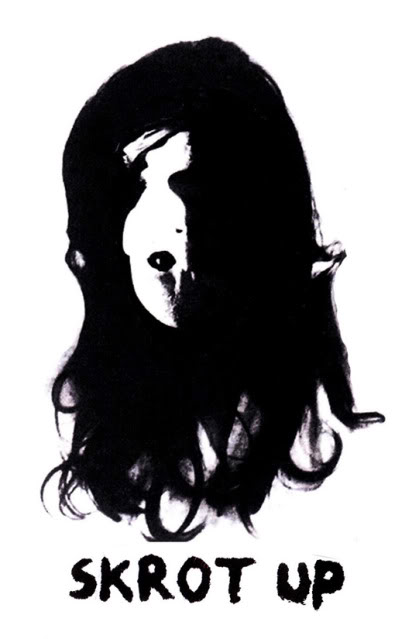 Pourquoi ce nom, « Skrot Up ! » ? Est-ce par esprit de résistance ? Si oui, contre qui ou quoi ?
Why this name, « Skrot Up !"? A mark of resistance? Against who/what?
En réalité, il s'agit plus d'une sorte d'étreinte à la vie. Je pense que fuck you, dans n'importe langue parlée, est une déclaration tout à fait valable tant que ces deux mots sont prononcés par quelqu'un de responsable, dans le but d'avancer et de ne pas laisser les petites gens décider de ce qui est vrai ou faux pour vous. Quant au nom du label, Skrot Up !, il n'a pas de réelle signification à mes yeux. Il a fait son bout de chemin et il a un certain charme phonétique. Le son « s-k-r » lui confère une consonance suédoise et l'impression d'entendre quelqu'un se racler la gorge. Il me rappelle à chaque fois pourquoi les Suédois n'ont jamais vraiment été très bons sur les voies de l'impérialisme.
It's actually more an embrace of life. I think "fuck you" in whatever language a person speaks is a worthwhile statement as long as it's uttered by a responsible individual and in order to move forward and not let the little people decide what's right and wrong for you. In regards to the label being called Skrot Up ! it doesn't bear any significant meaning to me. It's taken on its own life and has a certain phonetically charm to it. The s-k-r sound in Danish sounds like someone clearing their throat from mucus and always reminds me of why the Danes were never really successful at imperialism.
Skrot Up ! sort aussi bien de la musique indie rock qu'expérimentale. Comment choisissez-vous les artistes avec qui vous travaillez ?
Skrot Up ! takes out as well indie rock as experimental's records… How do you choose the artists you work with?
Au début, nous écumions les groupes sur MySpace en balançant des messages à ceux que nous appréciions. En gros, si les premières chansons de leur player étaient biens, nous pensions qu'ils devaient avoir suffisamment de choses pour un enregistrement. Après dix ou quinze sorties, des groupes ont commencé à venir vers nous. Du coup, nous avons travaillé avec ceux qui nous plaisaient, tout en continuant à en contacter nous-mêmes. Nous nous occupons d'un groupe à partir du moment où nous aimons ce qu'il fait. Avec Thomas, nous apprécions des musiques très diverses, c'est pourquoi notre ligne doit apparaître comme étant très éclectique.
In the beginning we jumped from band to band on MySpace and would just shoot messages to the ones we liked. I guess if the first couple of tracks on their player sounded great, we thought they had it in them to come up with enough good stuff for a release. After ten to fifteen releases bands started getting in touch with us, and we'd work with the ones we liked, as well as keep on contacting new ones along the way. I guess you can say that we choose to work with bands we like just because we like them and both of us like a lot of different music, so if the rooster appears eclectic that's probably why.
Justement, quelle est la ligne directrice artistique du label ? Y a-t-il une esthétique, un concept que vous tentez de faire transparaître dans chacun de vos travaux ?
What is the artistic guideline of the label? Is there aesthetics, a concept which you try to keep at every release?
Non, il n'y en a pas. Parfois, je regarde notre travail dans son ensemble comme si c'était une peinture abstraite. Chaque sortie a sa propre coloration, sa propre texture. Plus celles-ci sont différentes, mieux c'est. Bien sûr, je ne néglige pas le fait qu'un groupe peut apporter quelque chose d'intéressant tout en gratifiant l'image du label. On peut dire que c'est l'unique ligne directrice. Le plus novateur – le meilleur, ensuite c'est une véritable joie d'assister à la connexion de choses qui n'avaient pas été planifiées ainsi à l'origine.
No, there isn't. I sometimes look at it as if it was an abstract painting. Each release has its own color and texture and the more different they are the better. Of course, I still think about whether the release will add something interesting to the overall image, but that's the only guideline. The more different – the better, and then there's the joy of seeing things connect even if it wasn't planned in the first place.
Gone Forever par Rape Faction est un projet sorti sous le label Free Loving Anarchist. En quoi ce type de collaboration est nécessaire ?
Gone Forever by Rape Faction is a split release with FLA. In what this type of collaboration is it necessary?
Avant que nous devenions amis avec James de FLA, ce dernier avait eu quelques échanges avec Rape Faction à propos d'un de leurs enregistrements sur cassette. Exactement ce que j'aurais pu moi-même formuler. Je l'ignorais jusqu'à ce que je découvre cela sur leur MySpace. Lorsque nous avons commencé à discuter avec James, l'idée de sortir communément Rape Faction est apparue comme une évidence. Les collaborations de ce type sont un bon moyen pour de nouveaux labels d'emmagasiner de l'expérience tout en apprenant de chacun des protagonistes. En plus, ça amoindrit les efforts et les emmerdements financiers pour sortir un disque.
Before I became friends with James of FLA, he had been in touch with Rape Faction about a release on cassette, just like I had. I didn't know that until I saw it on RF's Myspace page. Therefore, when we started talking and got the idea to put a record out together Rape Faction seemed like an obvious choice. I think collaborations of this kind are a good way for new labels to get some experience and learn from each other and it makes putting out a record a less pain in the ass financially.
Tu sors une compilation sur Beko après Amdics, La Station Radar, Clan Destine Records et plus récemment Hobo Cults. Comment as-tu rencontré les gens de Beko et que représente cette collaboration pour toi ?
You're just realized a compilation on Beko before Amdiscs, La Station Radar, Clandestine Records and more recently Hobo Cults. How did you meet people of Beko and what represents their work and these collaborations for you?
Ça fait un moment que Reno achète des cassettes et des disques de Skrot Up !, mais je n'avais jamais réalisé jusqu'à récemment que c'était le gars derrière Beko DSL ! Cette compilation a été un projet vraiment fun à mettre sur pied, d'autant que j'admire l'approche esthétique et les penchants éclectiques de Beko. C'était vraiment excitant de contribuer à un concept aussi intéressant et travailler avec tous ces groupes souhaitant alimenter cette discographie continue.
Reno has been buying tapes and records from Skrot Up ! for a while I think, but I didn't realize he was the man behind Beko DSL until recently. I think the compilation has been a fun project to realize and I admire Beko's aesthetical approach and good taste in different music. It was exciting to work with bands that wanted to partake in the ongoing discography and contribute to a great concept.
Quel est le futur proche pour Skrot Up ! ?
What's the near future of Skrot Up ! ?
Y aller doucement… Laisser les projets évoluer par eux-mêmes. Le premier LP de Kid Romance est en cours de finalisation en ce moment même. Nous avons aussi quelques autres enregistrements sur le feu et quelques nouvelles cassettes prêtes pour l'automne 2011.
Take things slow and let the projects evolve on their own terms. The debut LP by Kid Romance is being finalized this very moment and we have a couple more records in the works and probably some new cassettes ready by early fall 2011.
Tracklisting
(download)


a side
a1. Endless Endless Endless – We Go On
a2. Braindamage – You Want
a3. Public Pubes – Cum Gonga Din
a4. Heroin in Tahiti – ex-Giants on Dope
a5. Fwy! – the 57
a6. Syentology – Leash
b side
b1. The Secret Society of the Sonic Six – Blame & Blood
b2. Loopgoat – Coverup Peel
b3. Venganza de Cochino – Vengeance of the Scum
b4. High Marks – Aggressive Tropical Depression
b5. Portable Morla – I Wanna Be Your Dog (The Stooges)
b6. German Army – Ottoman Nurse
Pour terminer, peux-tu introduire votre Beko avec une courte présentation des groupes et des titres qu'il contient ?
To finish, can you introduce your Beko with a small presentation of the groups and the pieces which contains?
a1. La première chanson est celle du duo new-yorkais Endless Endless Endless. Ils font de la très bonne musique psychédélique même si celle-ci n'est ni sombre, ni inquiétante. Lorsque je leur ai demandé un titre, j'espérais quelque chose de ce type, d'assez lumineux pour introduire la compilation.
The first song is by a duo from New York City called Endless Endless Endless. I think they make great psychedelic music even if it isn't dark and ominous. When I asked them for a track I was hoping for something like this, something light and kind of trippy to start things off with.
a2. La suivante est de Braindamage, une formation originaire de Uppsala en Suède. Ce groupe a beaucoup évolué depuis sa première cassette avec Skrot Up ! il y a de ça deux ans. J'aime comment il retranscrit une atmosphère d'horreur caractéristique de la musique synthétique des années quatre-vingt tout en réussissant à la faire sonner foutrement bien et en gardant à leur façon une certaine fraîcheur.
Track two is by Braindamage from Uppsala, Sweden. This band  has evolved a lot since the tape they made for Skrot Up ! two years ago and I like how they have that 80s synth horror vibe down, but still manage to make it sound fucked up and fresh in their own way.
a3. Public Pubes est un groupe avec qui je n'avais pas travaillé auparavant et qui compte parmi ses membres Loopgoat qui a un titre sur la face B de cette compilation. J'ai entendu parler de Public Pubes grâce à elle et j'apprécie leur musique électronique et expérimentale agrémentée de beats de folie et d'un étrange chant rap.
Public Pubes is a band I haven't done anything with previously and counts Loopgoat who has a track on the B side of the comp as one of their members. I heard of Public Pubes through her and I like their experimental electronics with crazy beats and rap and strange singing over it a lot.
a4. Heroin in Tahiti est un groupe venant de Rome qui comprenant un membre ou deux issus de SFHHH and Thetlvmth (SUT06 and SUT07). C'est une rencontre entre musique industrielle et surf musique, une combinaison que je n'avais jamais entendue auparavant. J'aime beaucoup le rendu final.
Heroin in Tahiti from Rome, Italy contains a member or two from SFHHH and Thetlvmth (SUT06 and SUT07). They have an Industrial meets Surf thing going on, a combination I haven't heard seen that many bands go for, but I like what I'm hearing.
a5. FWY ! se prononce freeway. Le gars rend un hommage aux routes de l'état de Californie dans lequel il vit. Il me fait regretter de ne pas avoir de routes plus longues au Danemark.
FWY! is pronounced freeway and this guy makes tribute music to the freeways of the state of California in which he lives. It makes me wish we had longer streets in Denmark.
a6. Syentologie vient de France, je crois. Leash est un titre dont la trame est noire et inexpressive et dont le rendu est rude, minimaliste. A chaque fois que j'écoute cette chanson, j'ai le sourire.
Syentology is from France – I think. Leash is such a dark and deadpan tune and delivered raw and basic. It puts a smile on my face every time I listen to it.
b1. The Secret Society of the Sonic Six est un trio originaire de Los Angeles. Ils manient très bien leur matériel informatique et l'atmosphère créée est unique. D'une manière ou d'une autre, ils s'inspirent de l'ambiance des films noirs des années trente, avec un apport plus moderne rendant la musique étrange et dansante à la fois.
The Secret Society of the Sonic Six is a trio from Los Angeles. They know what to do with their hardware and have a unique vibe going on, that's somehow rooted in 30s movies of the darker kind, but with a future twist that makes it bizarre and danceable at the same time.
b2. Loopgoat est une formation originaire d'Ann Arbor dans le Michigan. La chanson est extraite d'un album à venir, fondé sur une ligne insolite.
Here is Loopgoat from Ann Arbor, MI and this song is from an upcoming album with an alien theme.
b3. Venganza de Cochino est un mélange de crust, de dub et de doom. Une bête sombre avec des « r » roulés et des impulsions rouge, jaune, verte.
Venganza de Cochino plays Crust meets Dub meets Doom: a dark beast with rolling Rs and a throbbing red, yellow and green pulse.
b4. High Marks m'a envoyé un titre qu'il était censé sortir dans le cadre d'une collaboration avec VVAQRT mais qui ne s'est finalement pas faite. Je suis content qu'il m'ait laissé utiliser ce morceau pour cette compilation.
High Marks sent me this track, which was supposed to have come out on a split release with VVAQRT, but it didn't happen and I'm happy he let me use it for this comp.
b5. Portable Morla interpréte I Wanna Be Your Dog des Stooges.
Portable Morla does I Wanna Be Your Dog by the Stooges.
b6. Les German Army ont décrit leur morceau comme étant idoine pour faire jouir les aliens.
German Army described this song as stimulus music for aliens getting it off.
Liens
Retrouvez Skrot Up ! sur blogspot, facebook, vimeo, bancamp, soundcloud et webstore.