Bitchin Bajas l'interview
On les imaginerait volontiers vivant nus dans une communauté new age en attendant les aurores boréales, perchés bien haut au pays des arpèges, des loops et des rituels jodorowskiens, ou bloqués dans la stargate sequence de 2001, mais pourtant Bitchin Bajas ressemblent bel et bien à des zikos indie comme vous en voyez défiler souvent. Ils partagent même Cooper Crain avec Cave, groupe de kraut/math rock bien plus terre à terre. Pourtant, leur discographie, et particulièrement leur récent et majestueux double LP éponyme, semblent être l'œuvre de gens coupés du réel et de la production actuelle pour se dévouer à leurs obsessions millénaires : Terry Riley, l'école de Berlin, Klaus Schulze, Eno, la musique cosmique ou ésotérique en général, et, surtout, la transcendance. Ils jouent ce jeudi 9 octobre au Petit Bain (Egyptology et Henryspenncer en ouverture – Event FB) et on vous encourage à ramener votre tapis de yoga.
En prime, quelques questions auxquelles l'un de leurs membres occasionnels Dan Quinlivan (ancien Mahjongg) a répondu vite fait entre deux dates de leur tournée.
Bitchin Bajas l'interview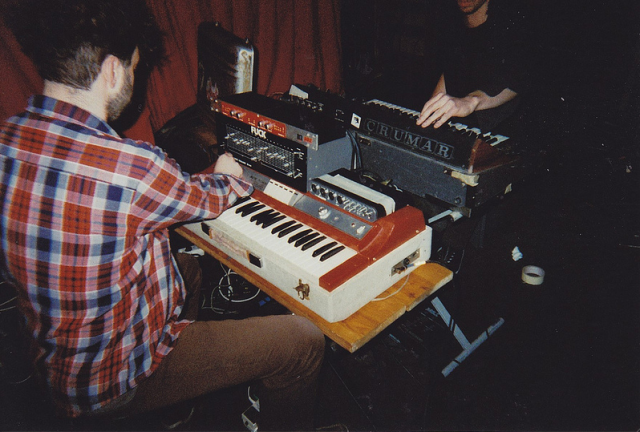 Ce qui désoriente, entre autres, dans la musique ambiente/répétitive, c'est qu'elle inspire une notion du temps détaché du réel. Vous le ressentez également ?
One of the unsettling qualities of repetitive/ambient music is that it gives an otherworldly sense of time, as if the temporality you enter when you listen to it is not the same as everyday. do you feel that too?
Je ne dirais pas « détaché du réel ». En fait, un vrai bon drone te rend d'autant plus conscient du réel. Tout changement drastique n'est pas naturel. La vie est répétitive. Un bon drone devrait te ramener à ça. Personnellement, cette musique me fait me sentir mieux dans ce monde.
I wouldn't call it 'otherwordly'. I think that a good drone actually makes you more aware of this world. Drastic change is unnatural. Life is very repetitive. A good drone should remind you of this. Personally they make me feel very comfortable with this world.
Quelle est la part écrite et improvisée dans vos pièces ?
How much of your tracks is written or improvised?
Ce sont des improvisations modales. Nous décidons d'une échelle et ensuite on y va.
They are modal improvisations. We decide on a scale and then just go for it.
Sur le climax final de Pieces Of Tape (et pas seulement), on croit véritablement entendre des échos de Rainbow In A Curved Air. À quel point êtes vous obsédés par Terry Riley ?
On the final climax of Pieces Of Tape (and not only), it really feels like we can hear mirages of Rainbow In A Curved Air. How obsessed are you with Terry Riley?
On organise une performance d'In C tous les étés. Si ça peut répondre à ta question…
We organize a performance of In C every summer, if that answers your question…
Le dernier album possède un fort élément oriental. C'est une culture à laquelle vous êtes connectés uniquement à travers la musique ?
There's a growing eastern music leaning that pervades some tracks. Is it a culture you're familiar with or that you just connect with through music?
Uniquement à travers la musique, oui. On ne s'est jamais dit qu'on allait faire quelque chose qui « sonne oriental », mais on se débrouille assez bien pour faire sonner un synthé comme un tambûr. On s'essaye aussi à des accordages différents, qui peuvent sonner orientaux auprès de gens habitués à des tonalités occidentales.
Just through music. We never set out to do anything 'eastern' sounding, but we're pretty good at making a synth sound like a tambura. We also mess around with alternate tunings which often sound eastern to people who are used to western tunings.
Votre nom est assez comique, alors que votre musique est une aventure mentale influencées par des compositeurs minimalistes réputés « sérieux ». C'était conçu comme une blague ?
The funny element with your project is that, although your music is quite a mental adventure with « serious » minimal composers influences, it's called Bitchin Bajas. was it meant as some joke?
Il faut avoir un certain équilibre. Si on avait un nom qui correspondait vraiment à un groupe « influencé par des compositeurs minimalistes réputés sérieux », on aurait vraiment l'air d'une bande de trous du cul.
It's good for things to have balance. If we had a name more befitting of a band with 'serious minimal composer influences' we would probably come off like a bunch of assholes.
Vous atteignez par fois des états seconds en jouant ?
Do you sometimes reach altered states while playing?
Oui. Tout le temps.
Yes. All the time.
Audio
Tracklisting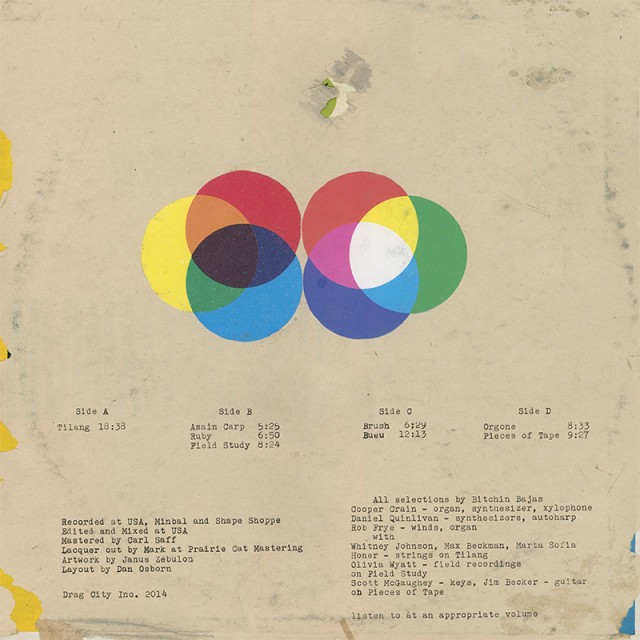 Bitchin Bajas – Bitchin Bajas (Drag City, 26 août 2014)
01. Tilang
02. Asian Carp
03. Ruby
04. Field Study
05. Brush
06. Bueu
07. Orgone
08. Pieces of Tape
01. Relaxation Version Side 1 (Cassette-only)
02. Relaxation Version Side 2 (Cassette-only)