Habitué à un rythme de sorties frôlant la crise de tachycardie, on sentait les Pragois d'Amdiscs (lire) baisser légèrement le pied depuis janvier 2013 avec à la clé d'éparses sorties dont un EP digital de Party Trash, Reformat, et deux cassettes – une de l'ami Chris Thorne et son projet solitaire Horse Head, The Green 1, l'autre de Romcom, 420 Jazz Funk Greats. Un sentiment qui allait vite être contrebalancé par la présente double compilation ∜♡MDISCS 2K13, jetant les bases pour ces infatigables agités d'une année plus que bien remplie. En effet, outre les trois formations précitées, ce sont plus de cinquante groupes qui offrent ici une bribe de leurs futures parutions en guise de mise en bouche calendaire au label. Et si Amdiscs n'en est pas à son coup d'essai en terme de compilations à rallonge fédérant des artistes œuvrant aux quatre coins du globe – on se souvient en particulier du fameux Mind Blowing Mix de 2010 (écouter) – nul doute que l'effort, en téléchargement libre et en écoute exclusive ci-après, est à la fois sans précédent et annonciateur d'une kyrielle de nouvelles têtes. Amdiscs, ou la traduction de défrichage en tchèque. Car même en présence d'un certain nombre d'habitués – d'Honeydrum à Danniel Radall, de CVLTS à Lenticular Clouds – une nuée de paris sur l'avenir est ici consciencieusement agencée par Rado Zrubec selon les deux axes – l'un pop, l'autre plus expérimental – d'un même manifeste : celui d'une avant-garde se donnant plus que jamais les moyens d'exister et de se renouveler sans discontinuer. Bonne écoute et bonnes pioches.
Teaser AMDISCS 2K13
Audio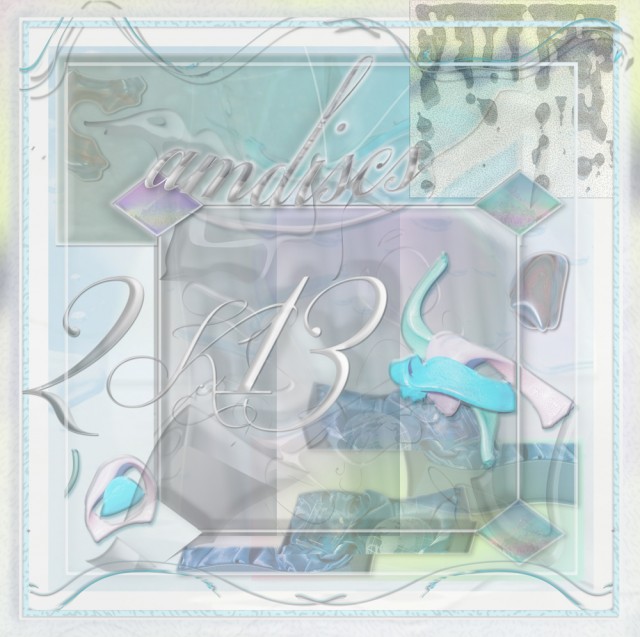 Tracklisting
∜♡MDISCS 2K13 (DL)
00. Sand Circles – Innercity Haze ('91 remix by 1991)
01. a i r s p o r t s – Dubbed in 3D
02. Lingerie – Kimi Kiwi
03. AyGeeTee – Palm Eyes
04. Danniel Radall – On My Own (Cassette Rip)
05. Black Jeans – Librarian
06. Golden Axe – Pizza Man
07. Police Academy 6 + Arrete – Gold Coast
08. Kiwi Sisters – Lovely Gallows
09. Dreams – Workz
10. Actress Pets – Lesser Actresses (Better Pets)
11. Ben Aqua – Glass Of Shattered
12. Jogging House – You Don't Talk (feat. Kat Kaufmann)
13. Poorsche – Good Anna Da Bad
14. C V L T S – Girl Fish
15. Honeydrum – A Year Of My Love
16. Gabriel White – What v2.0 Do
17. Nudity – Lite U Up
18. Romcom – 'とても滑らか'
19. ESPRIT 空想 – Cruiser
20. Giraffage – Computer City (Go Dugong Remix)
21. Shisa – Flowers
22. Jaaska – The Elsa
23. Luxury Elite – Datacorder
24. Coolmemoryz – Grid Life
25. Infinite Frequencies – The Sultans Garden
26. Quiltland – Time Phrase
27. Horse Head – We Can Win
28. Secrets – Rise
29. Sortahuman – Blowin my Mind (Prod. Heatstroke)
30. Luxxy You – Get ∆ Lil Better
31. Mimics – Bad Gateway
32. Spirit Guide & R00fi – Wanna
33. Haarps – My Doom
34. Politesse – God Babe
35. Saint Pepsi – Balancing Towers
36. Coca-Cola 3 – Asian Gang
37. Lenticular Clouds – The Heartshifter
38. Ramzi – Pou Yon Mond Nouvo
39. Lesphinxx – City Glow
40. Afrika Pseudobruitismus – Morocco Trance into Mars Club
41. 333 Boyz – The Patriot
∜♡MDISCS 2K13 X (DL)
00. Dan Svizeny (Cough Cool) – Gary's Diamond
01. 2ØXX – CH1Bд PET
02. AyGeeTee – Always
03. /please/ – k8
04. Poorsche – Cry in Room
05. Gunge – Hot Dog Let Get Toned Mix
06. Matthew Dotson – Don't Want to Hold on to Never
07. Bright Future – From Earth With Blood
08. Feelings – Rich For One Day
09. Lockbox – Lust 2.0
10. ɢʟıɫcʜ ᴬᴺᴰ ɢʟıɫɫɛʀ – ♆
11. Nø d – Hardpop
12. Myrrh Ka Ba – Astral Disco
13. Party Trash – Relax (Fifty Grand Rework)
14. Textbeak x Voctave – Supernature
15. Feral Love – All the Time
16. Uxo – Jupiter Funk
17. Karman – Wifi Emotion
18. Play/talk – On My Own
19. The Temptations – Just My Imagination (Krusht Remix)
20. Kimono Kops – Driving To The Shore
21. Feelings – Where
22. Nmesh – ニミシララス InDoorFun ハナミ
23. Saint Pepsi – Pineapple Juniors
24. Shisd – Heard-Crashed
25. Nima – Insidemiluv
26. Mewl – Stop Caring
27. My Panda Shall Fly & Vimana Aircraft – One (2013 Edit)
28. Soul Ipsum – Sea Limousine
29. German Army – Sultan Skin
30. Kikiilimikilii – Voodoo In The Afternoon
DEDICATED TO ALL MOTHERS OF THE WORLD…
THIS COMPILATION IS AN OVERT GESAMTKUNSTWERK OF ALL THAT COULD BE ACHIEVED IN THE POST 2.0 ERA, WHERE PRODUCTION BACKGROUND OF EVERY SINGLE CREATING INDIVIDUAL MESHES INTO A GRID OF SOMETHING UNIFIED THAT WE ARE ALL ABLE TO VIEW AS COLLECTIVE CRE'A'TOR'SHIP.
EVERY ARTIST CONTRIBUTING TO ∜♡MDISCS 2K13 IS A SOURCE AND FILLER OF LOVE WORLDWIDE. MAIN PART COMPARTS INTO JAZZFLUENT VIBRATIONS MERGED WITH FUTURE POP OUTLOOK EMBODIMENT. YOU WILL HEAR MORE ABOUT THE ARTISTS THAT ARE FEATURED HERE IN NEAR FUTURE, THEIR MUSIC IS NOT YET TIED TO ANY PRE PRODUCED IMAGINING, AND IT'S THE MOST FRESHEST BAKED SOUND DESERT YOU COULD GET.
IF REALIZATION OF CYBER BEDROOM CREATIVE POTENTIAL AND ITS INFLUENTIAL SHIFT INTO THE PRESENCE OF MAIN STREAM MUSIC PRODUCTION WAS EVER TO BE FELT, IT'S NOW. VAPORWAVE IS SLOWLY GETTING CAUGHT UP IN THE MIDDLE OF ATTENTION AGGREGATING FOCUS, BUILT WITH RESPECT ON CYBER COURTESY OF BRITNEY'S 6TH TUMBLR SENSE. YOU CAN LOOK ONTO RIHANNA'S DIAMONDS AND SAY TO YOURSELF THAT SHE & HER PRODUCTION TEAM MADE IT SO LATE COMPARED TO WHAT WE HAVE ALREADY SEEN BEING PRODUCED IN OUR LIGHT WEBS, IT HAD ALREADY BEEN FORGOTTEN. ALL OUR STEPS UP ARE NOW SHARED AS CO-MOTION OF US ALL, AND EXPENSIVE PRODUCTIONS ARE BEING LEFT BEHIND IN FORGOTTEN REALMS.
X PART IS A REAL TRIBUTE TO UNDERGROUND THAT IS LESSER KNOWN AND THE MORE INFLUENTIAL AS IT HAS ALWAYS BEEN, DANCE LIKE A WILD BEASTS, WITH ANGEL HEARTS, OR JUST LISTEN AND MEDITATE.
∜♡MDISCS 2K13 IS A FINAL OUTCOME OF WHAT HAVE BEEN MY PRIME EFFORTS SINCE THE FIRST DAY I SPENT BEING A CHANNEL FOR UPCOMING AND CREATIVE MUSIC THAT SHAPES THE MUSIC WORLD, OUR WORLD. NO MATTER IF IT'S BEING PRODUCED IN BEDROOM, JEEP, THUNDERDOME'S OR UNDER SKY, BY TEENS OR 40-YEAR OLD KIDS. I'M LOOKING FORWARD TO OUR OWN CREATIVE FUTURE, FOR ALL OUR LIMITATIONS HAD ALREADY DISSAPEARED. LOVE IS YOU, CREATE THAT WAY. ∜♡MDISCS 2K13.
I WOULD LIKE TO THANK TO ALL PARTICIPATING ARTISTS, ALL PEOPLE WHO HELPED MADE THIS HAPPEN, SIMON WARD FOR HIS AMAZING VIDEO TEASER, MIKE TEXTBEAK FOR MUSIC EDITING, AND PEOPLE AT HARTZINE AND TINY MIX TAPES FOR GIVING THIS COMPILATION A GO, THANK YOU.
CURATED, COMPILED & PRODUCTION BY RADO Z. (PROPHEET, FOUNDEER, OWNEER OF ∜♡MDISCS: Futures Reserve Label)
DEDICATED TO ALL MOTHERS OF THE WORLD.