Bráulio Amado l'interview
Écrit par Ted Supercar sur 22/09/2016
Quand on vient de la culture punk, on apprécie forcément de bosser pour la salle indé en bas de chez soi, et c'est d'autant plus appréciable si en parallèle on est directeur artistique pour l'hebdomadaire économique de Bloomberg. Le grand écart est fascinant, et cette dichotomie est un élément fondateur du travail de  Bráulio Amado, designer graphique portugais expatrié à New York et dont les illustrations ont habillé les pages du New York Times ou de Wired, mais servent, pour les plus personnelles d'entre elles, d'identité au club voisin Good Room.
Derrière la structure cartésienne qui préserve la lisibilité de ses affiches et rares pochettes d'album, il y a bien quelque chose qui subsiste de la la culture punk. Le trait vif, presque rageur de l'écriture manuscrite, le pointillisme dégradé et les contrastes accentués d'un risographe fatigué, le collage d'éléments épars, l'utilisation de l'aérographe, ces éléments sont ceux de la communication de rue, où un flyer découpé et photocopié mille fois se passe de la main à la main, où l'affiche réalisée au marqueur se placarde en deux minutes sur un mur gluant de colle, et où pour s'extraire de l'anarchie visuelle qui va de pair avec cette pratique sauvage, ce qui compte c'est que le message frappe fort.
Il y a dans le travail de  Bráulio l'énergie d'une sous-culture distillée par les conventions graphiques. Et l'ancien Lisboète revient sur ce mélange d'influences, ce qu'il a conservé de sa jeunesse hardcore et comment ce qu'il a emporté avec lui en quittant le Portugal lui a permis de garder une partie de cette identité à travers ses affiches d'une part, mais aussi ses groupes, Papaya, Crime Department et Adorno, des formations dominées par le punk et le noise, à apprécier en fin d'interview.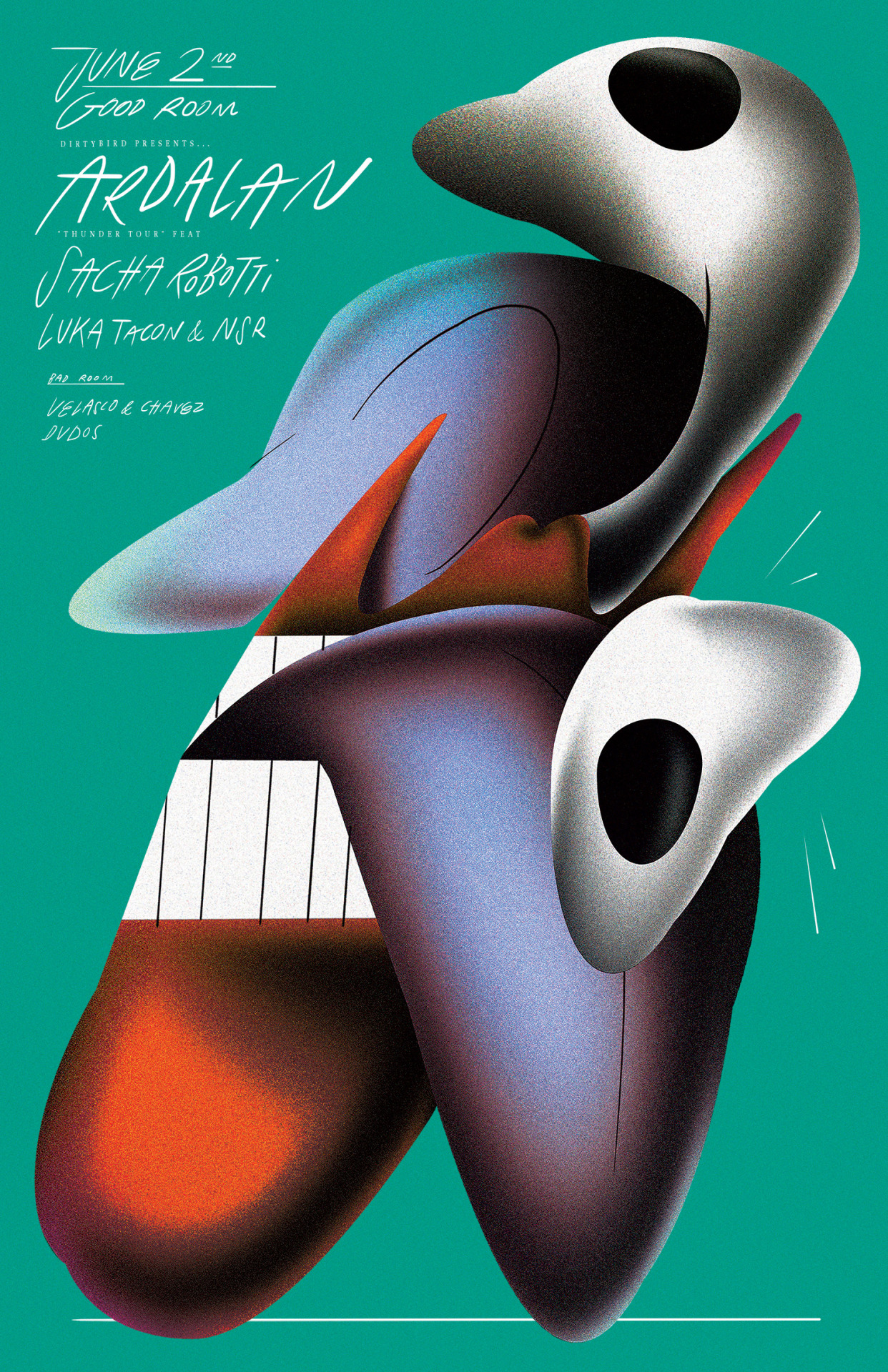 Interview
J'ai lu que ton implication dans la scène punk hardcore lisboète t'a conduit à créer des affiches. Tu travailles en ce moment pour Good Room, une salle de Brooklyn où tu vis désormais. La facette communautaire est-elle importante pour toi?
I've read that your involvement in the Lisbon punk-hardcore scene led you to poster design. You're currently working for Good Room, a venue in Brooklyn where you live now. Is the community level important to you?
Oui la communauté est importante pour moi. J'ai grandi dans la scène punk-hardcore et quand j'ai commencé à concevoir des affiches au Portugal, j'étais plus ou moins en train d'apprendre ce qu'est le design. Aujourd'hui, le design graphique est mon métier, et je fais désormais des affiches (entre autres) pour vivre. Une partie de la programmation de Good Room n'est pas vraiment ma tasse de thé, mais j'aime travailler pour eux. Je n'irais pas jusqu'à dire que Good Room est ma communauté, mais j'aime être une sorte d'outsider et proposer un angle créatif qu'on ne s'attendrait pas à voir pour une boîte de nuit.
Community is indeed important to me. I grew up with the punk-hardcore scene, and when I started making posters in Portugal I was still pretty much learning about what design was. Currently, graphic design is my job, and I now do posters for a living (among other design work). Some of the music Good Room books on the venue is not really my cup of tea, but I do love designing for them. I wouldn't say Good Room is exactly my community, but I do enjoy being a bit of an outsider to it and bring a design style that normally might not be what you expect on a night club.
Comment ton déménagement de Lisbonne à New York a-t-il influencé ta culture musicale et graphique?
How did your move from Lisbon to New York influence your musical and graphical culture?
J'ai obtenu une bourse pour terminer mon dernier semestre d'études ici, et ça m'a mené à un stage — j'ai fini par me faire offrir un emploi et depuis je suis ici. J'ai du mal à croire que ça fait déjà six ans! Je suis toujours dans la vingtaine, et donc le déménagement m'a beaucoup influencé. J'aime toujours la culture de mon pays, mais le temps aidant, je sens que je deviens de plus en plus américain. Parfois pas de la bonne façon, haha. Mes travaux et goûts ont beaucoup évolué. Je suis sûr que j'aurais aussi changé en restant au Portugal, mais je n'aurais pas pu vivre l'expérience de toute cette culture qu'offre NYC.
I got a scholarship to finish my last semester of studies here, and that led to an internship — I ended up getting offered a job and I have been here since there. Can't believe it has been 6 years already! I'm still in my twenties, so definitely the move influenced me a lot. I still love all the culture back home, but as time goes by I feel like I'm becoming more and more American. Not in a good way sometimes, haha. My work and taste changed a lot. I'm sure it would have changed as well if I was in Portugal still, but back home I wouldnt be able to experience all the culture NYC gives to you.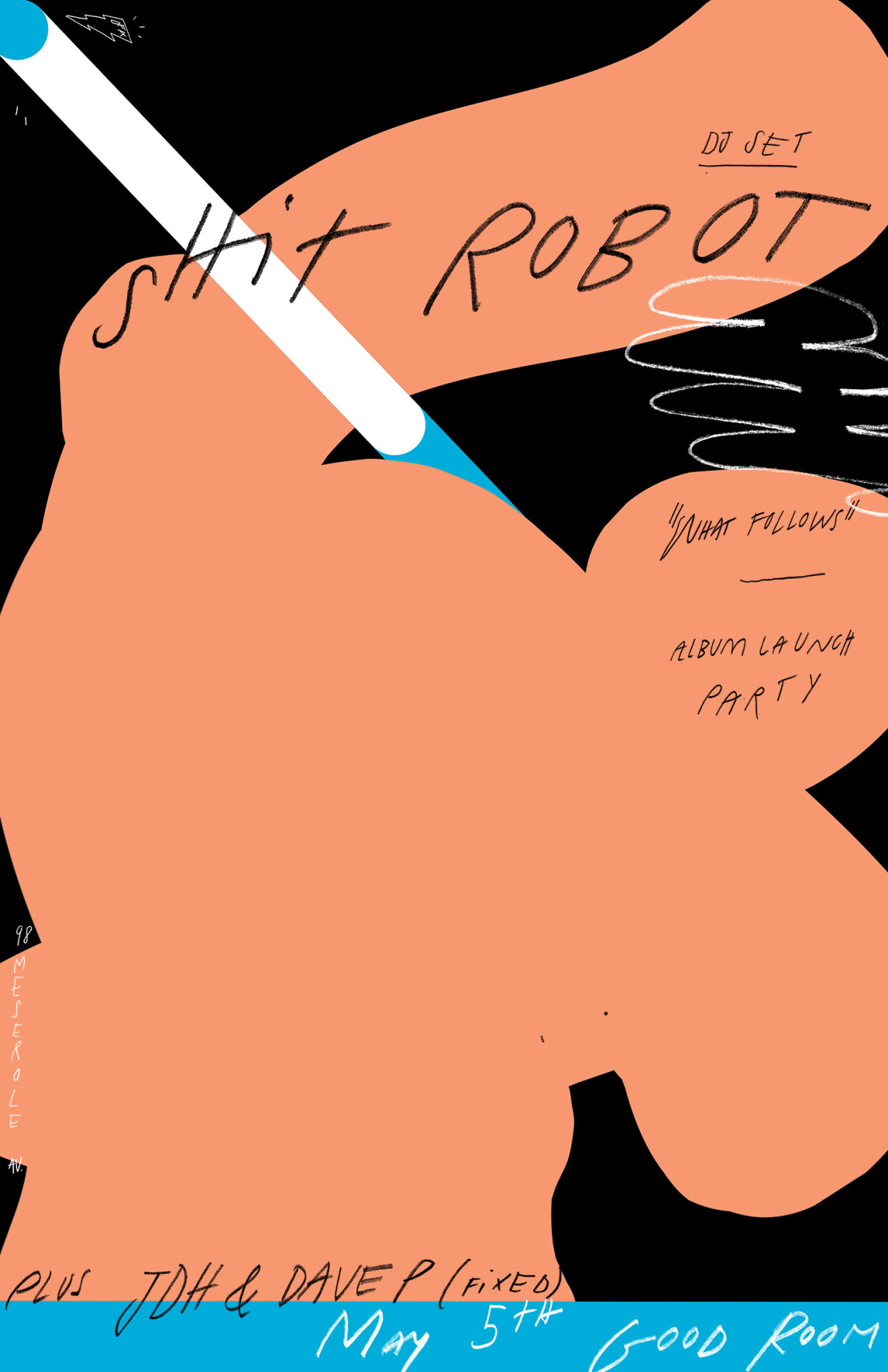 Gradations, distorsions, collages, abstractions, couleur, noir et blanc… Ta méthodologie est différente d'une affiche à l'autre. Les expérimentations prévalent-elles sur le style personnel? As-tu un style personnel d'ailleurs?
Gradations, distorsions, collages, abstractions, color, black and white… Your process is different from a poster to another. Do your experiments prevail over your personal style? Do you have a personal style by the way?
Je pense qu'aujourd'hui mon style est de ne pas en avoir du tout. Je dois créer tellement d'affiches et d'illustrations au quotidien que je veux continuer à expérimenter et déboucher sur du neuf à chaque fois. Avoir un style finit parfois par être lassant — du moins pour moi! Et les gens commencent à venir te trouver pour un truc spécifique que tu as fait et refait, et c'est vraiment plombant.
I think my style nowadays is to not have a style at all. I have to do so many posters and illustrations on a daily basis that I really want to keep experimenting and come up with something new every time. Having a style ends up being a bit boring at times — at least for me! And people start coming to you for a specific thing that you did over and over again, and that's really annoying. 
Dans un projet, où commencent tes réflexions et à quel moment sais-tu dans quelle direction aller? Quelle connexion fais-tu entre le concept d'un évènement ou l'artiste, et l'illustration finale?
In a project, where does your thoughts start and at what point do you know where to go? What connection do you make between the concept of an event or the artist and the final illustration?
Tout dépend. Parfois, j'ai une idée en tête et je m'assure que le concept/message est bien clair. D'autres fois, j'écoute simplement les morceaux, trouve un titre/un vers amusant et je m'en sers pour l'illustration. À l'occasion, je bidouille juste les photos du groupe. Sinon, je me contente d'écouter la musique et de produire quelque chose de plus abstrait en m'appuyant sur mon ressenti de la chanson.
All depends. Sometimes I have an idea in my head and I make sure the concept/message is very clear. Sometimes I just listen to their songs, find a funny title/lyric and do an illustration based on that. Sometimes I just fuck around with the band's photos. Other times I just play the music and do something more abstract based on what the song makes me feel.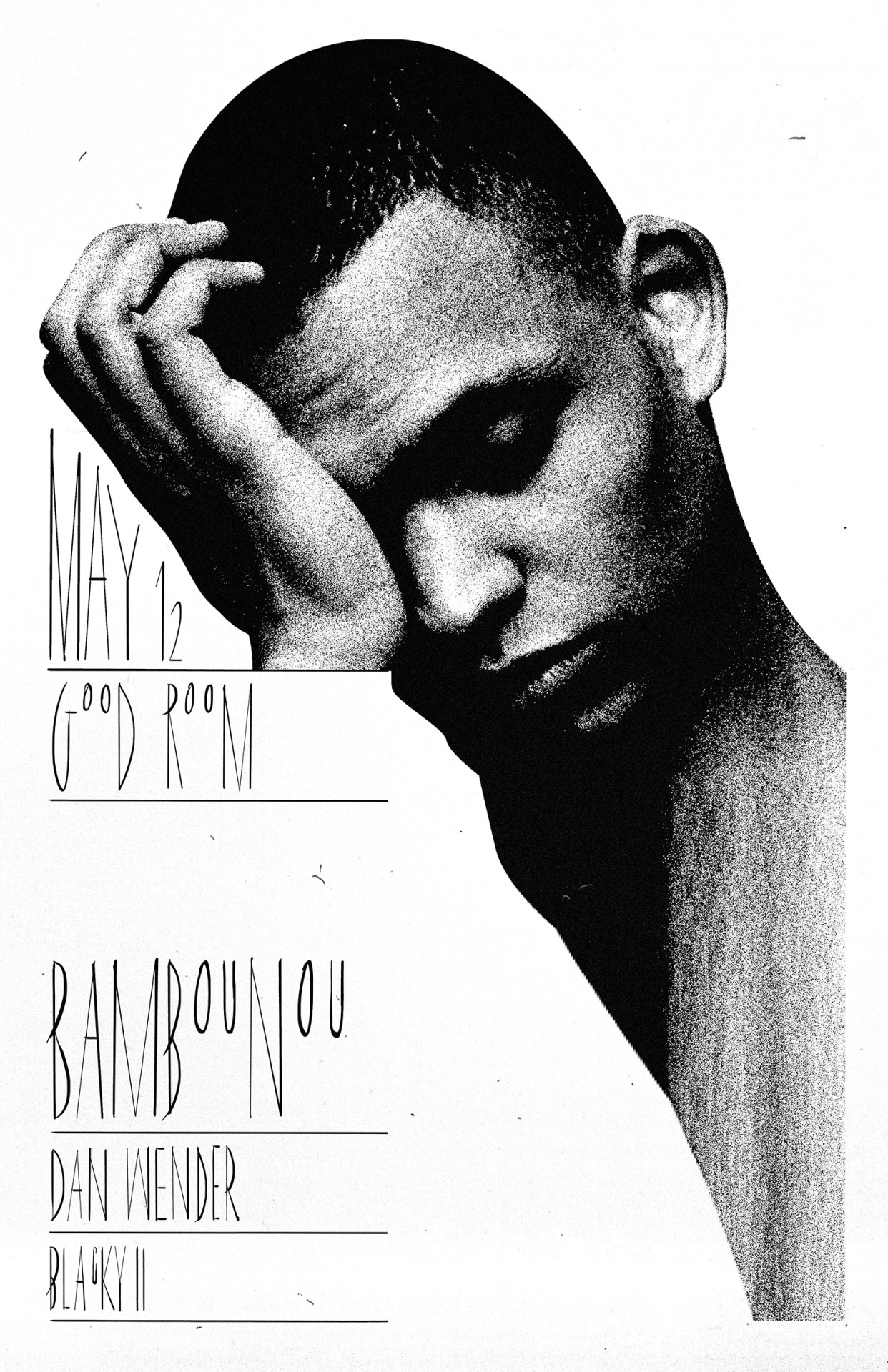 Est-ce facile de passer de Bloomberg BusinessWeek à la conception d'affiches pour une salle indé? Et d'un poster pour Suuns à un autre pour Hot Chip?
Is it easy to move from Bloomberg BusinessWeek to designing posters for an indie venue? And from a poster for Suuns to one for Hot Chip?
Honnêtement, à la fin, c'est très proche. À BusinessWeek, on dispose de beaucoup de liberté et on s'appuie énormément sur l'humour pour faire des choses folles. C'est aussi un magazine d'actualités hebdomadaire, il faut donc lire les articles et réagir rapidement avec une illustration ou un concept. Ce processus m'aide beaucoup à concevoir des affiches et à être plus rapide dans mes réflexions et mon exécution. Je pense que cela le rend plus vivant/énergique et moins « précieux ». Le processus est donc plus ou moins le même pour BusinessWeek, Good Room, ou pour une affiche pour Suuns ou Hot Chip.
They end up being very similar honestly. We have a lot of freedom at BusinessWeek and rely a lot on humor to do crazy stuff. It's also a weekly news magazine, so you have to read the stories and react fast with an illustration/design. That whole process helps me a lot in designing posters and be more fast with my thinking and execution. I think that makes it feel more lively/energetic and less « precious ». So, the process is kind of the same, either at BusinessWeek, Good Room, or on a poster for Suuns or Hot Chip.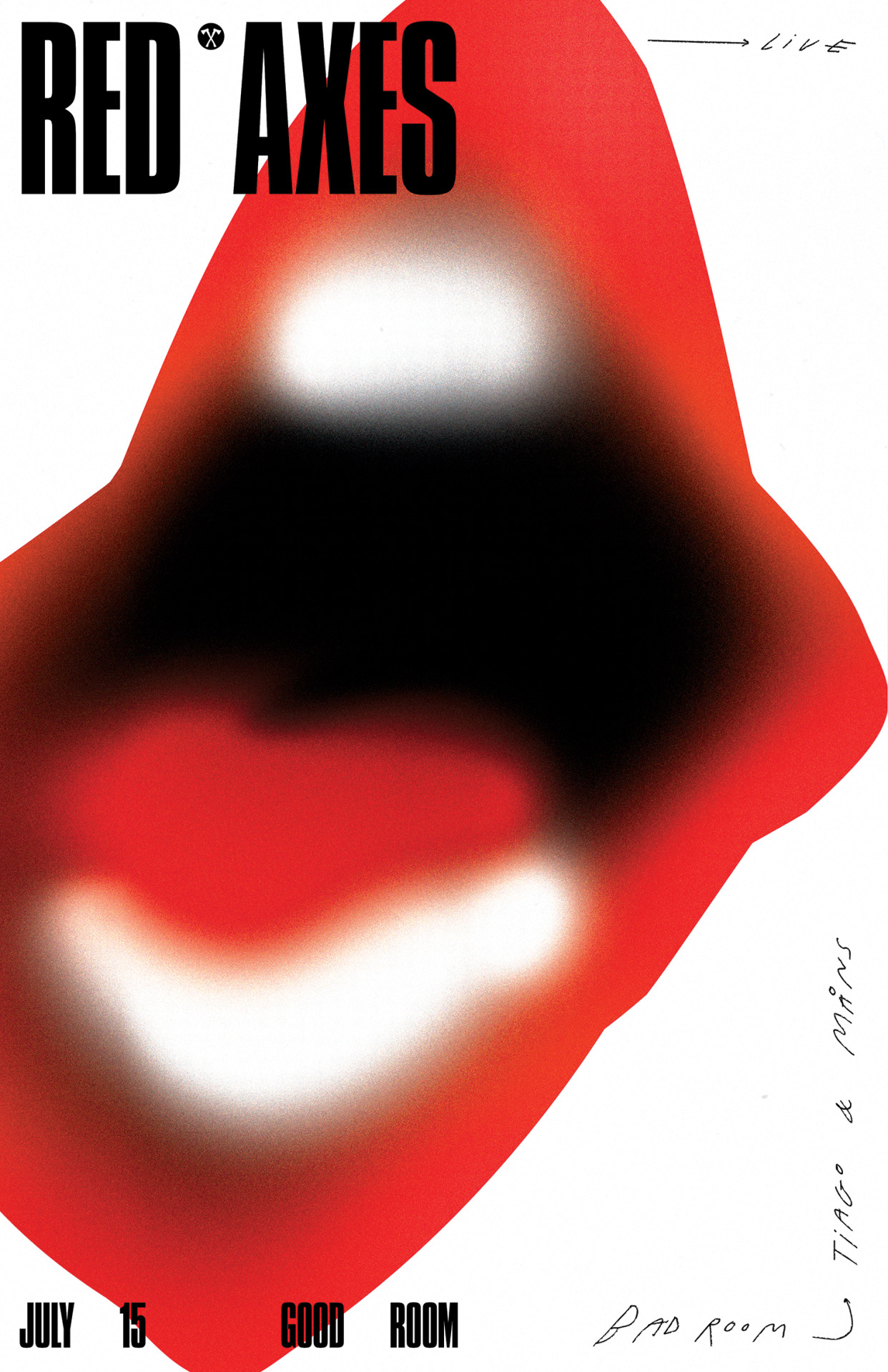 On dirait que tu donnes de l'importance aux informations manuscrites. Pourquoi?
Handwritten information look important to you. Why?
Cela véhicule une touche un peu plus personnelle et réaliste, au lieu de donner l'impression qu'on a passé 5 heures à concevoir un truc sur son ordinateur. En outre, il m'arrive d'être vraiment mauvais pour choisir des polices, donc j'écris à la main, c'est plus facile et moins stressant.
It just brings a bit more of personal touch and real-ness to it instead of looking like you spent 5 hours looking at a computer designing something. Also I'm kind of bad with picking type sometimes, so if I just hand write it, it's easier and less stressful.
Tu réalises plus d'affiches que de pochettes d'albums. Préfères-tu les premières? Quelles sont les différences entre ces deux supports?
You design more posters than album covers. Do you prefer the first ones? What are the differences between the two media?
J'aime les deux! Malheureusement, je ne suis pas assez sollicité pour réaliser des pochettes. Dans un projet de pochette, j'apprécie de produire plusieurs illustrations, polices, designs, etc. pour les insérer dans le livret, sur le CD, la quatrième, etc. Ça revient à publier un petit book de ses travaux, au lieu d'une seule affiche avec une seule image.
I like both! Unfortunately I dont get asked to design many record covers. With an album cover I do enjoy making a bunch of illustrations, type, designs, etc to put it on the booklet, CD, back covers, etc. It's almost like you are publishing a small book with your work, instead of just one poster with one image.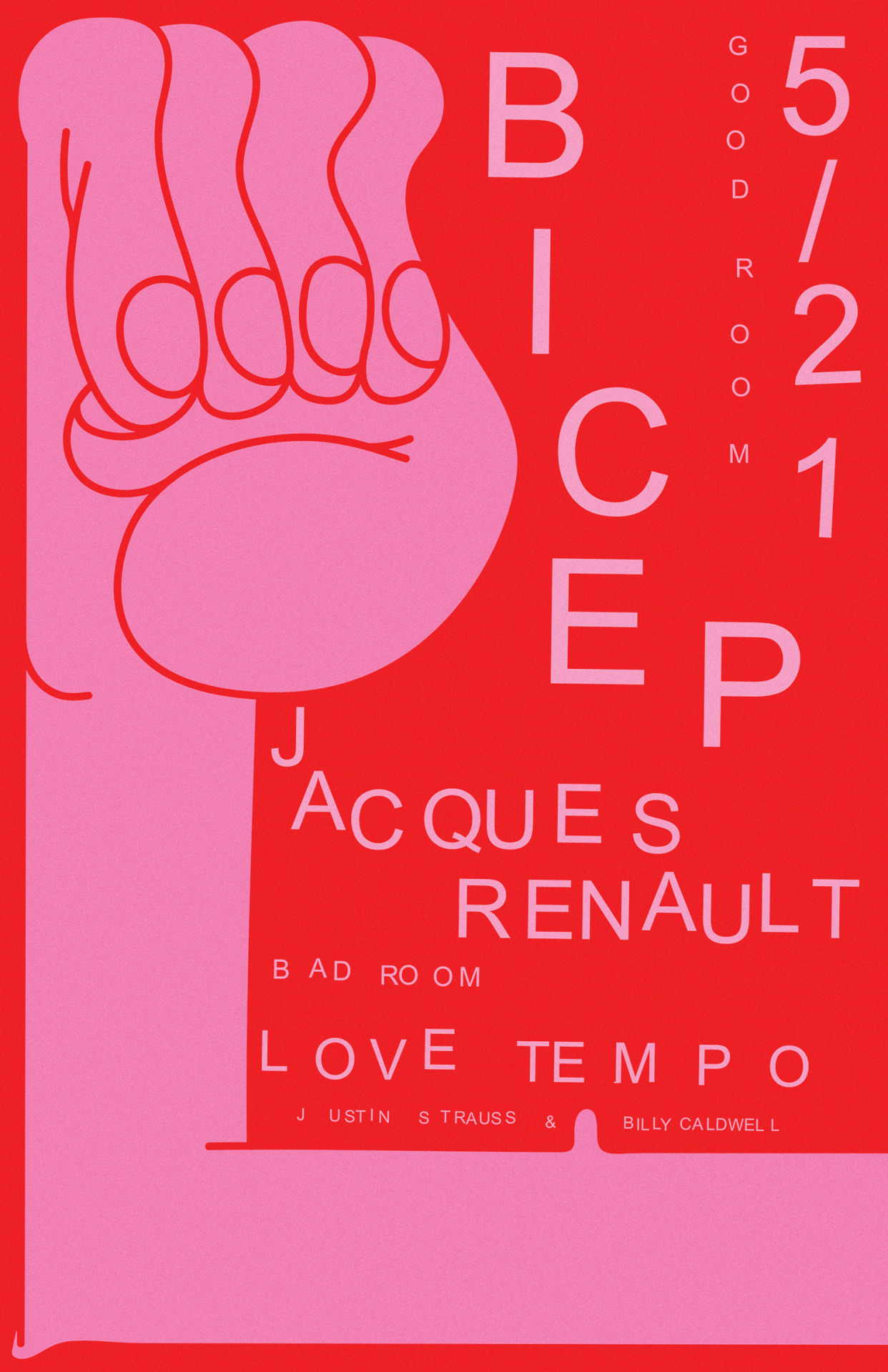 Où puises-tu tes influences en design graphique?
What or who inspire your graphic design?
C'est dur comme question! J'aime Barney Bulbes, Saul Bass, Cowboy Henk, Chris Ware, Manuel Donada, Steak MTN, Zach Hobbs, M/M, Mirko Borsche… Beaucoup trop, nouveaux comme anciens.
Oh man, that's such a hard question. I love Barney Bubbles, Saul Bass, Cowboy Henk, Chris Ware, Manuel Donada, Steak MTN, Zach Hobbs, M/M, Mirko Borsche… Too many. Old and new. 
Et en musique?
What about music?
Ex Modela est mon groupe préféré. J'aime tous les trucs Dischord période Revolution Summer, le punk hardcore des années 80, une partie de ce nouveau garage rock comme Ty Segall et The Oh Sees et je continue à aimer Devo et les Beach Boys. En ce moment, mon obsession se porte sur Coneheads et le Minneapolis Uranium Club. J'écoute beaucoup d'autres choses parce que j'aime la musique en général, mais ce sont mes préférences.
My favorite band is Ex Models. I love all the Dischord stuff from the Revolution Summer era, 80's punk-hardcore, some of that new garage rock stuff like Ty Segall and Thee Oh Sees, and always love Devo and Beach Boys. Currently obsessed with the Coneheads and The Minneapolis Uranium Club. I do listen to a bunch of other things because I love music in general, but yeah, this is the main stuff.
Chez le disquaire
No Age — Loosing Feeling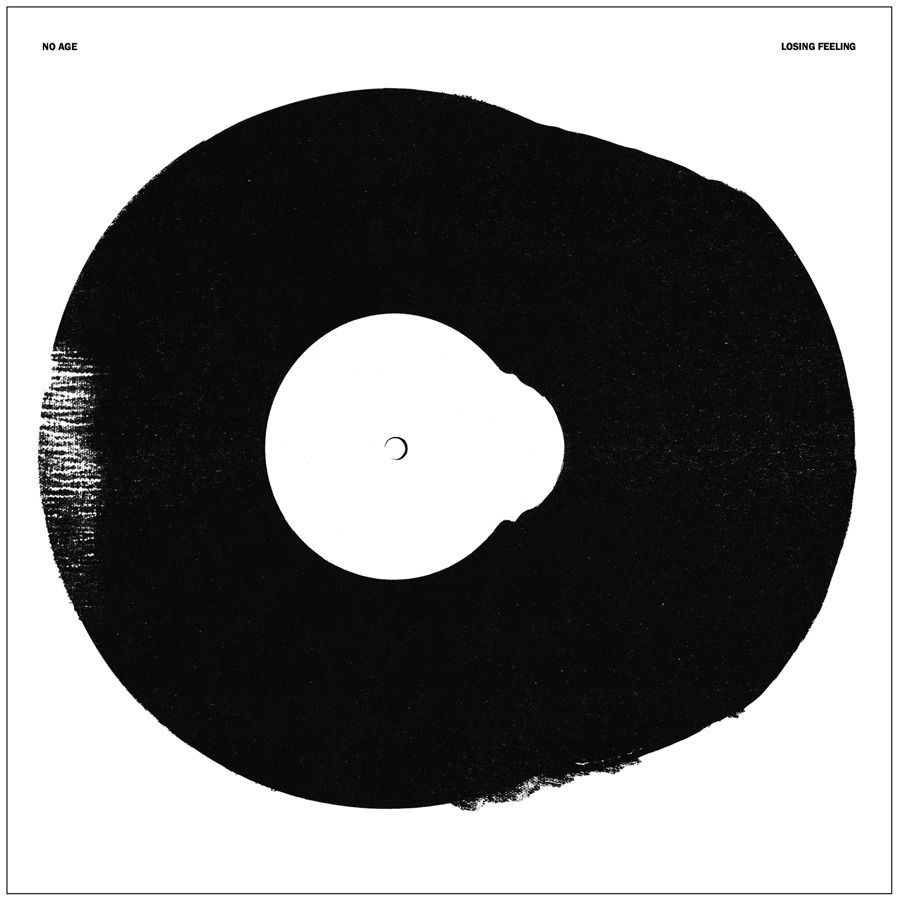 Toute l'œuvre de Brian Roettinger est fascinante. Celle-ci est tellement simple et belle que je suis super jaloux de ne pas l'avoir faite en premier.
All the stuff Brian Roettinger designs is amazing. This one is so simple and beautiful that I feel super jealous for not doing it first.
The Germs — What We Do Is Secret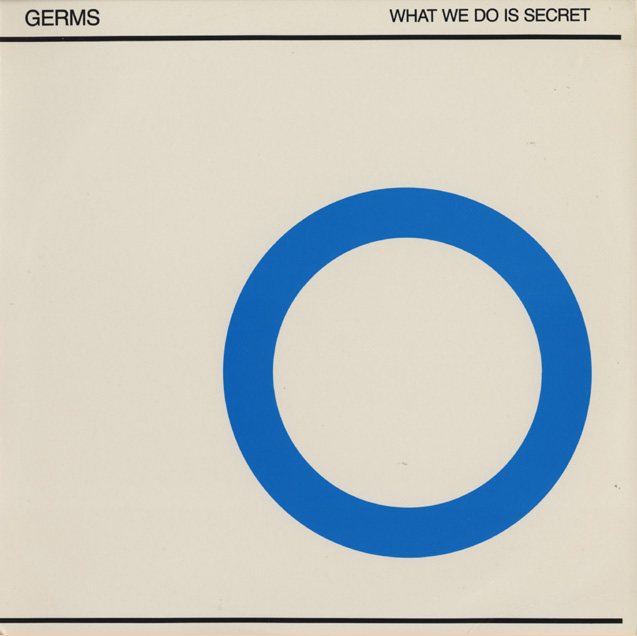 Franchement, que dire de plus?
I mean, what else can I say?
Black Dice — Repo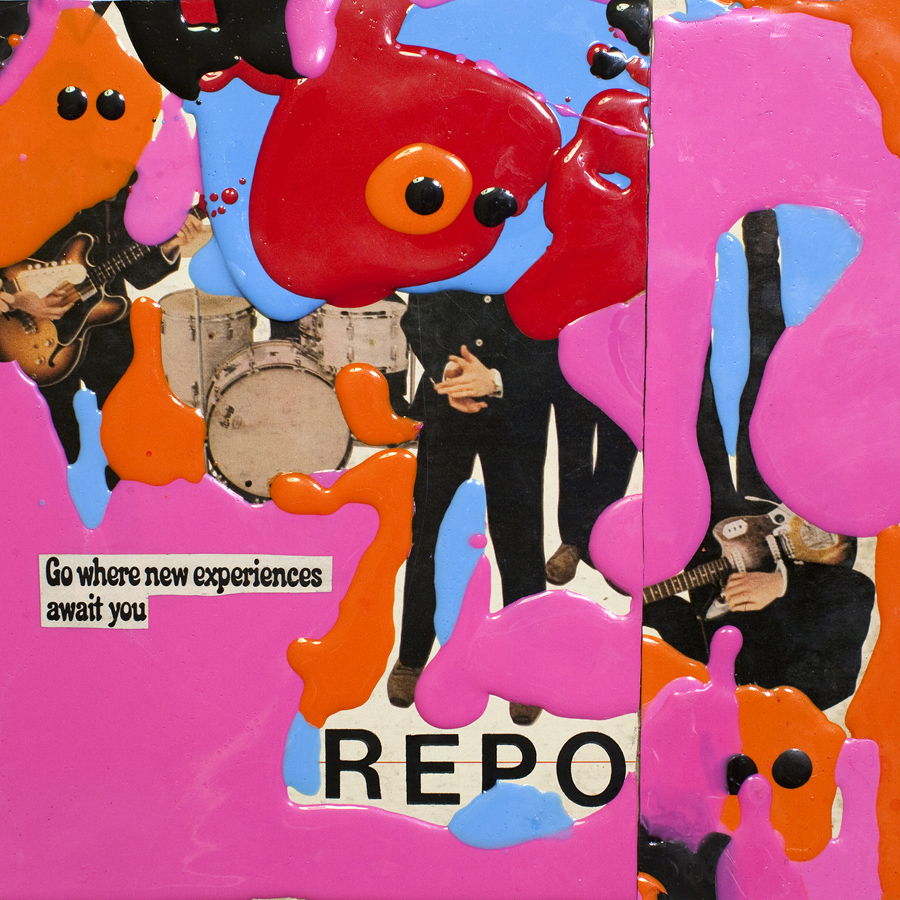 Difficile de battre les frères Copeland au collage. Tous leurs albums (et toute leur musique) sont fantastiques, mais c'est le premier que je me souviens avoir acheté.
Can't really beat the Copeland brothers with the collage stuff. All their records (and music) are amazing, but this one was the first I remember picking up.
Le Shok — We Are Electrocution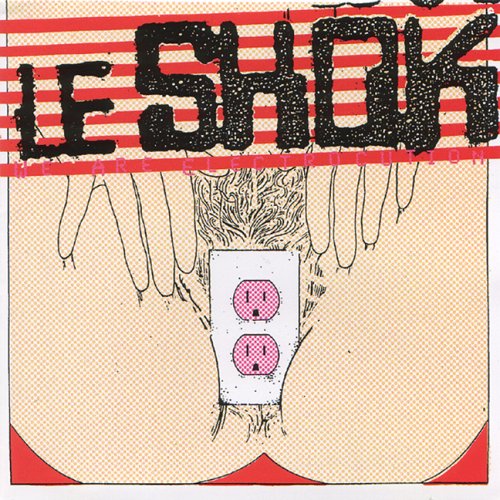 Le style est incroyable et l'idée est géniale. En plus, la quatrième conclut parfaitement le tout. Je n'arrive pas à trouver d'autres trucs réalisés par la personne derrière celle-ci.
The style is amazing and the idea is the best. Also, the back cover ties everything up perfectly. I still can't find more stuff by the person who designed this.
Devo — Freedom Of Choice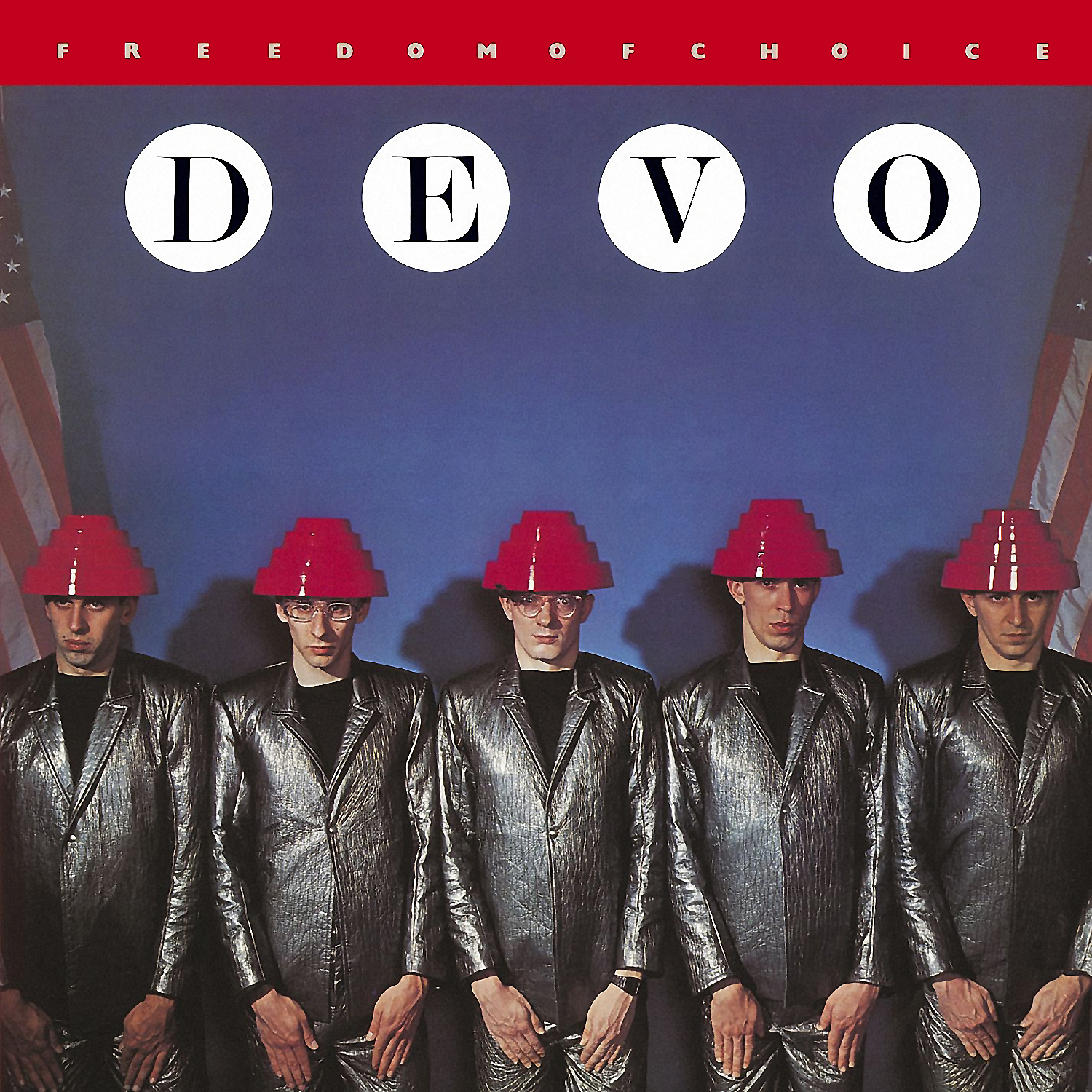 Toutes leurs pochettes sont géniales, mais celle-ci est terriblement iconique. J'adore les costumes et les trucs débiles. Non pas que Devo fût « débile », mais plutôt génial.
All their covers are awesome, but this is iconic as hell. I love costumes and silly stuff. Not that Devo was « silly », more like genious.
Projets musicaux
Papaya
Du post-punk étrange et bruyant avec un nom débile, mais on s'amuse beaucoup.
Weird Post-Punk noisy, with a silly name, but lots of fun.

Crime Department
Du punk harcdcore avec un brin de folie. On revient d'un mini-tour en Europe et on travaille sur un LP.
Punk-Hardcore with some crazy juice to it. We just got back from our first euro-tour and we are working on an LP.

Adorno
Emo/Post-hardcore. On a monté le groupe il y a 10 ans et pas mal tourné en Europe! On n'a jamais sorti de LP correct mais pas mal de splits et EP, pour finir par sortir deux 12" avec tous nos morceaux.
Emo/Post-hardcore. We started the band 10 years ago and we toured Europe a bunch! We never released a proper LP but we did many splits and EP's and ended up releasing two 12″s with all the songs.

---
Les opinions du lecteur
---