Who are you Spring Break Tapes ?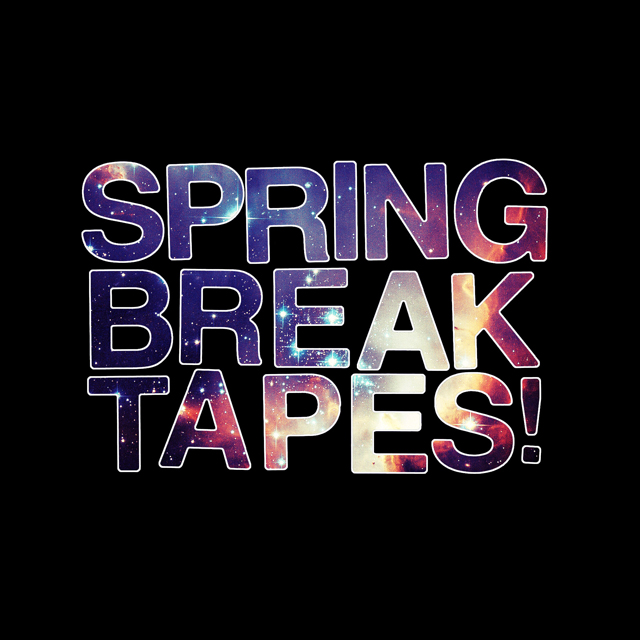 Spring Brake Tapes n'est pas la bande originale du prochain film d'Harmony Korine prévu pour 2013, Spring Breaker. Et Joe McKay n'est pas un obscur songwriter folk nord-américain. Non. Il faut remettre internet à sa place et présenter les choses telles qu'elles sont, c'est-à-dire à l'endroit. Joe McKay est un artiste-graphiste Angelin, passionné de musique et serti tout à la fois d'un bon flair et de bons amis. Décidant de franchir le pas et de conjuguer ses projets, celui-ci initie l'année passée Spring Brake Tapes, label dédié au format cassette. Un de plus, certes. Mais la musique prodiguée par ses deux premières sorties valent tout autant le détour qu'elles le sont par des gens au talent certain et avéré. Derrière Junior Pande, on retrouve Justin Peroff, batteur de Broken Social Scene et architecte d' Eight And A Half en compagnie des Montréalais de The Stills, Dave Hamelin and Liam O'Neil, quand le Torontois Don Cash, ami de Peroff, est à juste titre considéré tel un pionnier du wave-rap réconciliant à la fois Prince, Beck et Flavour Flav. Si la réputation de l'un n'est plus à faire, Broken Social Scene étant ce qu'il est depuis You Forgot It In People (Arts & Craft, 2002), l'autre s'installe ostensiblement sur les devants de la scène hip-hop depuis son coup d'éclat Freshy Fresh, paru en 2010 sur URBNET. Tape One de Julior Pande et Epic de Don Cash – en écoute intégrale commentée ci-dessous – ne restent cependant qu'un début pour Joe, comptant faire aboutir dès cette année plusieurs autres projets, dont les cassettes de Drawlings – aka Abby Portner, invitée lors d'un showcase Hartzine dans toutes les mémoires (voir) – Ali Helnwein ou Spirit Vine, et ce sans compter sur la Tape Two de Justin Peroff. Charriant le hip-hop, son versant abstract, mais aussi les expérimentations pop et électroniques, l'éclectisme préside au destin de Spring Brake Tapes. Un destin tout tracé et ébauché à l'occasion de l'entretien qui suit avec le principal intéressé, Joe McKay.
Entretien avec Joe McKay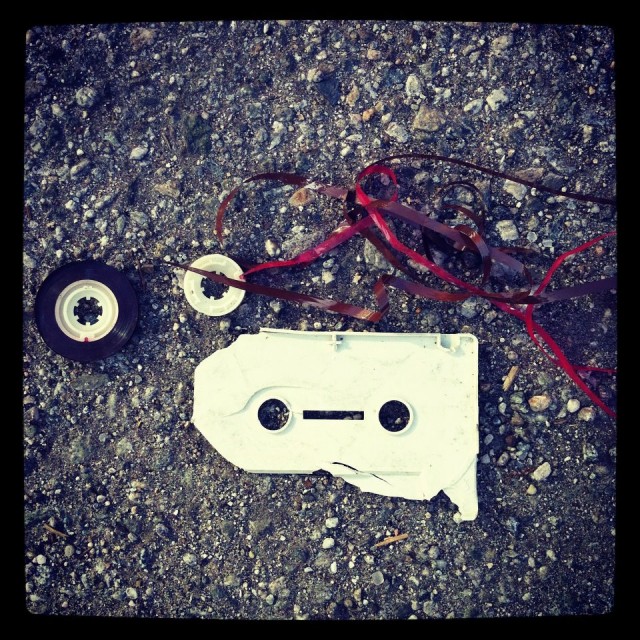 Peux-tu te présenter en quelques mots ? Qui es-tu Joe et que faisais-tu avant Spring Break Tapes ?
Can you introduce yourself in a few words? Who are you Joe and what did you do before Spring Break Tapes?
Je suis artiste, basé à Los Angeles depuis quatorze ans. J'ai toujours aimé la musique et les arts plus que tout. J'ai toujours voulu monter une maison de disques et c'est enfin ce que j'ai pu commencer avec Spring Break Tapes l'année dernière.
I am an artist living & working in Los Angeles for the past 14 years. I have always loved music & art more than anything else. I always wanted to have a record label & so I finally did it last year when I started Spring Break Tapes.
Quelles sont tes influences musicales ?
What were your first musical influences?
J'ai grandi en écoutant en grande partie du hip-hop. Je me souviens du jour où j'ai acheté Raising Hell de Run DMC en cassette alors que j'étais au CM1. J'étais fan d'eux, avec LL Cool J et les Beastie Boys. En grandissant, mes goûts sont devenus plus éclectiques. Le hip-hop s'est vraiment popularisé quand j'étais gosse, c'était vraiment des années supers.
I grew up listening to mostly hip-hop. I remember buying Run DMC's Raising Hell on cassette when I was in the 4th grade. I was a big fan of them & LL Cool J and Beastie Boys. As I got older my musical palette definitely expanded but hip-hop was getting really big when I was a kid so it was a cool time to be around.
Comment Spring Break Tapes a-t-il vu je jour ? Qui est derrière ? Quelle était l'idée d'origine ?
How was Spring Break Tapes born? Who's behind it? What was the idea originally?
J'avais toujours voulu monter mon propre label, mais je pensais que c'était soit trop dur, soit trop cher pour pouvoir le faire correctement. Et puis, j'ai fini par me rendre compte qu'on pouvait sortir de la musique sur K7 pour pas grand-chose. Ça faisait déjà quelques années que mon ami, Justin Peroff de Broken Social Scene et Eight And A Half faisait de la musique sur ordi et j'aimais beaucoup. Il voulait faire un album et je cherchais un groupe à sortir, alors, cela coulait de source. Justin aka Junior Pande fut donc le premier artiste à paraître sur le label. C'était passionnant pour nous deux. Justin est en train de bosser sur une autre cassette.
I always wanted to have my own label but it seemed like it was something that was too hard or too expensive to do it correctly. Then I discovered that people were releasing music on cassette and I found out that it was actually very inexpensive to do this. My friend Justin Peroff from the bands Broken Social Scene and Eight and a Half had been making his own music on his laptop for a few years and I really liked what he was doing. He wanted to release the music & I needed music to release so it worked out perfectly. So Justin aka Junior Pande was my first release. It was very exciting for both of us. Justin is currently working on his next release.
Pourquoi ce nom, Spring Break Tapes ?
Why this name, Spring Break Tapes?
C'est un peu venu de nulle part. Alors que je passais dans une allée, j'ai remarqué que quelqu'un avait taggé ''Spring Break'' sur une poubelle, tout ça illustré en dessous de deux seins tous flasques. Ça m'a vraiment fait marrer et c'est à ce moment-là que j'ai décidé que le label s'appellerait ''Spring Break Tapes ».
It's kind of a random story. I was walking through an alley & I saw that somebody had tagged on a dumpster « Spring Break » and drew some sagging breasts underneath. I thought it was really funny & that's when I decided to call the label Spring Break Tapes.
Pourquoi choisir le format cassette ?
Why did you choose to work with cassettes?
J'ai grandi en écoutant des cassettes et j'y suis toujours très attaché, de la même façon que certaines personnes avant moi le sont restées avec le vinyle par exemple. Étonnamment, produire des K7 est très peu coûteux, et j'aime faire des éditions limitées. De toutes façons, ceci semble être la norme.
I grew up with cassettes & have a special kind of affinity for them the way that people before me love vinyl. Cassettes are surprisingly cheap to produce & I like doing limited runs which is the standard it seems.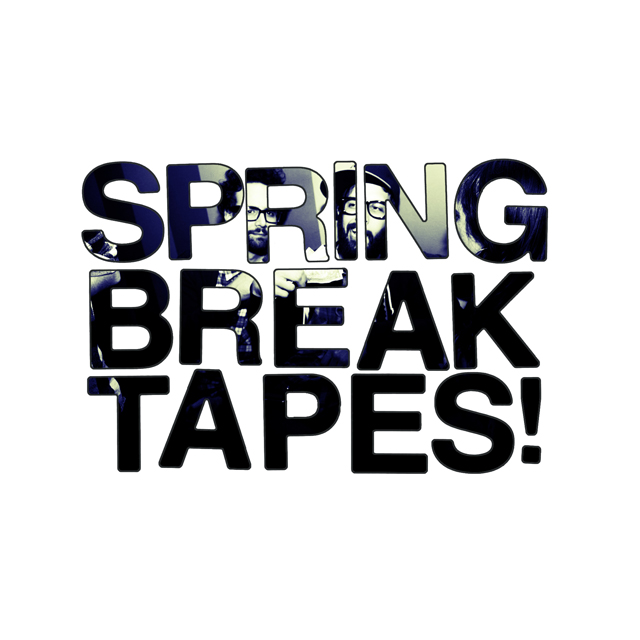 Spring Break Tapes sort aussi bien des disques hip-hop qu'expérimentaux… Comment choisis-tu les artistes avec lesquels tu travailles ?
Spring Break Tapes releases hip-hop records as well as more experimental ones… How do you choose the artists you work with?
Comme je l'ai dit précédemment, Justin (Junior Pande) est un bon ami. Prochainement, nous allons sortir Don Cash qui est une de ses connaissances. Je suis vraiment ouvert à tout genre de musique, en termes de sorties. Je trouve ça chiant de devoir juste produire le même genre de musique de manière répétée. Beaucoup de labels restent bloqués sur un seul genre. Selon moi, ce n'est pas la meilleure façon de fonctionner. Par exemple, je suis fan de Sub Pop qui a signé des groupes aussi variés que The Shins et Wolf Eyes…On ne peut pas vraiment faire plus différent en termes de son.
Well Justin (Junior Pande) like I said is a good friend. The next release was Don Cash who is a friend of Justin's. In terms of what music I want to release I'm open to anything. I think it's boring to just put out the same kind of music repeatedly. A lot of labels stick to one genre but I feel like the best ones don't. I have been a long time fan of Sub Pop for instance who has put out music by everybody from The Shins to Wolf Eyes… you can't get much further away from each other than that in terms of sound.
Quelle est la ligne artistique du label ? Il y a une esthétique, un concept que tu essayes de prolonger à chaque sortie ?
What is the artistic guidelines of the label? Is there an aesthetics, a concept you try to maintain for every release?
Ouais, il faut juste que ça soit de qualité. Je ne peux pas décrire l'esthétique derrière le label, je sais juste ce que j'aime.
Yeah it just has to be good. I can't describe my aesthetic. I just know what I like.
Quels types de relations y a-t-il entre les groupes et le label ?
How is the relationship between the bands and the label?
Jusqu'à présent, entre les sorties du moment et ce qui va bientôt arriver, il s'agit surtout d'amis et d'amis d'amis. Et je trouve ça bien.
So far with the current & upcoming releases it's all friends and friends of friends. I kind of like it that way.
Quel est le futur proche de Spring Break Tapes ?
How's the near future looking for Spring Break Tapes?
J'ai quelques trucs quasiment prêts à sortir. Je bosse en ce moment sur une mixtape instrumentale de hip-hop. Et ça s'annonce vraiment pas mal. Je vais aussi bientôt sortir un EP d'un petit groupe de Los Angeles, Spirit Vine. À part ça, j'ai hâte de pouvoir sortir peut-être deux sorties de Drawlings (aka Abby Portner) et d'un compositeur de LA, Ali Helnwein. Et de la Tape Two de Junior Pande. Je pense que ça va être une bonne année.
I've got a few things slated for release. I'm currently working on a hip-hop instrumental mixtape. It's turning out to be really great. There is a local LA psych rock band called Spirit Vine & I'm going to release an EP of there's on cassette. Other than that, I'm looking forward to releasing something possibly from Drawlings (aka Abby Portner) and LA composer Ali Helnwein. Also Junior Pande's Tape Two. I think it's going to be a good year.
Et tes espoirs les plus fous ?
And your craziest hopes?
Devenir le prochain Sub Pop.
To become the next Sub Pop.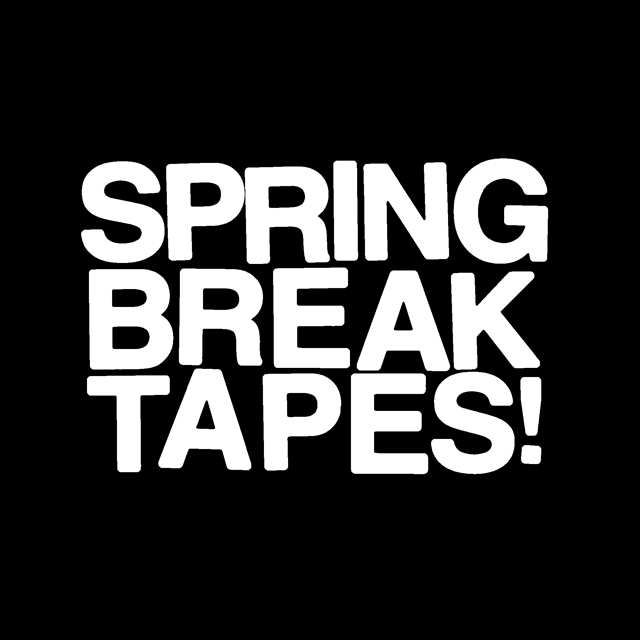 Sans mentionner les groupes de ton label… Quelles sont les choses auxquelles tu es addict ?
Without mentioning all the artists on the label… What things are you addicted to?
Je suis accro à la musique. Ça fait partie de ma vie au quotidien. Je fais partie de ces gens qui achètent de la musique en continu. En général, on ne prête plus autant d'importance à la musique, plus comme avant. C'est ce que j'aime dans les cassettes. C'est destiné à des gens qui aiment la musique et l'exclusivité attachée au fait de posséder une cassette limitée à cent exemplaires. C'est un truc de collectionneur. Peu importe si la cassette n'a de valeur pour personne d'autre. Le simple fait de savoir que l'on possède une cassette épuisée, en soi, c'est vraiment chouette.
I'm addicted to music. Music is an everyday part of my life. I'm one of those people that still buys music. People don't care as much as they used to about music. That's what I like about doing cassettes. It's for the people who love music and love the exclusivity of owning a cassette of which there is only 100. It's a collector's thing. It doesn't even matter what the cassette is worth to anyone else. Just knowing that you own a cassette that is sold out is pretty rad.
Don Cash – Epic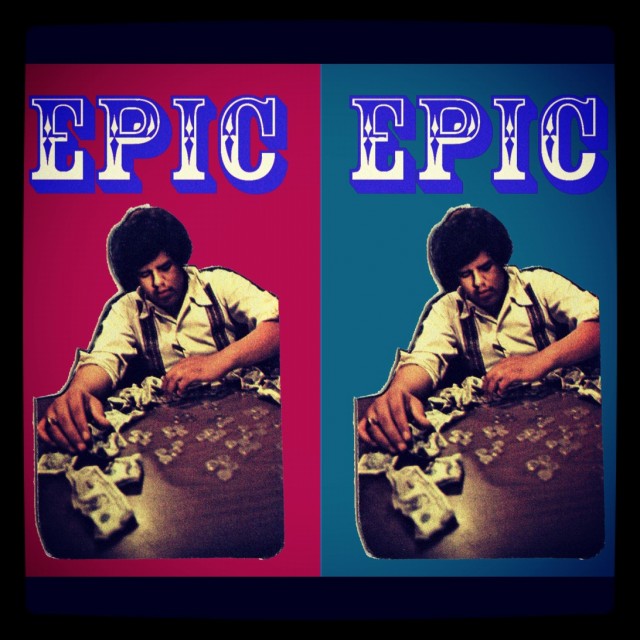 « Don Cash est un rappeur de Toronto qui est aussi pote avec Justin Peroff. Il est différent des autres rappeurs. Il suffit d'écouter sa cassette pour s'en rendre compte. Il est spontané et dingue comme Kook Keith et il est capable de produire aussi bien que Madlib. C' est aussi un conteur d'histoire, ce qui pour moi est une qualité essentielle quand on fait du hip-hop. Si on ne peut pas transmettre une histoire au travers des rimes, et si on est juste en train de parler de voiture, d'argent et autres conneries du genre, alors je trouve ça chiant. Le hip-hop, ce n'est pas ça à la base. »
Don Cash is a Toronto mc who is a friend of Justin's. He's not just a regular rapper. People just have to listen to the tape. He has the spontaneity & wackiness of Kook Keith and the production abilities of Madlib and he's a story teller which to me is essential to hip-hop. If you can't convey a story in your rhymes and you are just talking about cars & money & shit like that then I'm bored. That's not what hip hop is about.
DON CASH – EPIC (Spring Break Tapes, 2012)
A1. Rock And Rock
A2. It's So Easy
A3. Luv Yr Pearls
A4. Star Dust
B1. Disco Wreck
B2. On The Strength
B3. Trans Am
B4. Downtown Girl
Junior Pande – Tape 1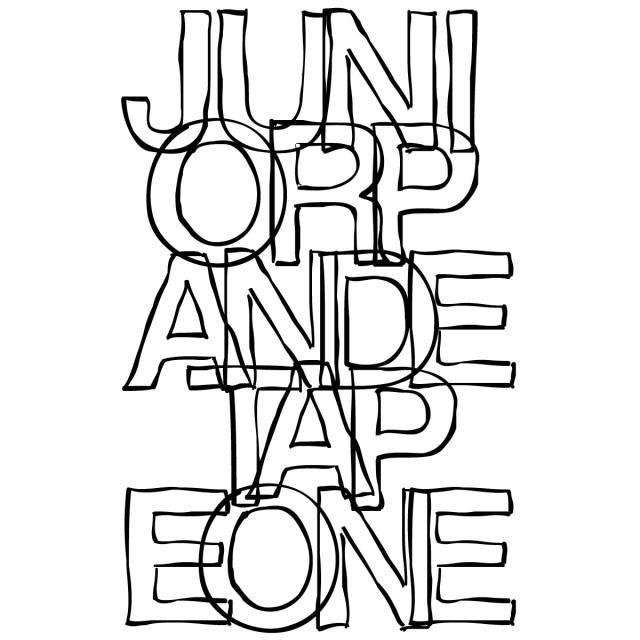 « Junior Pande est vraiment à fond dans toute la scène 'beat' du moment et il produit ses propres rythmes sur ordi quand il n'est pas en train d'enregistrer ou en tournée avec ses deux autres groupes. »
Junior Pande is Justin Peroff of the Broken Social Scene and his new band Eight and a Half. He is very much into the current beat scene and makes his own beats on his computer during his off time from recording & touring with his bands.
JUNIOR PANDE – TAPE 1 (Spring Break Tapes, 2012)
A1. Face A
B1. Face