Who are you Dark Entries ?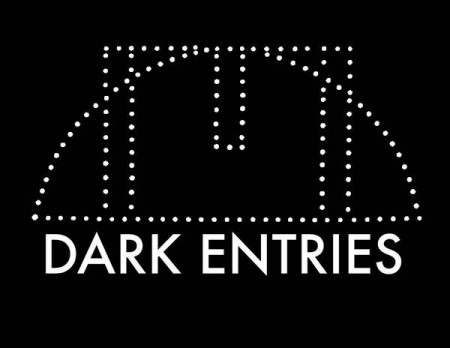 Si Hartzine se complaît dans sa position de défricheur, Dark Entries fait figure de fossoyeur. À la fois label, distributeur, blog et laboratoire d'idées, la caverne de Josh Cheon déborde de trésors inestimables pour celui qui saura tendre l'oreille. Véritable fétichiste de minimal-synth vintage et de post-punk passéiste, on lui doit le rafraîchissement d'une multitude d'albums comme les essentiels Ljubav Je Hladnija Od Smrti de Borghesia ou le Bas Relief d'Eleven Pond. Et bien loin de se cantonner au ravalement d'idoles perdues, Dark Entries participe autant à l'ascension des iconiques Vatican Shadow qu'à l'emblématique résurrection de Jeff & Jane Hudson. Définitivement, une question nous vient à l'esprit : who are you Dark Entries ?
Comment as-tu créé Dark Entries et quels étaient tes objectifs ?
How did you create Dark Entries and what was your objective?
L'idée de Dark Entries m'est venue alors que j'étais ado et collectionneur avide de vinyles, dans le New-Jersey. J'avais envie de rendre un peu la pareille au monde, alors j'ai commencé à mixer pour la radio de mon université. J'ai fini par devenir directeur de la programmation musicale et j'ai pu entrer en contact avec des labels du monde entier. Quand j'ai déménagé à San Francisco en 2006, j'ai commencé à leur demander des conseils sur la façon de monter son propre label. En 2008, j'ai signé mon premier groupe, Eleven Pound, et j'ai réédité leur premier album Bas Relief comme première parution sur le label en juillet 2009. À la base, je voulais sortir une réédition et ensuite un album inédit, mais ce rythme était trop difficile à maintenir. Désormais, je ne sors que la musique dont je suis vraiment passionné, en espérant que tous les autres le soient aussi.
Dark Entries was created in my head when I was a teenager growing up in New Jersey avidly collecting records. I wanted to give back to the world all that I was taking so I started to DJ a radio show at my university. Eventually I became the music director and formed connections with record labels all over the world. When I moved to San Francisco in 2006 I would ask these other records labels how they run a label. I reached out to my first band Eleven Pond in 2008 and re-issued their first record Bas Relief as my first release in July 2009. My initial idea was to release a re-issue then a contemporary band, but this pattern was too difficult to maintain. Now I just release music I feel passionate about and hope others will too.
Tu produis et distribues en même temps. Peux-tu m'expliquer le fonctionnement de ton label ?
You work in same time in production and distribution, can you explain to us how your label work?
Je m'occupe de tout ce qui est de la production et de la distribution, du premier contact avec les artistes, le design de la jaquette avec la graphiste Eloise Leigh et jusqu'aux encarts à glisser dans les pochettes, depuis mon studio. J'adorerais un bureau et quelques stagiaires, mais comme je travaille à temps plein dans un labo, il ne me reste pas énormément d'heures à consacrer au label.
I handle all the production and distribution from contacting the artists, working on the cover art with my designer Eloise Leigh and then stuffing all the jackets with inserts in my studio apartment. I would love an office with a few

interns, but since I have a full time job in a science lab, my time with the record label is limited.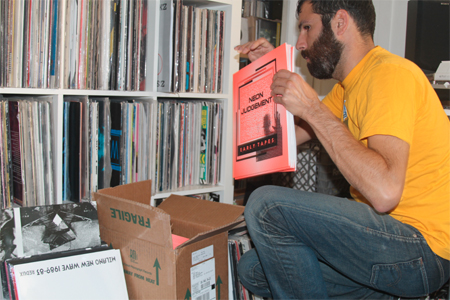 Comment choisis-tu les artistes avec lesquels tu souhaites collaborer ?
How do you choose the artists wich you work/collaborate with?
Je me perds souvent sur YouTube, comme dans une espèce de trou noir, à cliquer sur des liens vidéo à l'infini. Ou alors c'est un ami qui me fait découvrir un groupe. Quelques groupes m'envoient aussi des démos ou bien des mixes. Ces deux dernières années, je me suis surtout concentré sur des rééditions, mais je pense pouvoir sortir au moins deux nouveaux albums cette année.
I usually get lost in youtube black holes clicking on videos endlessly. Or a friend will turn me onto a band they love. Some bands send me demos or mixes. The past two years have focussed more on re-issues, but this year I plan to have at least two contemporary releases out.

Y-a-t-il une marque de fabrique Dark Entries ?
Is there a Dark Entries particular identity?
Dark Entries évolue dans le monde de l'ombre. On consacre toute notre énergie à l'excavation du monde souterrain. On essaie toujours de creuser plus profond, de fouiller le passé et aussi le futur. Le design joue aussi un rôle important. Toutes les jaquettes doivent refléter l'esthétique d'une période donnée. Chaque sortie comporte un encart avec paroles et photos si possible. George Horn de Fantasy Studios à Berkeley est en charge du mixage, et avec plus de cinquante ans d'expérience derrière lui, on peut vraiment faire confiance à ses oreilles.
Dark Entires lives in the shadow world. We focus our energy on excavating the underground. We're always digging deeper, researching the past and future hours at a time. Also, design plays an important role. Album artwork adheres to the original aesthetic of the period. Every release has an insert/inside panel that includes lyrics and photos if possible. All mastering is done by George Horn at Fantasy Studios in Berkeley, with over 50+ years in the business, we trust his ears the best.
Quel est le projet dont tu est le plus fier ?
What is the project you're the most proud?
J'ai bien envie de dire que je reste très fier de toutes les sorties sérigraphiées de ces dernières années. Eleven Pond, Death Domain, Dark Day, Neon Judgement, Pesteg Dred. Je me suis occupé moi-même de toutes les sérigraphies pendant tout ce temps, depuis ma chambre, et on peut dire que c'est physique ! XEX, également originaire du New-Jersey, et Vita Noctis – dont la musique me fait toujours un effet fou – occupent aussi une place spéciale dans mon cœur.
Well I'd have to say any of the releases that I've silkscreened over the past few years. Eleven Pond, Death Domain, Dark Day, Neon Judgement, Pesteg Dred. All the silk screening has been done by myself in my bedroom over the years and its a workout! I also have a special place in my heart for XEX who are from New Jersey like me and Vita Noctis who's music still pushes all the right buttons in my brain.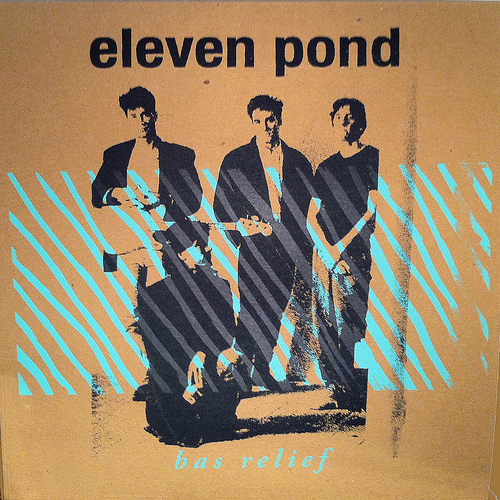 Qui sont les amis de ton label ?
Who are the Dark Entries' friends?
Nous avons des amis dans le monde entier : , World Unknown, AnnaLogue Records, Optimo, Genetic, , Kernkrach, La Forme Lente, Beats In Space, Aquarius Records, RVNG Intl, Captured Tracks, Honey Soundsystem, Wierd Records, Mutant Disco, Mick Wills, Led Er Est, The Soft Moon, et bien plus !
We have friends all over the world: Mannequin Records, World Unknown, AnnaLogue Records, Optimo, Genetic, Domestica, Kernkrach, La Forme Lente, Beats In Space, Aquarius Records, RVNG Intl, Captured Tracks, Honey Soundsystem, Wierd Records, Mutant Disco, Mick Wills, Led Er Est, The Soft Moon and too many more to list here!
Quels sont les artistes qui t'ont le plus impressionné ces dernières années ?
Who are the artists that most impressed you this last years?
En ce moment, je ne peux pas m'empêcher d'écouter Police des Mœurs (Canada) et Linea Aspera (UK). Le label Blackest Ever Black (Angleterre) est aussi génial !
Most recently I can't hear enough music from Police des Moeurs of Canada and Linea Aspera from the UK. I am also excited by the Blackest Ever Black label in England too!

Quels sont tes projets pour 2012 ?
What are your project for 2012?
Thought Noises LP, Buzz – See You Sioux LP, INHALT – Vehicle EP, Dark Day – Exterminating Angel LP, Vocoder – Cuadro Sinóptico EP, ADN' Ckrystall – Jazz' Mad LP, ainsi que quelques compilations par Stress et un nouvel album de Spastic Joy.
Thought Noises LP, Buzz – See You Sioux LP, INHALT – Vehicle EP, Dark Day – Exterminating Angel LP, Vocoder – Cuadro Sinóptico EP, ADN' Ckrystall – Jazz' Mad LP, plus more including compilations by Stress, Altres, and a new album from Spastic Joy.
Mixtape
Tracklist
1. Martin Gore – Compulsion
Ce morceau représente tout pour moi. Je l'ai entendu pour la première fois à 16 ans, à The Bank, un club gothique de New-York. Ma cousine était alors mon encyclopédie ambulante perso pour tout ce qui était musique : elle m'a fait découvrir tellement de choses qui ont vraiment formé toute mon adolescence et ont eu une influence énorme sur le label.
This song means the world to me. I first heard it when I was 16 at a goth club in New York called The Bank. My cousin was my go-to encylopedia for all music questions and she turned me onto so much
music that would shape my teenage years and my have a massive effect on my record label.
2. Experimental Products – Love Changes
J'ai découvert leur morceau Mannequin pour la première fois sur le Despair Mix Intergalactic Gary en 2008. Ces mecs de Philadelphie produisent un son qui combine harmonies épurées et synthés chaleureux, et qui est toujours d'actualité.
I first heard their song Mannequin on the Despair Mix by Intergalactic Gary in 2008. The sound of these boys from Philadelphia combined pure harmonies and warm synthesizers that still sound modern today.
3. Kirlian Camera – Heldenplatz (Mick Wills edit)
Il s'agit de la version longue mixée d'un de mes groupes italiens favoris, par le talentueux Mick Wills qui vit en ce moment en Allemagne. Il a pris cette version trop courte du 7'' pour lui donner la liberté de s'étendre pendant dix minutes de gloire, à un beat près !
This is an extended mix of one of my favorite Italian bands by the talented Mick Wills who currently lives in Germany. He extended the too-short 7″ version to breathe and take life over 10 glorious minutes that never misses a beat!
4. Jeff & Jane Hudson – Help Me
C'est le premier des groupes de Dark Entries sur ce mix : une réédition dont je suis fier. Leur album Flesh est un chef d'œuvre de l'underground new/no wave américain. J'ai découvert ce morceau sur le coffret Reminiscence, sorti sur Genetic Records en 2003. J'ai eu assez de chance l'année dernière pour pouvoir sortir toute la discographie (1981-1983) de Jeff & Jane, avec mes potes de Captured Tracks à Brooklyn.
The first Dark Entires band on the mix is re-issue I am proud of. The Flesh album was a pinnacle in the cannon of US underground New/No Wave bands. I first heard this song on the Reminiscent 3-LP box set released by Genetic Records in 2003. Last year I was lucky enough to re-issue the entire Jeff & Jane discography from 1981-1983 with my friends at Captured Tracks in Brooklyn.
5. Eleven Pond – Watching Trees (Bedroom Mix)
Que dire de plus sur mon tout premier groupe ? Eleven Pond étaient de véritables diamants perdus dans le vivier agité de Rochester (NY), vers 1986. Ce ''bedroom mix'' est antérieur à la version présente sur l'album, et j'aime autant la version brute que celle un peu plus étayée. Vous pourrez le retrouver sur vinyle ce mois-ci, grâce à Angular Records (Londres).
What else can I say about my very first band that hasn't been said. Eleven Pond were diamonds in the rough sea of Rochester, NY circa 1986. This « bedroom mix » pre-dates the album version of « Watching Trees » and I enjoy the skeletal frame just as much as the fleshed out version. Look for it on vinyl this month thanks to Angular Records in London.
6. Japan – Life In Tokyo
J'ai découvert ce morceau sur la compilation Assemblage et j'avais besoin de la version du 12'' ! Parfaite pour le dancefloor, cette collaboration de Giorgio Moroder inclut le chant romantique de David Sylvian, des arpèges de claviers et un solo de saxophone qui ne m'agace même pas !
I first heard this song on the Assemblage compilation and I needed the 12″ version! Perfect for dancefloor, this Giorgio Moroder collaboration combined David Sylvian's romantic vocals and arpeggiated keyboards and a sax solo that actually doesn't annoy me!
7. Jeffrey Sfire & Sam Long – Demo
C'est une démo de mon pote Jeffrey Sfire, qu'il m'avait envoyée en 2008 et qui devait sortir chez Ghostly International, mais a fini par arriver chez le label berlinois de CockTail d'Amore. Il s'agit ici de la version démo, que je joue lors de soirées depuis maintenant des années, et que j'aime de plus en plus à chaque écoute.
A demo my friend Jeffrey Sfire sent me back in 2008 that was supposed to come out on Ghostly International but is finally seeing the light of day on Berlin label CockTail d'Amore. This is the demo version that I have been playing out at parties for years now and I love it more and more with each listen