Lorsqu'il s'agit d'envoyer la purée noise-punk et d'en étaler violemment les contours industriels, les New-Yorkais Ben Greenberg et Michael Berdan d'Uniform se posent là et n'y vont pas par quatre chemins. Réunion de deux activistes œuvrant au sein de formations telles que Factory Complaint, The Men, Drunkdriver ou Hubble, le duo façonne un véritable mur de décibels dont le très nihiliste Perfect World, paru en juin dernier via Alter de Luke Younger aka Helm et 12XU, constitue la première exégèse discographique. Frontalement dystopique et parfaitement sépulcrale, la musique d'Uniform se consomme telle une lame rouillée tourbillonnant avec agilité autour de notre glotte, ne desserrant l'étreinte que pour mieux nous éructer à la gueule. En concert le 30 octobre à La Mécanique Ondulatoire, en bonne compagnie de Paper Dollhouse (Event FB), les deux lascars à l'origine du remix de Vortex de John Carpenter, inclus sur Lost Themes Remixed sorti le 16 octobre dernier sur Sacred Bones, ont accepté de nous pondre un mix en plus de répondre à nos quelques questions. Ça pique.
Michael Berdan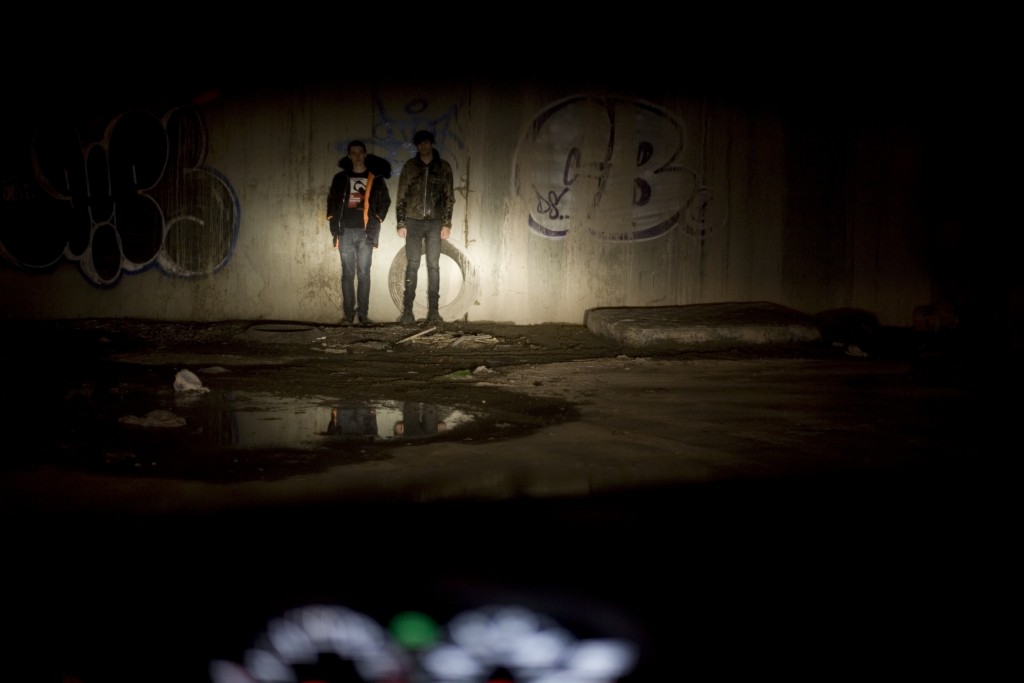 Photo © Kelsey Henderson
Comment vous est venu le concept d'Uniform et d'où vient le nom ?
How did the whole concept of Uniform come about and how did you come up with the name?
Ben et moi faisons de la musique dans les mêmes cercles depuis presque toujours ; mais bien que nous ayons travaillé en étroite collaboration sur un certain nombre de projets, nous n'avions jamais réellement joué ensemble. Un jour, l'idée nous est venue par une conversation et nous avons décidé d'y donner suite. Le concept était simple : faire quelque chose de moche et le jouer fort. Nous ne voulions pas y mêler d'autres personnes donc nous avons décidé d'utiliser des séquences midi entre une boîte à rythmes et un synthé basse pour compléter les basses fréquences.
Le nom est le résultat de notre agacement général pour le travail consistant à trouver un nom à un groupe. Sérieusement, j'aurais du mal à nommer un exercice plus vain que l'échange inepte concernant l'appellation d'un projet. Nous nommer Uniform était notre façon de dire "Qu'est ce que ça peut foutre ?".
Ben and I had been making music in the same circle since a day short of forever; but although we had worked closely on a number of projects we'd never really played together. One day the idea came up in conversation and we decided to pursue it. The concept was simple: make something ugly and play it loudly. We didn't want to involve other people so we decided to use midi sequences between a drum machine and a bass synth in order to fill out the low end.
The name is a product of our general annoyance toward the activity of naming a band. Seriously, I am hard pressed to think of a more pointless exercise than the inane back and forth regarding what a project should call itself. Calling ourselves Uniform was our way of saying « Who the fuck cares? ».
Comment décririez-vous Uniform, et qui sont vos principales influences sur ce projet ?
How would you describe Uniform, and who are your biggest influences in this project?
Je ne suis pas entièrement sûr de savoir comment nous décrire, mais je crois que notre son est la conclusion logique de nos précédentes productions collectives. Je fais de la musique industrielle depuis un bon moment et Ben s'est transformé en auteur-compositeur en jouant avec The Men, mais nos racines sont fermement ancrées dans le punk le plus dur. Ce groupe est un peu un amalgame de tout ça. Et pour les influences, elles viennent d'un peu partout. J'écoute beaucoup de métal et Ben, en général, déteste le métal. Ben écoute beaucoup de songwriters et de punk classique et la plupart du temps, je déteste ça. On a généralement le même avis sur la plupart de la musique qui n'est pas basée sur la guitare. On aime tous les deux Eno. Je suis à peu près sûr qu'on aime tous les deux Suicide et Killing Joke, mais ça dépend des jours.
I'm not entirely sure how to describe ourselves, but I think that our sound is the logical conclusion of our previous collective output. I had been making industrial music for quite awhile and Ben had developed as a songwriter through playing with The Men, but our roots are firmly planted in the harshest realms of punk. This band is kind of an amalgam of all of that. As for influences, they are all over the place. I listen to a lot of metal and Ben generally hates metal. Ben listens to a lot of songwriters and classic punk and I generally hate songwriters and classic punk. We generally agree on most music that isn't guitar based. We both like Eno. I'm pretty sure that we both like Suicide and Killing Joke, but that might depend on the day.
Quel genre d'émotions mettez-vous dans vos morceaux ?
What kind of feelings do you put in yours songs?
En général, c'est souvent en rapport avec ma confusion concernant ma place dans le monde. Je dirais que l'émotion principale qui dirige mes compositions est la peur : la peur de la perte, la peur du changement, la peur de l'immobilisme, la peur de grandir, la peur de la mort, la peur de vivre. La musique me sert à la fois de vecteur pour me lamenter sur mes regrets et mes rancœurs, mais m'aide aussi à comprendre quoi faire avec et vers où aller.
Generally, most of it has to do with confusion regarding my place in the world. I'd say that the primary emotion that drives my songwriting is fear: fear of loss, fear of change, fear of stagnation, fear of growth, fear of death, fear of life. Music gives me a vehicle not only to lament on my regrets and resentments, but to try to figure out what to do with them and where to go.
As-tu un projet parallèle ? Fais-tu partie d'autres groupes ou d'autres projets ?
Do you have a side-project? Are you involved in other bands or other projects?
Je joue dans un groupe industriel qui s'appelle York Factory Complaint avec mon ami Ryan Martin. Ça fait environ 8 ans qu'on fait ça, ce qui est assez fou quand on y pense.
I play in an industrial band called York Factory Complaint with my friend Ryan Martin. We've been at it for about 8 years now, which is kind of crazy to think about.
De quels groupes actuels vous sentez-vous proches ?
Which actual bands do you feel close to?
Il y en a trop pour les nommer. New York est un endroit formidable avec plus de musiciens fantastiques et encourageants que je ne peux en nommer.
Too many to name. New York is a wonderful place with more fantastic, supportive musicians than I can even begin to properly address.
Quels sont tes projets et partez-vous en tournée avec Uniform prochainement ?
What's next for you & are you going on tour with Uniform soon?
On a tourné assez régulièrement les six derniers mois. Nous allons réduire les concerts une fois cette tournée terminée afin de nous concentrer sur l'écriture d'un nouveau disque. Une fois que ceci sera fini, on reprendra la route.
We've been touring fairly regularly for the past 6 months. The live shows are gonna take a back seat for awhile once we get back from this tour so that we can concentrate on writing a new record. Once that's finished we'll be back out on the road again.
Uniform Mixtape
01. Siouxsie and the Banshees – Dazzle
02. Campingsex – Und Sie Alle
03. Halo – Buried in Light
04. Kilslug – Death Squad
05. The Tear Garden – Romulus and Venus
06. Wumpscut – Krie
07. Night Beats – H-Bomb
08. Killing Joke – Almost Red
09. Warning – Magic Castle 1
10. K.O.T.O. – Visitors [edit]
11. Velvet Condom – Kalter Lippenstift
12. Vito Ricci – I'm at that Party Right Now
Audio
Tracklisting
Uniform – Perfect World (Alter / 12XU, 9 juin 2015)
01. Perfect World
02. Indifference
03. Footnote
04. Buyer's Remorse
05. Lost Causes (feat. Drew McDowall)
06. Learning To Forget