TOPS l'interview & chronique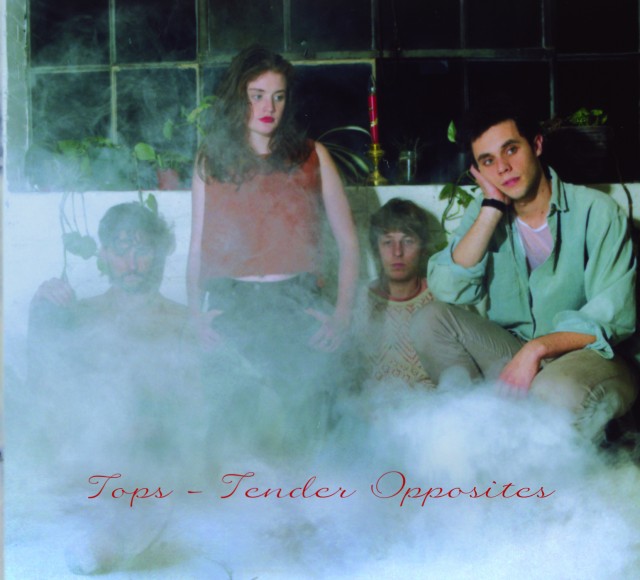 Si TOPS trouve en Europe un bien bel écrin magnétique – et bientôt vinylique ! – via le label franco-montréalais Atelier Ciseaux, le groupe formé par les deux ex-Silly Kissers Jane Penny (voix) et David Carriere (guitare) – en plus de Riley Fleck à la batterie et Thom Gillies à la basse – est un pur produit d'Arbutus Records, label à l'élégance aussi éclectique qu'avérée (Blue Hawaii, Grimes, Tonstartssbandht, Sean Nicholas Savage). Enregistrant Tender Opposites, leur premier LP, dans les locaux de La Brique – loft transformé en studio et salle de concert et hébergeant la plupart des artistes du label – Tops est l'émanation d'une communauté de groupes ayant de loin ou de près des rapports avec Arbutus : les feu Silly Kissers donc, mais aussi Paula (David Carriere) et Pat Jordache (Thom Gillies) que l'on retrouve notamment sur la récente compilation de la structure dédiée à Montréal (télécharger). À l'instar de Blouse ou Summer Camp, ou de leur compère de maison de disques, Sean Nicholas Savage, les quatre Canadiens ancrent leur musique dans des standards pop propres aux années quatre-vingt, à quelques encablures des Pretenders de Chrissie Hynde ou de Romeo Void, distillant sur Tender Opposites une huitaine de douceurs à la fois naïves et complexes, enjouées et mélancoliques. À l'origine d'une telle ambivalence, l'assurance et la chaleur de la voix de Jane Penny, omniprésente, tranche avec la fragilité rétro de guitares discrètes et de nappes surannées de claviers, suggérant un charme anachronique que la volubilité des mélodies ne fait que subjuguer. Tender Opposites, sans être rétrograde, est ainsi à concevoir tel un voyage passéiste invitant l'auditeur à l'immersion, entre introspection tourmentée (Evening, Go Away), funambules cavalcades (Diamond Look, VII Babies, Turn Your Love Around) et balades rassérénées (Double Vision, Rings Of Saturn). Il n'en fallait pas plus pour inviter David Carriere à nous dévoiler quelques Tops secrets. Easy.
Entretien avec David Carriere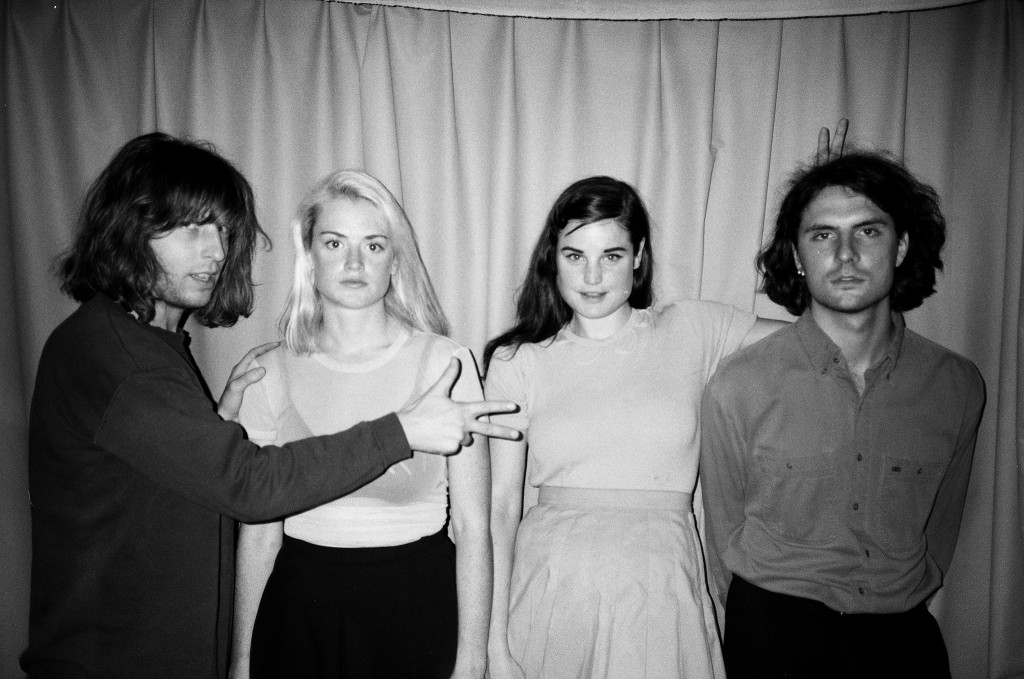 Qui es-tu, David ?
Who are you David?
Salut tout le monde ! Je m'appelle David, j'ai grandi à Edmonton et je vis à Montréal. J'aime passer mon temps à jouer de la guitare au sein de TOPS avec mes amis Jane, Thom et Riley.
Hi Everybody, My name is David, I grew up in Edmonton and live in Montreal. My favourite things to do are play guitar in my band TOPS and hang out with my friends Jane, Thom, and Riley.
Comment as-tu rencontré Jane Penny et les deux autres membres du groupe ?
How did you meet Jane Penny and the two other guys of the band?
J'ai rencontré Jane au college à Edmonton, Alberta, et on a commencé à traîner ensemble quelques années plus tard à Montréal. J'ai rencontré Thom et Riley à Montréal lors de concerts et de fêtes.
I met Jane in middle school in Edmonton, Alberta, we started hanging out years later in Montreal. I met both Thom and Riley in Montreal by going to shows and parties.
Comment vous est venu le nom du groupe ?
How did you come up with the band name?
Nous avons trouvé le nom TOPS en assemblant les première et troisi§me lettres du prénom 'Thom', la première lettre du nom de famille de Jane, 'Penny', et Riley a ajouté le 'S'. En fait, ça veut dire 'le meilleur' ou 'le plus cool'.
We came up with name TOPS by combining the 1st and 3rd letters of Thom's name, the first letter of Jane's last name Penny, and Riley came up with the S. Actually, it means the best or the coolest.
Comment pourrais-tu décrire ta musique, et quelles seraient tes plus grandes influences ?
How would you describe your music, and who are your biggest influences?
Nirvana et les Beatles étaient mes groupes préférés en grandissant. Tu connais le morceau Captain of the Heartde Double ? Ouais, bon…
Nirvana and the Beatles were my favourite bands when I was a growing up. You know the song Captain of the Heartby Double? Yeah, well…
Quels disques emporterais-tu avec toi sur une île déserte ?
If you were stranded on a desert island what records would you want with you?
Don Cherry – Mu Part I and II
Brian Eno – Music For Airports
James Brown and Rick Ross
Ariel Pink – Worn Copy
Romeo Void – Warm In Your Coat
Tusk – Fleetwood Mac
Elton John – Don't Shoot Me I'm Only the Piano Player
Madonna
Minute By Minute – Doobie Brothers
Michael Jackson – Thriller
De quels groupes te sens-tu le plus proche ?
Which actual bands do you feel close to?
Sean Nicholas Savage est l'un de mes meilleurs potes. Il ne fait pas partie d'un groupe, mais c'est quelqu'un de très spécial. J'aime aussi beaucoup Mac DeMarco et son groupe.
My favorite pal is Sean Nicholas Savage, he is not an actual band but he is special. I like Mac DeMarco and his band too.
Qu'attendais-tu de Tender Opposites ?
Did you have specific goals for Tender Opposites?
Au début, on voulait juste voir si on était capable de jouer ensemble, et comme ça a bien marché, on a décidé de faire un album. On voulait l'enregistrer par nous-mêmes, et essayer de reproduire le son live. Désormais, je voudrais juste que ça plaise et pouvoir partir à nouveau en tournée. J'ai vraiment hâte de commencer un nouvel album après celui-ci car le groupe a pas mal évolué depuis le mois d'avril dernier.
At first the goal was to see if we could play together, and after it started to work we decided to do an album.  We wanted to record it ourselves and have it convey the feeling it does live. Now I want to have people enjoy it and to be able to tour to all over.  I am really excited to start writing another record after this one because we grew so much as a group since starting the band last April.

Diamond Look est un morceau magnifique. Pourrais-tu nous parler du contexte dans lequel il a été écrit ? Tous les morceaux ont-ils une histoire particulière pour toi ?
Diamond Look is a magnificent song. Can you tell me in what conditions you composed it? All the songs have a particular story for you?
J'ai écrit les paroles de ce morceau car je n'arrêtais pas de voir des artistes super apprêtés. Je ne sais pas pourquoi tout le monde pense qu'il n'y a que cela à faire quand bien même le contenu véritable n'est pas bon du tout. Je me suis sans doute focalisé sur le mauvais côté des choses et pas tellement sur ce qu'une chanson doit vraiment être. Jane écrit la plupart des paroles, et il n'y a pas énormément de narration ou d'histoire, mais chaque morceau a sa raison d'être.
I wrote the lyrics for that song because at the time I felt like I kept seeing artists super done up and for some reason everybody would think it was the best thing ever even though the actual content was not good at all. I think I was focusing too much on the wrong thing, but that is what the song is about. Jane writes most of the lyrics, there isn't much storytelling or narrative in them but each song has a reason.
Tender Opposites est sorti sur Arbutus et Atelier Ciseaux. Pourrais-tu nous parler un peu de ton histoire avec ces deux labels ?
Tender Opposites was released on Arbutus and Atelier Ciseaux. Can you say a few words about your history with those label?
Arbutus nous a soutenus dès le début. Je connaissais Sebastian depuis quelques années. C'était vraiment une expérience musicale libératrice, parce qu'on savait qu'on avait un label derrière. Atelier Ciseaux m'a contacté très peu après la sortie de la première version de Turn Your Love Around. Quand j'ai fini l'enregistrement de Tender Opposites en janvier dernier, je l'ai envoyé à Rémi en lui demandant s'il voulait faire une sortie européenne. J'ai vraiment hâte de travailler sur de nouveaux enregistrements avec eux deux.
Arbutus was with us right from the beginning, I have known Sebastian for a few years. It was very liberating musically to start a band knowing that we had a label to back us up. Atelier Ciseaux contacted me very soon after we released the first version of Turn Your Love Around. When we finished recording Tender Opposites in January I sent it to Remi and he asked if wanted to do a European release with him. I look forward to putting out more recordings with both of them.
Comment avez-vous trouvé l'idée pour la pochette de Tender Opposites ? Penses-tu que l'artwork est aussi important que la musique en elle-même ?
How'd you come up with the album art for Tender Opposites ? Is the album art and packaging as important as the music itself?

Les apparences ont souvent plus d'importance, parce qu'il est plus facile de refuser quelque chose d'un regard que d'écouter le message derrière. Ceci dit, je crois que nos morceaux sont ce qui importe le plus. Je pense que la pochette d'album est pas mal car on y est tous, mais nous ne sommes pas dans notre élément. Je ne suis pas quelqu'un de très glamour et je ne pense pas qu'au fond on me voie de cette façon. L'idée à la base de la pochette était d'imiter celle d'un groupe super tape-à-l'œil.
The way something looks is usually more important because it easier to turn something down by looking at it than to hear what they have to say. That being said, I think the songs are what matters most. I think the album cover is cool because all of us are on it, but we are out of our element. I am not a glamorous person and in the end I don't think it comes across that way. The idea for the cover came from the front cover of a super fancy looking band.
À quoi ressemble la scène musicale de Montréal ?
What is the music scene like in Montreal?
Montréal est un endroit excellent pour faire de la musique, et très peu cher, ce qui permet de passer plus de temps à faire ce qui importe le plus. Je ne parle pas français… du coup je n'ai pas du tout envie de me lancer dans une carrière conventionnelle. Mes amis ont la même vision des choses à ce niveau.
Montreal is a good place to make music. The city is super cheap so it allows you to spend more time on things you care about. I don't speak French, so I have no desire to start a conventional career job, I think my friends are people who seem to feel the same way.
Traduction : Simone Apocalyse.
Vidéo
Tracklist
TOPS – Tender Opposites (Arbutus/Atelier Ciseaux, 2012)
01. Evening
02. Diamond Look
03. VII Babies
04. Double Vision
05. Go Away
06. Turn Your Love Around
07. Rings Of Saturn
08. TOPS Theme