Embringués dans de multiples formations dont The Oscillation, que l'on a déjà  sondé par le passé (lire) et à  laquelle ils participent tous les deux, Valentina Magaletti et Tom Relleen on récemment mis sur pied un atelier expérimental de déconstruction sonore et mélodique : Tomaga. Véritable prisme oblique dans l'agencement rythmique, prenant à  rebrousse-poils un savoir très actuel en matière d'ambient-drone, le duo objectivise certains éléments dans son laboratoire, les sortant de leur contexte, pour mieux tricoter tout autour un ensemble cohérent, lointain et cotonneux, oscillant entre psychédélisme et minimalisme. Il faut avoir goûté aux charmes insidieux des morceaux Alphabet Of Light, Malintesi ou Futura Grostesk pour comprendre que d'apparence conceptuelle, leur musique, à  l'emprunte du temps et de l'écoute noctambule, s'intime pourtant invariablement tel le chemin le plus court vers l'engourdissement des sens et la divagation de l'esprit. Sur le point de sortir un premier album, Futura Grotesk, sur le label bisontin Hands in the Dark (lire), et ce après la cassette Sleepy Jazz for Tired Cats co-éditée par Bunkland et Negative Days, et à  quelques encablures d'une tournée débutant le 18 novembre prochain au Point FMR en première partie de Silver Apples et pour laquelle on offre des places en fin d'article, l'insatiable batteuse, également à  l'oeuvre au sein de Raime, à  accepter de répondre à  nos questions.
Tomaga l'interview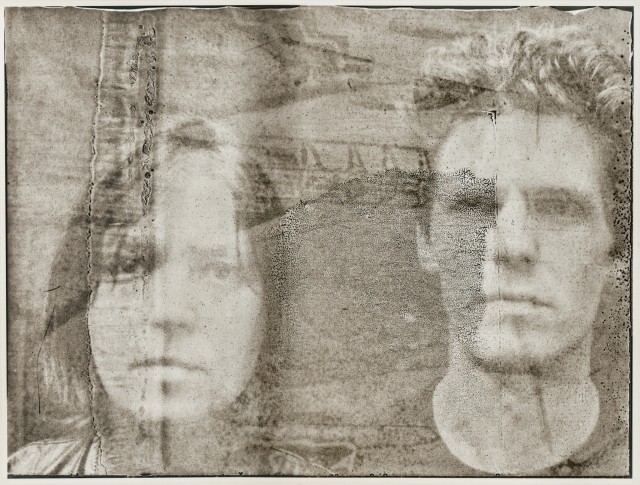 Tom et Valentina, vous jouez tous les deux dans The Oscillation. Comment est né ce projet et quel sentiment essayez vous de transmettre via Tomaga ?
Tom & Valentina, you play both in The Oscillation. Why did you start this project and what kind of feelings do you try to transmit via Tomaga?
On a passé beaucoup de temps ensemble sur la route et nous avions besoin de plus de musique chill out à  écouter dans la voiture. Nous sommes très proches musicalement et nous avons commencé à  explorer de nouvelles sonorités et à  utiliser différents instrument et machines pour créer. Tom et moi sommes d'assidus collectionneurs de disques, nous avons donc commencé à  jammer en recherchant une nouvelle manière d'exprimer notre état d'esprit musical hétérogène et un nouveau silence.
I guess we spent a lot of time together on the road,​ ​starting craving for more chilling music to listen in the car while driving ah!​ ​We found ourself very close musically​ and started wanting to explore new sounds and ​​to use some different instruments and machines to make music​.​ ​Both me and Tom are avid record collectors and listeners so we started jamming in search for new way to express our ​mixed up musical state of mind, and to find a new silence.
Pourquoi ce nom? Que signifie-t-il et quel lien à sa signification avec votre musique ?
Can you explain the name of the project? What meaning does it take on and which link it established with your music?
Ca ne veut rien dire dans aucune langue mais ça a un rythme plaisant, comme la musique.
It doesn't mean anything in any language.​ but it has a pleasing rhythm. similar to the music!
Comment décrivez-vous Tomaga, quelles en sont les plus grandes influences ?
How would you describe Tomaga, and who are your biggest influences in this project?
Ca a commencé explicitement comme un projet sans guitare, une manière pour nous de placer la rythmique au premier plan. On écoute de tout mais peut-être qu'en ce moment nous sommes plutôt influencé par des compositeurs modernes, le minimalisme, la musique concrète et industrielle et le jazz spirituel.
​It started out as explicitly a guitar free zone. A way for us to bring the rhythm section to the front! We listen to everything but perhaps right now are most influenced by modern composers, minimalism, music concrete, industrial and spiritual jazz.
Comment composez-vous ensemble et quel est votre champ d'investigation ?
How do you compose together and which is your field of investigation?
On travaille en studio sur la création d'un nouvel environnement sonore, on prépare les instruments afin qu'ils sonnent différemment ou bizarrement. Ensuite on passe généralement des heures à  enregistrer puis nous écoutons le tout à  la maison, en discutons et enfin sélectionnons ce qui nous plait.
We ​ work in the studio on creating a new sound world, using preparations to make our instruments sound different or strange. Then we usually ​record for hour​s, and then​ at home ​we listen to it all, discuss and make selections that we like.
Est-ce un projet avant tout conçu pour le live ?
Is it a project intended above all for the live?
Nous n'avons pas tellement d'intentions concernant le clivage studio / live, les deux ont leur charme. Ce projet est né en studio puis nous avons fait quelques concerts qui étaient essentiellement improvisés. Nous préparons actuellement un set plus concentré pour notre tournée de novembre, une nouvelle approche. Nous voulons faire de la musique en continu.
I guess we don't have ​specific ​intention​ about live vs studio, they both have their charms. This project was born in the studio and then we did some live shows, which were pretty much entirely improvised. ​​​Now we are preparing a more focused live show ​​for our tour in November, which will be a slightly different approach. ​Making music constantly is what we want to do​. ​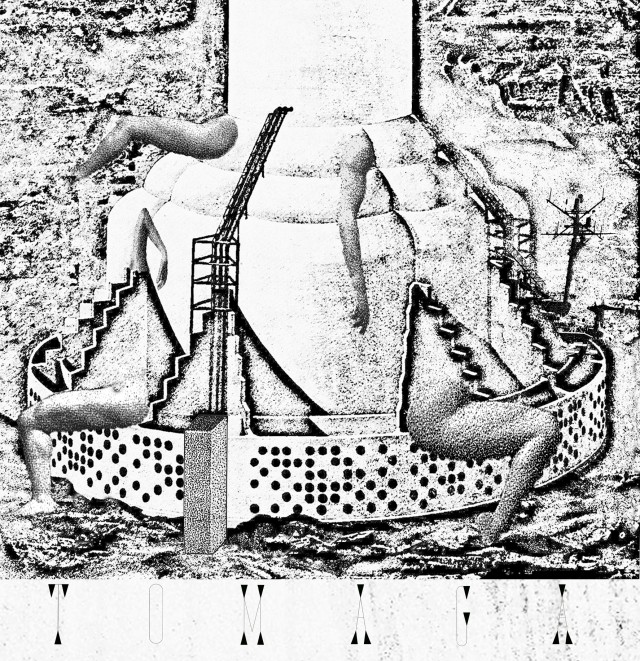 Votre musique est très cinématographique. C'est un effet voulu ? Pensez-vous, au moment de composez, une possible adaptation video ?
Your music is also very cinematographic. Is it a studied effect? Do you think, at the time of composing, has a possible video translation of your pieces?
Nous sommes très heureux que ce lien se soit fait naturellement. Nous avions en tête des visuels précis lorsque nous avons composé la musique mais nous nous sentons maintenant très privilégiés d'avoir de fantastiques artistes comme Ross Adams qui s'impliquent dans le projet et nous aident à  traduire notre musique en images. Nous pensons de plus en plus à  composer pour et avec des visuels d'accompagnement et ça semble totalement naturel et parfait.
​We are very pleased that this link has naturally occurred. We weren't thinking specifically about visuals when we made the music but now feel very privileged to have fantastic artists like Ross Adams who are getting involved and helping is to translate our music into images. We are now thinking more and more about composing for and with visual accompaniment and it seems completely natural and perfect.
Pensez-vous que Tomaga va influencer The Oscillation ?
Do you think that Tomaga is going to influence in the approach The Oscillation?
Ce sont deux projets très différents. En revanche nous aimerions que Damien Castellanos fasse un remix de Tomaga et en faire un pour lui en échange. C'est un musicien et un producteur incroyable et un super ami.
They are very different projects. However we would love to have a TOMAGA track remixed made by Damien Castellanos and will probably do a remix swap with him very soon! He is an amazing musician and producer and a great friend.
D'ailleurs, avez-vous demandé à  être remixés ?
Do you go to ask your music to be remixed?
Nous ne demandons pas vraiment mais nous sommes toujours excités de travailler avec quiconque comprend et apprécie notre musique. certains producteurs très intéressants ont manifesté un intérêt et nous venons de faire un remix pour la première fois et on s'est bien amusé.
I guess we don't ask but we are alway​s excited to work ​with whoever understands and appreciates our music.​ We have had some interest from some very interesting producers already, and we just finished remixing someone else's music for the first time which has been fun. ​
Pourquoi avoir choisi Hands in the Dark pour sortir ce LP ?
Why have you chose Hands in the Dark Records to take out this new LP?
Ce sont des gens géniaux, nous les connaissions depuis longtemps et respectons leur travail donc lorsqu'ils ont manifesté de l'intérêt pour sortir notre musique on s'est dit qu'il n'y avait pas de meilleur moyen pour commencer.
​They are ​​a​mazing people, we ​have known them and ​respect​ed​ their ​work for ages, and when they were interested to release our music we thought that couldn't be a better way to start.
Quel est le futur proche de Tomaga ?
Whats the near futur of Tomaga?
Grotesk !… et nous sommes en tournée en novembre avec Silver Apples et aussi Le Guess Who festival et un voyage à  Leipzig pour jouer avec A Winged Victory For The Sullen. Et nous avons déjà  enregistré de nouveaux trucs.
Grotesk!​ …and we're on tour in November with Silver Apples, and also Le Guess Who Festival and a trip to Liepzig to play with Winged Victory For the Sullen. And we've already been recording new material​.
Audio
Video
Tournée & concours
On fait gagner trois places pour leur concert au Point FMR à Paris le 18 novembre prochain en première partie des mythiques Silver Apples. Envoyez vos nom et prénom à l'adresse hartzine.concours@gmail.com ou remplissez le formulaire ci-dessous. Les gagnants seront tirés au la veille du concert et prévenus par mail le lendemain matin.
[contact-form-7 id= »21274″ title= »Concours post »]
18 November – Point FMR, Paris (FR) w/ Silver Apples
19 November – Occii, Amsterdam (NL) w/ Silver Apples
20 November – Le Guess Who? Festival, Utrecht (NL)
21 November – Kammerflimmern / UT Connewitz, Leipzig (DE) w/ Deaf Center
29 November – Discipline Party At Garage Sound, Bari (IT)
03 December – Corsica Studios, London (UK) w/ Silver Apples
Tracklisting
Tomaga – Futura Grotesk (Hands in the Dark Records, 12 novembre 2014)
01. Alphabet of Night
02. Long Term Green
03. Malintesi
04. Futura Grotesk
05. Taste the Indifference
06. Mountain Opener
07. Days Like They Were Before