The Soft Moon l'interview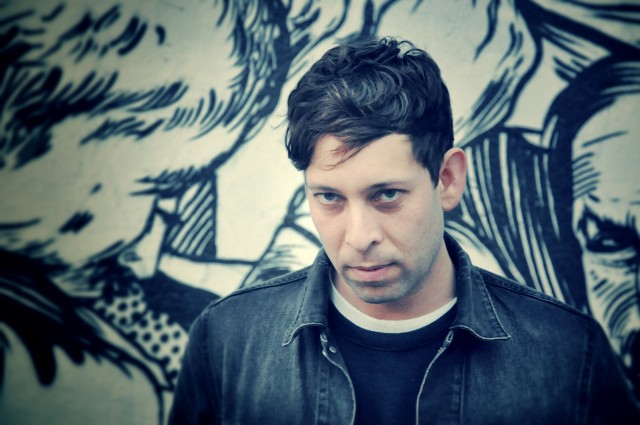 Il y a quelques mois, l'équipe de Stage of the Art nous contactait afin de nous donner la primeur d'une interview de The Soft Moon qui se produisait le soir même, livrant au passage un concert d'anthologie devant un public du Point Éphémère chauffé à blanc. Un crash d'ordi plus tard, il ne nous restait plus qu'à pleurer sur des rushes perdus à jamais, rejoignant des milliers de datas indispensables (films de boules, gif animés, disco complète de Dave…) mais tristement irrécupérables… Heureusement, il y a quelques jours, Marion, notre contact inestimable chez Differ-ant, nous propose de rattraper le coup. Ni une ni deux, on saute sur l'occase et nous pouvons donc vous proposer (sans les images hélas) les confessions intimistes de Luis Vasquez. Ce qui tombe plutôt bien puisque cette interview coïncide avec la sortie du clip du morceau Want illustrant totalement ces apocalypses personnelles que l'artiste californien chérit tant. Enjoy!
Vidéo
 Interview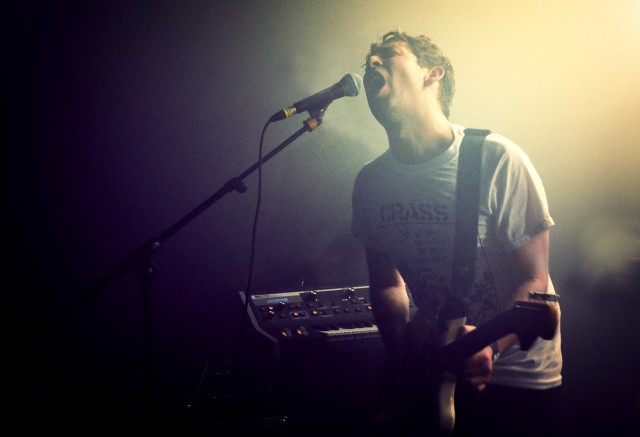 Deux ans séparent Zeros de ton premier album. Pourrais-tu nous expliquer ce qui a changé pendant cette période ?
There's a two years gap between Zeros and your first album. Could you explain to us what changed during this period?
Je n'avais pas prévu d'aller aussi loin avec The Soft Moon quand j'ai écrit le premier album. C'était juste un projet solo et je n'avais pas vraiment pris en compte l'aspect live. J'imagine que je ne savais simplement pas à quoi m'attendre. Quand j'ai fini par former un groupe pour les concerts, ma façon d'écrire de la musique a commencé à changer. Je me suis mis à réfléchir à la dynamique en concert quand j'écrivais les morceaux pour Zeros. C'est seulement après notre deuxième concert à Brooklyn que je me suis rendu compte à quel point nos concerts étaient forts et puissants. C'est quelque chose que j'ai intégré et qui a eu une grande influence sur mon style d'écriture après le premier album.
I wasn't planning on taking The Soft Moon as far as it's gotten when I was writing the first album. It was only a solo project and I wasn't really considering the live aspect. I guess I just didn't know what to expect. When I eventually formed a live band my approach to writing music started to change. I started to consider the live dynamic when writing songs for Zeros. It wasn't until our second show ever in Brooklyn, NY when I realized how loud and powerful our live shows were. This is something I embraced and that heavily affected my song writing style after the first album.
Peux-tu nous dire à quoi Zeros fait référence ?
Can you explain to us what does Zeros make reference to?
Zeros sert de bande-son à ma version d'un monde post-apocalyptique. Le titre Zeros représente la vie qui réapparaît à partir de rien. Depuis l'enfance j'ai des rêves récurrents sur la fin du monde. À cause de cette étrange obsession j'ai décidé d'explorer cette idée comme concept pour l'album. J'ai le sentiment que ces rêves récurrents ont un sens plus profond et j'essaie de comprendre pourquoi. C'est peut-être en rapport avec ma peur de mourir.
Zeros is a soundtrack for my version of a post-apocalyptic world. The title Zeros represents existence starting over again from nothing. Since I was a child I've had recurring dreams of the world ending. Because of this strange obsession I decided to explore it as a concept for the album. I feel like there's a deeper meaning for my recurring dreams and I'm trying to figure out why. Perhaps it's my fear of death.
Tu as l'habitude de jouer avec une certaine forme de redondance, en particulier avec les percussions, mais Zeros semble réellement plus profond, plus puissant que tes productions précédentes. On sent un crescendo dans la tension. Que voulais-tu raconter avec cet album ? Dans quelles conditions l'as tu enregistré ?
You used to play with a kind of redundancy, in particular with percussions, but Zeros seems really deeper, more powerful than your previews productions. We feel the tension going up crescendo. What story did you want to tell with this album? In which conditions did you record it?
Mes sentiments semblaient plus emprunts d'agressivité pendant l'écriture de Zeros. Je pense que je n'étais pas très heureux pendant cette période et je crois que ça se reflète sur l'album. Je laisse toujours mon subconscient décider de ce qu'il faut faire pendant que j'écris des morceaux, donc je n'ai pas toujours d'explication à ce que je fais. Du point de vue de la production j'ai l'impression que Zeros fait preuve de plus de concentration et je faisais plus attention aux détails. Zeros marque un nouveau chapitre dans ma vie. Un pas de plus vers la connaissance de moi-même.
My feelings felt more aggressive during the process of writing Zeros. I don't think I was very happy at the time and I feel it was reflected in the album. I always let my sub-conscious decide what to do when writing songs, therefore I don't always have an explanation for what I do. Production-wise I feel Zeros is more focused and I paid more attention to detail. Zeros is another chapter in my life. Another step closer to finding out who and what I am.
Sur disque, ta voix est filtrée par de nombreux effets, comme un murmure noyé dans la musique. N'as-tu jamais eu envie de la mettre plus en avant ?
On records, your voice is filtered by many effects, like murmur drowned in the music. Don't you ever think of pushing it up?
J'ai toujours eu du mal à trouver les mots justes pour exprimer ce que je ressentais. C'est presque comme si les mots n'existaient pas. Ça se reflète dans ma musique. Les voix enfouies représentent ma lutte et ma frustration à trouver les mots justes. C'est la raison pour laquelle ma voix a cette esthétique. Néanmoins, The Soft Moon est également un moyen de me mettre au défi et de faire face à mes démons. Peut-être qu'à l'avenir, j'essaierai d'exprimer mes émotions de manière plus lyrique. Tout peut arriver au fur et à mesure que la musique évolue.
I've always had a hard time finding the right words to express how I feel. It's almost as if the words don't exist. This is reflected in my music. The buried vocals represent my struggle and frustration with getting the right words out. My vocal aesthetic is what it is because of that. However, The Soft Moon is also a means of challenge myself and facing demons. Perhaps in the future I'll challenge myself by expressing my emotions more lyrically. Anything can happen as the music evolves.
La musique de The Soft Moon a un aspect extrêmement cinématographique. Es-tu intéressé par ce média ?
The Soft Moon music always seems really really cinematographic. Are you interested about this media?
J'essaie d'écrire de la musique qu'on puisse visualiser. Je vois plus l'écriture de la musique d'un point de vue créatif, comme peindre un tableau, écrire un livre ou composer des bandes-sons de ma vie. Un de mes objectifs est de parvenir à composer pour des films.
I try to write music that you can visualize. My approach to songwriting is more about creating art, painting a picture, writing a book, or creating soundtracks to my life. A personal goal of mine is to eventually evolve into scoring films.

Est-ce-que tu te sens proche d'autres groupes ou préfères-tu te concentrer sur ta propre musique ?
Now, do you feel close to other bands or do you still carry on working and playing focus on your music?
The Soft Moon est vraiment un cheminement personnel. J'écoute rarement de la musique dans le but de m'inspirer. Je préfère être inspiré de l'intérieur. J'ai l'impression qu'écouter d'autres groupes pendant mes phases d'écriture m'empêcherait d'être le plus unique et honnête possible.
The Soft Moon is very much a personal journey for me. I rarely listen to music to be inspired to write. I prefer to be inspired from within. I feel that listening to other bands during my writing process will take away from me being as unique and honest as possible.
C'est la quatrième fois que tu viens à Paris, que ressens-tu ?
It is your fourth time in Paris, how does it feel?
Paris est l'une de mes destinations préférée pour jouer. Je me suis fait de nombreux amis au cours de ces dernières années donc je m'y sens toujours à l'aise et je m'y plais. Par ailleurs, The Soft Moon semble toujours jouir d'une forte connexion avec le public pendant les concerts. Certaines de mes expériences de tournée les plus mémorables ont eu lieu à Paris.
Paris is one of my favorite tour destinations. I've made many friends over the past few years so I always feel very comfortable and I enjoy myself. Also, The Soft Moon always seems to have a strong connection with the audience during live performances. Some of my most memorable tour experiences have been in Paris.
Crédit photos : Hélène Peruzzaro
Traduction : Marie-Eva Marcouyeux