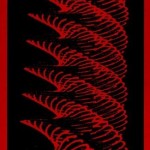 Klaus Von Barel est (déjà) de retour. Après Into the Night, dont on avait évoqué le brio par ici, l'insatiable Anglais saute de label en label dans le but de révéler sa musique toute trempée d'amertume et d'électricité. C'est ainsi qu'après Free Loving Anarchist et Downwards, c'est au tour de Clan Destine Records (lire), de recueillir le natif de Southampton pour un LP cassette, Subjection / Subordination, à découvrir d'ores et déjà en stream par ici et à commander en quelques clics par là. Nightmares #2, premier extrait de l'album, explicite à merveille le titre de celui-ci, tant par sa musicalité claustrophobe que par sa mise en image insoutenable. La grande bouffe, avec les mains et les corps. S'ensuit Slow Death, et là, pas besoin de dessin.
The KVB – Nightmares #2 from klaus von barrel on Vimeo.
The KVB – Slow Death from klaus von barrel on Vimeo.