Tan Dollar : Interview, chronique et mixtape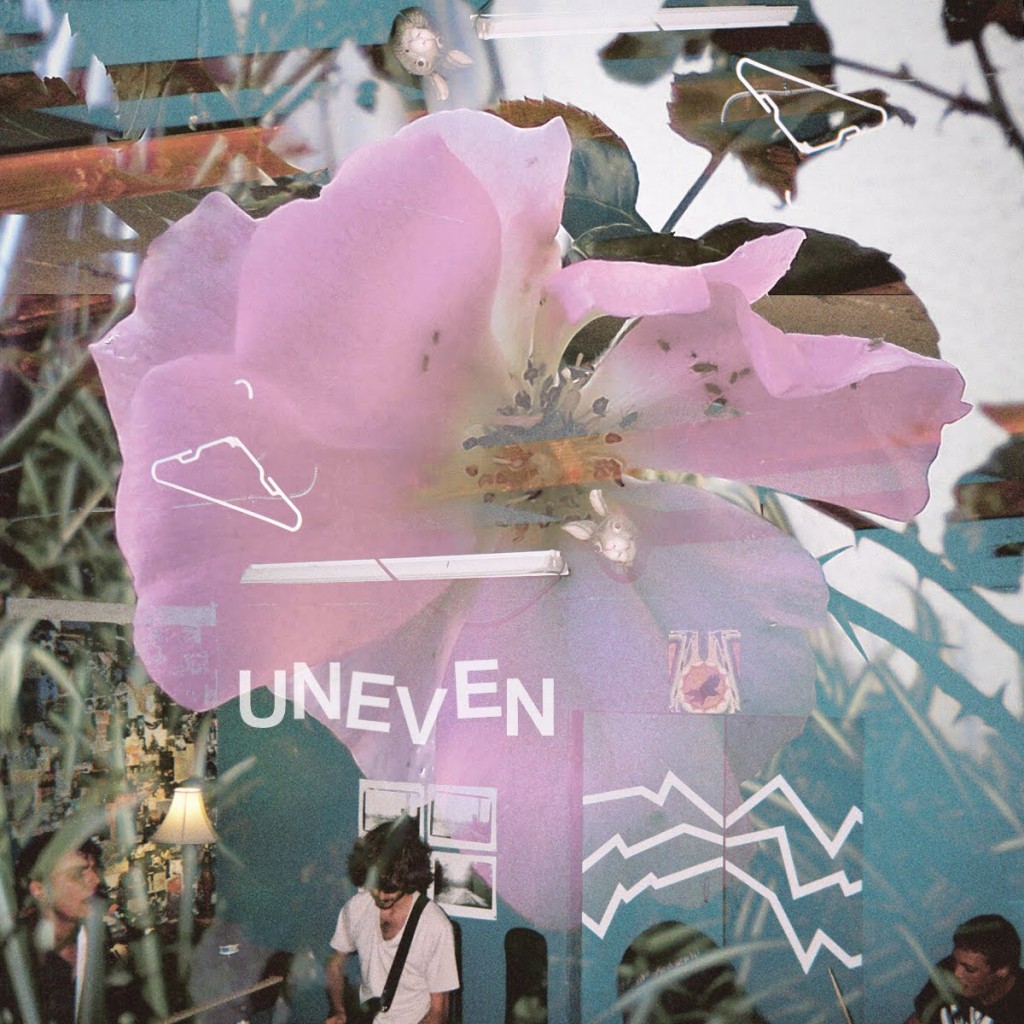 Auparavant glissé dans le creux de nos oreilles tant par leurs amis de Ghost Animal (lire) que par leur mentor de FMLY (lire), le trio, devenu depuis peu quatuor, Tan Dollar, s'est finalement immiscé en nos pages à la faveur d'un LP digital, Change Your Mind (lire), sorti en novembre dernier sur Beko DSL – que l'on ne présente plus (lire). Séduit d'emblée par la pop propulsive et l'insouciance de ces derniers, croisant sans vergogne guitares férailleuses, synthés émaciés et batterie minimale, je concluais cette chronique, destinée à revenir sur un album de 2010, oublié de notre rédaction et susceptible de garnir la hôte à cadeaux saisonnale, par la formule « un sapin qui ne sent pas le sapin, c'est ça l'esprit de Noël« . Le fait est que le groupe l'a pris pour lui, marquant d'un clin d'oeil humoristique le début d'une amitié griffonnée à la hâte dans l'espace-temps numérique. Il allait donc de soi qu'à la sortie de leur seconde cassette sur Life's Blood, Uneven, après Your Body As A Temple paru en 2010, Chris Thorne, Mike Skehan, Jon Skehanet et Ilya Sandomirsky investirait comme il se doit notre psyché maladive, à la recherche compulsive du moindre rayon de soleil, fut-il californien. Et c'est peu de dire qu'Uneven irradie instantanément l'auditeur d'une candeur lo-fi débarrassée de tout superflu. Délayant effrontément les rudiments garage (Headphones, Get Out of Town, Heaven), et se gaussant des rides du temps sous un ciel pop immaculé (Fell Out, Impossible Love, Beaches), Tan Dollar flirte d'un même mouvement sur Uneven, et sans arrière-goût nauséeux, avec de luminescentes réminiscences, qu'elles soient shoegaze (Clams) ou alternatives (Turn Off). Groupe issu d'une sémillante scène estudiantine, gravitant autour de l'Université de Californie d'Irvine, et structurée par les sessions Acrobatic Everyday – voyant défiler aux côtés de groupes locaux tout ce que l'indé américain compte comme merveilles, de Former Ghost à Dan Deacon, en passant par Tearist, Silk Flowers, Persona La Ave ou Thee Oh Sees – et son prolongement discographique DIY, Life's Blood, Tan Dollar n'est pas prêt de s'arrêter en si bon chemin, deux split tapes étant annoncés pour l'été 2011. L'une en compagnie de Witch Gardens sur Sixteen Tambourines, l'autre partagée avec Ghost Animal sur Trivial Pursuit. La présente entrevue avec Chris et Ilya résonne ainsi tel un témoignage – matérialisé par une friendly mixtape et enluminé d'un titre révélé en exclusivité pour Hartzine, Prove It – d'une ferveur bien loin de préoccupations amèrement pécuniaires. Une vision partielle et adulescente de la réalité du disque, mais un regard foutrement rafraîchissant. Summer Babe.
Audio
1. Fell Out
2. Headphones
3. Impossible Love
Entrevue avec Chris Thorne et Ilya Sandomirskyi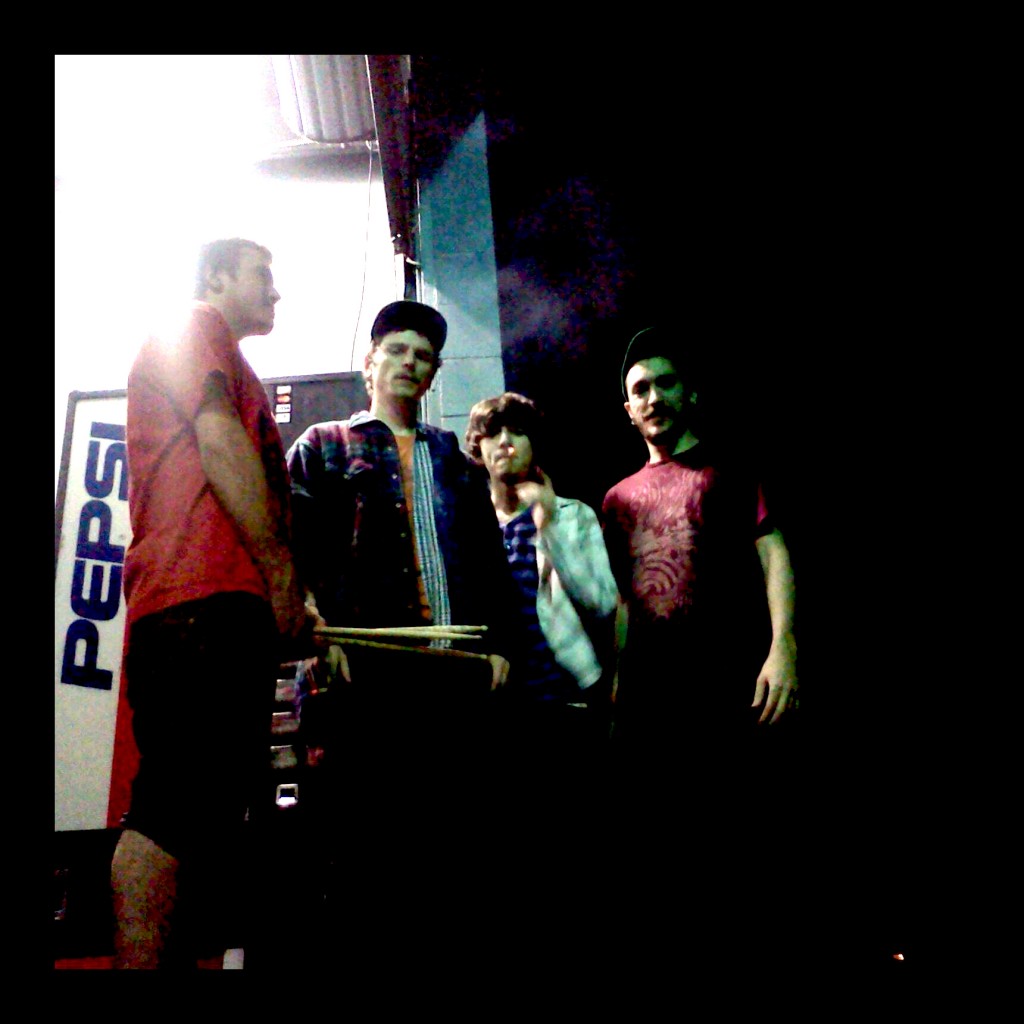 Pouvez-vous vous présenter en quelques mots ? Qui est Tan Dollar ?
Can you present yourself in few words? Who is Tan Dollar?
Chris : Le groupe se compose de moi-même, Ilya, Mike et Jon. On a pas mal changé de musiciens vers la fin de l'année. En gros, c'est un projet qui évolue lentement, basé sur ma volonté d'écrire de la pop.
Chris : The band consists of myself, Ilya, Mike and Jon. We had a lot of line-up changes towards the end of last year. Basically, this is a slowly evolving project based around my attempt at writing pop songs.
Comment vous êtes-vous rencontrés ?
How you are met to you?
Chris : Je connais Mike et Jon depuis un bon bout de temps. On s'est rencontré par l'intermédiaire d'un ami commun alors que je n'étais même pas encore au lycée. On a tous joué dans le groupe Horse Head ensemble, donc il était assez naturel de les inclure dans le groupe quand nous avons eu besoin d'un nouveau batteur et que nous avons décidé de prendre un deuxième guitariste. Ilya et moi nous sommes rencontrés à un show Acrobatic Everyday à l'Université de Californie, laquelle est très proche d'où nous vivons. Nous avions des amis en commun et on a fini par se défoncer ensemble. On est resté amis pendant un moment, et on aimait la même musique. Il peut jouer à peu près de tous les instruments, alors je lui ai demandé de jouer de la basse pour nous.
Chris : I've known Mike and Jon for a really long time. We met through a mutual friend before I was even in High School. We all played in the band Horse Head together, so it was pretty natural to add them to the lineup when we needed a new drummer and decided to add a 2nd guitarist. Ilya and I met at an Acrobatics Everyday show at UC Irvine which is really close to where we both live. We had some mutual friends and we ended up getting high together. We stayed friends for a while, and we liked the same music. He can pretty much play any instrument, so I asked him to play bass for us.
Parle moi du nom du groupe… Tan Dollar ?
Tell me about this band's name… Why Tan Dollar?
Chris : C'est pas une histoire super excitante : je regardais simplement un billet de $10 quand Tan Dollar m'est venu à l'esprit. Trop tard pour en changer maintenant.
Chris : It's not a very exciting story but I just looked at a $10 bill and « Tan Dollar » just popped into my head. Too late to change it now.
Si vous deviez définir votre musique en 3 mots, quels seraient-ils ?
Moreover if you had to define your sounds in three words, which words you would choose?
Chris : Blink 182 Twee
Parle moi du procédé créatif… Qui fait quoi ?
Tell me about the creative process… Who makes what?
Chris : Pour l'instant, j'ai pour habitude d'écrire une chanson à la guitare, et en général j'écris les paroles qui vont avec. La prochaine fois qu'on aura à écrire, je montrerai mon boulot aux autres et ils apporteront leurs propres idées. Mais parfois, il arrive que l'un des gars joue un truc vraiment cool, et on se met alors à le jouer encore et encore jusqu'à ce qu'on puisse tous fournir nos propres contributions.
Chris : Lately, I'll write a song on guitar and usually I'll write lyrics to go along with it. The next time we practice, I'll show everyone else and they come up with their own parts. But, sometimes one of the other guys will play something really cool and we'll just play it over and over again until we can all come up our own parts.

Vous vivez en Californie… Qui sont les amis de Tan Dollar ? Existe-t-il une scène à laquelle vous avez l'impression d'appartenir ?
You're living in California… Who are Tan Dollar's friends? Is there a scene in which you have the impression to belong?
Chris : On habite Orange County qui est, en gros, une immense banlieue entre Los Angeles et San Diego. Nos amis sur la scène locale sont Nima, Wonder Wheel, Dash Jacket et Moon Pearl. Jusqu'à récemment, il n'y avait ici pas de scène du tout, mais dorénavant nous en avons une petite qui semble ne cesser de grandir. En revanche, on a eu la chance de rencontrer et jouer avec des groupes vraiment géniaux du monde entier.
Chris : We live in Orange County which is basically a huge suburb in between Los Angeles and San Diego. Our friends in the local scene are Nima, Wonder Wheel, Dash Jacket, and Moon Pearl. Until recently, there wasn't a scene here at all but now we have a really small one and it seems to be growing. We've been fortunate enough to meet and play with some really awesome bands from all over the world, though.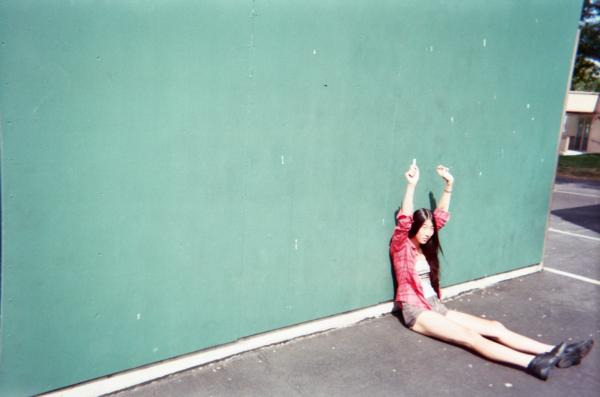 Quelles influences brassez-vous dans les morceaux de Tan Dollar ?
What influences do you mash in the songs of Tan Dollar?
Chris : Je suis influencé par toute la musique que j'écoute et celle que font mes amis. Je trouve difficile d'écrire des chansons quand je suis heureux, alors être complètement déprimé m'aide aussi.
Ilya : , Lush, The Pains of Being Pure At Heart, Rocketship, The Orchids, Sonic Youth, Velocity Girl, Adorable, Procedure Club, Heavenly, The Talking Heads, My Bloody Valentine, The Rosehips, Beat Happening, Black Tambourine, The Pastels, Primal Scream, Orange Juice… Ce n'est pas vraiment exhaustif cependant.
Chris : Ouais. C'est le genre de truc qu'on écoute généralement en voiture en route pour un concert ou autre.
Chris : I'm influenced by all the music I listen to and the music my friends make. I find it hard to write songs when I'm feeling happy, so being completely depressed helps too.
Ilya : New Order, Lush, The Pains of Being Pure At Heart, Rocketship, The Orchids, Sonic Youth, Velocity Girl, Adorable, Procedure Club, Heavenly, Dinosaur Jr., The Talking Heads, My Bloody Valentine, The Rosehips, Beat Happening, Black Tambourine, The Pastels, Primal Scream, Orange Juice. That's not really exhaustive though.

Chris : Yeah. That's the kind of stuff we'll usually play in the car when we're going to a show or something.
Comment définiriez-vous votre musique si Bernard Madoff vous le demandait ? Et si c'était Thurston Moore, même réponse ?
How would you define your music if Bernard Madoff asked to you for it? And if it was Thurston Moore… same answer?
Ilya : Bernie Madoff n'est-il pas en prison ? De toute façon je ne pense pas qu'il ne s'intéresse trop à nous. On n'a pas d'argent à jeter dans les chaînes de Ponzi.
Chris : En fait on a donné un enregistrement à Thurston Moore pendant ce tout petit concert solo qu'il a joué à L.A. J'espère qu'il l'a vraiment écouté.
Ilya : Isn't Bernie Madoff in jail? Anyway, I don't think he would be too interested in us. We don't have any money to throw into Ponzi schemes.
Chris : We actually gave Thurston Moore a tape at this solo show he played in L.A. I'm hoping he actually listened to it.
Si vous deviez vous exiler sur une île déserte, quels albums emmèneriez-vous dans votre sac ?
If you were obliged to exile yourself on a desert island, which do you take as records in your bag?
Chris : Je prendrais probablement You Turn Me On de Beat Happening et Isn't Anything de My Bloody Valentine… C'est une question difficile, est ce que je ne peux pas juste emmener mon iPod ?
Ilya : Ouais, je pourrais faire tenir mon MacBook avec toute ma musique dans mon sac, et tout ce qu'on a besoin d'enregistrer. L'exil ne serait pas si mal.
Chris : I'd probably have to take « You Turn Me On » by Beat Happening and « Isn't Anything » by My Bloody Valentine… This is a tough question, can I just bring my iPod?
Ilya : Yeah. I could fit my Macbook with all my music in my bag, and everything we need to record. Exile wouldn't be too bad.
Parlons de votre futur : quelle est votre intention avec votre prochain cassette Uneven ?
Let us speak about your future… What's your intention with you're future tape Uneven?
Chris : Uneven a en fait été enregistré il y a un bout de temps… A un certain moment l'automne dernier. On avait écrit la majeure partie de ces morceaux et les avait joués pendant notre tournée sur la côte est avec Dash Jacket et Weed Diamond. On avait l'intention de rajouter une basse, et notre ancien batteur, Lil Chris, a décidé de nous quitter. On a pris Mike à la batterie et Ilya à la basse, appris les chansons et enregistré, et tout ça en un temps plutôt court. La cassette devrait être sortie au moment où vous lisez ça, alors jeter un œil à Life's Blood et achetez-y de la musique.
Chris : « Uneven » was actually recorded a while back… sometime last Fall. We had written the bulk of those songs and played them on our West Coast tour in the Summer with Dash Jacket and Weed Diamond. We had intentions of adding bass and our old drummer, Lil Chris, decided to quit. We added Mike on drums and Ilya on bass, learned the songs, and recorded them, all in a pretty short period of time. The tape should be out by the time you read this, so check out Life's Blood and buy some music from them.
Pourquoi des cassettes ?
Why tapes?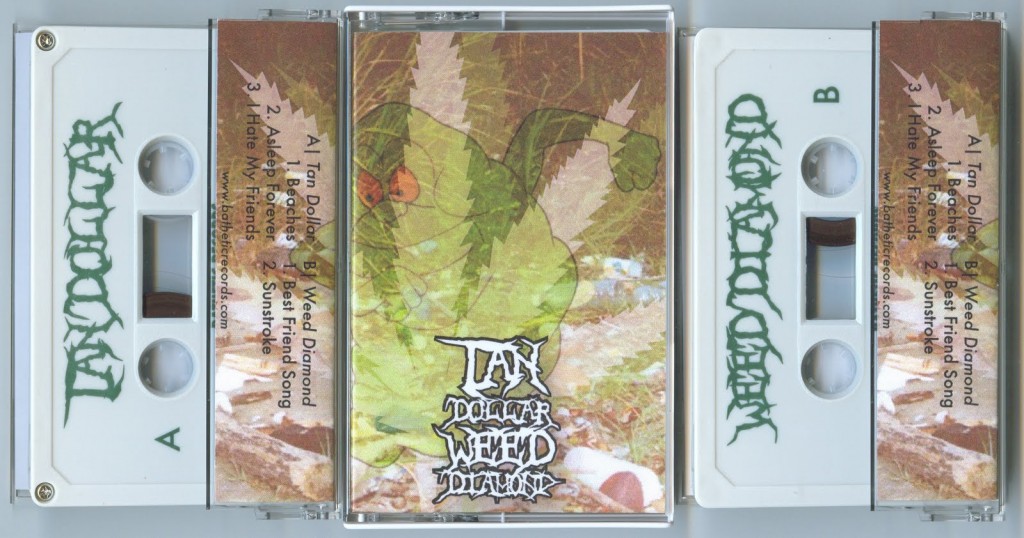 Chris : Ça a sans aucun doute à voir avec la nostalgie. Je me souviens avoir écouté un tas de trucs sur cassettes quand j'étais gamin, et même de faire mes propres mixtapes de chansons que j'aimais à la radio. Quand j'ai eu 14-15 ans, j'ai commencé à m'intéresser à un tas de bruits et de trucs expérimentaux. Je dirigeais mon propre label DIY et mixais mes propres cassettes. Elles ont un son très chaud et confus. Quand un album est sur cassette ou vinyle, je suis plus tenté de simplement m'assoir et de l'écouter en entier plutôt que de ne choisir qu'un morceau en particulier.
Chris : It definitely has some to do with nostalgia. I remember listening to stuff on tape a lot as a little kid and even making my own mixtapes of songs off the radio that I liked. When I was about 14 or 15 I got into a lot of noise and experimental stuff. I ran my own DIY label and dubbed my own tapes for a period of time. They have a really warm and fuzzy sound. When an album is on tape or vinyl, I'm more likely to just sit back and listen to it all the way through rather than just picking a specific song to listen to.
A venir… deux splits 7 » ! Vous avez l'air d'aimer ce format ! Pourquoi ?
And other future stuff… two split 7″! Apparently you like this format! Why?
Chris : Dans les mois à venir, on va sortir un split avec le groupe de Seattle Witch Gardens sur Sixteen Tambourines, qui est un label japonais vraiment terrible, ainsi qu'un autre split avec Ghost Animal sur le label Trivial Pursuit de San Diego. Je ne sais pas si c'est le format qui m'attire, c'est juste le fait qu'on a l'occasion de partager un vinyle avec des amis géniaux qui font de la super musique. Ces derniers seront en fait nos toutes premières sorties sur vinyle !
Chris : In the next few months, we're putting out a split with the Seattle band Witch Gardens on Sixteen Tambourines, which is a really cool Japanese based label and another split with Ghost Animal on the San Diego label Trivial Pursuit. I don't know if it's the format that appeals to me, I think it's just the fact that we get to share a vinyl record with our awesome friends who make amazing music. These will be our first vinyl releases ever!
Quelles sont vos (bonnes) intentions avec Change your Mind ?
What are your (good) intentions with Change your Mind?
Chris : Je ne sais pas si j'avais vraiment de bonnes intentions avec Change your Mind. J'étais assez déprimé à ce moment là. Je voulais laisser s'échapper toutes mes frustrations et je pense que ça a marché en ce sens. Toutes mes paroles ne sont pas véridiques ou autobiographiques, mais une grande partie l'est.
Chris : I don't know if I really had any good intentions with « Change Your Mind ». I was pretty depressed at the time. I wanted to let all my frustrations out and I guess it worked in that sense. Not all of my lyrics are completely true or autobiographical but I guess a lot of them are.
Ce disque est paru sur Beko. Comment en êtes-vous venus à travailler avec eux ?
This record is going to appear on Beko. How did you come to work with them?
Chris : On a commencé à travailler avec Reno et Beko à l'automne 2009. Il nous a demandé de faire un single juste au moment où son affaire se montait et commençait à marcher. Je pensais que l'idée était extra et l'esthétique du truc géniale. On a sorti le huitième single sur Beko, Ice Palace b/w Strength. Celles-ci étaient d'anciennes versions de morceaux tirés de notre premier album Your Body As A Temple. À peu près un an plus tard, une fois les enregistrements pour Change your Mind terminés, j'écoutais Salmon of Doubt de Procedure Club. J'ai alors réalisé que Beko serait le parfait hébergement internet pour notre album. Reno est un type vraiment sympa, il nous a carrément envoyé un colis rempli de tonnes de CD pour Noël.
Chris : We started working with Reno and Beko back in the fall of 2009. He asked us to do a single and this was right when he was getting the whole thing up and running. I thought the idea was amazing and the aesthetic of the whole thing was great. We put out the 8th single on Beko which was « Ice Palace » b/w « Strength ». Those were early versions of songs off our first full length, « Your Body As A Temple ». About a year later, we had finished the recordings for « Change Your Mind » and I was listening to The Procedure Club's « Salmon of Doubt ». I figured Beko would be the perfect internet home for the album. Reno is such a nice dude and he even sent us a huge package with tons of CDs in it for Christmas.
Quelles sont vos relations avec FMLY ? Pourriez-vous me dire ce que vous répondriez à Noah s'il vous demandait en quoi FMLY est important pour Tan Dollar ?
What are your relations with FMLY? Can you say to me what you would answer to Noah if he asked you in what FMLY is important for Tan Dollar?
Ilya : Je me suis impliqué avec FMLY il y a environ un an. Jules Verne, mon projet aujourd'hui disparu, a joué à tout un tas de concerts FMLY et je suis parti en tournée avec Noah et d'autres potes l'année dernière. C'est en gros ce qu'est FMLY pour moi, des amis qui font de la musique, qui se promènent en van et qui passent du bon temps.
Chris : Ils nous ont beaucoup soutenus depuis que notre premier album Your Body As A Temple est sorti. Ils sont sans aucun doute des potes pour nous ! Je pense que FMLY, c'est avant tout un sens de l'implication et l'envie de faire quelque chose, peu importe quoi, que vous adorez faire.
Ilya : I got involved with FMLY about a year ago. My now defunct project, Jules Verne, played a bunch of FMLY shows and I went on a tour with Noah and some other friends last year. That's pretty much what FMLY is to me, friends making music, driving around in a van, and having a rad time.
Chris : They've been very supportive of us since our first album, « Your Body As A Temple » came out. They are definitely homies to us! I think, just a sense of involvement and just doing something, anything, that you love to do is what FMLY is all about.


Que pensez-vous de l'industrie musicale actuelle ? Comme beaucoup d'autres groupes révélés par des blogs, avez-vous le sentiment d'être anti-système ?
What do you think about music industry today? As many groups relieved by blogs, have you the feeling to be anti-system?
Chris : Non, je pense que les blogs peuvent être cool et je pense que c'est en partie la raison pour laquelle les gens savent même qui nous sommes.
Ilya : Je les consulte tous les jours.
Chris : Je ne les lis pas régulièrement, mais ils sont sans conteste une source viable pour la musique actuelle. En même temps, je suis sûr qu'ils ont aussi leurs aspects négatifs, mais je ne saurais pas vraiment vous dire lesquels.
Chris : No, I think blogs can be cool and I think that's part of the reason why anyone even knows who we are.
Ilya : I check them daily.
Chris : I don't regularly read any of them, but it's definitely a viable source for new music. Then again, I'm sure it's got negative aspects as well but I couldn't really tell you what they are.
Est-ce que la musique a un prix ?
Has the music got a price ?
Chris : Non, on fait ça pour s'amuser. J'essaye de charger des trucs gratuits sur le net le plus possible. Bien sûr, ça coûte de l'argent de sortir des copies physiques, et si nous vendons notre musique, on aime qu'elle soit à un prix raisonnable.
Chris : No, we do this for fun. I try to put stuff out for free on the internet as much as I can. Of course, it costs money to put out physical copies and if we're selling our music we like to keep it reasonably priced.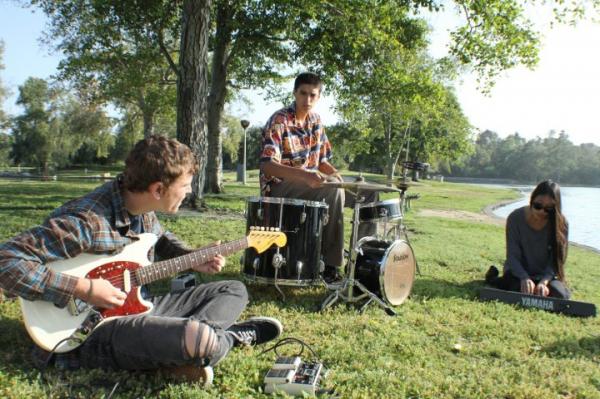 Est-ce que l'esthétique d'un disque a autant d'importance pour vous que la musique elle-même ?
Has the aesthetics of a record so much importance for you as the music itself?
Chris : Le travail artistique a incontestablement un aspect important pour moi. Il doit correspondre à l'humeur que la musique transmet. La plupart du temps, j'aime que mes pochettes soient dénuées de texte. J'ai réalisé la plupart des graphismes pour nos albums et ils viennent normalement s'assembler d'une manière que j'aime. Le design n'est pas quelque chose sur lequel je stresse indéfiniment.
Chris : The artwork is definitely an important aspect to me. It needs to fit the mood that the music conveys. A lot of times I don't like to have any text on my cover art. I've done most of the artwork for our albums and they usually just come together in a way that I like. The artwork is not something I stress over endlessly.
Est-ce que Tan Dollar est bon en live ? Quelle en est sa configuration pendant les concerts ?
Is Tan Dollar a good live group? What is the configuration in concerts?
Chris : Nos enregistrements sont essentiellement faits en live avec un tout petit peu de mixage studio grâce à notre incroyable ami Paul alias Wonder Wheel. Donc au court d'une bonne soirée, on sonne un peu comme sur les disques. Récemment on a joué beaucoup des morceaux de Change Your Mind avec moi au chant et à la guitare, Ilya à la basse, Jon à la guitare et Mike à la batterie. Nous changeons pas mal les choses et avons déjà échangé de nouvelles idées, ce qui explique que cela pourra être totalement différent sur quelconque morceau qu'on écrira par la suite.
Chris : Our recordings are done mostly live with little overdubbing thanks our amazing friend Paul a.k.a. Wonder Wheel. So, on a good night I guess we sound like the recordings. Lately we've been playing a lot of the songs off of « Change Your Mind » with me singing and playing guitar, Ilya on bass, Jon playing guitar, and Mike drumming. We change things up a lot and have already been talking about some new ideas so things could be totally different on whatever songs we write next.
Quand viendrez-vous nous montrer ça en France ?
You come to show us that when in France?
Chris : On aimerait vraiment venir, mais l'argent est un gros problème pour nous en ce moment, et Mike et Jon ont tous les deux des enfants dont ils doivent s'occuper. Nous viendrons sans faute rapidement. Si quelqu'un veut apporter son aide pour que ça arrive, svp contactez-nous !
Chris : We really want to go, but money is a big issue for us right now and Mike and Jon both have kids to take care of. We'll definitely make it out there as soon as we can. If anyone wants to help make it happen, please contact us!
Avez-vous des side projects ? Si oui, quels sont-ils ?
Have you side-projects? If yes, which…
Chris : Ouais ! Moi, Mike et Jon avons ce groupe qui s'appelle Horse Head (écouter) qui existe depuis 2004 environ. On est en train de mixer notre nouvel album full-length en ce moment. Il devrait être téléchargeable gratuitement mi-mars (ici). Je joue aussi avec Ilya dans son groupe Dreamless.
Ilya : Dreamless est un projet de musique électronique que je viens juste de commencer. Chris avait son synthétiseur Juno-16 qui traînait par là, alors j'ai écrit quelques morceaux dessus. J'ai demandé à lui et notre amie Kristine de chanter, et nous avons enregistré un EP avec note pote Paul. Il est sur mon Bandcamp, et de nouveaux morceaux devraient sortir très prochainement.
Chris : Yeah! Me, Mike, and Jon have this band called Horse Head which we've been doing since 2004. We're mixing a new full length album right now. That should be dropping for free sometime in the middle of March. I also play with Ilya in his band, Dreamless.
Ilya: Dreamless is an electronic music project I just started. Chris had this synth lying around, and I wrote some songs on it. I asked him and our friend Kristine to sing, and we recorded an EP with our friend Paul. That's on my bandcamp, and new tunes should be dropping any day.
Pour finir, pourriez-vous introduire votre mixtape ?
For finishing, can you introduce your mixtape…
Chris : On y retrouve des morceaux par dix de nos meilleurs potes. Pardon aux gens que nous avons oubliés, mais vous êtes vraiment trop nombreux les gars. Jetez un œil à ces groupes cependant, la plupart ont de la musique gratuite disponible en ligne.
Chris : Here are songs by ten of our best buds. Sorry for the people we left out; there are just so many of you guys. Look these bands up though; most of them have free music available online.
Traduction : Florianne Vaillant

Exclusive Track
Tan Dollar – Prove It
Tan Dollar – Prove It : 

Mixtape
(download)
01. Nima – Smokey's Peace
02. Witch Gardens – Fiesta Texas
03. Ghost Animal – Young & In Love
04. Wonder Wheel – Attack (feat. R. Stevie Moore)
05. Phillip Seymour Hoffman – My Favorite Shirts Don't Fit Anymore
06. Stay Cool Forever – Gravalanche
07. Dash Jacket – Not My _3
08. School Knights – Lunch Money
09. Junior Low – Dead Weekend
10. Moon Pearl – Hand Stand
Discographie
LP
Your Body As A Temple (Life's Blood, 2010)
Change your Mind (Beko, 2010)
Uneven (Life's Blood, 2011)
EP
Pink Sky (2009, download)
Beko 08 (2009, download)
Reunions (2010, download)
SPLIT
w/ Weed Diamond (Bathetic, 2010)
w/ Witch Gardens (Sixteen Tambourines, 2011)
w/ Ghost Animal (Trivial Pursuit, 2011)
Vidéo