Staccato du Mal l'interview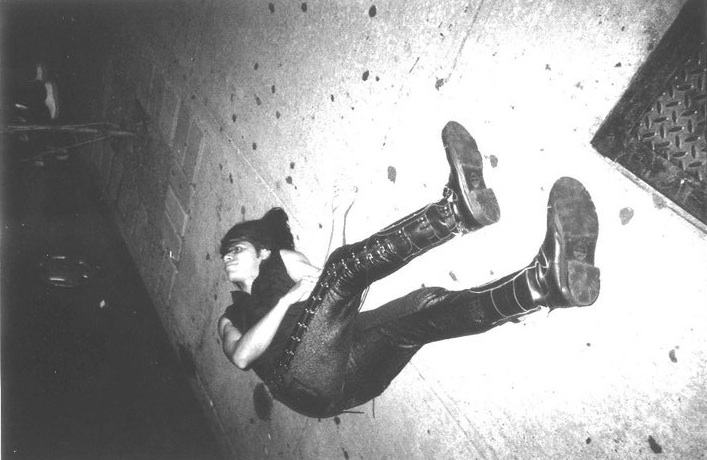 Plus Wierd garnit son catalogue et plus je me dis que ce label est essentiel. La sortie du premier LP de Staccato du Mal aka Ramiro Jeancarlo ne démord pas à la règle et nous offre un album grandiose, à mi-chemin entre hymnes physiques et musiques contemplatives. Imaginez le Trisomie 21 des débuts injecter toute sa posture dépressive dans les synthés de Michael Garrison. Ça ne vient ni de New-York, ni d'Europe de l'Est. Miami en compartiment tristesse…
L'interview
Tu es le secret bien gardé de Wierd Rec. Je sais seulement que tu viens de Miami et que tu jouais aupravant dans Opus Finis. Comment en es-tu arrivé au projet Staccato du Mal ? Il me semble que ça fait un petit moment que tu le maturais.
You're a little like a well-kept secret of Wierd. I only know that you're from Miami, and previously played in Opus Finis. How did you come to this project Staccato du Mal? I guess you've been developing this project for quite a while…
Staccato du Mal est une extension de mon précédent travail solo, Fioritura. À la fin des années 90, une démo a été faite contenant des morceaux dans la vague néoclassique/romantique.
Je n'ai jamais vraiment vu l'intérêt de distribuer ma musique, c'est pourquoi beaucoup de morceaux ont commencé à s'empiler. La même chose vaut pour les projets qui ont suivi : Flesh Graey Display, Opus Finis et une session avec Xeno et Staccato. Quand plus tard Wierd Records a vu le jour, j'ai alors trouvé un soupçon de motivation pour le faire.
Staccato du Mal is an extension of my early solo work Fioritura. in the late 90s a demo was made containing neoclassical/romantic wave tracks. I never had the interest to release my music so a lot of tracks started to pile up. The same goes for the projects that followed; Flesh Graey Display, Opus Finis and a session with Xeno and Staccato. Later Wierd Records was born and I got a glimpse of motivation to do it.
Une note sur le livret de ton album nous donne des indications sur la façon dont tu as enregistré le LP. Tu peux nous en dire plus ?
A note on your album jacket tells a little about how the recording process of the LP, can you tell us more?
Dans les premiers enregistrements de Fioritura, je composais une partie du travail sur des pistes séparées en y ajoutant différents instruments. Ces dernières années, j'ai tout passé au mixage et j'enregistre chaque morceau improvisé sur une seule piste stéréo. Ce n'est certes pas la manière normalement recommandée pour enregistrer un morceau, mais j'aime le challenge. Tout doit être parfaitement fluide, ne laissant que peu ou pas de place à l'erreur. Parfois je sacrifie la qualité sonore et le manque d'instruments additionnels et d'effets juste pour garder un instantané intact du moment. Plus tard, je vais rajouter des pistes vocales aux morceaux qui m'y inspirent. Avec mes autres projets, les voix sont enregistrées en live avec la musique, j'ajoute rarement des pistes vocales.
On the early Fioritura recordings I would compose some of the work in separate tracks adding various instruments. For the past few years I've been running everything through a mixer and record each improvised song into one stereo track. It's not the recommended way to record a song but I really enjoy the challenge. everything has to flow just right leaving little to no room for mistakes. I sometimes sacrifice sound quality and the lack of additional instruments and effects for the sake of keeping a snapshot of a moment intact. I later add separate vocal tracks to those that inspire me to do so. With my other projects the vocals are done live together with the music, rarely adding any vocal tracks.
Ta musique me rappelle les débuts de Trisomie 21, un Trisomie 21 avec un côté machine de guerre au regard du son épais de ton album. Néanmoins ta musique a un aspect contemplatif bien plus développé que dans tes anciens projets. C'est une necessité pour toi de combiner les aspects physiques et illustratifs de ta musique ?
Your music kind of reminds me of the debut of Trisomie 21, but a Trisomie 21 with a war machine side, considering the thick side of your sound. However your music 's got a much more contemplative aspect than the one you performed with OF, your earlier project. Is it a necessity for you to combine the physical and illustrative aspects of your music?
Ben, tout dépend de mon humeur. Mon travail solo a toujours été très personnel pour moi et c'est là que j'applique la plus grande partie de mes efforts. Cependant, j'aime aussi collaborer avec d'autres vocalistes. Mes autres projets sont un peu plus simplistes mais offrent un arrangement différent avec chaque vocaliste.
Well, it all depends on my mood. My solo work has always been very personal to me and that's where I apply most of my effort. However, I do enjoy collaborating with other vocalists. My other projects are a little more simplistic but offer a different setting with each vocalist.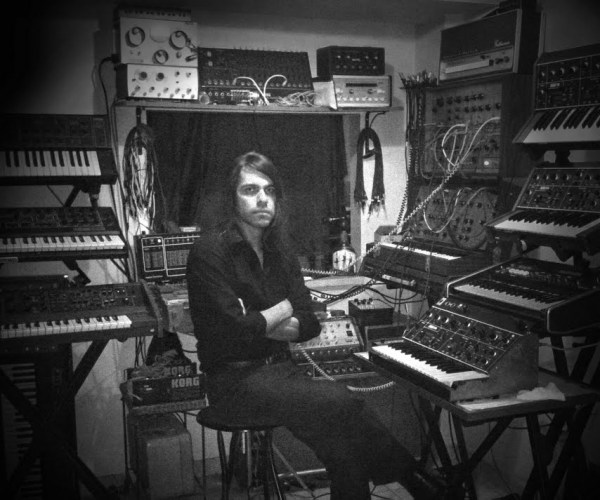 Tu me parlais de l'importance des images, particulièrement celles liées au cinéma noir américain…
You talked about the importance of images, especially those related to American noir cinema…
Je dirais la plupart du cinéma noir et blanc du monde entier. J'adore les photos de films et l'expression qu'elles donnent… en particulier celles entourées de passion, de crime, de drame, etc. Je peux également faire le lien avec la musique, importante pour un film, et comment les deux se complètent. J'ai toujours voulu composer de la musique pour le cinéma. Un jour peut-être, mais pour l'instant je choisis des images qui ressemblent à mon travail, une photo instantanée pour une chanson instantanée… un moment.
I would say most black and white cinema worldwide. I love the stills and the expression they give… especially those surrounded by passion, crime, drama,etc. I can also relate to how important music is to a film and how they complement each other. I've always wanted to compose music for cinema. maybe someday but for now I choose images that resemble my work. a snapshot photo for a snapshot song… a moment.
D'un point de vue général, que penses-tu de tous ces groupes rassemblés désormais sous la bannière minimal wave ? Cette époque a été hyper productive et le travail d'archéologue des blogueurs ressemble parfois à une quête sans fin. Les labels me semblent plus que jamais importants dans leur travail de réédition. A mon sens, cela represente le futur de l'industrie malgré le paradoxe…
Generally speaking, what do you think of these bands now gathered under the minimal wave label? This period of time has been super productive, and the work of archaeologist of some bloggers sometimes looks like an endless quest. Labels seem to me more important than ever in their reissuing work, it's the future in any case I think, despite the paradox.
Je ne pense pas que la réédition de certains trucs par les labels soit un problème. D'une certaine manière, ça aide à garder la musique en vie et la rend facilement accessible grâce à la technologie d'aujourd'hui. Je ne suis pas aussi sûr quand on en vient à réinventer des genres pour d'anciens groupes. Ça n'ajoute que de la confusion, et ça donne l'impression que quelque chose est nouveau quand ça ne l'est pas. Et pourquoi pas alors un nouveau nom de genre pour les groupes d'aujourd'hui ? En fait je préfère regarder du côté de 'l'électronique vintage'. Je me demande si ça existe déjà. On m'a collé l'étiquette de toutes sortes de 'minimale', mais je crois que mon travail est peut-être un peu plus complexe que la minimale.
I think it's ok that labels are reissuing stuff. In a way it does help to keep the music alive and makes it easily accessible with today's technology. I'm not so sure about reinventing genres for old bands. It only adds confusion and it makes something seem new when it's not. how about a new genre name for today's bands? I actually prefer to peek under 'vintage electronics'. I wonder if it already exists. I've been tagged with all types of « minimal » but I believe that my work may be a little more complex than minimal.
La scène synthétique de Miami m'est inconnue. As-tu des groupes à conseiller à nos lecteurs français ?
The Miami synthetic scene is unknown to me .Is there any bands you could recommend to our French readers?
Mis à part les groupes de Miami déjà présents sur les compilations Wierd, la ville n'a pas de scène comme celle de Wierd à New-York. Peut-être qu'une à deux fois par an des amis se réunissent et organisent des petites soirées, mais il n'existe rien de consistant. Il y a un événement fréquent cependant, appelé 'Black Division' à Miami Beach où des potes mixent ce même type de musique géniale. Je vais peut-être y avoir une session DJ un de ces quatre.
Other than the Miami bands already featured in the Wierd compilations Miami does not have a scene like Wierd in NY. maybe once or twice a year friends get together and do small parties but there is nothing consistent. There is one frequent event though called 'Black Division' in Miami Beach where some friends DJ some great similar music. I may have a Dj session there sometime.
Traduction : Floriane Vaillant
Vidéo