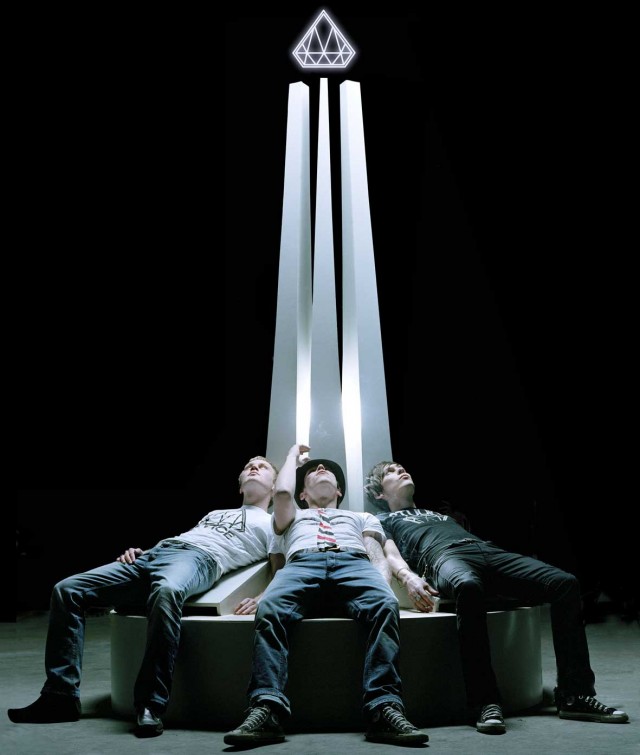 Une décennie que le label suédois Service éclabousse de son élégance minimaliste le landerneau indie-pop. Et si certains se sont carapatés quelques rues plus loin dans un Göteborg à la créativité fourmillante, tel le duo The Tough Alliance – qui en créa dès 2006 son propre label, Sincerely Yours, avant de se séparer en 2009 – d'autres, comme The Embassy, auteur de l'indispensable Tacking (2007), Erik De Vahl, Jens Lekman, ou plus récemment Ikons, restent fidèles parmi les fidèles du label, grimant ses lettres de noblesse dans un catalogue, certes resserré, mais sans faute de goût apparente. Entre électro-pop radieuse et synthétique, house crossover et shoegaze éthéré, Service cultive une esthétique procédant tout à la fois de la beauté froide d'une scène suédoise extensible, et d'une fascination sans limites pour celle anglaise, comme si Technique (1989) de New order avait été l'ultime et indépassable disque de pop music électronique. Laboratoire à l'alchimie reconnaissable entre toutes, la structure met les petits plats dans les grands à l'heure de souffler ses bougies : une compilation digitale, à télécharger par ici, est ainsi offerte au chaland, quand un blog retrace à coup de photos, vidéos et top ten cette brève histoire au long cours. L'occasion était donc toute trouvée pour questionner Ola Borgström, pierre angulaire du label, mais aussi pour dresser deux top ten ci-dessous éventés, l'un audio, l'autre vidéo.

Raconte-moi comment Service est né ? Qui est derrière ? Quelle est l'idée d'origine ?
Tell me how Service Records was born? Who is behind? What was the idea of origin?
On ne peut pas vraiment parler d'idée à l'origine : à la base, c'était juste Dan de Studio et moi. On traînait dans les rues de Göteborg avec l'impression que quelque chose allait finir par arriver. Et sans aucune ambition ou but en particulier, mais avec tout de même une sorte de détermination bizarre, on a commencé à agir, spontanément, mais tout en suivant une certaine direction. Une sorte de culture s'est formée, et (dés-) organisée, propulsant toute une scène locale qui s'est développée juste après.
There was no real origin, just me and Dan from Studio bumming around on the streets of Göteborg with a feeling something had to happen. And so with no particular ambition or goal, but with a strange confidence, actions were taken, spontaneously but in a certain direction. Some kind of culture was created and (dis)organized, and catalyzing the local scene that boomed shortly after.
Pourquoi ce nom ?
Why this name, Service Records?

Essaie de chercher ça sur Google.
Try to google it.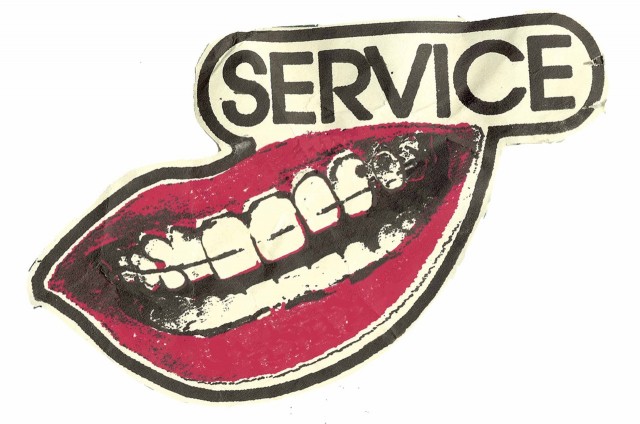 Quel sentiment as-tu quand tu considères ces dix dernières années ?
How do you feel about the last ten years?
Un sentiment doux-amer, comme si on n'avait pas encore atteint notre potentiel en termes de public. Il reste des perles rares qui attendent toujours d'être découvertes.
A bittersweet feeling that our stuff has not yet fulfilled it's public potential. They are are pearls still waiting to get found.
Quelles sont les sorties dont tu es le plus fier ?
What are the releases you are most proud of?
Je les considère toutes comme mes bébés adorés, mais certains d'entre eux ont besoin d'un peu plus d'attention: Optimismens hån de Franke est magistral et devrait être considéré comme l'un des meilleurs albums du 21ème siècle. Tacking de The Embassy est juste parfait et Secrets Adrift de Erik de Vahl est ensorcelant.
All of them are precious babies, but some need more attention: Franke « Optimismens hån » is super majestic and must be discovered as one of the greatest albums of the 21st century. The Embassy's « Tacking » is perfect and Erik de Vahl's « Secrets Adrift » keeps mystify.
Service sort aussi bien des albums de shoegaze que de synthpop… Comment choisis-tu les artistes avec qui tu travailles ?
Service Records releases slow pop as well as shoegaze or synthpop's records… How do you choose the artists you work with?
C'est juste une question d'avoir les mêmes attitudes. Si on peut vivre, travailler et jouer ensemble, la musique finit généralement aussi par être géniale.
Ah it's a matter of sharing existential attitudes. If we can live, work and play together, the music usually turns out to be brilliant too.
Quelles sont les relations entre les groupes et le label ?
What are the relations between the groups and the label?
Il n'est pas question de carrière, mais de faire partie d'un collectif.
It's an anti-career, pro-living collective.
Quelle est la ligne artistique du label ? Y-a-t-il une esthétique dans laquelle s'inscrit chaque sortie ?
What is the artistic guideline of the label? Is there an aesthetics, a concept you try to keep for every release?
Toutes les sorties s'auto-suffisent en elle-mêmes et n'ont pas vraiment besoin de faire de références à autre chose ou d'appartenir à une scène ou un son en particulier. On peut voir ça sur les pochettes au design souvent plat, gris et minimaliste.
All releases are self-sufficient pieces of works, hardly referring outside themselves, not trying to be part of a « sound » or a « scene ». This can be easily seen on the often kind of flat, grey, minimalist artworks.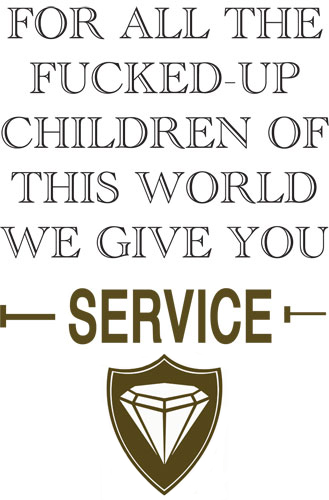 Service vient de sortir une compilation pour ses dix ans. Les choix n'ont pas été trop durs à faire ?
The label has just released a free compilation for its tenth birthday. Was it not too hard to select the tracks?
Je voulais que cela soit évident et magistral. Et que tous les artistes soient représentés. Et que le flow des morceaux soit bon. Et inclure le nouveau single de Ikons,  »Free Spirit », pour aller de l'avant, comme une fenêtre sur le futur.
I wanted it to be obvious and majestic. And of course cover all artists. And have a nice track order flow. And include Ikons' new single Free Spirit for pointing forward, futurewise.
Quel est le futur proche du label ?
What's gonna happen in the near future for Service Records?
Life Rhythm, le nouvel album phénoménal de Ikons, que je considère comme la version suédoise de Screamadelica. Swedendelica peut-être? C'est vraiment génial. Le premier morceau, Free Spirit, est téléchargeable dès maintenant sur notre site et la toute nouvelle vidéo pour le single Sister est à visionner par là. Et un peu plus tard, un nouvel album de The Embassy !
A new phenomenal album by Ikons called « Life Rhythm », which I think of as kind of a Swedish Screamadelica. A Swedendelica? It's really amazing.
The first track Free Spirit is downloadable now on our site and a brand new video for another single, Sister, here. And later this year: finally a new Embassy album!

Et le futur… dans dix ans ?
And the future…In another ten years?
Comme l'ont dit les Sex Pistols: No Future.
Like Sex Pistols says: No Future
Podcast : le top ten d'Hartzine
TOP  SERVICE RECORDS by Hartzine à écouter sur Spotify
01. The Embassy – Some Indulgence
02. Kool DJ Dust – Driverunserver
03. The Embassy – New Plans
04. Ikons – Honey
05. Forest – Out In The Streets
06. The Whitest Boy Alive – Burning
07. The Tough Alliance – Koka-Kola Veins
08. Erik De Vahl – Summertime
09. Lake Heartbeat – Golden Chain
10. Franke – Öppna Alla Dörrar Och Fönster