Sean Nicholas Savage l'interview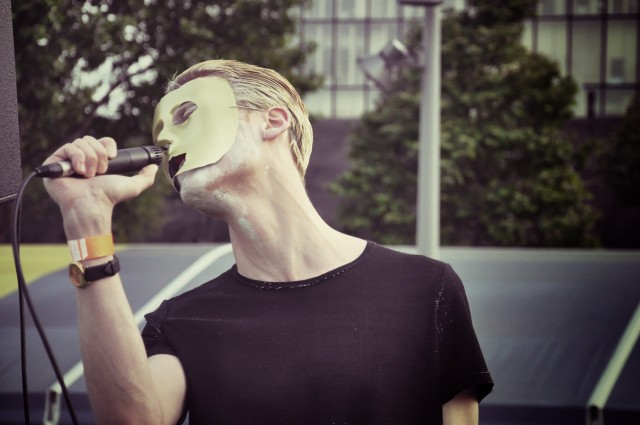 Photos © Helene Perruzaro
Le 3 juin dernier Sean Nicholas Savage se produisait sur la terrasse du Petit Bain pour la sortie de son nouvel album, Bermuda Waterfall paru via Arbutus Records (lire). C'était donc l'occasion idéale pour échanger avec le John Waters de la musique sensible qui ce jour-là avait décidé de jouer et de passer le reste de la soirée avec un masque doré sur la tronche.
Sean Nicholas Savage l'interview – Par Alex P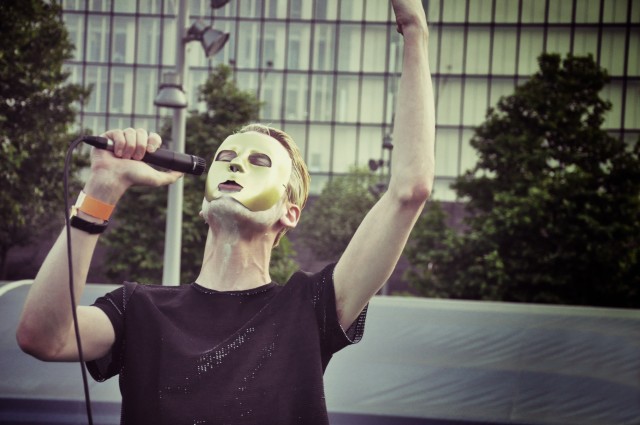 Il s'est à peine écoulé un an depuis l'album précédent. Est-ce que certaines chansons de Bermuda Waterfall viennent de la même session d'écriture ou as-tu travaillé exclusivement sur de nouvelles paroles et de nouveaux sons après la sortie de Other Life ?
It's only been a year since the last album, were some of the songs on Bermuda Waterfall part of the same writing process or did you work exclusively on new sounds and lyrics after the release of Other Life?
J'avais d'autres chansons de la période Other Life mais il fallait que je laisse ça derrière moi pour commencer un nouvel album. Mes chansons sonnent un peu pareil parce que c'est juste moi et que je ne sors des trucs que depuis un certain moment, mais j'ai écrit sur la route après la sortie de Other Life. J'ai écrit des poèmes et j'avais besoin d'être plus abstrait dans mes paroles pour dire des choses plus importantes parce que j'étais très direct dans Other Life, plus autobiographique. Mais j'avais besoin de dire des choses plus importantes que je ne pouvais exprimer de manière frontale, j'ai dû utiliser des images, être plus poétique pour exprimer ces choses. J'ai donc fait ça, et là je travaille sur un nouvel album qui sera encore différent. Je travaille dur pour faire plus de musique et j'ai besoin de garder de l'élan dans ma vie car écrire des albums me procure énormément de plaisir, j'aime tellement écrire des chansons, mais il me faut une raison pour les écrire donc je me fixe des délais et je continue à travailler, ça fait du bien.
I had other songs from Other Life but I had to leave everything behind and start a new album. They always sound a bit similar because I'm just one guy and it's only been so much time, but I wrote on the road after Other Life came out. I wrote poems and I needed to be a little more abstract with my lyrics to say bigger things that I couldn't just say straight up so I needed to use imagery and be more poetic to say these things. So I did that and now I'm working on a new album  and that's gonna be different again. I work hard to make more music and I need to keep the ball rolling sometimes in my life because it's such a sweet thing for me to write albums, I love writing songs so much but I need a reason to write them so I give myself deadlines and I keep working, it feels really good.
Tu chantes beaucoup sur la solitude et l'amour. Tu t'inspires de tes expériences ou est-ce que tu construis un personnage ?
You sing a lot about loneliness and love, do you reflect on your experiences or are you building a character?
Je suis un personnage, le personnage de ma vie, et je joue ce rôle. J'interprète les chansons selon les paroles donc c'est comme une pièce de théâtre mais tout est fondé sur ma vie donc réel. Mais je n'ai pas besoin d'exagérer, les parties de ma vie à propos desquelles j'écris sont déjà assez importantes, en fait j'essaye plutôt d'adoucir la chose pour que ça ne soit pas trop émotionnel. C'est de la musique émotionnelle mais ça n'a pas besoin d'être cheap, des larmes au rabais. Je reste fidèle à la profondeur de ces sentiments.
Well I am a character, it's the character of my life and I play that part. I'm performing the songs to the lyrics so it's like a play but everything is about my life so it's real. But I don't need to exaggerate, parts of my life I write about are already big enough, I actually try to tune in down more than anything so that it's not too emotional. It is emotional music but it doesn't need to be cheap, as in cheap tears. I'm true to the depth of these feelings.
Tu tournes beaucoup. Aimes-tu écrire sur la route ou as-tu besoin de te poser quelque part afin de créer ?
You've been touring a lot, do you like writing while on the road or do you need a place to settle down in order to create?
Je tourne depuis deux ans et demi à peu près et oui, je préfère avoir un chez moi d'où je peux composer et enregistrer mais j'ai mes priorités et il faut faire des compromis si tu veux achever quoi que ce soit dans la vie.
I've been touring for two and a half years or something, so yeah I do prefer to have a home and record everything at home but I have priorities and you need to have compromise if you want to get anything done in your life.
Tu écris donc sur la route par nécessité ?
So you write on the road out of necessity?
Oui et cela affecte également ma manière d'écrire. Mais ça ne veut pas dire que c'est mieux ou moins bien, c'est juste différent. Je suis ouvert d'esprit et c'est le moyen que j'ai trouvé afin de retirer le maximum de cette activité mais je donne toujours tout ce que j'ai dans mes chansons.
Yeah and it also affects the way I write. But it doesn't mean that it's better or worse, it's just different. I'm open minded and this is the way I can have the most cake and eat the most too and I still give everything into my songs.
Tu mets réellement ta personnalité et tes émotions en avant au travers de tes paroles et de ton attitude sur scène. Est-ce que ce look à la John Waters que tu sembles entretenir fait en quelque sorte partie de tout ça ?
You really put your emotions end personality forward through your lyrics and attitude on stage. Is that John Waters kind of look you have going on also part of that?
C'est simplement mon apparence. Je ne crois pas vraiment en la peur car j'ai la foi, je suis religieux à ma manière, spirituel. Dieu est nature et je crois qu'il y a de la foi dans la nature, c'est un fait. La nature est fondée sur des bonds de foi, des miracles et des chants et c'est ce qui la fait avancer. La peur est anti donc si jamais mon front se dégarni et que je commence à perdre mes cheveux, je les peignerai toujours en arrière et je suivrai le truc car Dieu a dessiné mon être et qui je suis et j'ai choisi le chemin de la foi donc j'accentue ce que l'on m'a donné. Je ne sais pas, peut-être que j'ai une apparence cartoonesque. C'est juste un look fort, et j'aurai toujours un look fort. J'adore les cartoons et John Waters, il est génial, donc ça ne me dérange pas si je lui ressemble, à lui ou à Steve Buscemi ou Christopher Lloyd, j'adore ces mecs.
That's just how I look. I don't believe in fear much because I have faith, I'm religious in my own way, spiritual. God is nature and I believe nature has faith in it, that's a fact. Nature is based on leaps of faith and miracles and chants and that's what makes it go forward. Fear is anti so if I have a hairline going back and start losing my hair I'll comb back with it because God shaped my whole self and my character and I choose the road of faith so I go with the flow and accentuate what I'm given. So maybe I look a bit cartoony or something. It's just a strong look, I'll always have a strong look. I love cartoons and I love John Waters too, he's amazing so I don't mind if I look like him or Steve Buscemi or Christopher Lloyd, I love all these guys.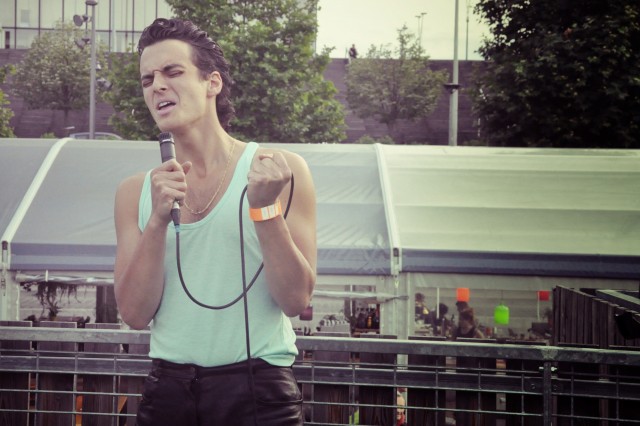 Bermuda Waterfall est sorti sur Arbutus Records, comme le reste de ta discographie. Quelle est ta relation avec le label ?
Bermuda Waterfall is out through Arbutus Records like the rest of your discography, what's your relationship to the label?
Je suis sur le label depuis sa formation. Il a en quelque sorte été créé autour de moi et Claire Boucher (Grimes). Je suis resté très proche d'eux et je suis donc resté.
When it was formed I was on the label. It was created sort of around me and Claire Boucher (Grimes) and so I've just stayed really close with them and stayed on the label.
C'est comme une famile ?
It feels like a family?
Oui, disons que ce sont mes bons amis. J'ai aussi une grande famille, une famille de sang et des demi-frères et sœurs au Canada que je ne vois pas très souvent, mais je trace une limite entre la famille et les amis. Mais famille ne veut pas dire plus proches ou qu'ils te connaissent mieux que tes amis, j'ai toujours été proche de beaucoup de gens, et une grande partie sont des musiciens et des artistes. J'en ai rencontré la plupart lorsque j'ai déménagé à Montréal vers 20 ans. Je suis originaire d'Edmonton, comme Mac DeMarco, mais j'ai beaucoup d'amis à Montréal et la plupart étaient là quand Arbutus a démarré. Mon manager gère le label et c'est l'un de mes meilleurs amis, donc je considère que c'est aussi un peu mon label. J'ai mon travail d'écriture puis le groupe que j'ai monté et ensuite j'ai mes amis avec qui je fais des affaires, ce sont différentes collaborations. Arbutus est une collaboration que je fais et qui va toujours fort.
Yeah well, it's my good friends. I also have a large family, blood family and step siblings back in Canada that I only see so often but I draw a line between family and friends but family doesn't mean more closer or that they know you better than friends do. I've always been very close to a lot of people, I have a lot of good friends and many are musicians and artists. Many of them I met in Montreal when I moved there, I was in my early twenties. Originally I'm from Edmonton, that's where Mac deMarco is from too but yeah Ihave a lot of friends and many where around when Arbutus started. My manager runs the label and he's one of my best friends, so I consider it like partially my label too. I have my writing I do and then I have my actual band that I put together and then I have my friends I do business with, these are different collaborations. So Arbutus is a collaboration I do and it's still going strong.
Je t'ai vu sur scène dans différents festivals l'année dernière, au Heart Of Glass, Heart Of Gold dans le sud de la France et au Iceland Airwaves à Reykjavik. Parfois tu es avec un groupe, d'autres fois tu es simplement accompagné par ton claviériste.
I saw you perform in different festivals last year, at the Heart Of Glass, heart Of Gold in the south of France and at the Iceland Airwaves in Reykjavik. Sometimes you're with a full band, other times it's just you and your keyboard player.
En fait je voulais que ça se stabilise cette année mais les choses changent plus que jamais parce que je tourne énormément, donc différentes personnes vont et viennent.
Actually now this year I wanted it to be more consistent but it's changing more than ever because I'm touring so much, people come on and off.
Donc c'est plus une question de disponibilité des différents intervenants ?
So it's more a matter of availability of the different collaborators?
Oui, et puis combien de temps peux-tu avoir des gens si dédiés à un ami équitablement ? Pouvoir les payer comme il se doit et faire en sorte qu'ils puissent se retrouver dans le fait de ne pas avoir de vie en dehors de ma vie ? Parce que c'est de la musique personnelle, et mes amis l'adorent et c'est cool, tous ces voyages que l'on fait, mais je ne veux pas user qui que ce soit, et puis parfois certaines tournées ne le permettent pas, comme avec Mac DeMarco. Etant donné que l'on voyageait avec Mac on pouvait juste prendre une personne en plus.
Yeah and how long can you have someone so dedicated fairly to a friend and even pay them well and make it worth it for them not having a life outside my life ? Because this is personal music and my friends love it and it's fun, the fun trips we have, but I don't want to wear anyone out and also certain tours… like for Mac DeMarco. Because we were travelling with Mac we could just bring one other person you know.
C'est donc une nécessité, mais aimes-tu aussi jouer avec des line up différents ?
So it's out of necessity but do you also like performing with different line ups?
J'aime être rafraîchi mais tu peux aussi faire ça avec le même line up. J'aimerai avoir un line up plus stable, mais je ne pense pas que ça sera pour cette année, peut-être l'année prochaine. Si je devais choisir, je serais en solo mais c'est impossible. Je l'ai fait pendant des années et puis je parle de solitude et tout ça, mais je ne pense pas que mes sets solo sont assez puissants, donc je joue avec une autre personne. Avec le groupe il y a beaucoup de vie sur scène, j'adore ça.
I enjoy being refreshed but you can do that with the same lineup too. I'd like to have a more consistent lineup but I don't think it will happen this year, maybe next year. If I had to choose I'd go solo but that's impossible. I did that for years and I sing about loneliness and stuff, but I don't think that my shows are strong enough solo so I'm playing with one other person. Now with the band you get a lot of life on stage so I love that.
Sur scène tu parais souvent ivre ou défoncé. Est-ce que c'est quelque chose qui t'aide à te lâcher ou ça fait juste partie de l'amusement des  tournées ?
On stage you often seem intoxicated, is it something that helps you loosen up or is it just part of the fun while on the road?
Oui, j'utilise l'alcool pour mettre ce gros… hum…  comment dire ? Si mon cerveau est complètement déchiré, je peux laisser sortir les mots et aller plus facilement à cet endroit où je vais souvent  et simplement être là et laisser la musique sortir, la canaliser. Mais j'ai arrêté de boire il y a quelques mois maintenant, parce que ça devenait impossible pour moi de continuer à travailler. L'année dernière j'ai beaucoup abusé de la drogue et de l'alcool et quand je n'étais pas en tournée j'étais perdu, donc je continuais juste à prendre beaucoup de drogue et un jour j'ai craqué en quelque sorte. Il a fallu que j'arrête si je voulais continuer à tourner. Tourner sans arrêt est épuisant et quiconque m'a vu l'année dernière m'a vu défoncé. J'aime me défoncer, c'est cool et des fois je me dis : « J'irais bien voir Sean Nicholas Savage en concert ce soir ». Ok cool mais tu aimerais le voir défoncé ou pas défoncé ? J'avais tendance à croire que : « Oh ça serait vraiment cool s'il était défoncé parce que comme ça il se planterait peut-être sur certaines choses mais il pourrait aussi faire des trucs que les gens normaux ne peuvent pas faire ». Et puis beaucoup de chanteurs dans les années soixante prenaient du speed tout le temps et encore aujourd'hui certainement, en coulisses, beaucoup d'artistes prennent des produits, tu sais, des performeurs, c'est comme les sportifs s'ils ne prenaient pas des tests d'urine, ça te permet simplement d'être au top. Je suis vraiment tombé dans les excitants, speed, cocaïne, MDMA. La MDMA c'est génial quand tu chantes et ça rend les choses encore plus émotionnelles pour moi. Et puis beaucoup d'alcool parce que j'ai toujours fait ça, mais j'ai dû arrêter parce que c'était trop pour mon corps. Il fallait que je fasse un choix. Je ne meurs pas vraiment, je me crame et j'ai envie de mourir mais je ne vais pas encore mourir donc je continue de vivre. Les gens se disent : « Whoa je vais mourir, je me défonce trop, je suis déchiré, je vais mourir », mais ce qu'il se passe c'est que tu ne meurs pas, tu vis mais quelque chose se dérègle chez toi et il t'arrive de sales trucs, des problèmes avec tes organes, ton cœur, tu sais des trucs terribles mais qui ne sont pas la mort et après t'es toujours vivant mais c'est pire, donc je vais juste essayer de garder ça sous contrôle et de continuer à faire mes trucs un peu plus longtemps.
Yeah I would use alcohol to put this big…hum… If my brain is just completely blown off then I can just speak the words and go to that place that I often go to a lot easier and just stand there and let the music out, channeling it, but I stopped drinking a few months ago now because it was becoming impossible for me to continue to work. And last year I got a lot of drugs and alcohol abuse and when I wasn't touring I didn't know what to do with myself and so I was just abusing drugs and I sort of snapped and had to stop so that I could keep touring. Touring relentlessly is also very tiring and if anyone saw me last year I was always like very intoxicated.I like getting high, it's cool when I'm like "I'd like to go see Sean Nicholas Savage tonight" ok cool but would you like to see him high or not high ? And I used to think "Oh it would be really cool if he was high because then maybe he would fail on some things but he can also do other things that average people can't do you know ». And I think a lot of singers in the sixties were taking speed all the time and even today maybe, behind the scenes, a lot of artists are taking speed, performers you know, it's like in sports if they didn't test for pee, just makes you able to be tip top. I got really into uppers like speed, cocaine, MDMA. MDMA feels really good singing and it makes it emotional for me too, and lots of drinking because I always did that, but I had to stop because as it sounds, it's a little too much for my body. I had to make a choice. I don't really die, I get burnt out and I want to die but I'm not gonna die yet so I have to keep living. People think like "whoa I'm gonna die, I'm blowing myself away, I'm so fucked up I'm gonna die" but what happens is that you don't die, you live but something goes wrong with you and you have some bad things happening in your life, problems with your organs, your heart, you know, terrible things that happen to you that aren't death, and then you're still alive and it's worse so I'm gonna keep it as good as I can, just trying to keep going a little longer.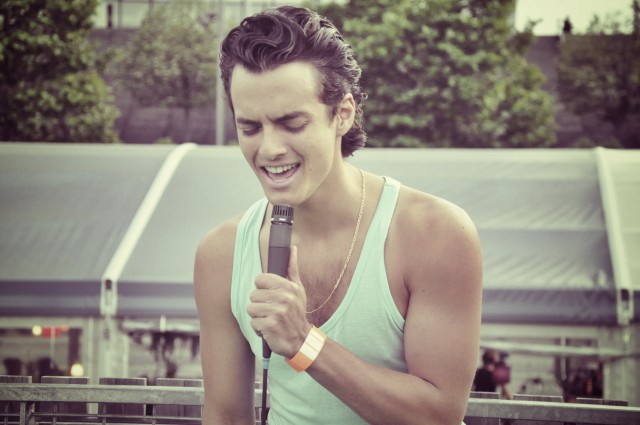 Tu te considères plus comme un auteur/compositeur ou comme un performeur ? Quelle est l'importance du live en comparaison au travail de studio ?
Do you consider yourself more as a songwriter or a performer? How is the live show important in comparison to the studio work?
Ce sont deux choses assez différentes. Le travail de studio est aussi assez éloigné du travail d'écriture. J'écris avant d'enregistrer. Je donne de l'importance à l'esthétique et à une certaine qualité donc ça sonne parfois un peu lo-fi. Le seul moyen que j'ai trouvé pour atteindre la qualité que je veux dans les circonstances dans lesquelles je me trouve avec le temps que j'ai à disposition, est d'opter pour quelque chose d'un peu trash, pour ajouter un peu de mordant. Quand c'est de la musique aussi sensible, il faut avoir un peu de mordant sinon tu finis par faire quelque chose d'un peu cheap. Je dois être sincère, et je trouverai un meilleur moyen pour l'être, à terme j'aimerai sonner plus hi-fi. Je prends une chose à la fois, mais je suis essentiellement porté sur l'écriture, et ce depuis que je suis petit.
It's two pretty different things. The studio work is also not so close to me to the writing. I write before I record. I value aesthetic and a certain quality so it might sound on the lo-fi end sometimes. The only way I've been able to get that quality that I want in the circumstances I've been stuck in in the time frames I've had is to go for a little bit of trash to give it an edge. When it's such sensitive music you have to have an edge otherwise you're just making cheap stuff. I have to be real and I'll find a better way to do that, I want to be more hi-fi eventually.  I'm tackling one thing at a time, but I'm mainly a writer, I've always been since I'm little.
Quand as-tu commencé à écrire de la musique ?
When did you start writing music?
J'ai commencé à enregistrer mes chansons quand j'avais 12 ans à peu près mais je fais des chansons depuis aussi tôt que je puisse me souvenir.
I started recording my songs when I was twelve or something but I was making songs as soon as I can remember.
Qu'est-ce que tu écoutes en ce moment ?
What are you listening to at the moment?
Aujourd'hui on a écouté une compilation que j'ai faite de mes chansons préférées d'Elton John. Je l'ai écoutée avec beaucoup d'attention, je l'ai étudiée et j'en ai retiré une grande satisfaction. Je n'avais jamais écouté en profondeur certaines de mes chansons préférées comme Rocket Man. On dirait des paroles drôles, on peut voir ça comme un délire genre : « Je suis tout le temps défoncé, je suis tout le temps défoncé », des trucs comme « Space is no place for a kid » peuvent paraître cheesy mais il s'agit d'une simple métaphore vraiment cool, des paroles lourdes de sens hyper cool. On écoute aussi beaucoup de mix de trance et quelques vieilleries, des trucs jazz, tout ça m'inspire beaucoup.
Today we listened to a compilation I made of my favorite Elton John songs. I listened very closely, I was studying it so I got a lot of satisfaction out of that. I never listened close enough to my favorite songs of his like "Rocket Man". They seem like funny lyrics you can think of it as a "I'm always high, I'm always high" thing. Things like "space is no place for a kid" might seem cheesy but it's a cool and simple metaphore, just really cool heavy lyrics. We listen to a lot of trance mixes too and some oldies, like jazzy stuff, all that's very inspiring.
Quels sont tes projets dans un futur proche ?
What are your plans in the near future?
J'ai un emploi du temps chargé. Je n'ai pas de maison donc on planifie ma vie très en avance. Les gens qui ont un chez eux sont là genre : « Je vais faire ci et ça et après je rentre chez moi », moi je suis toujours obligé de planifier très en avance. Je vais tourner deux mois au Etats-Unis, après j'ai des concerts à Moscou, je vais enregistrer un peu à Londres, travailler sur un film à Vancouver, jouer à NY et encore tourner en Europe. Je compose un nouvel album aussi.
I have a big schedule. i don't live anywhere so we plan my life way in advance. People who have houses are like « I'm gonna this and this and then i'll go home » but I don't have a home so i'm always planning way in advance. I'm gonna tour two months in the US, then I have shows in Moscow, I'm going to go to London to record a bit, work on a movie in Vancouver, play in NYC and tour in Europe again. I'm making a new album too.
Vidéo