Retour à Toronto où la scène musicale regorge d'artistes talentueux et focus cette semaine sur Scott Hardware, qui sortait l'été dernier une cassette EP Mutate Repeat Infinity sur le label montréalais Banko Gotiti Records. Scott Hardware, anciennement connu sous le nom de Ken Park, a notamment roulé sa bosse au sein des groupes canadiens Ostrich Tuning et Hooded Fang. Mutate Repeat Infinity regroupe six tracks d'une pop synthétique aux influences dance, house et new wave. Beats dirty, mélodies élégantes et lyrics éclairés, cet EP regorge de pépites – écoutez notamment New Money Walk, Gertrude ou encore Black Humour. En attendant la sortie imminente d'un nouvel enregistrement, découvrez les réponses du Canadien à notre interview et écoutez en exclusivité sa magnifique reprise de Ces Gens-Là de Jacques Brel. À noter que Scott Hardware sera en tournée en Europe, dont deux dates en France : les 24 et 25 mai prochains au Pop In à Paris et au Rouge à Lille. Il partagera l'affiche sur ces deux dates avec Ice Cream, duo féminin à la pop obscure et minimale. Be there !
D'où viens-tu ?
Where do you come from?
Petrolia, en Ontario au Canada.
Petrolia, Ontario, Canada.
Où vas-tu ?
Where are you headed?
Eh bien, en Europe entre le 20 mai et le 14 juin. En France, tu veux dire ? On joue à Paris le 24 et à Lille le 25.
Well, Europe between May 20th and June 14th. France you ask? We play Paris on the 24th and Lille the 25th.
Pourquoi la musique ?
Why music?
C'est une compétition de sabotage personnel que j'entretiens avec moi-même depuis des années.
It's a years-long, bridge-burning competition I have with myself.
Et si tu n'avais pas fait de musique ?
And if music wasn't your thing?
Là c'est difficile parce que, vraiment, je n'ai jamais montré d'aptitude particulière ou de curiosité pour quoi que ce soit d'autre.
This one's tough because, really, I've never show any prowess or even curiosity towards anything else.
Une épiphanie personnelle ?
An epiphany of yours?
J'ai beaucoup pensé au fait de s'excuser, l'année passée. Les excuses, je m'en fiche. Je n'ai jamais besoin d'en recevoir de quiconque et je n'en fais pas non plus. Et si je me trompe, ou si quelqu'un sent qu'il m'a fait du tort, je préfère simplement qu'il y ait un changement de comportement sur la durée pour regagner la confiance de l'autre. Trop lourd ?
I thought a lot last year about apologies. I don't care for them. I don't require them from anyone ever, and I don't give them out. If I'm wrong, or if someone else feels as I've they've wronged me, I prefer we simply change our behaviour over time to earn trust back. Too heavy?
Une révélation artistique ?
Your artistic breakthrough?
Je fais beaucoup de musique calme ces temps-ci.
Lately I'm playing a lot with quiet music.
Le revers de la médaille ?
Any downside?
J'adore danser et faire danser les gens pendant les concerts.
I love and dancing and making people dance at shows.
Y a t-il une vie après la mort artistique ?
Is there life after artistic death?
Oui, j'en suis sûr. Les gens se sortent de situations bien pires tous les jours.
I'm sure there is yes, people recover from much worse everyday.
Un rituel de scène ?
Your pre-stage ritual?
Je suis toujours anxieux avant chaque concert, mais j'ai fini par accepter que ça fait partie du truc. Je ne me sens mieux qu'à partir du moment où je saute un peu partout pour me débarrasser de cette énergie. Je fais des jumping jacks et je bois souvent un peu de whisky pour rentrer dans mon rythme cardiaque effréné.
I still get anxiety before every show, and I've come to accept that it's part of the whole thing. I won't feel good until I'm jumping around getting rid of that energy. I usher in my extremely high heart rate with some jumping jacks and often a bit of whiskey
Avec qui aimerais-tu travailler (musique et hors musique) ?
Who would you work with (musically or not)?
J'adorerais faire la musique d'un film de Wim Wenders.
I would love to make music for a Wim Wenders film.
Quel serait le climax de ta carrière ?
What would be the climax of your career?
Faire un disque irréfutable, le genre de disque qu'on reconnait comme significatif même si on le déteste. Ou sur lequel tout le monde a une opinion.
Making an undeniable record, the kind where even people who hate it recognize that it's meaningful. Or that everyone has an opinion on it.
Retour à l'enfance, quel conseil te donnes–tu ?
Back to your childhood – what piece of advice would you give your young self?
Travaille dur, fais ton coming out plus tôt.
Work hard, come out of the closet earlier.
Comment te vois-tu dans trente ans ?
How do you see yourself thirty years from now?
Je n'ai jamais pensé aussi loin dans l'avenir, et même maintenant je ne peux même pas imaginer. Honnêtement, je suis très pessimiste et je traverse de longues périodes où je pense que la civilisation n'existera plus dans trente ans. Donc j'essaye de ne pas faire trop de plans.
I've never thought that far hear, and even now I can't even imagine. I'm honestly very doomy, and I go through long periods of thinking there'll be no civilisation in 30 years, and as a result I try not to make too many plans.
Comment vois-tu évoluer ta musique ?
How do you see your music evolve?
Je la vois s'étendre dans toutes les directions – plus loin dans la vulnérabilité, plus loin dans la difficulté, qu'elle porte plus loin – bref, plus loin.
I see it expanding in every direction – Further vulnerable, further difficult, further accessible – further, in short.
Un plaisir coupable ou un trésor caché (musique ou hors musique) ?
Your guilty pleasure or hidden treasure (musically or not)?
Plus personne ne se sent coupable ! Sauf moi, apparemment je préfère regarder des films pourris. Et pire encore, j'aime vraiment ces deux nouveaux singles de Bruno Mars. Allez-y, foutez-moi en taule !
No one feels guilty anymore! Except me, I seem to prefer terrible movies to good ones. And worse yet, I really like those two new Bruno Mars singles. So sue me!
Photo : Umair Dawin
Écoute exclusive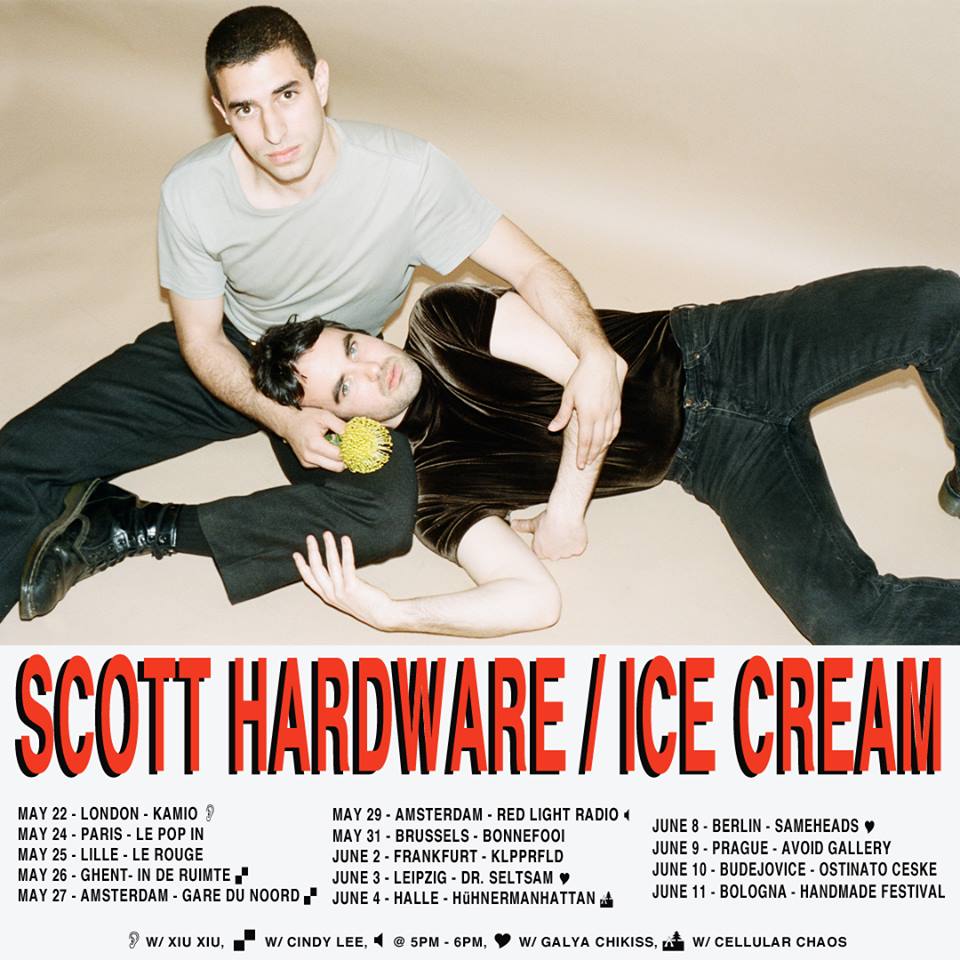 Audio
Vidéo
Tracklist
Scott Hardware – Mutate Repeat Infinity (Banko Gotiti, 24 juin 2016)
01. New Money Walk
02. He Began Again
03. Indictment
04. Gertrude
05. Black Humour
06. Mutate Repeat Infinity