L'américain Kerry Leimer est de ces musiciens sûrs de leur art, sculptant la matière sonore avec autant de discrétion que de longévité. Le natif de Seattle, qui emmancha Palace Of Lights accueillant dès 1979 outre ses propres œuvres, celles de Marc Barreca ou plus épisodiquement de Robert Carlberg, et à qui le label RVNG Intl. a consacré l'année dernière une compilation intitulée A Period Of Review – Original Recordings: 1975-1983, délaye depuis lors une ambient iconoclaste, inspirée des standards de l'époque tel le My Life in the Bush of Ghosts de Brian Eno et David Byrne paru en 1981, mais s'en détachant du fait d'une attirance prononcée pour les rythmiques issues de musiques essentiellement noires que sont le funk, le hip-hop, la disco ou même la world music. En témoigne son projet Savant instigué via d'épisodiques et fragmentaires collaborations avec David Keller, Dennis Rea, James Keller et les précités Marc Barreca et Robert Carlberg. Créditée uniquement d'un maxi et d'un LP à son actif, respectivement Stationary Dance / Sensible Music datant de 1981 et The Neo-Realist (At Risk) divulgué en 1983, la formation jetait un véritable pont entre ambient minimaliste, collages sonores répétitifs et post-punk à la basse slappée. Toujours sur la brèche, la structure New-Yorkaise RVNG Intl. a eu la bonne idée d'exhumer l'essence de cette éphémère collaboration par le biais de la compilation Artificial Dance parue le 4 septembre dernier et regroupant lesdites premières sorties en plus de quelques inédits s'insérant à merveille dans l'ensemble. Kerry Leimer est disponible et affable, il fallait bien qu'on lui pose quelques questions.
Kerry Leimer l'interview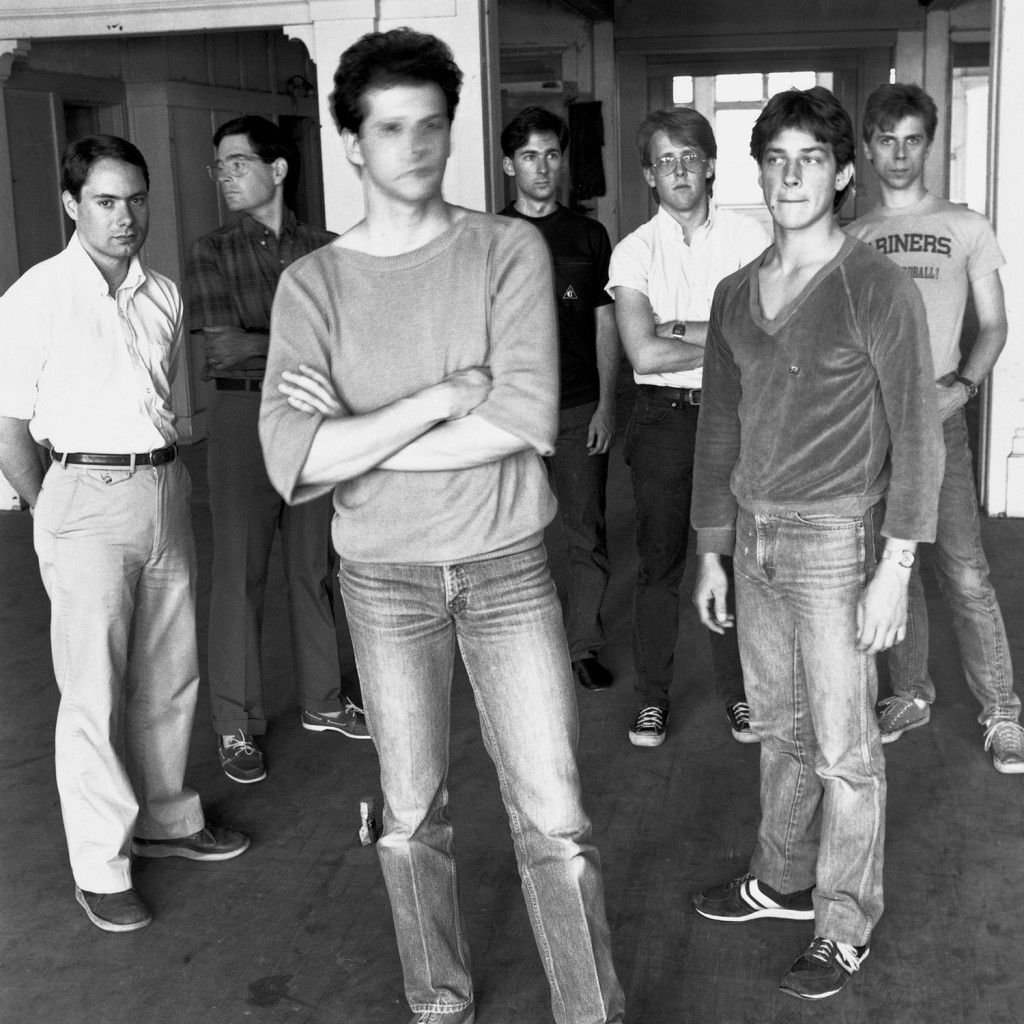 Tu as lancé ta carrière avec Savant. C'était un vrai groupe ou un projet personnel ?
You began your career with Savant. It was a real group or a personal project?
À l'époque où je tâtonnais sur les projets de Savant, j'avais déjà sorti trois albums solos. Ce n'était pas vraiment le début de ma carrière, mais j'avais suffisamment appris, à ce moment là, pour éviter de transformer l'expérience en complète pagaille. Savant était surtout pour moi une façon de jouer avec des instrumentations et des formes plus classiques : un rock artificiel. Peu de musiciens se retrouvaient ensemble dans le studio et aucun n'a vraiment entendu avant la fin la forme qu'ont commencé à prendre ces morceaux. Les fragments ont été assemblés dans une sorte de proto-sampling où quelques éléments clés seulement occupaient toute la durée. En outre, Savant n'a jamais été un groupe, même si nous avons essayé de jouer Stationery Dance une fois en live.
By the time I got around to the Savant projects I had already released three solo albums, so it wasn't the start of things for me, but I had learned enough by that time to avoid making a complete hash of the experiment. Mostly Savant was my way of playing with more typical instrumentation and forms: artificial rock. Few of the musicians were ever in the studio together and none really heard the shape these tracks began to take until it was finished. The pieces were all assembled in a sort of proto-sampling style with very little play-through on any key element. And, Savant was never a group, though we did try to play Stationary Dance live just once.
Peux-tu nous détailler tes motivations au départ et tes influences ?
Can you explain to us what were your basic motivations and what were your influences?
Mon approche de l'écriture et de l'enregistrement s'appuie sur un intérêt très large pour le son, les détournements de formes classiques et de méthodologies. Savant était une manière de faire évoluer les choses hors de mon influence personnelle, et de changer mes réactions habituelles à l'enregistrement : les musiciens faisant partie du projet ont décidé du type d'instrument, de l'agencement général, du timbre, etc., même s'ils ont rarement eu accès à une vision globale de ce qui se déroulait. Ces concepts reposent en fait sur une analyse artistique, en particulier de jeux à l'aveugle et surréalistes comme le cadavre exquis ou la décalcomanie sans objet préconçu, de travaux d'artistes comme Duchamp et Man Ray et d'écrivains comme Lautremont, Rimbaud, Breton et Éluard.
A very broad interest in sound and in subverting typical forms and ways of working drives most of my approach to writing and recording. Savant was a way to take things a bit further out of my own influence, and a way to alter my own familiar reactions to recording — the musicians that were part of the work decided on the type of instrument, general set-up, timbre, and so on — even though they rarely had access to any overview of what was going on. These ideas actually originated from a study of fine art, mostly the blind-folded surrealist games like Exquisite Corpse or Decalcomania Without Preconceived Object, and the work of individual artists such as Duchamp and Man Ray, and writers such as Lautremont, Rimbaud, Breton and Eluard.
On pense évidemment à Brian Eno et David Byrne. À cette époque, il y avait une scène américaine pour ce genre d'ambient ?
We think obviously of Brian Eno and David Byrne. There was a scene at this moment in the US for this kind of ambient?
J'en suis persuadé, même si je n'en faisais pas partie. Le Nord-Ouest Pacifique de cette époque accueillait une esthétique un peu post-punk et new wave. J'ai beaucoup apprécié les travaux de formations comme The Wipers et Three Swimmers, mais je ne voyais aucun intérêt à faire partie d'un groupe ou à jouer sur scène, et je suis resté en retrait des aspirations traditionnelles consistant à développer un public, chercher un label et essayer de vivre de ma musique.
I'm sure there was, though I was not a part of it. The Pacific Northwest at that time had a bit of a post-punk and new wave aesthetic rolling around. I greatly enjoyed the work of bands like The Wipers and Three Swimmers, but I had no interest in being part of a band or in performing and remained removed from the traditional aspirations of building an audience, looking for a label, and trying to make my living making music.
Plus de vingt ans après votre seul enregistrement avec Savant, pourquoi sortir une anthologie sur Rvng Intl. ? Restes-tu convaincu de la modernité de votre production à cette époque ?
More than twenty years after your unique record with Savant, why to take out an anthology on Rvng Intl.? Are you still convinced of the modernity of your work at that time?
La décision de publier Artificial Dance et le précédent, A Period of Review, appartient à RVNG, et je ne peux pas prétendre connaître toutes leurs raisons. Mais je sais que le label est respecté et soutient les musiques et artistes, ce qui me tient à cœur. Plus largement, on observe une tendance évidente à réenregistrer les travaux pionniers d'une partie des précurseurs de l'enregistrement maison et du DIY. Peut-être que cela va de pair avec la redécouverte croissante du vinyle et l'attachante séduction de l'analogique et ses défauts ? Et je pense que c'est une excellente chose pour un public qui s'intéresse à la façon dont émergent l'innovation et les nouvelles formes. S'agissant de la modernité d'Artificial Dance, ce genre de définition reste la responsabilité d'autres personnes mais, de mon point de vue, oui. Assurément moderne.
The decision to release Artificial Dance and the previous A Period of Review belongs to RVNG — I can't claim to know what all their reasons are. But I do know that the label is respected and supports musics and artists which I care about. More broadly, there's obviously a trend to recapture the pioneering work of some of the home studio, D-I-Y advance force. Perhaps this goes hand-in-hand with the growing rediscovery of vinyl and an endearing longing for analog and all its failings? And I think that it's a great thing for listeners who have an interest in how innovation and new forms emerge. As for the modernity of Artificial Dance, such definitions are in the care of others but, for my sake, yeah. Absolutely Modern.
Depuis 1979, tu gères le label Palace of Lights. Pourquoi avoir choisi Rvng Intl. pour éditer Artificial Dance ?
Since 1979, you manage the label Palace of Lights. Why do you chose Rvng Intl. to take out Artificial Dance?
Je suis très flatté de pouvoir dire que ce sont eux qui m'ont choisi. Je pense que Matt pourrait proposer une meilleure réponse.
I'm very pleased to be able to say that they chose me — I think Matt could give you the best answer to this one.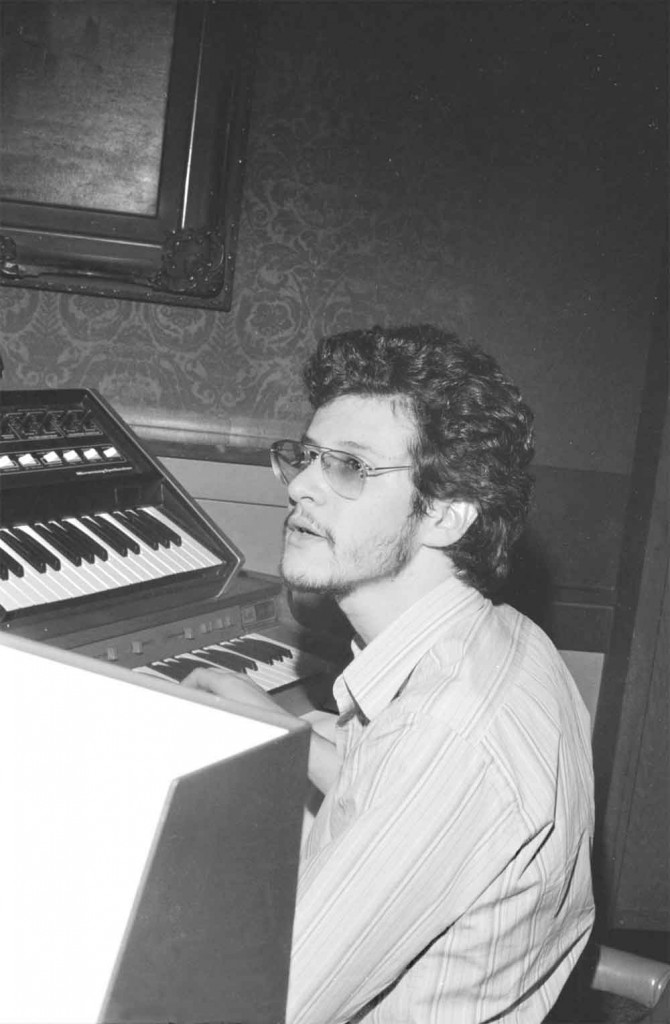 Ton label a en particulier sorti des enregistrements d'anciens membres de Savant comme Marc Barreca ou Roy Finch. Quelle a été ta principale motivation dans ce projet ? Est-elle toujours intacte ?
Your label especially took out records of former members of Savant as Marc Barreca or Roy Finch. What was your main motivation in this project? Is it always intact?
Pour PoL, la motivation était très simplement de rendre la musique alternative accessible à ceux qu'elle intéresse. L'album de Roy était synth-pop, ceux de Marc sont très électroniques, celui de Michael William Gilbert new jazz, le travail de Gregory Taylor est puissamment génératif et celui de Steve Peter profondément expérimental. À chaque sortie, c'est une résistance modeste mais obstinée à l'illusion du genre, à la musique mise sous packaging comme d'autres produits.
The motivation for PoL was very simple — to make alternative music available to those who are interested. Roy's album was synth-pop; Marc's albums are very electronic; Michael William Gilbert's was new jazz; Gregory Taylor's work is highly generative, Steve Peters' highly experimental. In every instance it's been a small but stubborn resistance to the illusion of genre, of packaging music like any other product.
Palace of Lights est aussi à l'origine de deux sorties de Robert Carlberg, membre de Savant et fondateur d'Anode en 1975. T'intègres-tu aussi dans cette "culture cassette" ?
Palace Of Lights is also at the origin of two Robert Carlberg's releases, member of Savant and founder of Anode in 1975. Are you also considered of this "cassette culture"?
L'Anode original consistait en Robert et moi-même. Et je dois dire que le travail effectué par Robert avec Anode n'est pas seulement remarquable, mais humoristique, engageant et réflexif. Il était bien plus impliqué que moi dans la scène cassette. J'ai publié deux cassettes sur PoL uniquement parce qu'on pensait que la sortie vinyle était un risque financier. Idem pour le Music Works For Industry de Marc Barreca, qui précède son premier album PoL, Twilight. Mais une partie de mes toutes premières cassettes, des trucs produits entre 1977 et 1979, ont fait leur chemin jusqu'à la cassette et font aujourd'hui partie de l'American Cassette Culture box de VOD, à paraître fin septembre. Mais je continue à penser qu'il n'y avait pas d'effort conscient, de notre côté, pour appartenir à cette catégorie : certains travaux ont rejoint la culture cassette malgré moi.
The original Anode was comprised of Robert and myself. And I have to say the work Robert has done as Anode is not only keenly distinct, but humorous, engaging and thoughtful. He was much more involved in the cassette scene than I was. I released two cassettes on PoL only because we didn't feel it was worth the cost to put the work on vinyl. Same was true for Marc Barreca's Music Works For Industry, which predates his first PoL album Twilight. Still, some of my very early tapes — stuff that was done between 1977 and 1979 — found their way onto cassette and are now a part of VOD's American Cassette Culture box set being released at the end of September. But still, I don't feel that there was a conscious effort on our part to somehow belong to that category; a few works were included in the cassette culture despite me.
Même aujourd'hui, tu publies des enregistrements sous ton nom propre. Quelle est ta vision de la création contemporaine ? C'est un confort, d'avoir toujours plus de machines et de précision ?
Even today you take out records on your own name. What is your vision of the contemporary creation? Is it more comfortable to have always more machines and precision?
Laisser les machines prendre les devants a toujours été mon approche par défaut, et certains de ses aspects sont impactés par l'évolution des machines. Mais au final, le travail s'appuie encore beaucoup sur la chance, l'accident, la qualité surpassant la quantité. Il y a aussi cette pulsion de me détacher du processus, même s'il s'agit plutôt d'une posture illusoire, et une frustration persistante avec les technologies informatiques dès lors qu'une majorité d'entre elles semble complètement dévolue à faciliter les approches les plus classiques de production musicale. Par exemple, quand il fallait appliquer une voix à un synthétiseur analogique, il n'y avait aucune façon de garantir qu'elle serait rendue à l'identique, c'est là où résidait le génie de ce genre de production matérielle. De nos jours évidemment, la capacité absolue à la répétition est accessible à des degrés affligeants. Ce degré d'automatisation a pour conséquence que bien des aspects de la musique fonctionnent aujourd'hui de la façon dont les ressources photographiques "facilitent" le design. Les solutions "automatiques" utilisées pour être véritablement uniques peuvent désormais paraître aussi courantes que d'autres marchandises produites en masse. Ce qui implique que nous devons continuellement chercher de nouvelles façons de générer des erreurs et de laisser la porte ouverte aux accidents.
Letting machines take the lead has always been my default setting so, as the machines change so do certain aspects of my approach. In the end though, the work remains very reliant on chance, on accident, on quantity yielding quality. There's an impulse to remove myself from the process too, though this is most likely a self-deluding affectation. And there's a lingering frustration with computer-based technology since much of it seems absolutely obsessed with facilitating the most typical approaches to generating music. For example, that when developing a voice on an analog synthesizer there was virtually no way to guarantee you'd ever recall it in just the same way –– which was the great thing about that generation of gear. Now, of course, absolute repeatability is available to excurciating degrees. That degree of automation results in many aspects of music now operating in the way that stock photography "enables" design. "Automatic" solutions used to be fairly unique — now they can seem as common as any other mass-produced commodity. Which means we have to continually seek new ways of making mistakes and leaving the door open to chance events.
Comment vois-tu ce retour de plus en plus prégnant du format cassette ? Cela éveille-t-il ton intérêt ?
How do you judge this return more and more pregnant of the cassette format? Does it interest you?
Je suis un agnostique du format. Du point de vue de la composition, travailler dans des limites strictes ou sans aucune limite n'a pas d'intérêt : le médium jouera un rôle important dans la traduction de ce que tu fais, peu importante le degré de contraintes ou de flexibilité de l'environnement de travail. Au niveau de l'écoute, en tant qu'auditeur, je ne me soucie pas vraiment des formats concédés. Écouter aussi clairement que possible ce qui a été fait, que ce soit sur cylindre en cire ou en 24/96, revient à expérimenter ce travail sans autre forme de dénigrement ou contribution au signal reproduit.
I'm format-agnostic. From a compositional point of view working within strict limits or absolute limitlessness isn't of interest: the medium will have a great deal to say about whatever you do no matter how constrained or how flexible the work environment is. As for playback, as a listener, I don't really care for compromised formats. To hear as clearly as possible whatever was done — whether on a wax cylinder or at 24/96 — is to experience that work without further denigration or contribution to the reproduced signal.
Si tu devais collaborer avec un artiste de Rvng Intl., lequel choisirais-tu ? Et pourquoi ?
If you had to collaborate with an artist of Rvng Intl. which it would be? And why?
Je suis très touché par le travail de Bing & Ruth, mais étant resté un dilettante autodidacte, je doute sincèrement d'être capable de collaborer à ce niveau.
I am very moved by the work of Bing & Ruth, but, having remained an autodidactic dilettante, I sincerely doubt that I'd be capable of collaborating at that level.
Audio
Vidéo
Tracklisting
Savant – Artificial Dance (RVNG Intl., 4 septembre 2015)
01. Using Words
02. Indifference
03. The Neo – Realist
04. Shadow in Deceit
05. The Shining Hour
06. Knowledge And Action
07. Heart of Stillness
08. Stationary Dance
09. Sensible Music
10. Deceit in Passion
11. The Radio
12. Facility
13. Falling At Two Speeds
14. Fault Index