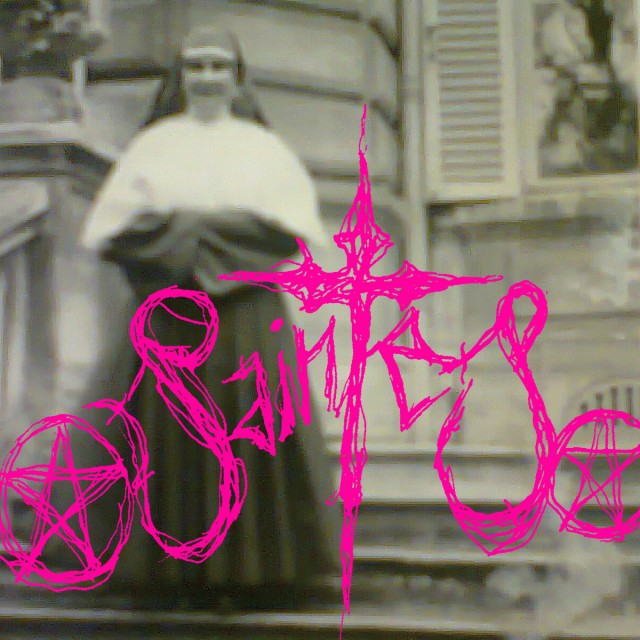 Certes le trio Saintes (lire), à  la base constitué de la seule Anne-Sophie Le Creurer, a tout juste une année dans le buffet, mais force est de constater que les Parisiens ont de la ressource, étrennant leur premier album Horizontal/Vertical, paru le 11 septembre dernier via Crash Symbols, ce vendredi 11 octobre au Point Éphémère en bonne compagnie des Australiens de TV Colours et des Messins de The Feeling of Love (concours). L'occasion idoine pour nous pondre une mixtape bigarrée et commentée. Pas mal pour une première.
Audio
Saintes Mixtape x Hartzine
Pour cette première mixtape de Saintes : Charlie a mis des trucs post-punk comme Dog Eat Dog, Lucrate Milk ou Beak> voir plus bourrin comme Ekkaia ; Floriane qui aime bien le garage a choisi de mettre ses chouchous de Black Manila, des trucs fun 80's à  la Patrick Coutin ou Blondie et de son héros Lou Reed ; et Anne-Sophie de la pop romantico-baroque 60's (Claire Dixon, Marie Laforêt, Honeybus) , du Wu-Tang et du Magma ; il y aura aussi des bruits qui font peur mais également un peu de télé et de cinéma, sinon on a commencé par The Feeling of Love car ce titre a pas mal traîné sur nos baladeurs cet été et qu'on est heureux de jouer avec eux le 11 octobre au Point F avec aussi les Australiens de TV Colours.
01. Sylvia Plath – Candles
02. The Feeling of Love – Julee Cruise
03. Ekkaia – El Limite
04. Lucrate Milk – Kick Your Ass
05. Patrick Coutin – J'aime Regarder les Filles
06. Blondie – The Tide Is High
07. Magma – De Futura
08. The Velvet Underground – Some Kinda Love
09. Black Manila – June 95′
10. Beak> – Iron Action
11. Wu-Tang Clan – c.r.e.a.m (a capella)
12. Claire Dixon – Fleurs Vent
13. Dog Heat Dog – Third and Fourteenth
14. Honeybus – For Where Have You Been
15. Marie Laforêt – Si Je T'aime
Vidéo