S'agissant du nouveau LP de Red Axes qui se tramait, Ballad of the Ice, email de Crame du label parisien I'm a Cliché : « Si ça t'intéresse pas, je te verrai d'un autre œil. » Lequel, évidement je n'en sais rien, puisque la musique intelligente et rafraîchissante du duo israélien a tout de suite emporté mon adhésion. En témoigne la vidéo de The Watkins (lire). Alors évidement, j'ai voulu en savoir plus sur Dori Sadovnik et Niv Arzi qui, après quatre maxis, dont Tour De Chile en 2012 et l'avant-coureur Kicks Out Of You en mars 2014, ont accouché d'une vrai bombe à fragmentation sur le label de Cosmo Vitelli, à la croisée d'une multitude d'influences, de l'italo la plus viciée au post-punk le plus glacial. Entrevue ultra-concise avec Red Axes donc, et ce, à la veille d'une mini-tournée en septembre passant par le Scopitone de Nantes le 18, le festival Heart of Glass, Heart of Gold de Ruons le 19 et enfin l'Iboat de Bordeaux le 20.
Audio
Red Axes l'entretien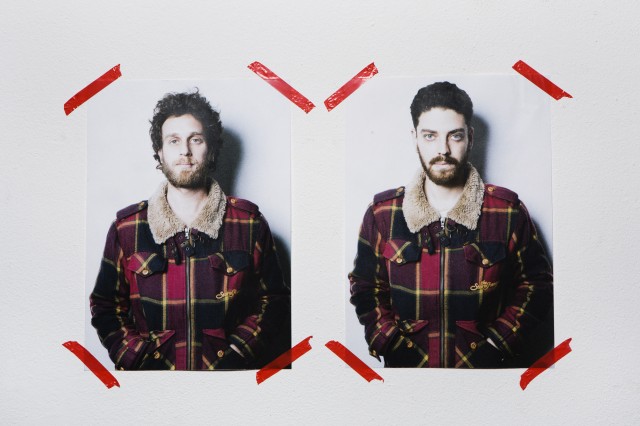 Comment est venue l'idée de Red Axes et comment avez-vous trouvé le nom ?
How did the whole concept of Red Axes begin and how did you come up with the name?
Pour être honnête, l'idée nous est venue en mâchant du khat, une feuille yéménite aux propriétés psychédéliques qui est assez populaire dans certaines régions d'Israël. A ce moment-là, on avait un groupe de post-punk qui s'appelait Red Cotton mais on a eu une révélation grâce au khat.
To be honest, it came to us while we were chewing Gat, a yemenite psychedelic leaf that is quite popular in certain parts of Israel. At the time we had a post punk band called red cotton, but the gat gave us an epiphany.
Votre musique électronique fait voyager l'auditeur entre la piste de danse et l'instropection. Quelles sont vos sources d'inspiration, vos motivations quand vous composez ?
Your electronic music makes the auditor travel between dancefloor and introspection. What are your sources of inspiration, your motivations when you compose?
On est inspiré par les différents endroits qu'on visite, nos rêves, et bien sûr par d'autres musiques, pas forcément celles des artistes qu'on connaît et qu'on aime, mais aussi la musique qu'on entend de manière inopinée.
We are inspired by different places we visit, dreams we dream and of course by other music, not necessarily by artists that we know and love but also from music we hear unexpectedly.
Quel est votre souvenir de clubbing le plus important ? Avez-vous toujours su que vous vouliez jouer de la musique électronique ?
What is your biggest nightclubbing memory? Did you always know that you wanted to play electronic music?
Une fois, alors que je jouais dans un club local, The Shesek, qui a fermé il y a un an, j'ai soudain eu l'impression d'être sur un bateau et de naviguer et que le sol était en mouvement, donc j'ai demandé à Niv de me remplacer. On n'a pas toujours eu l'intention de faire de la musique mais on a toujours su qu'on voulait faire de la musique.
One time when I (Dori) was playing at a local place called The Shesek, that was closed a year ago, I suddenly felt like I was navigating a ship and the ground was shifting, so I asked Niv to replace me. We didn't always know we wanted to make electronic music but we did always know we want to make music.
Comment approchez-vous la balance entre le temps et l'espace ? Comment mesurez-vous la dose adéquate d'hypnose et le minimalisme indispensable ?
How do you approach time/space? How do you measure the right dose of hypnosis and the necessary minimalism?
D'ordinaire, on pense qu'il faut épurer au maximum, mais parfois ce n'est pas le cas. On a une machine à voyager dans le temps qu'on a volé à l'armée mais ne le dites à personne.
We usually feel like less is more, but sometimes more is more. We have a space and time travel machine that we stole from the army, but don't tell anyone.
Votre premier EP, Ballad Of The Ice, semble plus technique et plus complexe que vos précédentes sorties. Avez-vous modifié votre façon d'appréhender ce LP ?
Ballad Of The Ice, your first LP, seems more technique and complex than your previous releases. Did you change your way to elaborate this LP?
Quand on a fait l'album, notre approche était différente de d'habitude, on avait une idée précise de ce qu'on voulait faire. On voulait raconter une histoire donc les morceaux devaient être reliés les uns aux autres. On faisait aussi plus attention aux détails.
When we made the album our approach was different than usual, we had a clear picture in mind of how things should be. We wanted to tell a complete story and so the tracks had to relate to one another, and we were also more into the details.
Après un certain nombre d'EP et ce premier LP, le label I'm a Cliché semble vous convenir parfaitement. Comment vous êtes-vous rencontrés et d'où vient cette relation particulière entre vous ?
After a lots of EP and this first LP, I'm a Cliché seems the perfect label for you. Tell me how do you met them and why there's this particular feeling between you?
On les a rencontrés en envoyant des démos, nous avons reçu une réponse favorable et depuis il y a une très bonne entente entre nous. C'est un peu difficile à expliquer, ça a été un déclic.
We met by sending them some demos, we got a positive response and there has been a very good connection between us since then. Kind of hard to explain, it just clicked.
Musicalement, quelle est votre patrie ? Vous sentez-vous plus attirés par d'autres pays comme l'Angleterre ou la France ou bien Israël et Tel Aviv en particulier restent-ils votre centre de gravité artistique ?
Musically, what's your country? You feel more attracted by others country, such England or France, or Israel, and Tel Aviv in particular, stays your artistic centre of gravity?
On se sent très liés à nos racines tel-aviviennes mais il y a des variations. On écoute de la musique du monde entier.
We feel very connected to our tel avivian roots, but it changes all the time. we hear music from all countries and continents.
Vous avez beaucoup tourné. Aimez-vous composer sur la route ou avez-vous besoin d'un endroit où vous poser pour créer ?
You've been touring a lot, do you like writing while on the road or do you need a place to settle down in order to create?
Quand on est en tournée, on est surtout concentré sur le fait de jouer de la musique et de nous imprégner de la scène locale. Généralement, on fait notre musique dans notre studio, à Tel Aviv.
When we are on the road we are mostly concentrated in playing music and absorbing the local scene. we usually make the music in our studio in tel aviv.
La France, et Paris en particulier, semblent être agitées par une nouvelle vague d'artistes électronique et techno. Qu'en pensez-vous ? Est-ce que le public est différent de ce côté-ci de la mer ?
France and Paris especially seems to be agitated by a new wave of electronic and techno artists. What do you think about it? Is the audience different on this side of the pond?
En France, il y a toujours eu une nouvelle vague depuis les années 60, il se passe toujours quelque chose de nouveau et la musique ne cesse d'évoluer.
In france there has always been a new wave since the 60s, always something new is happening, and the music keeps evolving.
Dernière question : pourriez-vous nous en dire plus sur vos futurs projets ? Concerts, EP, etc. ?
Last question, could you tell us about your future projects? Lives, EPs, etc.?
Nous avons plusieurs singles et EP qui sortiront bientôt. On travaille à l'heure actuelle sur nos concerts et on est constamment en tournée.
We have several singles and EP that are coming out soon. We are currently working on our live show and we are constantly touring.
Traduction : Marie-Eva Marcouyeux
Vidéos
Tracklisting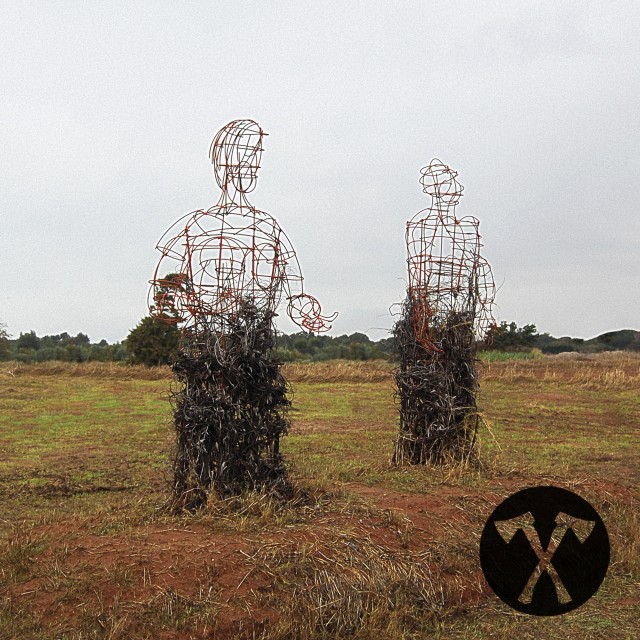 Red Axes – Ballad of the Ice (I'm a Cliché, 28 avril 2014)
01. Head Like Glass
02. Kicks Out Of You feat. Abrão
03. The Watkins
04. Only A Clown Can Catch An Axe feat. Abrão
05. Papa Sooma feat. Abrão
06. Neon
07. Candy
08. Bela Lugosi's Dead
09. Dreams Like A Tale