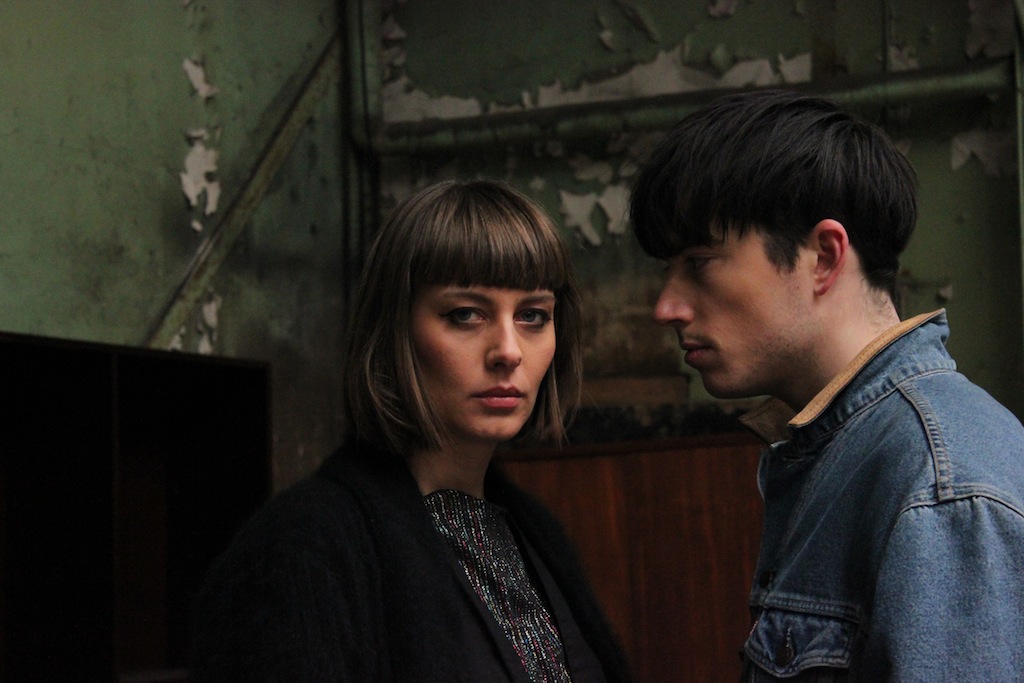 Auteurs d'un intriguant premier album, Beekeeper, qui avait l'année dernière retenu un peu de notre si volatile attention – au travers de l'addictive Clouds notamment – le duo danois Rangleklods est actuellement de passage en France pour quelques concerts, dont les Festivals Rockomotives et Generiq. Artisans d'un savant mélange entre synthétisme aventureux et pop à haute teneur émotionnelle, Esben Andersen et Pernille Smith-Sivertsen nous livrent parallèlement un nouveau titre, Control, prélude à un second album apparemment toujours en chantier. Autant de bonnes raisons pour leur poser quelques questions.
Rangleklods a d'abord été un projet solo avant de devenir un duo. Comment est intervenue cette transformation ?
Before turning into a duo, Rangleklods was at first a solo project. How did this transformation happen?
Esben : Très naturellement. Pernille a toujours été là. Au départ, elle était ma seconde paire d'oreilles. À chaque fois que je me sentais un peu perdu dans la création d'une chanson, je la consultais. Petit à petit, elle s'est retrouvée de plus en plus impliquée dans le processus et soudainement nous avons fait le titre Clouds ensemble, et ça nous a semblé être bon. Pernille a un talent incroyable pour déceler ce dont a besoin une chanson. Et dans 9 cas sur 10 on est complètement d'accord sur ce qui doit être fait.
Esben: Very organically. Pernille was always there. To begin she was my second pair of ears. Whenever I felt I'd lost touch with a song I asked her. Gradually she became more involved in the process and then suddenly we did Clouds together and it just felt right. Pernille has an amazing talent of hearing what a song needs. And in 9 out of 10 times we completely agree on what needs to be done.
Le fait d'être deux a-t-il modifié radicalement le processus créatif de Rangleklods ? Qu'est-ce que cela a changé dans votre manière de travailler ?
To what extent has being two affected Rangleklods' creative process? What has it changed in the way you work?
Pernille : C'est davantage une vraie collaboration, aujourd'hui. Nos idées se répondent. Esben continue à assurer tout le travail de production mais composer les chansons est désormais un effort commun. Chaque chanson est un obstacle différent, qui donne lieu à un processus singulier. Et c'est ce qu'on aime.
Pernille: It's more of a jam now. Ideas going back and forth. Esben still does all of the production but composing the songs is a joint effort now. Every song is a different obstacle so the process is different every single time. And that's how we like it.

Le chant, le son des voix semblent important dans votre travail. Y accordez-vous une importance particulière ? Qu'en est-il des textes eux-mêmes ? Le sens a-t-il autant d'importance que le son ?
The singing, the sound of the voices seems to play an important part in your work, does it actually? And what about the lyrics? Does the meaning have as much importance as the sound itself?
Esben : Pour nous, le son et le sens sont totalement interdépendants. On ne peut les séparer. Nous réfléchissons beaucoup à la manière de chanter une chanson donnée. La voix est un instrument, au même titre qu'une guitare ou autre, et il y a mille façons de l'utiliser. Alors on essaye de mener nos voix vers des territoires inexplorés. Si c'est bon pour la chanson, tant mieux.
Esben: Sound and meaning are completely intertwined for us. You can't separate one from the other. We think a lot about how to sing a certain song. The voice is an instrument like a guitar or whatever and there's many different ways of using it. So we challenge ourselves to go places with our voices were we haven't gone before. If it's the right thing for the song, that is.

Les textes de Beekeeper abordaient souvent les thèmes de la liberté et de la soumission/appartenance (à quelqu'un, aux règles, à son environnement). Est-ce une question qui vous étreint vraiment ?
Beekeeper's lyrics often were about freedom, submission/belonging – to someone, to rules or to one's environment. Is it a notion that you particularly embrace?
Pernille : C'est tout à fait vrai. C'est définitivement un sujet de réflexion pour nous. Nos vies sont un mix entre une complète liberté et une soumission aux règles et aux projets. En tournée, chaque détail est planifié. Lorsque nous sommes à la maison et qu'on travail au studio, on peut par contre se lever quand on veut, faire ce qu'on veut. Et ça peut s'avérer compliqué de naviguer entre ces deux mondes. Durant l'écriture de Home et Beekeeper, nous étions aussi très intéressés par les années adolescentes. Le sens des choses expérimentées pour la toute première fois.
Pernille: Right on the mark. It is definitely something we think a lot about. Our lives are a mixture of being completely free and completely bound to rules and plans. When we tour every detail is settled. When we're home and working in the studio you can get up at any time and do whatever you want. It can often be difficult to maneuver between the two worlds. Also we were very occupied by the teenage years while writing lyrics for Home and Beekeeper. The sense of everything being experienced for the very first time.
L'adolescence, en effet, semblait aussi être un sujet important pour vous, traité avec une certaine mélancolie…

Being a teenager seemed to be an important suject too and you treated it with melancholy…
Esben : Que tu veuilles l'admettre ou non, tu es très vulnérable durant cette période. Et on est très heureux que ces années soient derrière nous.
Esben: You're vulnerable during those years whether you want to admit it or not. We both long for that time as well as we're very happy those days are over.
Ces thèmes sont-ils toujours présents dans le prochain album ? A-t-il été porté par un thème en particulier ?
Are these themes still present in your next album? Is there any particular guideline to sustain this album?
Pernille : Nous n'avons pas encore complètement décidé. Le texte est toujours le dernier élément sur lequel nous travaillons pour chaque chanson. On a besoin de savoir à quoi ressemblent la composition, la production et les voix avant de savoir quelles sont les paroles idéales. L'avenir nous le dira.
Pernille: We haven't fully decided yet. The lyrics are always the last thing we work on for any given song. We have to know what the tone of the composition, production and voice is before we know what the right thing to write about is. Time will tell.
Même si votre musique est globalement expérimentale et électronique, on sent la volonté qu'elle soit par ailleurs organique et pop. Trouver un équilibre entre ces deux penchants est-elle une question centrale dans votre travail?
Even though your music is on the whole experimental and Electronic, one can feel an urge for it to be organic and pop. Is finding a balance between these two dimensions an essential question in your work?
Esben : Je dirais même quintessentielle. Nous ne sommes pas intéressés par le fait de faire des chansons totalement expérimentales, nous voulons qu'avec notre musique, l'auditeur soit saisi par l'émotion. Mais tout comme les auditeurs, nous n'aimons pas non plus la musique qui ne représente aucun défi. Rangleklods est le résultat naturel de tout cela.
Esben: Quintessential I'd say. We're not interested in making tracks that are entirely experimental – we want the music to emotionally grab those who give it a listen. On the other as listeners we don't like music that doesn't challenge us. Rangleklods is the natural result of those juxtapositions.

J'ai lu que, votre but étant d'avoir le meilleur son possible, vous préfériez utiliser quasi exclusivement du logiciel plutôt que du matériel analogique de qualité moyenne (concernant les synthés par exemple). Mais aussi que cela pourrait changer si vous aviez les moyens d'acheter du très bon matériel. Travailler via un ordinateur reste donc parfois une solution par défaut ? Avez-vous pu finalement acheter le matériel de vos rêves ?
I have read that one of your main goals was to have the Best possible sound: you would rather use almost exclusively software than average quality analog equipment ( as far as synths are concerned for example ). But you said also that this could change if you could afford excellent quality material. Is working with a computer a no-other-options solution? Did you get your dream material in the end?
Esben : Comme tous les producteurs que je connais, je rêve d'un authentique MiniMoog, d'un Arp2600, d'un énorme Neve Mixer, etc. On investit sans arrêt dans de l'équipement depuis Beekeeper et on a acheté une Fender Jazz Bass, un Korg MS20, un tas de Spring Reverbs de Corée du Sud et plein d'autres trucs en tous genres. Mais on utilise encore essentiellement du software. Le but est toujours d'en arriver au meilleur son possible. Et si c'est plus simple d'y arriver avec un plug-in qu'avec du matériel externe, je n'y vois pas d'inconvénient. Nous ne sommes pas des puristes de l'analogique. C'est le son qui me fascine, et je l'explorerai jusqu'à la fin de ma vie.
Esben: Like all other producers I know of I dream of an original MiniMoog, Arp2600, a giant Neve Mixer, etc. We invest in equipment all the time and since Beekeper we've bought an amazing mic, a Fender Jazz Bass, Korg MS20, a bunch of spring reverbs ordered from South Korea and various other shit. But mostly we still use software. It is still just about achieving the best sound possible, and if that's easier with a plug-in than outboard gear that's cool with me. We're not analogue purist. Sound is just fascinating to me and I'll keep exploring it for the rest of my life.
Vous avez habité Berlin avant la sortie de Beekeeper. Cette ville est devenue une sorte de Mecque pour électroniciens. Quelle influence a-t-elle eu sur votre musique ?
You lived in Berlin before Beekeeper's release, a city that has become some kind of Mecque for Electronic musicians. What influence has this city had on your music?
Pernille : La chose essentielle, c'est que Berlin nous a incité à comprendre la nature éclectique de notre musique. Tu peux tout trouver à Berlin. Et on aimait particulièrement aller dans les petits clubs et bars dans lesquels ils n'hésitent pas à enchaîner un titre soul avec un titre techno ou r'n'b. On a eu des bons moments là-bas.
Pernille: The main thing was that Berlin encouraged us to embrace the eclectic nature of our music. You can find anything in Berlin. And we especially loved going to the smaller clubs and bars where they didn't mind following up a soul track with techno or r'n'b. We had a good time there.
Jeff Mills, qui y a habité lui aussi, nous disait récemment en interview qu'à Berlin, on fabriquait de la musique électronique comme on fabriquerait des stylos. Que finalement, les gens étaient assez peu ouverts à de nouvelles idées. Avez-vous le même sentiment ?
Jeff Mills, Who has lived there too, tols us recently in an interview that in Berlin, you could create Electronic music as someone would manifacture a biro – that, in the end, People were not very open to New ideas. Do you share the same feeling?
Esben : À vrai dire, nous sommes partis avant de vraiment le découvrir. Contrairement à ces étranges petits bars et clubs, nous sommes aussi allés dans des plus gros endroits comme le Berghain, qui a son style de musique et n'en démord pas. Si ton but est d'avoir ton titre joué dans cet endroit, tu dois forcément créer de la musique qui ressemble à ce qu'ils passent déjà. Mais ça n'a jamais été notre objectif. On faisait nos chansons sans même penser à quelle scène elles conviendraient. Et c'est ce qu'on continue à faire.
Esben: Well, we left prior to really finding out. As opposed to the small and weird bars and clubs we went to the big places like Berghain has its style of music and totally sticks with it. If your goal is to have your track played at Berghain you need to make music that sounds like what they are already playing. That was never our goal though. We made our songs without thinking about what scene they would fit. And we still do.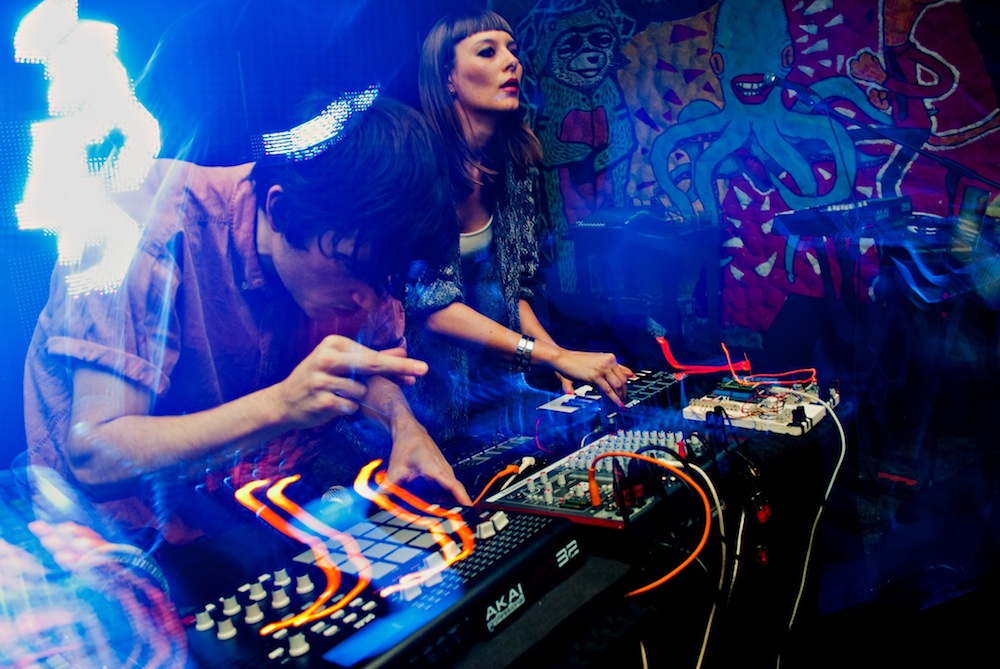 Vous êtes ensuite retournés à Copenhague. Qu'en est-il de l'influence de la Scandinavie sur votre musique ? Vous fallait-il opérer un retour aux sources pour travailler ?
After that, You went back to Copenhagen. Has Scandinavia had a particular influence on your music? Did You have to go back to your roots in order to work again?
Pernille : À certains égards, oui. Berlin est une ville où il est difficile d'aller au bout des choses. On l'a ressenti ainsi, tout comme beaucoup de gens autour de nous qui avaient les mêmes problèmes. À la limite, on s'amusait trop, là-bas. À Copenhague, nous pouvions mieux nous concentrer et toutes les idées que nous avions eues à Berlin se sont structurées au Danemark.
Pernille: In some ways yes. Berlin is a very difficult place to finish things. We felt it ourselves and we saw that people around us had the same issues. We had too much fun almost. In Copenhagen we could concentrate better and all the ideas we got in Berlin came together back in Denmark.
Vous qui semblez être assez nomades, vous sentez-vous appartenir à une quelconque scène nordique ? Que pensez-vous d'ailleurs de l'état de la scène scandinave aujourd'hui ?
You seem to be quite encline to travelling, do you feel that you belong to some sort of northern stage? What do you think of the status of the Scandinavian stage today?
Pernille : Honnêtement, on ne connaît pas grand chose des scènes norvégiennes et suédoises. Mais on est très fier de faire partie de la scène danoise actuelle. Il y a une profusion de super groupes en ce moment. Et une concurrence très saine se met en place.
Pernille: We honestly don't know that much about the Norweigan and Swedish scene. However, we are very proud of being a part of the current Danish scene. There's a shitload of great bands right now. And a very healthy competition going on.
De qui vous sentez-vous proches musicalement ? Quels disques tournent sur votre platine en ce moment ?
Musically-wise, Who do you feel close to? Which music do you listen to at the moment?
Beak>, James Holden, Rodriguez, Melody's Echo Chamber, Bowie, Oneohtrix Point Never, Kanye West… On a toujours écouté un tas de trucs très différents en même temps. D'ailleurs 2013 a été beaucoup plus intéressante que 2012.
Beak>, James Holden, Rodriguez, Melody's Echo Chamber, Bowie, Oneohtrix Point Never, Kanye West… We have always listened to a bunch of different things at the same time. So far 2013 has been much, much better and way more interesting than 2012 was.
Avec Control, vous semblez prendre une direction plus contemplative, avec une touche de lyrisme. Est-ce représentatif de l'album à venir ? Avez-vous suivi une direction particulière ?

With Control, you seem to be taking à more contemplative direction, with a hint of lyricism. Is it representing of the coming album? Did you follow some kind of direction?
Pernille: Ca n'est pas du tout représentatif de l'album à venir. En tous les cas pas pour le moment. On adore Control mais on n'a jamais essayé de faire tout un album qui sonne comme ça. Cette chanson est juste arrivée comme ça, et on a voulu la sortir.
Pernille: It's not a representation of the album to come at all. At least it doesn't seem so as of now. We love Control but never intended to do a whole album like it. That song just happened and we wanted to get it out.
En quoi la musique de Rangleklods a-t-elle évolué aujourd'hui ?
To What extent has Rangleklods'music evolved today?
Esben : Je dirais qu'elle a beaucoup évoluée. Je suis désormais un meilleur producteur et Pernille évolue très vite en tant que compositrice. Ce sont des moments très excitants, tu sais. On veut toujours devenir meilleur. C'est la règle qu'on s'est fixé.
Esben: A lot I'd say. I'm a much better producer and Pernille is rapidly growing as a composer. It's exciting times, you know. We just want to get better all the time. That's the rule we live by.
La scène semble être importante pour vous. Comment la considérez-vous ? Consacrez-vous un travail particulier autour de vos performances live ?
Performing on stage seems to be important to you; how do you consider it? Do you dedicate a special work to your live performances?
Pernille : Les concerts sont très importants pour nous. C'est là que tu explores vraiment tes chansons. Et tu en fais de nouvelles choses. Nous avons passé beaucoup de temps sur notre configuration live et comptons bien continuer à le faire. On souhaiterait d'ailleurs trouver une configuration live laissant encore plus de place à l'improvisation. et on doit avoir raison vu que l'on n'est absolument pas lassé de jouer nos chansons même si on les a déjà jouées des centaines de fois.
Pernille: The live shows are very important to us. That's where you really explore the songs you've made. And you get to do new things with them. We've spent a lot of time on our live setup and we intend to keep doing so. In time we'd love to make the setup even more open to improvisation. We must be doing something right cause we're still not in any way tired of playing any of our songs although we've performed most of them hundreds of times.
Qu'en est-il de l'identité visuelle du groupe ? Attachez-vous une importance particulière à vos vidéos, photos, visuels de scène ?
What about the visual identity of the band? Do you give a particular attention to your videos, photos, stage visuals?
Esben : On essaye d'avoir un certain contrôle sur tout ça mais on n'a aucune stratégie sur ce point. La musique est bien plus importante pour nous.
Esben: We try to control it somewhat but we're not that strategic about it. The music itself is so much more important to us.
Un dernier mot ?
One Last word ?
Pernille: Fondue.
Esben: Plafond de la dette. Désolé, je viens de réaliser que ça faisait deux mots, en fait.
Pernille: Fondue.
Esben: Debt Ceiling. Sorry, I realize now that was two. Forgive me.
Audio
Vidéos