Photonz l'interview + mixtape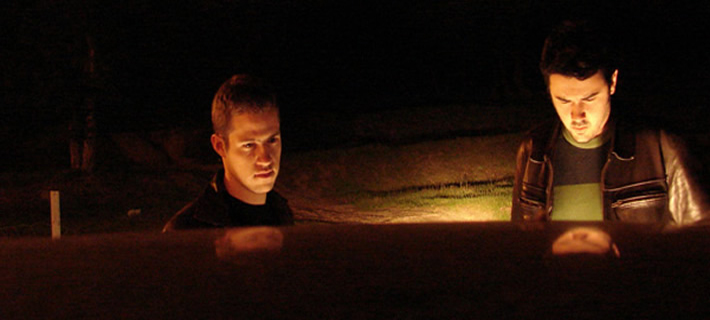 Tout droit venus du Portugal, ils sont sortis de l'ombre en 2008 grâce à leurs EP Shaboo, paru sur le défunt label Dissident, et Glass Onion, publié par Republique Desire, label piloté par George Issakidis. Ils se retrouvent playlistés par Ivan Smagghe et toute la clique. En 2010 ils signent le troisième maxi du catalgue Get The Curse. Mais ils préfèrent monter leur propre le label, One Eyed Jacks – ce dernier n'a encore signé qu'une seule sortie, Photonz évidemment… Ils reviennent pour Hartzine sur leur passé, leur présent et leur futur… le tout avec une mixtape exclusive.
Qui se cache derrière Photonz ?
Who is behind the nickname Photonz?
Marco Rodrigues et Miguel Evaristo. Tous deux de la banlieue de Lisbonne, plus précisément de Corroios, le marge sud de la rivière Tagus. Nous avons 27 ans aujourd'hui et nous nous sommes rencontrés au lycée quand nous étions dans la même classe. Il y a plus ou moins onze ans de cela.
Photonz are Marco Rodrigues and Miguel Evaristo. Both from the suburbs of Lisbon, more specifically Corroios, on the south margin of the Tagus river. We're both 27 years old now and met when we studied in the same class for a couple of years in Secundary school. This was like… 11 years ago, more or less.

Que faisiez-vous avant de produire de la musique ? Qu'est-ce qui vous a amenés à en faire ?
What did you do before making music? What leads you to it?
Bien… A part étudier, rien d'autre. Nous avons commencé le DJing pour le plaisir, bien avant de faire de la musique.  Nous étions dans la même classe et le même  club de canoë-kayak, nous sommes donc devenu de très bon amis. C'était organisé par l'école, mais c'était à l'extérieur et nous étions très libres. Nous traversions le pays, nous faisions du camping et des trucs de dingues et nous finissions toujours par écouter beaucoup de musique. Bien plus tard, une nuit, pendant que nous buvions dans un bar, le Gaveto, à Almada, il y avait un DJ qui jouait de la musique qu'on aimait bien. Alors nous avons demandé aux gérants du bar si nous aussi pouvions faire de même. Je suppose que cela a été décisif, car ça nous a poussés à rechercher pas mal de musique à jouer toutes les semaines, et ce n'était pas seulement de la dance music, mais plutôt un peu de tout, et la plupart des DJ jouaient du rock. Nous étions à fond dans Death In Vegas, 23 Skidoo, The Gun Club, Two Lone Swordsmen, Liquid Liquid, N.E.R.D., Mathew Jonson, early DFA, Output and Tigersushi, les premiers trucs de rave des années 90. Nous aimions les Chemical Brothers et le premier album de Prodigy (encore aujourd »hui) ainsi que les Doors. A un moment donné, nous souhaitions rendre nos mix moins prévisibles, alors on a commencé à faire des versions dub et plus dark de morceaux tels que Get Busy (avec une boucle de la rythmique de Metal Beat de John Foxx, et beaucoup de réverb'), et d'autres trucs que nous aimions comme Kelis. A force de manipulations, on s'est retrouvé avec de vrais morceaux, et nous avons donc sorti notre premier maxi en 2006 sur le label Living Records.
Well… nothing really, besides studying. We did start DJing for fun before we started making music, though. We were on the same class and became best friends because of this canoeing club we both entered. It was something organized by some of the school's teachers but a bit on the outside, with insane freedom. We would travel across the country, camping and doing crazy stuff and ended up listening to a lot of music together. Later on, one night while drinking in a small bar called Gaveto, in Almada (a city near Corroios also on the south margin of the river) we were listening to this DJ playing something we quite liked and just asked the owners if we could play music there too. I guess this was an important moment because this made us search for and find a lot of great music to play there weekly, and it wasn't a dance music venue or anything. It was an "everything goes" kinda thing and most DJ's there played rock. We got heavily into Death In Vegas, 23 Skidoo, The Gun Club, Two Lone Swordsmen, Liquid Liquid, N.E.R.D., Mathew Jonson, early DFA, Output and Tigersushi, early 90's Rave, we loved the Chemical Brothers and Prodigy 1st albums also (still do) and The Doors. At a certain point we just wanted to make the sets more unpredictable and started doing these darker dubbier versions of tracks like "Get Busy" (with a beat loop from John Foxx's Metal Beat on it and silly amounts of reverb) and Kelis and stuff, which we also liked. As our sound manipulation got deeper we started to have original tracks and released our 1st 12" in 2006 on Living Records.

Si vous deviez décrire votre son à quelqu'un qui ne connaît absolument rien de Photonz…
If you have to describe your sound to someone who have no idea  about Photonz…
C'est un peu dur à expliquer, et d'ailleurs on nous a reproché le manque de cohésion entre nos différentes sorties, et nous ne sommes absolument pas d »accord. Notre musique est enracinée quelque part entre les rhythmes house/techno, très inspirés par les premières raves, la Chicago Jack et l'early-Détroit, mais pas de purisme. Nous aimons expérimenter et trouver des sons que nous réutilisons, et de ce fait cela peut être très mélodique ou bruitiste. Aujourd'hui, notre musique est une sorte d'hybride entre Fingers, Neptunes, 23 Skidoo, Mark Kinchen, Dr. Dre, James T Cotton, Legowelt, Mathew Jonson, Derrick May, DMZ, etc.

I guess it's kinda hard to explain and we've been accused sometimes of not making much sense from one release to another, which we disagree. So far we've released music that is somewhat rooted in House / Techno motions and rhythms, heavily inspired by early Rave and Chicago Jack/early Detroit traditions but never in a purist way. We love to experiment and to find stuff that we like while doing so and using it, wether it be something sonic or simply melodic/harmonic. We think that nowadays our music is some kind of hybrid informed by Mr. Fingers, Neptunes, 23 Skidoo, Mark Kinchen, Dr. Dre, James T Cotton, Legowelt, Mathew Jonson, Derrick May, DMZ and others.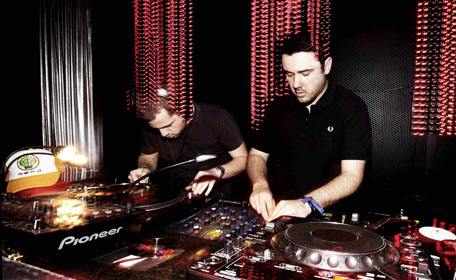 Vous avez monté votre propre label en 2010. Quel en était le but ?
You have created your own record label in 2010. What is the idea behind it?
Le but est de faire un pas en avant dans la façon de nous exprimer, cette fois-ci aux commandes d'un label. Avoir une plateforme pour aider la musique que nous estimons, la nôtre mais aussi celle d'autres artistes dans le futur. Après que le label Dissident a fermé, cela nous a été difficile de s'arranger avec d'autres labels pour sortir les morceaux que nous souhaitions, ceux que nous pensions être les meilleurs, et pas seulement une variation de Shaboo ou de Glass Onion car ils avaient très bien marché. Mais c'est que la plupart des labels n'auraient pas eu les couilles de les sortir en premier lieu. Seulement les labels musicalement honnêtes avec aucune attente de style particulier, comme Dissident, Republique of Desire ou Dirty.

The idea is to take a step further in expressing ourselves, this time behind the wheel of a label. Taking the musical risk and having a platform to help music that  we value. Both from us and other artists in the future. After Dissident ended we were finding it quite hard to deal with other labels to release the stuff we truly wanted to release, the stuff we thought was our best, and not just another variation of "Shaboo" or "Glass Onion" made because they were records that kinda worked really well. But the thing that most labels must understand when they ask for music is they wouldn't have the balls to release "Shaboo" or "Glass Onion" the 1st time around anyway! It had to be a musically honest label with no shitty genre expectations, like Dissident or Republic of Desire, or Dirty.
Que pouvons-nous attendre de votre part dans un futur proche ?
What can we expect in a near futur from you?
Nous nous focalisons beaucoup sur notre label, notre musique, des remix, nos résidences mensuelles à Lisbonne et notre émission de radio Oxigénio 102.6 FM, tous les dimanches à 23h (facebook.com/Photonzland). Nous nous sommes aussi retrouvés impliqués dans un autre label, Principe, avec des personnes du magasin de disques FLUR ainsi que de Gala Drop & Fikho Unico – plus d'infos pour bientôt. Il y aussi notre deuxieme EP sur notre label, One Eyed Jacks, Lamborghini Funk/Xabregas, qui sort le 27 juin en vinyle et digital. Nous avons reçu de bons retours de la part de Trevor Jackson, Ewan Pearson, Jackmaster, Jonni Wilkes (Optimo), Neville Watson et bien d'autres d'ailleurs. Il y a aussi nos remix, qui ont eu de bon retours : le quatrième opus du label Snuff Trax, le West Acyd Shelter de Semtek, qui est l'un de nos préférés, ainsi qu'Afrika de Mirror People qui devrait sortir au moment-même au moment où nous l'écrivons.

Well we've been just focusing on our label, our music, both originals and remixes, our monthly nights in Lisbon and a radio show on Lisbon's very own Oxigénio 102.6 FM, every Sunday at 11pm GMT (follow the episodes through facebook.com/Photonzland). We also got involved in another label project called Príncipe, together with people from the FLUR record store and People from Gala Drop and Filho Único, news soon. Watch out for the second release on our own label One Eyed Jacks, it's EYE002 "Lamborghini Funk / Xabregas" (listen here: http://soundcloud.com/photonz/sets/lamborghini-funk-xabregas/). It's coming out June 27th on 12" vinyl and digital aswell, with some great support from Trevor Jackson, Ewan Pearson, Jackmaster, Jonni Wilkes (Optimo), Neville Watson and more. We've also been releasing some remixes that had some exciting reactions, we did one for the 4th release of the label Snuff Trax, also a remix for Semtek's "West Acyd Shelter" one of our favourites, and a remix for Mirror People's "Afrika", with excellent reactions and is just coming out, pretty much as we write this, we think.
Mixtape
1. Black Jazz Consortium –  Inside U (Deep Explorer Music)
2. Paul Du Lac – Bingo (Clone)
3. Jacob Korn – She (Uncanny Valley)
4. Pathetik – No Hope In Drugs (forthcoming Accroupi)
5. Photonz & Tiago – Ponta do Mato (forthcoming One Eyed Jacks)
6. XDB – Bakfom (Harbour City Sorrow)
7. Mirror People – Afrika / Photonz remix (forthcoming Raw Cutz)
8. Tevo Howard – Mechanical Disco Heart (Tevo Howard)
9. Ricardo Miranda – Deface (Minuendo)
10. Jon Convex – Convexations (3024)
11. Lost In Space – Brain & Body (forthcoming Invocation)
12. K-Starke – Acid Jak (K-Starke)
13. Ka§par – Drums In The Deep (forthcoming Groovement)