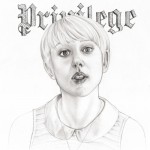 Zac Pennington, maître dandy déluré à  collants dorés du quatuor Parenthetical Girls, est de retour avec Sympathy For Spastics, le quatrième opus de l'épique feuilleton musical Privilege, un fascinant numéro d'équilibriste pop qui, en quatre morceaux seulement, démontre une virtuosité fébrile, entre pastiche folk et ballade, hommage aux classiques et autres fascinantes curiosités sonores, et le tout baigné de rancÅ"ur cynique.
The Privilege ouvre à  nouveau le bal du morbide (thème assurément chéri par Pennington) en orchestrant d'inquiétants synthétiseurs, drums sinistres et clavecins gothiques, un univers créé sur mesure et où se dessinent vies ratées et tragédies familiales, et les silhouettes fragiles de figures féminines rompues et autres résignations pathétiques : « I know your heart's not really in it, I'll just keep hanging for the privilège« . Au contraire, A Note To Self est une véritable contrefaçon pop où les guitares acoustiques s'affolent, faussement joyeuses et à  bout de cordes, dans un tourbillon rythmique entraînant, et où un Pennington un peu aigri fait la part belle à  l'auto-dénigrement (« round of applause and self-sabotage« ) et aux ratés de la vie ( « Walk toward the light, I know you think we've failed at life…« ).
Alors que Entitlements affiche une admiration effrontée pour les lignes de basse made in New Order, Sympathy For Spastics conclue l'acte IV de Privilege avec une ballade à  la Morrissey, où piano et violon s'entrelacent avec le chant intense d'un Pennington tour à  tour crooner, révolté, cinglé et poignant. Le mégalomane perfectionniste ne s'essouffle pas.
Audio
Parenthetical Girls – Entitlements
Vidéo
Tracklist
Parenthetical Girls, Sympathy For Spastics (Slender Means Society, 2011)
1. The Privilege
2. A Note to Self
3. Entitlements
4. Sympathy For Spastics