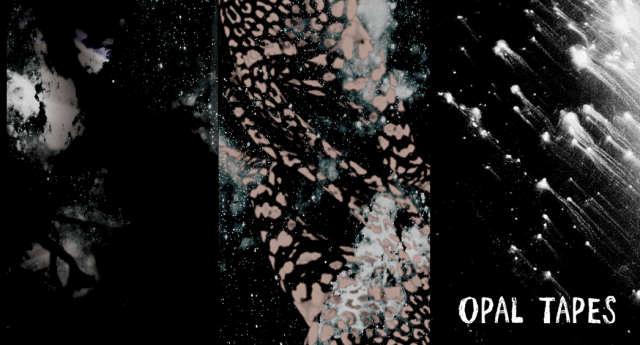 Si vous n'étiez pas à la première soirée Opal Tapes aux Instants Chavirés en février dernier, c'est bien triste pour vous. La salle était comble et les murs gonflaient d'onirisme et d'avant-gardisme au fil des lives (lire). Le destin vous donne cependant deux nouvelles chances de voir les artistes si inspirés de l'écurie anglaise dérouler leurs mystiques personnelles : une le 23 octobre prochain, cette fois-ci à la Pêche et toujours à Montreuil (Event FB), puis le 25, dans l'antre impie de l'Embobineuse à Marseille (Event FB). Cette fois-ci, en plus du patron Basic House qui assure les inter-sets et du réputé Wanda Group pour les affaires plus abstraites, Opal nous ramène parmi ses noms les plus club, dans la mesure où Opal peut être club : le groove flou de Patricia, celui plus trituré de la nouvelle recrue Holovr et la dance mentale de Karen Gwyer dont la renommée enfle cette année. Pour accompagner cette bienheureuse tournée, une interview volontiers absconse de Stephen Bishop, aka Basic House.
On offre des places pour chacune des soirées par ici.
Stephen Bishop l'interview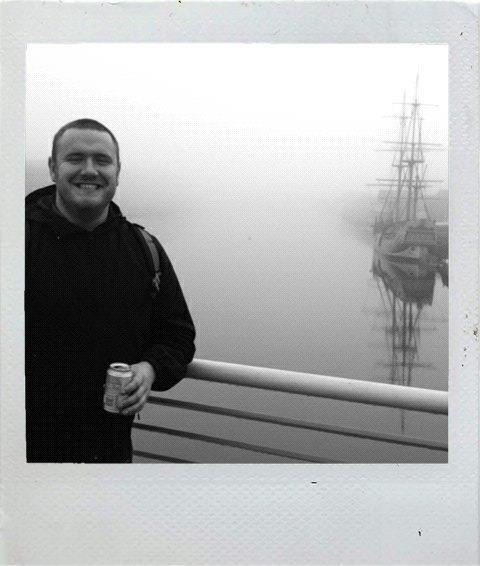 À quoi ressemble Teesside (toute petite ville côtière dans le nord-est anglais d'où le label a été lancé) ? Opal Tapes est-il relayé par là-bas ?
What's Teesside like and does Opal Tapes have any echo around there or are you really isolated?
C'est un endroit agréable, géographiquement varié et peuplé de gens très bien. Mais j'ai récemment bougé à Newcastle.
Teesside's a fine place. Diverse geographically and full of good people. I moved away from there recently and live in Newcastle now. 
Bien que la plupart des artistes ne viennent pas du coin, la music d'Opal Tapes sonne moins urbaine que d'autres labels électroniques, est-ce un reflet de cet isolement ?
Even though most of the artists you release aren't from there, do you think your location reflects in your music, in the sense that your music has a less urban feel than many other London labels for instance?  
Je ne sais pas trop ce que veut dire « sonner urbain », mais j'ai parlé de ce genre de chose avec Axel de 1991 et il m'a clairement dit qu'avoir grandi près de l'eau jouait un gros rôle dans ce qu'il était. Peut-être que cette esthétique « rurale » que tu détectes dans le label vient du fait que nos disques soient très spacieux.
I don't know what an « urban feel » is really. I spoke with Axel 1991 about something similar and he spoke distinctly of growing up around water to be a big part of him. Perhaps the « rural » aesthetic you detect in the label is to do with many releases being spacious.
Quand et pourquoi le label a-il été lancé ?
When was the label launched and what was the goal behind it?
Les premiers disques datent d'il y a 2 ans. Je voulais juste sortir toute cette musique que j'écoutais à ce moment-là et qui m'évoquait cette atmosphère que je recherche quelque soit le style. Avec Opal et les artistes avec lesquels je travaille, il y a probablement certaines similarités esthétiques mais aucun disque ne suggère un lieu ou un endroit pour moi. C'est une sorte de rencontre dimension/sentiment. Notre but était peut-être de construire un aspirateur.
The first releases came out 2 years ago. I wanted to do put out some of the music I was hearing at the time which evoked this atmosphere that I always look for in music whatever the style. With Opal and the artists I can work with there is perhaps some aesthetic similarities but no one release really suggests place or time to me. Kind of a dimension x feeling listening back to it all. Maybe the goal is to build a vacuum cleaner. 
Étais-tu impliqué dans la musique ou dans un autre label avant?
Did you run one before or were you involved with music in any other way?
Aucun label avant celui-là mais j'ai fait quelques K7 et CD-R avec des potes pour nos groupes. À part ça j'ai chanté dans quelques groupes, ou plutôt j'ai fait du bruit.
I've never done a label before but I would make tapes and CD-R's with friends for our bands. Only previous involvement was singing in bands or making a complete racket one way or another.
Des labels cultes ?
Any labels that influenced you?
Des centaines : Borft. G.R.O.S.S. Banned Productions. American Tapes. Chocolate Monk. Bunker. Kye. Ground Fault. Slaughter Productions. Cut. Sedimental… Et ainsi de suite…
Hundreds… Borft. G.R.O.S.S. Banned Productions. American Tapes. Chocolate Monk. Bunker. Kye. Ground Fault. Slaughter Productions. Cut. Sedimental… on and on and on…
Comment rentres-tu en contact avec les artistes ? Certains étaient déjà des amis ?
How do you get in touch with artists? Were some of them friends beforehand? 
Je contacte les gens par email ou c'est eux qui me contactent. Je n'ai personnellement rencontré que la moitié des gens dont j'ai sorti la musique et je n'en connaissais aucun avant le label.
I contact people through email or I am contacted by them. I've so far personally met about half the people I have released music of, I never knew any of them before the label. 
Quel serait le point commun entre tous les disques que tu sors ?
What do you think is the common point between all the records you release?
Le point commun c'est que ma tête qui doit aimer ce qu'elle écoute. J'aime dans la musique qu'elle possède une sorte d'aplomb et de douleur.
The only real common point here is my head which has to enjoy what it's hearing. I like music to have a bit of swagger and hurt to it.  
Du fait des difficultés de maintenir quelque structure musicale qu'il soit, comment un label comme Opal Tapes grandit ?
Given the difficulties to sustain any musical structure, how does a label like yours grow nowadays ?
La plupart des micro-genres sur lesquels certains labels essayent de se baser sont suivis par de petites communautés et il est dur de tenir un rythme élevé de sorties car, tout simplement, tu as besoin de vendre des trucs pour en faire plus. Produire et vendre des exemplaires physiques avec du packaging est forcément plus laborieux que de recevoir des commandes de téléchargement, mais une chose en amène une autre et je pense qu'une combinaison des deux et offrir quelque chose qui est relativement fait maison reste attrayant pour le public de nos jours. Il y a un grand nombre de gens qui se contente d'écouter de la musique sans avoir le besoin que ça soit davantage que de la musique. On pourrait penser que tout est plus marginal que jamais mais les marges créent un langage commun et nous permettent de communiquer avec plus de précision. Plus de gens qu'avant abordent la musique d'une perspective non-musicale, mais ce n'est pas une approche facile, mais plutôt holistique. Les détails soniques sont bien plus apparents dans le langue des auditeurs aujourd'hui que par le passé.
Most of the micro-genre which some labels attempt to base themselves solely within have tiny communities still and so it can be hard to maintain a forward flow to releases because commonly you need to sell things to make more. Creating physical copies and packaging and selling them is obviously more laborious than receiving digital orders for downloads but one hand holds the other and I think a combination of the two and to offer the buyer something which has been relatively home made is attractive to folk now. I think there's large groups of people today who just listen to music and sound without the need for it to be any more than that. We may think that things are more marginal than ever but all those margins do is create a common language and allows us to communicate more accurately. Realistically many more people today approach music from a non-musical perspective than in the past. Still this is not a facile approach by any means. I feel it's more a holistic one and that is as listeners. Sonic detail is much more apparent in the language of listeners today than I feel it was previously.
Audio