On y était – Friends in New York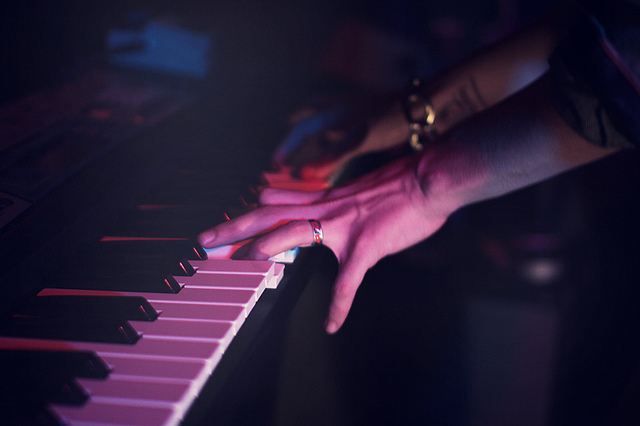 Photos © Martin Condomines | Hartzine
Friends, 285, Kent Avenue, Brooklyn, New-York, le 7 octobre 2011
Ce soir, au 285, Kent Avenue, pas loin du Williamsburg Bridge, la foule n'est pas compacte mais remplit l'espace par son enthousiasme et sa jeunesse. L'endroit, qui n'a même pas de nom, n'est pas tout à fait une salle de concert. C'est une grande pièce de béton nu qui, dans des temps révolus, contenait probablement des machines ou des bureaux. Le plafond est haut, les murs blancs sont gribouillés à l'aérosol, la salle et le bar sont faits de trois planches de bois.
Dans le vestibule, simplement séparé du reste de la salle par un rideau, des jeux vidéos d'une époque un peu ironique sont là pour faire patienter les gens. En posant les pieds sur les cases d'un tapis, on fait grimper un bonhomme sur une falaise pour qu'il puisse fuir la mer qui monte inexorablement en dessous de lui. Mais ce soir, on est plutôt venu voir et écouter les enfants du quartier, jeunes pousses d'aujourd'hui ou chouchous de demain.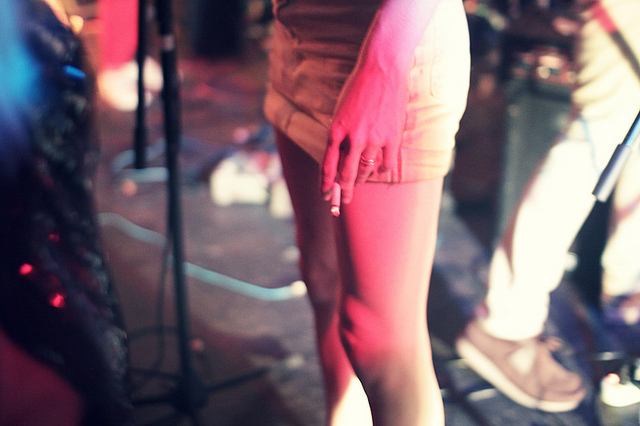 On ne retiendra pas grand chose de Dive, quatre garçons qui, comme un groupe sur deux en ce moment, remodèlent les années Sarah Records avec plus de bon goût que de grâce et d'inspiration. On se rappellera quand même de ce moment un peu étrange et mignon, juste avant leur concert, où le groupe arrête les balances pour chanter par dessus Hellhole Ratface de Girls, qui passe alors dans la sono. On se dit alors que ouais, si même les mini groupes underground un peu arrogants de Brooklyn revendiquent leur affection pour Christopher Owens et son rock'n'roll sentimental, c'est bien que le groupe californien est de ceux qui inspirent une génération de musiciens.
Si Friends ne fait pas beaucoup plus que réinterpréter un répertoire déjà exploité par les jeunes hommes de Wild Nothing ou Craft Spells, l'espièglerie que la jolie chanteuse infuse à la musique du quintette différencie le groupe de la concurrence. Sur une pop rêveuse et naïve qu'en d'autres temps on aurait qualifié de « twee », elle dépose une couche de sucre qui donnerait l'eau à la bouche au plus bourru des rockers. Ajoutez à ça la sensualité de grooves mid-tempo et les gens dansent. Offrez des mélodies simples et lumineuses et ils sourient.
Tout le monde est copain, à un concert de Friends. L'anniversaire d'une copine est souhaité et chanté, on va se balader dans la foule sur les épaules d'un copain, on s'échange les instruments entre copains, on reste traîner après pour boire des coups et danser avec les copains. C'est cool, bon enfant.
Ce soir, j'ai passé un moment adorable à regarder une des plus jolies filles de New-York jouer de la basse, du synthé et même de la batterie, dans un groupe de copains, tout ça parce que ça lui chantait. Vendredi, j'irai voir Beach Fossils, même endroit, même heure : on verra bien ce que les garçons pensent de leurs outsiders.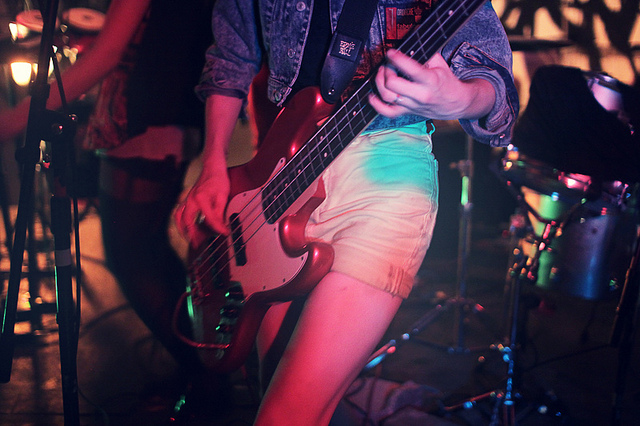 English Version
Tonight, 285, Kent Avenue, close to Williamsburg Bridge, the crowd is not very dense but fills up the space with its enthusiasm and its youth. The place, which doesn't even have a name, is less a proper concert hall than a spacious room of naked concrete which probably used to host machines or offices. The roof is high upon our heads, the white walls are scrawled with an intermingling of black curves, and three pieces of wood make a stage and a bar. In the lobby, simply separated from the rest of the room by an old curtain, video games from an ironic era entertain people. Putting your feet on the right squares of a carpet, you'll make a funny guy climb a cliff, in order for him not to die drowning, because the sea is unrelentingly getting higher and higher below him. Anyway, tonight, everybody's here to watch and listen to the kids of the neighbourhood, today's blue-eyed boys and girls, and perhaps the big things of tomorrow. Because Dive refreshes the Sarah Records years using more good taste than real grace and inspiration, those four young men won't let a long lasting memory. Nevertheless, we'll remember this moment, as strange as cute, when the band stopped doing the balance to sing along Girls' Hellhole Ratrace, played on the sound system. A little revelation then came to our mind: if even the über indie Brooklyn bands forget their shy arrogance to claim so explicitly their allegiance to Christopher Owens and his sentimental rock'n'roll, so the Californian band must definitely be part of those that inspire a whole generation of musicians. Friends doesn't do much more than reinterpret a repertoire already exploited by the sensitive rockers of Real Estate, Wild Nothing or Craft Spells. However, the mischievousness that the female singer adds to the quintet's music differentiates the band from its competitors. Upon a light and naïve pop music, she sprinkles a thin layer of sugar that would make any tough guy's mouth water. Then they make it groove and people jive. Then they make it melodic and everybody smiles. The birthday of a friend is wished and sung, you jump on a friend's shoulders to go singing in the crowd, you swap your guitar with the synth of your friend, you stay with your friends after the show to drink and hang around. The atmosphere, at a Friends' concert? Friendly. Tonight, I spent an adorable moment watching one of the most pretty girls of New York City singing, playing bass, synth and drums, just because she fancied to be that cool. Friday night, I'll go see Beach Fossils, same place, same time: we'll see what the boys think about their outsiders.
Photos