On y était – Beach Fossils in New York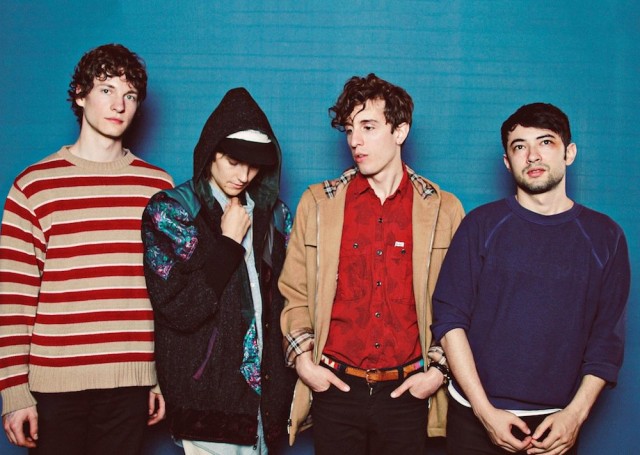 Beach Fossils, 285, Kent Avenue, Williamsburg, Brooklyn, New-York, le 14 octobre 2011
En 2010, au moment de la parution de son premier album, Beach Fossils jouait une pop plaisante faite des guitares et des voix réverbérées qui se sont imposées depuis comme la norme pour faire de l'indie rock. Cependant, les garçons de Brooklyn peinaient à réinventer avec suffisamment d'audace les arpèges de Durutti Column, les mélodies de The Wake et à peu près tout de New Order période Power, Corruption, Lies. Et puis sortit What a Pleasure. Les plans mélodiques un peu entendus devinrent des broderies délicates et lumineuses, les rythmiques trop facilement sautillantes se décomposèrent ingénieusement et Beach Fossils laissa sur le carreau bon nombre de ses compagnons du label Captured Tracks (Wild Nothing, Craft Spells, etc.).
Le groupe lui-même semble tout à fait conscient de la progression accomplie depuis son premier album et privilégie nettement les nouveaux morceaux sur scène. L'écart de qualité entre leur album éponyme et What a Pleasure est encore plus flagrant en live. Sur chaque nouveau titre, la voix du chanteur est mieux posée, plus confiante et mélodieuse, les structures sont plus ingénieuses et surtout le pouvoir de séduction des chansons est incontestablement plus profond et immédiat.
Alors que les enregistrements suggèrent plutôt une écoute contemplative et nonchalante, il est frappant de constater à quel point l'énergie offerte sur scène par les quatre musiciens de Beach Fossils ajoute à leur musique quelque chose d'incroyablement exaltant. Si elle s'accompagne parfois de quelques maladresses qui rappellent que le groupe a encore une marge de progression assez grande devant lui, l'urgence avec laquelle les titres sont joués transforme le public en une source d'excitation et de joie particulièrement enthousiasmante.
La foule est dense et nombreux sont ceux qui chantent. Le devant de la fosse remue gaiement, des filles s'allongent sur les bras levés, des matamores grimpent sur scène pour haranguer la masse extasiée du public du 285, Kent Avenue, décidément l'un des plus amicaux qui soit. Si dans le fond de la salle, l'ambiance est plus calme, la bière bon marché que chacun tient dans sa main y étant pour beaucoup, les visages sont radieux et charmés, les bustes se balancent nonchalamment de part et d'autre des hanches et les cheveux des filles caressent les épaules des garçons.
C'est avec un plaisir que je ne veux pas dissimuler que je commande mes boissons au bar : c'est la délicieuse bassiste/choriste/pianiste/batteuse de Friends (lire le report) qui me sert. Je suis aux anges, je veux quitter ma fac déprimante et emménager dans ce lieu crasseux, vétuste, sensuel et magique et y vivre heureux et amoureux pour toujours.
English version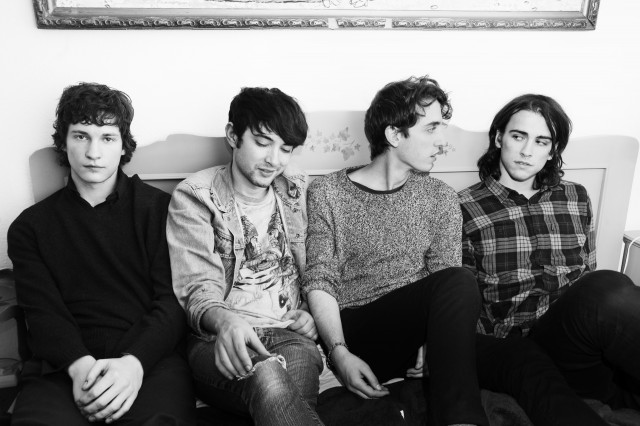 In 2010, when they released their first album, Beach Fossils were playing a pleasant pop music made of the reverby voices and guitars that since became a standard to play indie pop. However, the boys from Brooklyn were having some difficulties recreating with enough boldness the Durutti Column's arpeggios, The Wake's melodies and almost everything from the New Order of Power, Corruption, Lies. Then came What A Pleasure. The melodic plans, formerly a bit hackneyed, changed into delicate and bright embroideries, the easily bouncy rhythms were ingeniously deconstructed and Beach Fossils laid their Captured Tracks' companions (Wild Nothing, Craft Spells, etc.) almost out.
The band itself seems totally aware of how they improved themselves and clearly favours the new tracks, on stage. The contrast between their eponymous album and their last one is even more obvious when you hear them live. On each new song, the voice of the singer is more confident, controlled and melodious, the structures are more inventive and, most of all, the charm and the seduction their music has on its audience are more powerful and immediate.
Whereas the recordings are rather to be listened in a contemplative and nonchalant mood, I'm astonished to discover how the energy that the four musicians of Beach Fossils spend on stage turn their music into something so thrilling. The performance is not without any amateur clumsiness, but the songs are played with such an impatience that the audience becomes a wonderful source of excitement and joy.
A lot of people from the dense crowd are singing along, the front rows are joyfully hopping, girls lie on a wood of young raised arms, some braggarts jump on stage to harangue the enraptured audience of the 285, Kent Ave, obviously one of the most friendly I've seen. It gets more peaceful as you move away from the front, but the cheap beer everybody's holding in his hand doesn't prevent the faces to look radiant and charmed, the chests to casually wave around the hips, and the hair of the girls to stroke the shoulders of the boys.
I can't (and I don't want to) hide the pleasure with which I order my drinks at the bar: the delightful bass/keyboard/drum player and vocalist of Friends (read the review) is here as a waitress. I'm in heaven, I want to run away from my boring College and move in that dirty, dilapidated, sensual and magical place and spend there a happy life life of perpetual crushing.