Nightlands est le projet solo de l'américain Dave Hartley. Ce nom ne vous dit peut-être pas grand-chose et pourtant, depuis une quinzaine d'années, il collabore à de nombreux projets indés tels Sharon Van Etten, Carter Tanton, Torres, Steven A. Clark, Alela Diane, The Dove & The Wolf… et est surtout connu pour être le bassiste du groupe originaire de Philadelphie, The War On Drugs. La semaine prochaine sortira chez Western Vinyl son troisième album solo : I Can Feel The Night Around Me. On y retrouve une pop mélodieuse aux tonalités nostalgiques où d'incroyables harmonies vocales se lovent autour de compositions à la chaleur rétro. Musique à la douce langueur qui invite à l'évasion et à la rêverie, découvrez ci-dessous des extraits du nouvel album de Dave Hartley ainsi qu'un extrait de son travail photographique qui révèle sa passion pour les appareils « prêt-à-photographier ».
D'où viens-tu ?
Where do you come from?
Je viens de banlieue, je suis né dans les années 1980 et j'ai grandi à une époque dorée pour moi : les années 1990.
I come from the suburbs, born in the 80s and seasoned in the modern gilded age, the 90s. 
Où vas-tu ?
Where are you headed?
Je me dirige vers une époque sombre et dangereuse, comme le reste de l'Humanité. Mais grâce à Dieu, la possibilité qu'offre la Réalité Virtuelle de simuler le monde réel progresse dans des proportions inverses à celle de notre annihilation totale. Quand l'Humanité sera proche de sa fin, nous pourrons alors mettre le casque de Réalité Virtuelle et marcher main dans la main virtuellement dans une forêt tropicale digitale.
I'm headed into the dark electric night, along with the rest of humanity. Thank God that Virtual Reality's ability to simulate the natural world is advancing in exact inverse proportion to our total annihilation of it. So when it's totally gone and humanity populates earth's spoiled husk, we can strap on a headset and walk hand-in-simulated-hand into the digital rainforest.
Pourquoi la musique ?
Why music?
L'expression personnelle est importante mais elle devient réellement vitale puisque nos institutions sont en train de mourir. Je n'ai pas l'impresison qu'il s'agisse de quelque chose que j'ai choisi, c'est juste un chemin sur lequel je me suis trouvé à un moment et que je parcours.
Personal expression is always important, but feels more vital now as our institutions corrode. I don't really feel it's something I chose to do, it's just the set of train tracks that I've landed on.
Et si tu n'avais pas fait de musique ?
And if music wasn't your thing?
J'essaierais de trouver un chalet où je pourrais m'inspirer de l'ambition véhiculée par le livre « The Book of The New Sun » de Gene Wolf, de la prescience de « The Peripheral » de William Gibson, de l'humanité simple de « Ender's Game », et d'un certain sens du formidable dans « Fountains of Paradise » de Arthur C. Clarke.  J'écrirai des fictions.
I would find a cabin and try to summon the ambition Gene Wolfe's The Book of the New Sun series, the prescience of William Gibson's The Peripheral, the simple humanity of Ender's Game, and the sense of wonder of Arthur C. Clarke's Fountains of Paradise. Someday I will write fiction. 
Une épiphanie personnelle ?
An epiphany of yours?
J'ai connu beaucoup d'épiphanies, provoquées chimiquement ou non, mais pour moi plus que tout c'est la connaissance qui a été inscrite dans mon cerveau année après année, après de nombreuses répétitions. Le savoir acquis progressivement, avec insistance, est celui qui dure le plus longtemps de tous.
I have had many epiphanies, chemically induced and otherwise, but have found that most worthwhile knowledge in my brain has been mined over time and through repeated diggings. Gradual attained knowledge lasts longer.
Une révélation artistique ?
Your artistic breakthrough?
Je ne crois pas vraiment à ce concept, même si parfois il semble que cela arrive à d'autres. L'expression artistique semble s'appuyer sur des sortes de vérités mystiques, mais au fond, il s'agit seulement de travail. On parvient à progresser grâce à la répétition, l'habitude, la persévérance… Même nos plus grands chamans (Dylan etc.) ont passé des années à travailler, à imiter… C'est cet aspect non-sexy de la source d'inspiration qui compte pour moi.
I don't believe in the concept of an « artistic breakthrough », though certainly they appear to happen from afar. Artistic expression taps into mystical truths, but at its core is just work. Breakthroughs are achieved through repetition, habit, perseverance… even our greatest shamans (Dylan, etc) spent years woodshedding, imitating… the unsexy machinations of inspiration.
Le revers de la médaille ?
Any downside?
En matière d'expression ? Le mysticisme peut-être ? Le mysticisme est dangereux quand il sert de prétexte à une pseudo-science ou à la superstition. L'acte de créer, l'expression, n'ont pas besoin d'être rendus plus mystérieux qu'ils ne le sont déjà. Nous pouvons nous tourner vers la science, l'objectivité à un degré extrême sans jamais ternir la beauté de l'art et sa source première – ce dernier est immunisé à ça car, au fond, il est inexplicable, même si l'on peut en disséquer les éléments qui le constituent, ce pourquoi nous créons de l'art, au final. Mais ces vérités mystiques n'ont pas besoin de croyances débiles. Nous n'avons pas besoin de croire aux fantômes pour croire à la suprématie de l'art.
To expression? Mysticism? Mysticism is dangerous when it serves as a springboard into pseudo-science or nickle-and-dime superstition. The act of creation/expression doesn't need to be made more mysterious than it already is. We can embrace science and objectivity to an extreme degree and not diminish the wonder of art and its provenance–it's immune because it's unexplainable at its core, even if we can dissect the constituent urges/functions that bring it into existence. Mystic truths don't require bullshit beliefs. We don't need to believe in ghosts to believe in the primacy of art. 
Y a t-il une vie après la mort artistique ?
Is there life after artistic death?
Bien sûr. L'artiste n'est artiste que durant l'acte de création. Quand une personne se brosse les dents, se fait cuire des oeufs ou regarde un match à la télé, elle est un simple être humain. Ça n'est que lorsqu'elle se lance dans la danse de la création qu'elle devient artiste. Cette mort artistique pour moi c'est une mise en dormance ponctuelle qui arrive régulièrement (ou pour de longues périodes).
Of course… the artist is only the artist during the act of creation. When she brushes her teeth or makes eggs or watches football on the tele, she is just a human. As soon as she engages in the dance of creation she transforms into the artist. So artistic death is just periodic dormancy that happens regularly (or for long periods). 
Un rituel de scène ?
Your pre-stage ritual?
Je me remue nerveusement, je bois de la téquila avec du citron, je fais un peu jogging sur place.
Nervous fidgeting, tequila and lime, jogging in place.
Avec qui aimerais-tu travailler (musique et hors musique) ?
Who would you work with (musically or not)?
Je suis ravi de collaborer avec à peu près n'importe qui dans le monde de la musique, si le temps disponible le permet… Bien sûr il y a des gens célèbres qui ont fait des disques qui m'ont profondément influencés; et je serais ravis de les rencontrer ou de travailler avec eux, mais je suis vraiment ravi de pouvoir faire de la musique avec mes amis proches. C'est un vrai plaisir.
J'aimerais néanmoins travailler un jour avec un spécialiste de l'animation, un visionnaire (quelqu'un du Studio Ghibli par exemple), parce que je me considère comme un musicien surréaliste – beaucoup de sons que j'essaie de faire, je les produis « visuellement », je serais très efficace avec des images surréalistes.
I'm delighted to collaborate with almost anyone in the music world, if time permits… of course there are famous people who have made records that have influenced me greatly and I'd be tickled to meet or work with, but I also love to make music with my good friends. That's a real treat. 
I think I'd be very excited to someday work with a visionary animator (someone from studio Ghibli, for example), because I fancy myself a musical surrealist — many of the sounds I try to make I arrive at visually and would go very well in tandem with surrealist images. 
Quel serait le climax de ta carrière ?
What would be the climax of your career?
Je ne sais pas vraiment mais j'espère l'atteindre sans vraiment le savoir, et me délecter de la redescente comme une espèce d'aventure intérieure.
I'm not sure but I hope to reach it unknowingly and enjoy the comedown as an inward journey. 
Retour à l'enfance, quel conseil te donnes–tu ?
Back to your childhood – what piece of advice would you give your young self?
Aime toi toi-même. Ne cherche pas à être cool.
Love thine self. Don't be cool. 
Comment te vois-tu dans trente ans ?
How do you see yourself thirty years from now?
Un mec qui geint, idiosyncratique, toujours dans les bouquins.
Grizzled, idiosyncratic, bookish. 
Comment vois-tu évoluer ta musique ?
How do you see your music evolve?
Comme une série postulats et de fausses conclusions. Une exploration. Je suis fier de la discographie de Nightlands et j'ai hâte de l'étendre franchement durant les 30 prochaines années de ma vie.
As a series of premises and false conclusions. Explorations. I'm proud of the Nightlands discography and looking forward to expanding it over the next 30 years of my life.
Un plaisir coupable ou un trésor caché (musique ou hors musique) ?
Your guilty pleasure or hidden treasure (musically or not)?
La musique de jeux-vidéos. Un jour, je pense que nous comprendrons que certaines de nos plus grandes compositions sont liées aux jeux-vidéos – immunisées aux critiques issues de l'industrie musicale et produites uniquement dans le but de divertir. Pur.
Video game music. In time I think we will realize that some of our era's greatest compositions were attached to video games — immune from the critical arm of the music industry and solely for diversionary purposes. Pure.
Photo : Dustin Condren
Audio
Vidéo
Photos Exclusives
© David Hartley
Toutes les photos ont été prises avec des appareils photos jetables. La dernière prise de vue sur de nombreux appareils photos jetables (surtout les plus anciens) peut avoir de larges fuites de lumière, des stries et des défauts que j'adore vraiment.
All shots are from disposable cameras. The last shot on many (especially older) disposable cameras can have large light leaks and streaks and defects that I really love.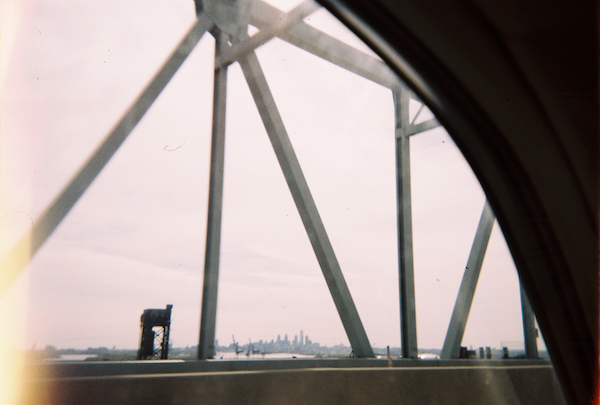 L'horizon de Philadelphie, pris en conduisant vers le nord sur la 95 depuis l'aéroport.
The Philadelphia skyline, taken while driving north on 95 from the airport. 
Le tunnel Holland, pris en conduisant.
The Holland Tunnel, taken while driving.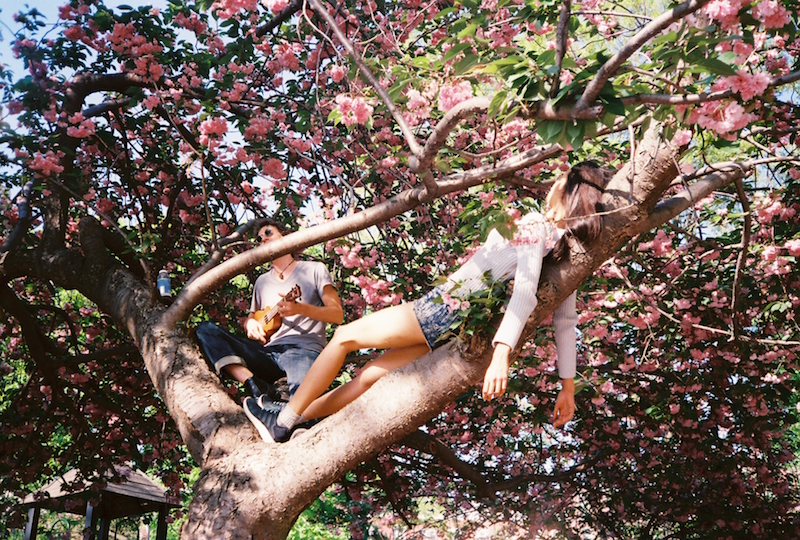 Troubadour et muse (en plein repos) à Washington Square Park, à New York.
Troubadour and muse (in full repose) in Washington Square Park, NYC.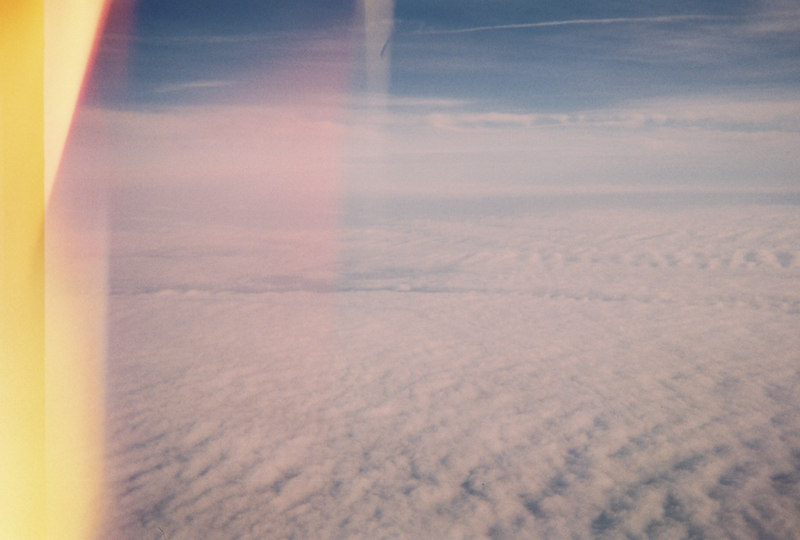 J'ai une peur profonde de voler (due à une turbulence extrême que j'ai vécue récemment) et la seule chose qui semble l'alléger est de regarder par la fenêtre et d'écouter de la musique apaisante.
I have a deep fear of flying (a recent, extreme-turbulence-derived development) and the only thing that seems to ease it is staring out the window and listening to calming music.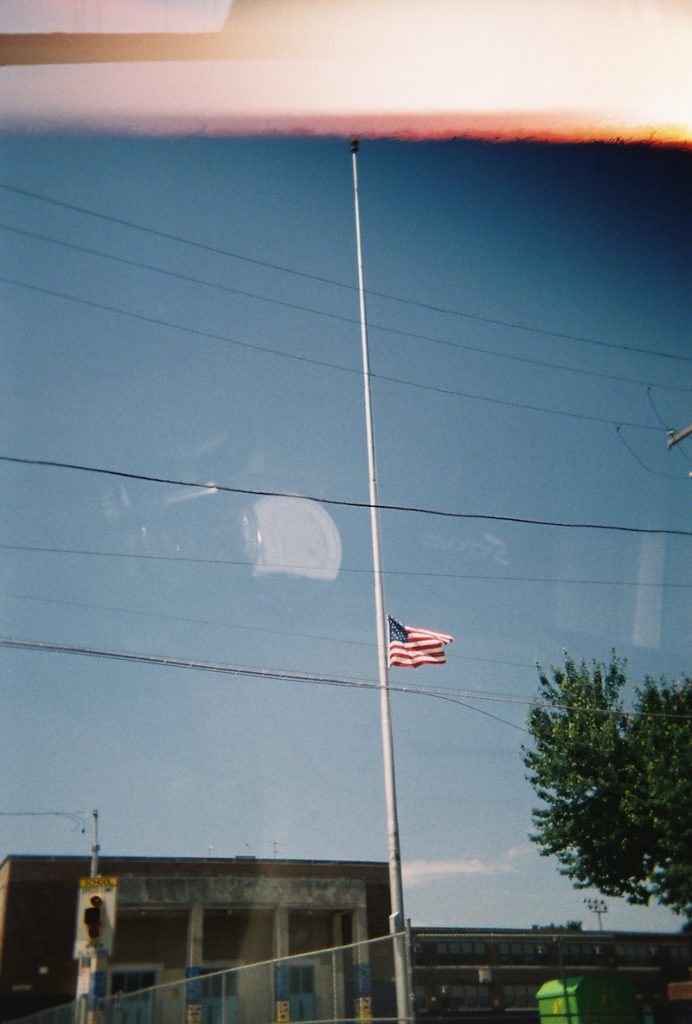 Une école secondaire de deuil, Fishtown, Philadelphie, Pennsylvanie.
A high-school school in mourning, Fishtown, Philadelphia, PA.