Ms. John Soda l'interview
En 2006 sortait Notes And The Like, l'album que l'on croyait définitif du duo Ms. John Soda formé par Stefanie Böhm, par ailleurs membre de Couch, et Micha Acher, qui faut-il encore le préciser, s'évertue au sein de The Notwist, 13 & God ou encore Alien Ensemble. Définitif, car il semblait synthétiser à lui seul l'univers Morr Music, cette pop oscillant entre le rétro et l'électro, à la fois mélancolique et doucereuse. Oui, tout à fait le disque qu'on laissait tourner à l'heure de s'emballer au coin du radiateur. Définitif aussi, car depuis sa parution, absolument rien ne laissait transparaître un futur. Et tandis que l'on a définitivement enterré l'existence même d'une supposée folktronica et que Myspace est bel et bien six pieds sous terre, les deux Berlinois repointent le bout de leur nez comme si rien n'avait changé, comme si Morr Music ne s'était pas mis à l'ambient, comme si quelqu'un emballait encore au pied d'un radiateur renâclant la poussière. Et pourtant. A écouter Loom, révélé le 2 octobre dernier toujours sur le label de Thomas Morr, il n'est pas impossible, les yeux mi-clos, de prendre un bain de jeunesse et de chercher machinalement ses dessous dans le coin le plus douillet de son appartement. Peut-être plus abouti, plus travaillé et moins candide, Loom n'en reste pas moins un formidable disque de chevet. Stefanie Böhm a eu la gentillesse de répondre à nos questions tandis qu'en fin d'article un mix intitulé Ms. John Soda – end of summer favourites est à écouter au moment opportun.
Stefanie Böhm l'interview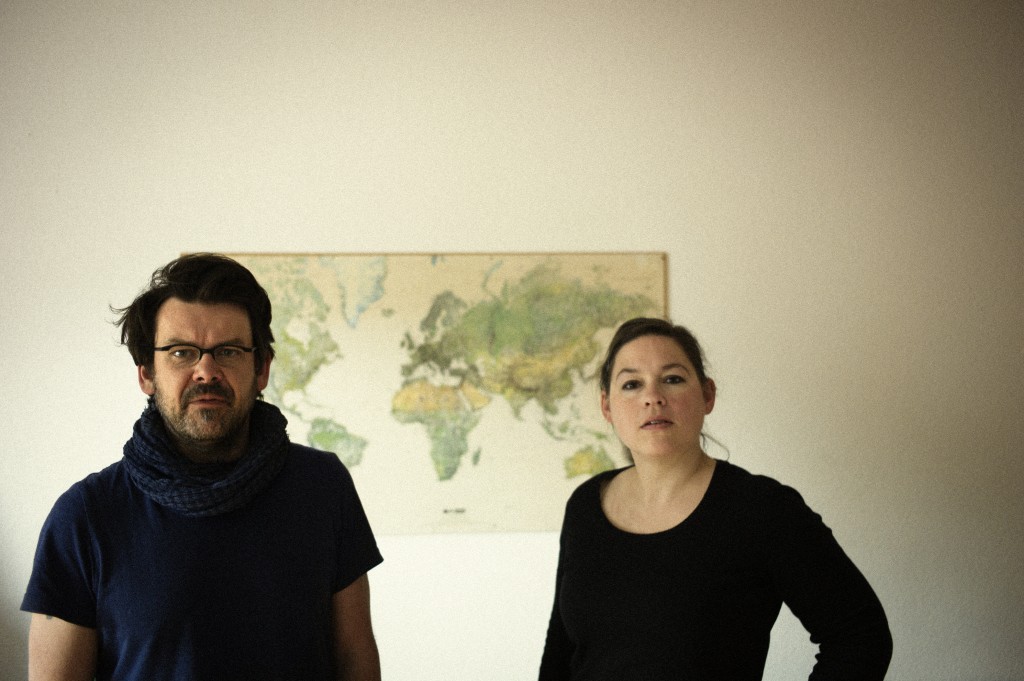 Photo © Andreas Staebler
En 2000, pourquoi as-tu lancé ce projet et quels sentiments essaie-tu de transmettre avec Ms. John Soda ?
In 2000, why did you start this project and what kind of feelings do you try to transmit via Ms. John Soda?
J'ai lancé Ms. John Soda en 1998 sous la forme d'un projet solo et produit un premier 7" sur le label Hausmusik. J'ai joué avec Micha dans plusieurs groupes pendant les années 90, mais ils ont tous avorté. Et comme on voulait continuer à faire de la musique ensemble, on a décidé qu'il serait membre de Ms. John Soda. Ça a très bien fonctionné et rien n'a changé depuis. Quand on joue ensemble, on essaie d'écrire et créer une chanson et une musique qui reflètent un certain état d'esprit ou un ressenti dans des situations données. On travaille sur nos chansons jusqu'à avoir l'impression que "c'est bien du Ms. John Soda". Mais on est incapable de retranscrire exactement ce qu'on ressent avec des mots. Il arrive parfois que notre musique soit mélancolique, triste, mais malgré tout apaisante, encourageante et réconfortante, rageuse mais optimiste. Mais au final, on n'essaie pas activement de transmettre quelque chose, on tente de s'exprimer par la musique, et on espère toujours qu'il y aura des gens pour apprécier et comprendre ces humeurs attachées à nos chansons.
I first started Ms. John Soda in 1998 as a solo project and released one first 7″ on the Label Hausmusik. I played together with Micha in some other bands during the 90ies, but these bands all split up. And as we wanted to go on making music together we decided that he will join Ms. John Soda as a certain bandmember. And as this worked out that very well, we never changed this. And when we do music together we try to write and create a song and music that reflects a certain kind of mood or feeling we have in different situations. We work on our songs until we both have that « that's Ms. John Soda »-feeling. But we both can not put in words what exactly that feels like. Maybe sometimes it's melancholic, sad, but still soothing, encouraging and heartening, angry but still hopeful music. But all in all we do not actively try to transmit something, we try to musically express ourselves and we always hope, that there a people that like and understand these certain moods our songs have.
Comment décririez-vous Ms. John Soda en tant qu'entité, et quelles sont vos plus grandes influences dans ce projet ?
As an entity, how would you describe Ms. John Soda, and who are your biggest influences in this project?
Je décrirais Ms John Soda comme un espace où ma musique et celle de Micha se complètent l'une l'autre. Beaucoup d'éléments, du son, des sentiments et des mots se mêlent pour progresser vers quelque chose de neuf en orbite constante autour de l'essence de notre musique, les états d'âmes très particuliers de Ms. John Soda. On ne cherche pas à transmettre des messages importants, mais on essaie de se focaliser sur ces petites choses que vivent les gens au quotidien. On pense, et on espère, que s'attacher aux petites actions, la façon dont elles interagissent et ces choses que nous faisons tous chaque jour importe bien plus que se concentrer sur un seul gros événement. Autrement dit, un million de petites actions sont plus solides et efficaces qu'attendre qu'une évolution importante améliore les choses. Et nos influences rassemblent toutes les expériences que nous vivons chaque jour. La musique, les gens, les conversations, les actes des gens, de la famille, des politiques, de l'histoire, de la nature, des livres et des mots, etc…
I would describe Ms. John Soda as a space where Michas and my music complement each other, many things and sounds, feelings and words mix up and something new evolves, always spinning around the core of our music, the very special Ms. John Soda moods. We do not try to transmit big messages, but we try to put a focus on the small things going on in peoples everyday lives. We think and hope, that caring for all the small steps, the way we interact and things we all do each day weighs much more than focusing on one big action. In other words: one million small steps are stronger and more effective than waiting for a big change to come and make things better. And our influences are just everything we experience in our everyday lives. Music, people, conversations, the way people act, family, politics, history, nature, books and words and…
Neuf ans après votre ultime Notes and the Like, qu'est-ce qui a changé dans l'approche musicale de Ms. John Soda ? Pourquoi avoir mis tellement de temps pour composer à nouveau à deux ?
Nine years after your ultimate Notes And The Like, what changed in the musical approach of Ms. John Soda? Why did you put so much time to compose again together?
La raison de ce long silence est que beaucoup de choses ont changé dans nos vies et qu'on n'avait plus vraiment le temps de se voir pour faire de la musique. Micha a beaucoup d'autres groupes et projets, une famille, et j'ai beaucoup à faire avec mon boulot, ma famille et mes enfants. Mais à chaque fois qu'on a trouvé le temps de travailler sur des morceaux pour Ms. John Soda ces dernières années, on a constaté que faire de la musique ensemble fonctionnait toujours immédiatement, peu importe le temps qu'on avait passé sans se voir ou à travailler sur d'autres choses. Et au final ça ne nous a pas demandé beaucoup de temps pour composer et créer notre musique, juste de faire un peu plus de choses entre les sessions studio…
The reason why it took us that long is, that a lot of things changed in our lives and we just did not have that much time to meet and do music. Micha has a lot of other bands and projects and family and I have a lot to do with my dayjob, family and children. But whenever we found the time to work on Ms. John Soda songs over the years, we found out that doing music together immidiately worked again, no matter how long we had not met or worked on something inbetween. So, all in all it did not take longer to compose and create the music, we just had to do more other things inbetweeen studio days…
Les lignes mélodiques semblent être au cœur de votre travail. Et en ce qui concerne votre méthodologie créative ? Pour donner naissance à une chanson, qui fait quoi dans Ms. John Soda ? Vous confrontez vos idées ou ça ressemble plus à un puzzle, chacun apportant sa partie pour compléter l'ensemble ?
The melodic lines seem to be the heart of your work. What about your creating process? The birth of a song : who does what with Ms. John Soda? Do you mix up your ideas or is it more like a puzzle, everybody bringing their own part to the whole work?
Micha et moi écrivons chacun de notre côté, chez nous. Et de temps à autres, on partage ce qu'on a produit. Puis chacun de nous poursuit en travaillant sur les morceaux de l'autre. On enregistre de nouvelles lignes, de nouveaux instruments, de nouvelles mélodies, on chante, on supprime certaines parties, on en intègre d'autres… Ce qui nous passe par la tête. Et quand on aime tous les deux ce qu'on a produit, on lance les sessions studio au cours desquelles on travaille les morceaux ensemble et on enregistre d'autres instruments. Pour Loom, nous avons aussi passé quelques jours dans le studio avec Cico Beck (notre nouveau membre live). Et à la fin, on rassemble toutes nos chansons pour les mixer et les produire dans le studio, cette fois avec Olli Zülch, et ça a fonctionné à merveille !
Micha and I, we both write songs on our own, at home. And from time to time we exchange what we have done. And then each of us goes on working with the other ones songs. Recording new lines, instruments, melodies, singing, throwing parts out, putting new parts in… Whatever we feel like. And often the songs change quite a lot. And sometimes we also exchange the song several times. And when we both like what came out we also have studio days where we work on the songs together, record some additional instruments. For « Loom » we also spent some helpful days in the studio tegether with Cico Beck (our new live bandmember). And in the end we take all our songs and finally mix and produce them in the studio, this time we did this together with Olli Zülch, which worked out very well!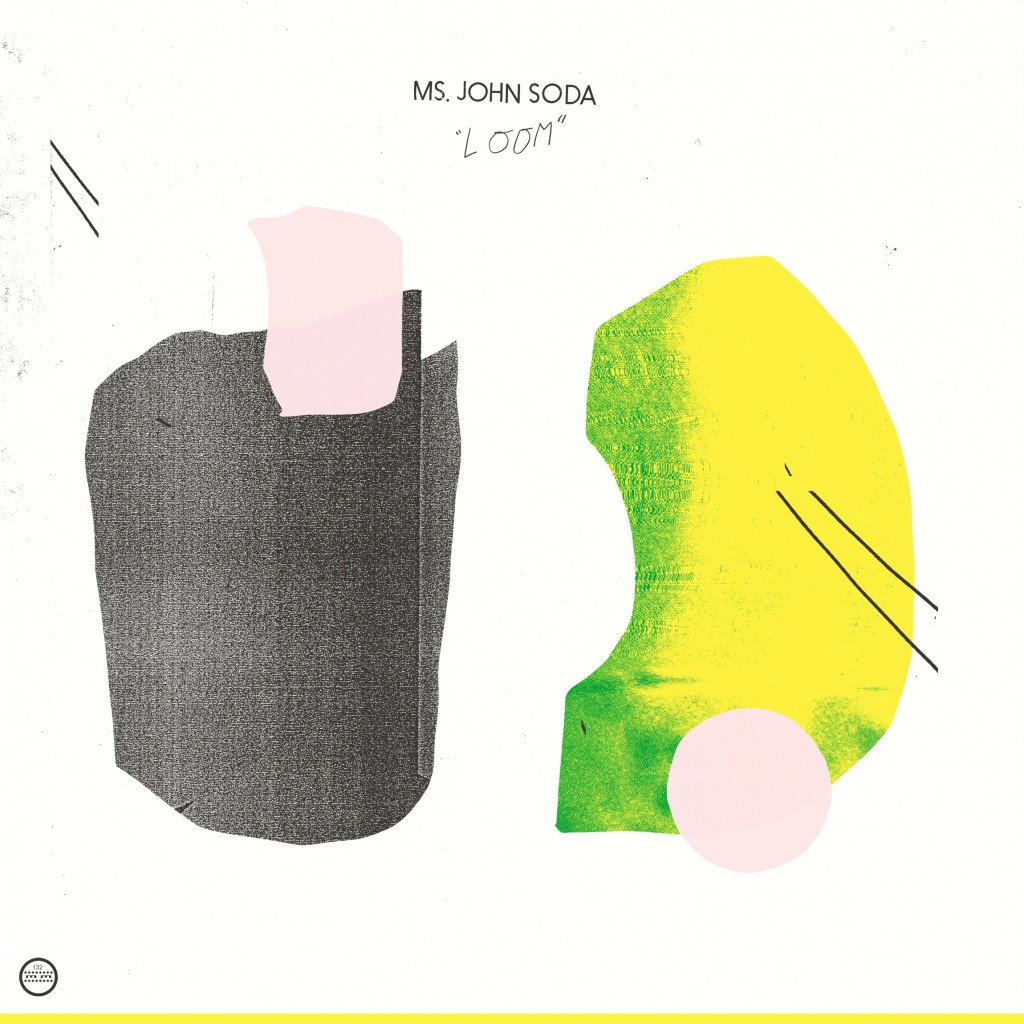 Tes side projects t'ont-ils influencé pour composer ce nouvel album ou Ms. John Soda reste un imperméable chaudron pop pour votre inspiration commune ?
Did your side-projects influence you for compose this new album or Ms. John Soda remain a pop impervious cockpit of your common inspiration ?
Ms. John Soda est le seul groupe pour lequel j'écris activement des chansons, mais jouer dans d'autres groupes comme Couch influence mon travail, comme toutes les expériences de ma vie influencent mes actes.
Ms. John Soda is the only band I actively write songs for, but playing in other bands, like Couch, influences my work in the same way as everything else I experience in my life influences what I do.
Vos productions semblent dépeindre un monde rempli de rêves et de nostalgie… C'est un objectif ou une façon naturelle d'écrire ?
Your songs seem to reflect a world full of dreams and nostalgia… Are you aiming at this or is this just natural when you're writing?
Je n'ai aucun objectif quand je fais de la musique. Ça vient tel quel. Et cette musique mélancolique et parfois triste, qui véhicule cependant de l'espoir et quelque chose d'encourageant et d'apaisant en même temps est plus ou moins l'essence de ce que Micha et moi voulons faire.
I aim nothing while doing music. It just comes out like this. And this melancholic, sometimes sad music, that still carries hopes and something soothing and encouraging at the same time is more or less the core of what Micha and I want to do.
De quels groupes contemporains vous sentez-vous proches ?
Which actual bands do you feel close to?
On écoute beaucoup de groupes présents dans le mix qu'on t'a envoyé. Mais il y a bien d'autres groupes et musiciens, beaucoup trop pour les citer…
We listen a lot to the bands we put in the mix we sent you. But there are still so many more bands and musicians we like, too many to mention…
Ce nouveau LP donne l'impression que vous vous êtes débarrassés de certaines de barrières, de certains formats pop, votre musique paraît plus profonde. Quel est ton avis ?
With this new LP it sounds as if you'd got rid of some barriers, pop formats, your music seems deeper. What do you think?
En fait, ce n'est pas évident de parler de cette façon de ma propre musique. Je peux difficilement la décrire d'un point de vue théorique. Mais si ça te paraît plus profond, ça me va. J'aime bien cette description.
Well, it is hard to talk about my own music in that way. I can hardly describe it from a theoretically point of view. But it sounds good to me, if it seems deeper to you. I like that description.
Qu'est-ce qui attend Ms. John Soda dans un proche avenir ? Et toi ?
What is your near future and Ms. John Soda's?
On prévoit quelques concerts en début d'année prochaine. Et on continue à écrire de nouveaux morceaux en espérant trouver plus de temps pour ça par la suite !
Well, we actually plan some live shows early next year. And we go on writing new songs, hoping to find more time for this in the future!
Tu peux introduire votre mixtape ?
Can you introduce your mixtape ?
Ce que vous écoutez maintenant est notre "Ms. John Soda – end of summer favourites – mix". La musique qu'on aime. Bonne écoute !
What you listen to here, is our « Ms. John Soda – end of summer favourites – mix ». Music we love. Enjoy!
Mixtape
01. Low – Lies
02. Soley – Follow Me Down
03. The xx – Fiction
04. Caribou – Dive
05. L'Orange – The Pull of Warmth
06. Shabazz Palaces – Solemn Swears
07. Jel – Thnk4U
08. Baths – Ossuary
09. Le Millipede – Gedanken
10. The Handsome Family – Far from Any Road
11. Sufjan Stevens – Should Have Known Better
12. Lisa Germano – If I Think Of Love
13. Alien Ensemble – Modest Farewell
Audio
Tracklisting
Ms. John Soda – Loom (Morr Music, 2 octobre 2015)
01. In My Arms
02. Hero Whales
03. Millions
04. The Light
05. Sodawaltz
06. Hi Fool
07. Sirens
08. Name It
09. Oh Seven
10. Fall Away