Marcel Dettmann l'interview
Est-il encore besoin de présenter Marcel Dettmann, Wisigoth teuton qui aura réussi, aux côtés de son comparse Ben Klock, à renouveler une techno qui partait en berne à fin des nineties ? Le géant allemand, légende du Berghain, le club select et underground Berlinois, a su en quelques années redonner ses lettres de noblesses à une techno rêche et vindicative mais pourtant accessible. Aujourd'hui héros d'une nouvelle génération techno, nous nous sommes entretenus avec le célèbre DJ/producteur sur sa vision de la scène hexagonale et plus particulièrement sur sa participation au Weather Winter (lire).
Marcel Dettmann l'interview
Grâce à ta résidence régulière au Berghain et ton implication dans le label maison Ostgut Ton, tu es devenu, en quelques années, l'un des nouveaux héros de la scène techno. Comment vis-tu cette célébrité ? Est-ce que tu ressens de la pression ?
Thanks to your residency at Berghain and your involvement in its Ostgut Ton label, you have become, in a few years, one of the new techno scene's heroes. how do you live this celebrity ? Is it a pressure?
Je fais de la musique électronique depuis 20 ans, j'ai grandi avec tout ce qu'elle est et ce qu'elle implique. Du coup, je me considère simplement comme une partie de ces institutions avec lesquelles je travaille, c'est la vie quotidienne pour moi. Mais évidemment, il y a de la pression qui découle de tout ça. Les gens m'observent, beaucoup de gens me connaissent ou me reconnaissent; en tant que musicien tu peux avoir le plaisir de vivre la vie que tu a choisie, mais tu es constamment jugé, noté par les gens, les médias, tes amis et tes collègues. Ça reste néanmoins la vie que j'ai choisie et je pense que c'était un choix judicieux.
As I'm doing electronic music for more than 20 years, I was grown with all it's aspects. I'd consider myself being just a regular part of the the institutions I'm connected with, so this is everyday's life to me. But yes, there is some pressure on me. I'm under people's observation, a lot of people know me or recognise me; as a musician you have the pleasure to mostly live a self-determined life, but you are always rated by other people, by the media, by your friends and colleagues. But that's the life I decided to live, and I think it was a good decision.
Tu as commencé à jouer en live vers 1994 je crois. Tu te souviens de tes premiers lives ? Tu peux nous dire où et quand c'était ?
You started playing around 1994 I believe. Do you remember any of your first gigs ? Where was it ? How was it ?
L'un de mes premiers pas dans la musique électronique, je l'ai fait à l'occasion de cette soirée dans un club punk alternatif, où les gens jouaient plutôt du rock, habituellement. C'était au début des années 90, dans ma ville natale. Mais mon premier véritable live c'était au milieu des années 90, à Dresden, à deux heures au Sud de Berlin. Le club en question avait un espace chillout lounge, les murs étaient décorés avec de la laine phosphorescente que tu peux encore voir dans certains festivals trance ou goa aujourd'hui. Un lieu typique de la techno est-allemande des années 90. Tout était très sombre, une lumière stroboscopique, une machine à fumée, un mauvais soundsystem, des boissons pas chères…
As one of the first steps into electronic music I remember this party at some alternativ punk club, where usually rock music was played, back in the early 90s in my hometown outside of Berlin. The first regular booking was in the mid 90s, I played in Dresden, two hours southwards Berlin. The club had a chillout lounge, the walls were decorated with this phosphorescent wool you still see at some goa and trance festivals, it was a typical 90s east german techno venue. A lot of darkness, a strobe, a fog machine, bad soundsystem, cheap drinks.
Tu as joué dans les plus grands lieux et les plus gros festivals, qu'est-ce qui te plaît dans un évènement comme le Weather Festival ?
You played the biggest venues in the world and the biggest festivals , what do you like in Weather Festival ?
Le Weather Festival, c'est l'un de ces évènements où l'on sent fortement les racines de la techno, de la house et de la musique électronique. Comme j'ai de bons contacts avec les gars qui gèrent la Concrete, et qui sont derrière le Weather, venir jouer ici c'est toujours un moment particulier que j'attends avec impatience.
Weather Festival is one of those events where techno house Electronic music roots at the focus And as I have a good contact to the Concrete guys who are running Weather Festival it's always a special date to look forward to.
Tu viens souvent en France, surtout à Paris où tu as une fanbase très fidèle. Qu'est-ce que tu aimes ici?
You come regularly to France , particularly to Paris where you have a very loyal audience. What please when you come to France ? Do you have a story that you 've scored ?
Ça fait du bien de voir qu'il y a une large variété de gens ouverts d'esprit intéressés par la musique électronique en France. Sur le dancefloor, tu vois des salariés, des mannequins, des gens normaux, des hipsters, un véritable mélange. Pour moi la France est l'un des meilleurs endroits pour jouer. J'adore jouer à Paris, j'ai aussi eu de superbes concerts à Lyon, Nantes ou Lille et certains de mes amis comme Anthony Parasole ou Answer Code Request jouent souvent ici. Et puis même au-delà de la musique, j'adore la France, tout simplement.
It's good to see that a wide range of people are open minded for electronic music in France. On the dancefloor you see workers, models, regular people, hipster, a really nice mixture; for me France is one of the first addresses to play music. I loved playing in Paris, I had some great gigs in Lyon, Nantes or Lille, also friends of mine like Anthony Parasole or Answer Code Request are often playing here. And at least I just like France, even beside electronic music.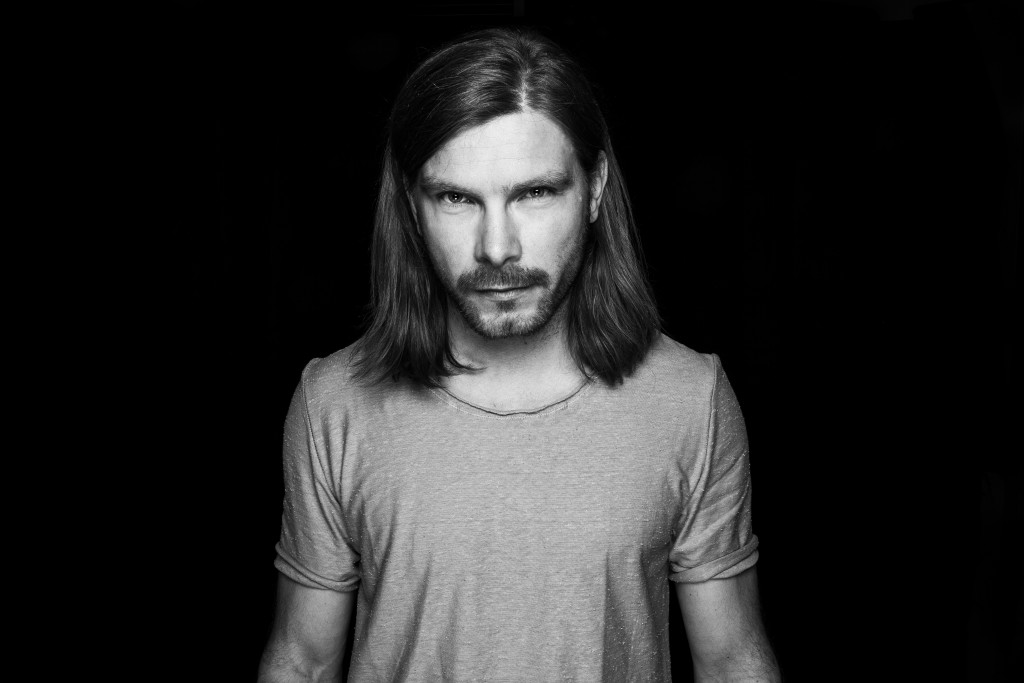 Photos © Flavien Prioreau
En France, le monde de la musique a été très affecté par les événements du 13 novembre au Bataclan. Qu'est-ce que tu as ressenti quand tu as appris ce qu'il s'était passé ? Est-ce que ça t'a fait changé ta vision sur tes performances lives, tes voyages ?
The music in France was affected by the events of November 13 at the Bataclan . How did you feel when you heard of the events ? Has it changed your way of viewing your performances, your travels ?
Tu ne dois pas laisser la peur diriger ta vie, mettre de côté le fun ou t'empêcher de prendre du bon temps avec de la musique et des amis ! Mais tous ces évènements m'ont profondément affecté, je me mets parfois à y penser, même pendant que je joue. Les contrôles aux frontières ont un peu changé depuis, les policiers te regardent de manière un peu plus suspecte. Mais ça n'est pas grand chose en regard du profond désarroi causé par les événements du 13 novembre.
You mustn't let fear rule your life or spoil fun on having a good time with music and friends! But on the other hand all those things had a deep impact on me, and you start thinking about, and sometimes this happens while I play music. Travelling changed the way that border controls are more strict now, officers looking more suspicious at you. But nothing compared to the sorrow that happened at November 13.
Il y a quelques années, je t'ai vu chez Synchrophone (disquaire électro / techno à Paris), quelques heures avant ton show au Rex Club. Tu apprécies d'aller fouiller quelques bacs avant de jouer ?
A few years ago I saw you at the Synchrophone store, few hours before your gig at the Rex Club, are you used to go antiquing before a set ?
Avant de jouer, si j'ai le temps, je vais acheter des disques quoiqu'il arrive, peu importe que je sois à Amsterdam, Berlin, Londres, New-York, Paris, Milan ou Tokyo. À Paris, pour moi Synchrophone a toujours été l'une de mes adresses de référence.
If there's time, I go record shopping by any accounts, no matter where I am in Amsterdam, Berlin, London, New York, Paris, Milano or Tokyo. But for Paris Synchrophone has always been one of the first addresses.
Comment tu prépares tes lives ? Est-ce que tu laisses un peu de place à l'improvisation ou tout est soigneusement préparé ?
How do you prepare your sets? Do you leave room for improvisation or is your performance relentlessly graph ?
Je me prépare quelques schémas, je rassembles des morceaux, des edits, des remix, bien plus de matière que ce dont je vais avoir besoin pour la soirée. Et puis je me décide ensuite en live, pendant que je joue. Tout dépend du ressenti une fois dans le club, comment le public réagit mais aussi mon état d'esprit de la soirée. Je n'ai pas vraiment de playlist, ce serait trop ennuyeux. J'aime expérimenter et jouer avec les attentes des gens, parfois. J'essaie de me placer quelque part entre créativité et préparation.
I'm preparing myself some kind of frame, I'm collecting tracks, edits, remixes, wya more than I need for the whole night. I'm deciding on site what I'm playing, it always depends on how the club feels, how the crowd is reacting and it also depends on the mood I'm in. I dont' have a regular playlist, that would be boring. I like to experiment with people's expectations sometimes, for doing that I try to set myself somewhere between creativity and preparation.
Tu peux nous donner un avant-goût de ton set au Weather ? A quoi le public doit s'attendre ?
Can you give us a taste of your set for the Weather ? What the public should expect ?
Je ne sais pas encore ! Comme je l'ai dit juste avant, je me décide sur place, au dernier moment. Mais j'ai vraiment hâte de jouer là-bas, donc ouvrez vos oreilles !
I don't know! As I said before I'm deciding on site. But I'm looking forward to play there. So keep your ears open.
Tu as eu la chance de monter sur scène avec les plus grands artistes de la scène techno internationale. Qu'est-ce que tu ressens quand l'un de tes héros joue un de tes morceaux ?
You had the chance to share the stage with the greatest artists of the techno scene , what do you feel as a producer when one of your heroes play one of your songs ?
C'est évidemment génial quand des gens que je considère comme très bons musiciens jouent mes morceaux ou me demandent un remix. C'est toujours un plaisir particulier d'entendre mes morceaux en club, parce que je ne joue pas ma propre musique très souvent moi-même.
For sure, it's always a pleasure if people I consider as being good musicians are playing my music or requesting a remix. And it's always a great thing to hear my music in a club, because I'm not playing my own music often.
Audio