King Dude Interview & Chronique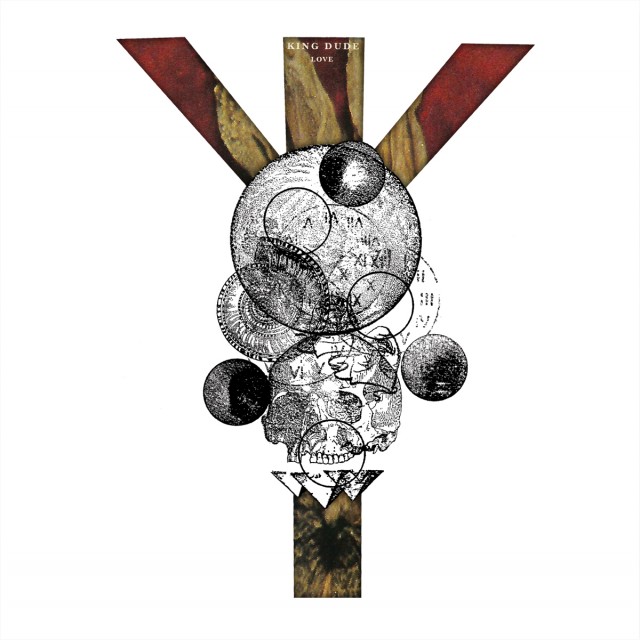 Thomas Jefferson Cowgill est de ceux pouvant sur terre attester de plusieurs vies. Du moins artistiquement. Embrassant le black metal (Book of Black Earth), le hardcore (Teen Cthulhu) puis enfin le dark folk avec son projet solitaire King Dude, le colosse à la peau criblée de tatouages n'a de cesse de surprendre lorsqu'il s'agit d'intimer sa perception sensible et mystique d'un monde à la violence avérée. Kaléidoscope émotionnel, les intentions accouchées à la hâte à l'occasion de son inaugural premier LP (lire), Tonights Special Death (Disaro / Avant!), trouvent dans LOVE, paru en fin d'année passée sur Dais Records, le fascinant écrin attendu, soigneusement cousu d'ambiances gothiques et néo-folk, à la croisée des chemins de Johnny Cash et Death in June, et d'une hagiographie biblique toute personnelle. Colère et rage d'antan occises sur l'autel d'une méditation mâtinée d'occultisme « intellectuel », c'est-à-dire à rebours de celui rituel, T.J. Cowgill livre dix balades vespérales, chacune transpercée d'un souffle mélodique au dénuement obnubilant. Ne s'embarrassant que d'une guitare, de quelques pédales et d'une réverbération sur sa voix, ce dernier esquisse, par le biais de concises ritournelles, son propre abécédaire de la rédemption, oscillant entre caverneuses psalmodies (Don't Want Me Still, Please Stay (In The Shadow Of My Grave), Endless Rose) et antiennes luminescentes (In The Eyes Of the Lord, Spiders In Her Hair, Lucifer's The Light Of The World). Et si une chanson à la beauté diaphane telle que Hello Mary, où l'on perçoit d'infimes bruissements de claviers, indique que l'homme semble désormais en paix avec lui-même, une tenace curiosité colle aux basques du personnage qui, sous ses apparences bourrues, s'avère plus que charmant.
 I'm King Dude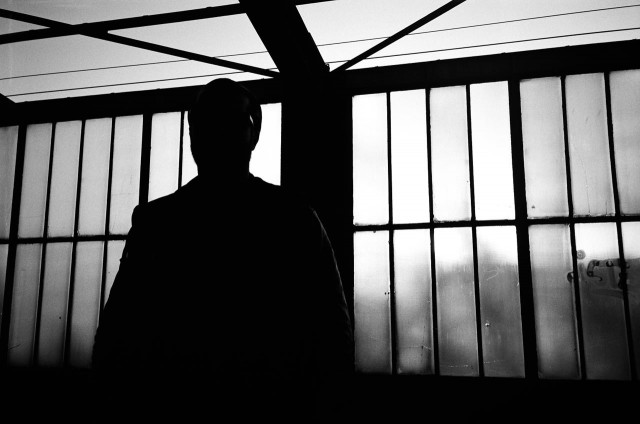 Comment est né le concept à l'origine de King Dude, et d'où vient ce nom ?
How did the whole concept of King Dude come about and how did you come up with this band name?
Pour leur faire une blague, j'ai raconté à mes amis Mary et Tosten que j'allais former King Dude, un groupe de reprises a capella. Et puis, peu de temps après, j'ai commencé à enregistrer chez moi des morceaux écrits à la va-vite, sous le nom de King Dude, à défaut d'autre chose de mieux. Je me souviens que Tosten avait enregistré l'un des morceaux pour moi, et quand j'ai entendu ma voix, ça m'a fait un choc. Je ne savais absolument pas à quoi ma voix ressemblait quand je chante. Ça m'a fait penser à du Syd Barrett. Et puis une fois écouté, Mary a trouvé que ça ressemblait à du Current 93, un truc que je n'avais jamais entendu avant. Par la suite, j'ai découvert Death In June, qui m'a pas mal influencé. Ça devait être en 2004. Mais, je n'ai pas pris tout ça au sérieux avant 2006-2007, quand j'ai composé The Black Triangle. Mais, c'était plus ou moins un heureux accident.
I told my friends Mary and Tosten that I was starting an all a capella cover band called King Dude as a joke. Then shortly afterwards I started doing a lot of home recording of really hastily written songs and out of lack of a better name I called it King Dude. I remember Tosten recorded one song for me and when he played my voice back I was shocked. I had no idea what I sounded like when I really tried to sing. It reminded me of Syd Barret. Then Mary heard it and said it sounded like Current 93 who I'd never heard before. Then that led me to Death in June and obviously a great deal of influence. I guess that would've been in 2004. It wasn't until about the time I wrote The Black Triangle in 06 or 07 that I started to take it even more serious. But it's all more or less a happy accident.
Comment décrirais-tu ta musique ? Quelles sont tes plus grandes influences ?
How would you describe King Dude's music, and who are your biggest influences?
Je dirais que c'est de la musique spirituelle. Enfin, si tu entends bien ce que j'entends. J'ai été inspiré par trop de gens pour pouvoir tous les nommer ici. Dernièrement, c'était surtout Buddy Holly, Johnny Cash, Bob Dylan, et puis Kitte Wells, Elizabeth Cotten et Dock Boggs pour ce qui est des gens un peu moins connus. Et je ne parle que du mois dernier. Je suis inspiré par tellement de bonne musique.
I would say that it's spiritual music. That is if you hear it the way I hear it. I have too many influences to name. Lately it's been Buddy Holly, Johnny Cash, Bob Dylan for the more mainstream artists and Kitte Wells, Elizabeth Cotten and Dock Boggs of the lesser known folks. And that's just the past month or so. I am inspired by so much good music.
Tu es aussi le chanteur du groupe de black metal Book Of Black Earth. Le processus est-il vraiment différent en termes d'écriture quand tu composes pour King Dude ?
You also sing in the black metal band Book Of Black Earth. Is your songwriting process different when writing songs for King Dude?
Oui, très diffèrent. Je dois prendre les sentiments d'autres personnes quand je compose pour des groupes. Avec King Dude, les morceaux sortent très vite et personne à part moi ne peut intervenir. Je dirais que c'est un procédé plus intéressant en ce qui me concerne.
Yes very. I have to consider other people's feelings when I write songs in bands. In King Dude the songs come out really fast and no one can change them other than me. I'd say it's a better process for me.
Mort, religion, amour, Lucifer, nature et instincts primitifs sont tous de grandes sources d'inspiration. Peux-tu nous parler un peu de ton rapport avec l'occulte ?
Death, religion, love, Lucifer, nature, primal feelings are your main inspirations. Can you explain to us what is your intellectual relationship with the occultism?
Il y aurait tellement de choses à dire. Je vais tenter de faire court. Les morceaux de King Dude sont comme de petites odes aux choses qui illuminent l'esprit. J'essaie de capturer ce moment d'expression divine dans un enregistrement, pour partager ce sentiment avec l'auditeur. Les chansons portent le sceau de mes intentions, et c'est en devinant si mes intentions sont ressenties ou non par l'auditeur que je fais le tri entre ce qui doit être enregistré et ce qui devrait être mis de côté. De plus, ma relation avec tout ce qui est occulte est exclusivement intellectuelle, et je me considère comme un homme qui ne suit aucun dogme. Je suis un homme simple, qui n'a jamais fait partie d'aucune fraternité clandestine. Ceci dit, juste par curiosité, j'ai choisi de regarder ''au travers du voile'' qui a tendance à salir tant de mes confrères. J'espère que cela répond à ta question.
There's so much I could say here. I will attempt to summarize. King Dude songs are like little odes to things that cast light into the soul. I attempt to encapsulate that moment of divinity into a recording so the listener can share a certain sentiment that I've felt. The songs are imprinted with an intention of mine and wether or not that intention is felt by the listener is how I know when a song is ready to be recorded or discarded. Furthermore, I approach the occult from a purely scholarly level and consider myself a man of no codified dogma. I am a natural man who has never belonged to any clandestine fraternity still out of curiosity I have chosen to « peer beyond the veil » which tends to mire so many of my peers. I hope that answers your question.
Qu'avais-tu en tête pour LOVE LP ?
Did you have specific goals for LOVE LP?
Je voulais écrire un album de chansons d'amour. Rempli de lumière et d'amour.
I wanted to write a record of love songs. Filled with light and love.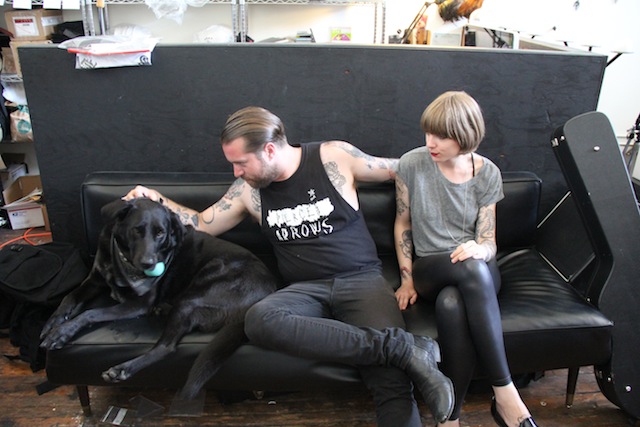 Lucifer's The Light of the World est un morceau magnifique. Peux-tu me parler des conditions dans lesquelles tu l'as écrit ? Tous les morceaux ont-ils une histoire particulière ?
Lucifer's the Light of the World is a magnificent song. Can you tell me about the story around it it? Have all the songs a particular story for you?
LTLOTW est la version cathare de l'histoire d'Adam et Eve, extraite de la Genèse, dans laquelle ils sont expulsés du jardin d'Eden après avoir mangé le fruit défendu de l'arbre de la connaissance. Dans les récits cathares, le serpent était en fait le véritable Dieu de lumière, descendu du seul et unique Paradis, pour faire le don du savoir à l'humanité, au travers d'Adam et Eve. Selon cette version, c'est Yahvé, un sous-dieu – le Dieu juif par la suite hérité par les Catholiques – qui, pris d'une colère folle, jeta l'homme du paradis pour le punir. Cette croyance cathare est en accord avec la vision du reste de la Bible des Catholiques ou Yahvé est décrit, sans raison, de temps en temps, comme un dieu ouvertement maléfique, sournois, égoïste et narcissique. Grâce à l'interprétation très belle et finalement complètement logique de cette parabole enfantine, le Judéo-Christianisme est renversé et son sens caché se retrouve exposé. En termes musicaux, cette chanson est une réponse à l'un de mes morceaux favoris de Son House, John the Revelator.
LTLOTW is the Cathar version of the story of Adam and Eve from the book of Genesis in which Adam and Eve are expelled from the Garden of Eden for eating the fruit from the forbidden tree of knowledge. In the Cathars telling, the serpent was in fact the true god of Light who descended from the one and only true Heaven, to impart the knowledge of the soul onto humanity through Eve to Adam. It was the sub-deity, Yahweh – the Jewish God later inherited by the Catholics – who became enraged and cast man out of paradise for his disobedience. This Cathar belief lies in accordance with their view of the rest of the Catholic bible where Yahweh is inexplicably painted time and time again as a petty, selfish, narcissistic and overtly evil god. With this one beautiful and otherwise completely logical interpretation of this otherwise childish parable, Judeo-Christianity is turned on it's head and – like coins out of it's pockets – it's hidden meaning comes tumbling out. Musically the song is a response to one of my all time favorite songs John The Revelator by Son House.
LOVE est sorti sur Dais. Peux-tu nous en parler un peu ?
LOVE was released on Dais. Could you say a few words about it? 
J'aime beaucoup Dais. Ryan et Gibby sont de véritables enfoirés. Ils sont investis à 100% dans leur art et ils ont été le point fort de mon expérience musicale. Je ne pourrai jamais dire assez de bien à leur propos, et d'autres labels devraient en prendre note.
I love Dais. Ryan and Gibby are some real motherfuckers. They believe in art 100% and have been a highlight of my musical experience. I can't say enough good stuff about them, all other labels should take note of how it should be done.
Es-tu toujours en contact avec Avant!, Bathetic, Disaro et Clan Destine… tes labels précédents ? As-tu des projets avec eux ?
Are you still in touch with Avant!, Bathetic, Disaro and Clan Destine, your previous labels? Would you consider any other project with them?
Ouais, de temps en temps. Depuis que j'ai commencé à bosser avec Dais, je n'ai pas vraiment eu de raison d'aller voir ailleurs. J'ai juste signé chez Vàn en Europe, mais d'après ce que je sais, Vàn soigne aussi beaucoup ses sorties. J'ai toujours beaucoup d'affection pour tous les albums que j'ai sortis, mais je dois tout particulièrement remercier Bathetic et Can Destine que j'adore, pour avoir sorti mes deux premiers LP. L'artwork de Love, c'est Dais qui m'a poussé à le faire, et ils m'ont aussi beaucoup aidé et se sont assurés que tout se passe bien. C'est vraiment incroyable, mec !
Yeah from time to time. Once I linked with Dais I have no real reason to work with anyone else. I did just sign with Vàn in Europe but as far as I can tell Vàn also puts a l lot of care into their releases. I still love all the records I've put out but man, and I especially have to give my love and thanks to Bathetic and Clan Destine for putting out my first two releases but did you see the artwork on that Love LP? Dais not only encouraged me to do it, they helped made sure it happened and that it came out perfectly. It's fucking unreal man. 
L'aspect graphique et esthétique de ton album, est-il important ? Si oui, pourquoi ?
Is the graphic & aesthetic aspect of your album important? If so, could you explain us why?
L'aspect esthétique est une des choses les plus importantes au monde, pour tout le monde, qu'on le sache ou non. Je deviens un peu fanatique quand il s'agit du design de mes albums, et je ne supporterais pas que quelqu'un d'autre intervienne. Ça devient de plus en plus difficile, alors que je vieillis, beaucoup plus de gens veulent me changer.
Aesthetics are one of the most important things in the world to everyone whether they know it or not. I am a freak when it comes to my album artwork and can't really have it any other way than my own at this point. It's getting worse and worse as I get older and more set in my ways.
Et en ce qui concerne tes vidéos ?
Same question concerning your videos…
D'autres personnes s'occupent des vidéos, mais je dois absolument pourvoir avoir mon mot à dire. Mais, je préfère ne pas avoir trop de contrôle de ce côté-là, pour qu'on puisse ainsi vraiment parler de collaboration artistique.
Other people make the videos, but I can't just have anything shot and edited without my say in it anymore. Still I like to have a bit less control in this department because it's more of an artistic collaboration that way.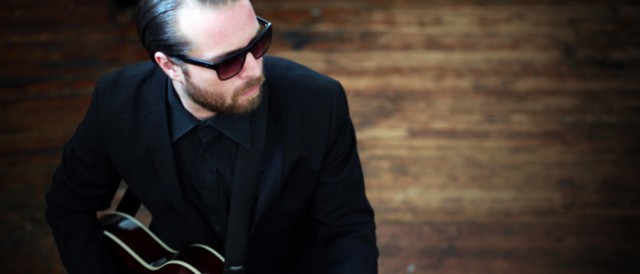 J'ai assisté à ton concert à Paris l'année dernière. Quels souvenirs marquants gardes-tu de ta tournée européenne ? Etait-ce une bonne expérience ?
I went to your show in Paris last year. What striking souvenirs do you keep from your European tour? Was it a good experience?
De très bonnes cigarettes et des tonnes de LP Krautrock d'Allemagne. J'ai aussi rapporté d'Amsterdam un bootleg génial de Nico, assemblé par le 'Nico Fan Club of Netherlands', ou un truc comme ça, mais sur vinyle tout de même. Il contient un enregistrement de soundcheck qu'elle avait fait avec le Velvet Underground que je n'avais jamais entendu avant ça. En règle générale, le public européen est vraiment différent du public américain. Par exemple, ils écoutent les morceaux quand tu les joues.
Really good cigarettes and tons of Kraut Rock LPs from Germany. I got a great Nico bootleg in Amsterdam complied by the or something like that on blue vinyl no less. It has a pretty rad soundcheck recording she did with Velvet Underground that I'd never heard before. In general European crowds are much different than American Crowds. For example they listen to your songs when you play them.
Tu as vécu à Seattle. Qu'en est-il de la scène musicale désormais ?
You've lived in Seattle. What's the music scene like in Seattle now?
Assez merdique pour la plupart. Il y a toujours quelques bons groupes ici et là, mais c'est comme des morceaux de bouffe mal digérés dans un gros tas de merde. J'imagine que c'est peut-être un peu exagéré. Mais quoique tu fasses, ne pars pas vivre là-bas. C'est horrible. Portland est bien plus cool.
Shitty for the most part. Their are a few good bands sprinkled here and there like bits of undigested food in a big pile of shit. I guess when I put it like that it sounds way worse than it is. Just whatever you do, don't move here. It's horrible. Move to Portland. It's much cooler.
Peux-tu nous dire comment tu t'es impliqué dans Actual Pain ?
Can you tell us how are you involved in Actual Pain?
J'en suis le fondateur et je m'occupe de tout ce qui est design.
I own it and design nearly all of it.
Pour finir, que pouvons-nous te souhaiter en 2012 ?
To conclude, what should we wish you in 2012? 
Souhaites-moi beaucoup de Lumière et d'Amour ! C'est ce que je te souhaite, mon ami !
You should wish me Light and Love! That's what I wish to you my friend!
Vidéo
Tracklist
King Dude – Love  (Dais Records, 2011)
01. Intro
02. Don't Want Me Still
03. In the Eyes Of the Lord
04. Spiders In Her Hair
05. Please Stay (In The Shadow Of My Grave)
06. Eternal Night
07. Lucifer's The Light Of The World
08. Big Blue Eyes
09. Hello Mary
10. Endless Rose