Ghost Animal : Chronique & Mixtape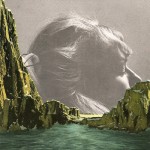 Michael Avyshai et Marisa Rowland, s'époumonant au sein d'un Ghost Animal écumant de rage et de bruits, raniment d'un coup d'un seul, le temps d'un premier LP rondement dégoisé, fantômes et légendes interlopes, en plus d'une inaltérable bestialité distordue, au parfum sauvagement lo-fi. Summertime In Heaven, disponible gracieusement en téléchargement sur le label-blog Summertime in Hell, et en cassette grâce aux trop fameuses Orchid Tapes, ne fait d'ailleurs qu'enfoncer les rares clous restant après l'inoxydable EP In Your Room, paru via l'extravagant label Amdiscs récemment chroniqué par ici. Et quand d'autres prennent la tangente vers le zénith et quelques radio edit châtiés (Wavves, No Age…), le duo californien trace sa route, avec obstination, sur les chemins d'une pop minimale, irradiée de saturations et de réverbs, souillée toute à la fois, d'alcool, de sueur et de larmes. Ferraillant sans égaux dans un capharnaüm de cymbales crash et de décibels corrodées, les Ghost Animal ne s'embarrassent d'aucun détour pour tutoyer sans ciller une histoire garage longue de plusieurs bras et de quelques décennies, d'insidieuses mélodies viciées ardemment chevillées au corps. Ne renâclant jamais à s'immiscer dans d'intenses tourbillons d'électricité, ces décalcomanies harmonieuses se trouvent désossées, le plus souvent jusqu'à leur substantifique moelle : l'efficacité, maniaque et savoureusement branque, de morceaux au rythme cardiaque émotionnellement débridé. En témoigne les quelques extraits suivants (California Sumer Pt.1, Summertime In Heaven, Vanity Affair, Out Of Reach et In Your Rooms).
Et si l'on sent la vie cogner vertement les tempes d'un animal si puissamment élancé sur l'asphalte poussiéreux d'une Amérique décidément fascinante, il n'y eu aucune barrière, aucun frein pour lier contact avec Michael, bavarder et s'enquérir d'une mixtape fraternellement réalisé par l'intéressé, amusé d'une expression maladroitement retranscrite. Heart Knocks est né ainsi, avec la volonté de rassembler, bout à bout, les amitiés glanées ici et là, et gravées depuis sur bandes, entre morceaux issus de compilations ou de collaborations, label influent et autoproduction. Une équation à multiples inconnues perlant l'horizon de luminescentes découvertes. Et comme si cela ne suffisait pas, Michael a griffonné ces notes de pochette, rien que pour nous, pour vous. On lui en saurait grès. Indéfiniment.
Mixtape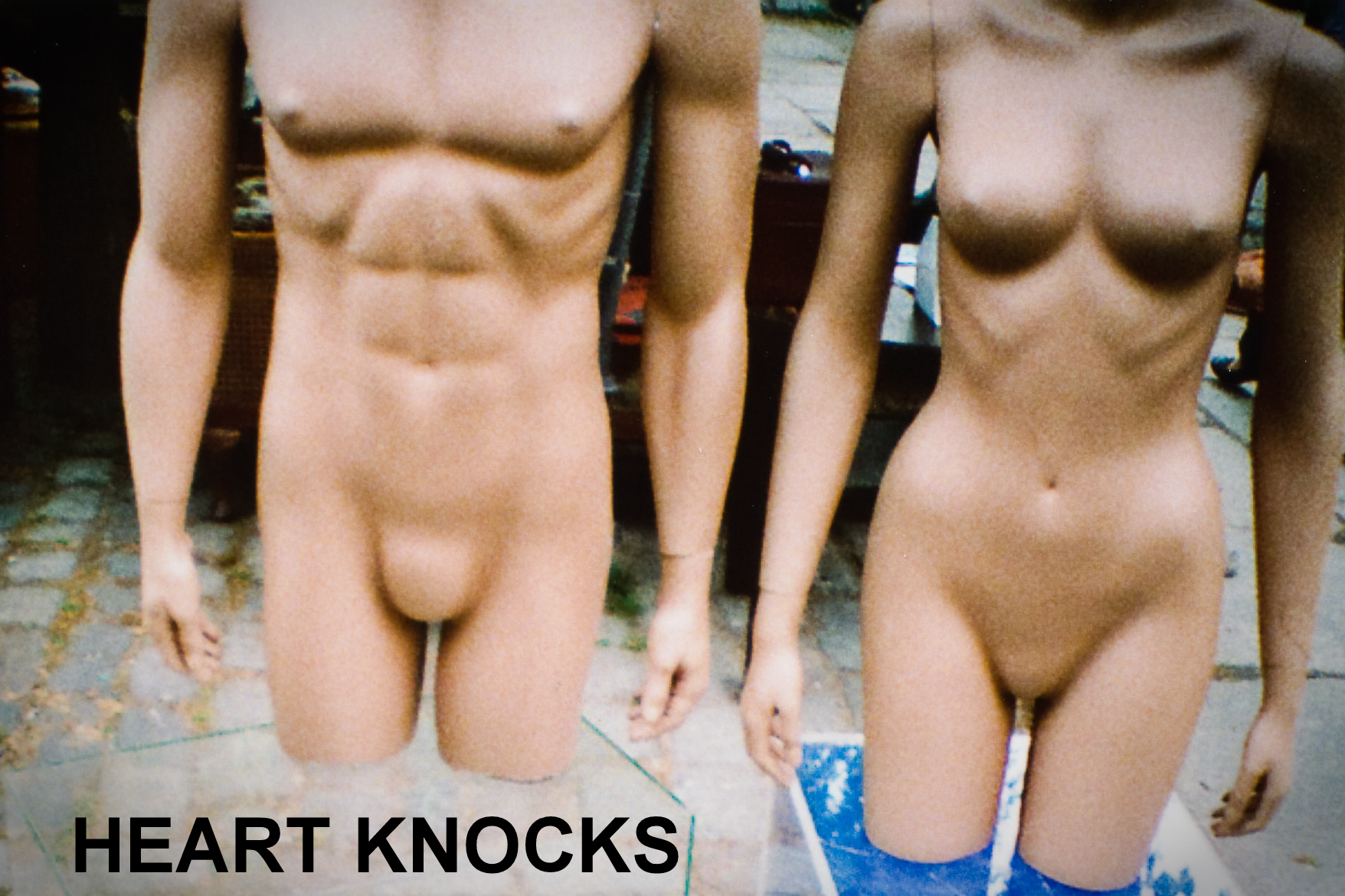 HEART KNOCKS (Download)
coups de cœur
a mixtape of friends
comments by Michael
1. Bathurst – Foxes in Fiction (extrait de la compilation du mois d'août de Beko)
Pop étincelante et sautillante qui n'est pas sans rappeler la beauté d'un jeune « Deerhunter de la campagne » en plus shoegaze et centré sur l'amour plutôt que sur l'ennui des villes sans âme.
Gorgeous shimmering pop recalling the beauty of shoegazier Deerhunter but young and in the country and falling in love instead of aging jaded in a heartless city.
2. Living Alone – Herzog (extrait de Search, Transparent)
Herzog nous offre un son « nineties » des plus accrocheurs… C'est typiquement le genre de musique qui me fait regretter le rock pur mené par des guitares.
Herzog makes some of the catchiest 90s-esque guitar-driven rock n roll around. Makes me really miss pure rock n roll.
3. Artichoke – Pandit (extrait de Pandit, Lefse)
Lance Smith (aka Pandit) est un des musiciens les plus talentueux que je connaisse, en qualité de compositeur, de producteur et même d'ingénieur du son puisqu'il a masterisé bon nombre de titres de Ghost Animal. Artichoke nous offre le rêve et l'ivresse tels une danse au lever du jour dans un brouillard lumineux.
Lance Smith (aka Pandit) is one of the most talented musicians I know, in terms of his songwriting, his production, and his engineering (he's mastered a handful of Ghost Animal tracks). « Artichoke » is both dreamy and thumping like dancing through the sunrise of a golden haze.
4. Dialogue – Skeletal System (extrait de Skeletal System EP, autoproduction)
J'ai eu la chance de jouer avec Skeletal System et de rôder avec eux quelques fois à San Francisco. Ils sont phénoménaux en concert. Je les compare à Joy Division en shoegaze. Une pop incroyablement sombre et triste qui ne laisse pas indifférent.
I've been lucky enough to play a show with Skeletal System and hang out with them a few times when we've been in San Francisco. They are phenomenal live. Like a shoegazey Joy Division. Incredible dark, gloomy pop to fall in or out of love to.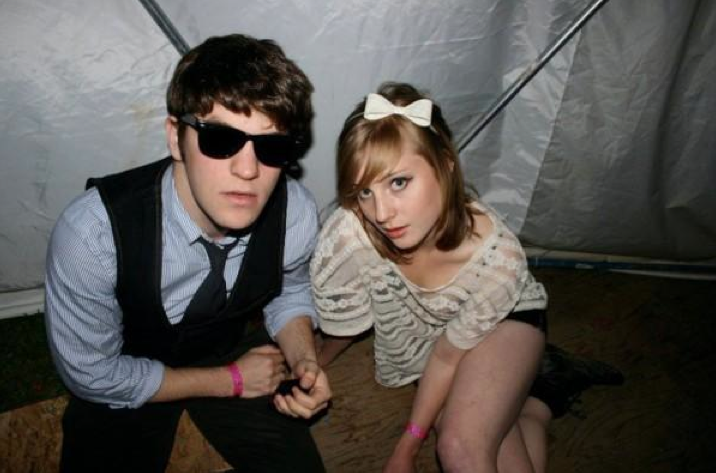 5. Lawn Knives – Gobble Gobble (extrait de Secret 7″, Royal Flying Rhino)
Il est difficile de qualifier le glitch-glam de Gobble Gobble provenant à la fois d'Edmonton et de San Francisco. Je les ai vus 3 fois en une semaine et j'ai halluciné. Ils ont fait une house party à LA et les gens ont littéralement surfé sur le public qui n'a cessé de les rappeler.
It's hard to find words for the glitch-glam of Edmonton/San Francisco's Gobble Gobble. I saw them three times in one week and hallucinated. They played a house party in LA and people were actually crowd surfing. And demanded an encore.
6. Pure – Blackbird Blackbird (extrait de Let's Move On Together EP, autoproduction)
Le maître de la chillwave, Mikey aka Blackbird Blackbird, est en train d'exploser en ce moment même. Je me souviens de soirées passées à consommer des gin tonic et des délicieux sandwiches à la dinde et au fromage. Nous étions ensemble lorsque Captured Tracks a officiellement annoncé Craft Spells comme nouvelle signature. C'était fun. Nous avons aussi un projet commun secret witch house, mais ne le dis à personne !
The master of chillwave, Mikey aka Blackbird Blackbird is blowing up huge right now. But in my heart we'll always have gin and tonics and delicious toasted cheese turkey sandwiches in the depths of drunken evenings. He was with me when Captured Tracks officially announced Craft Spells as their newest signee. That was fun. We have a secret witchhouse project together too but don't tell anyone.
7. Business as Usual – Coma Cinema (extrait de Blue Suicide, Fork & Spoon / Wonder Beard / Summer Time in Hell)
Je pourrais longtemps épiloguer sur Coma Cinema (je l'ai déjà fait d'ailleurs), mais je résumerais mes idées en une seule phrase : Mat Cothran est un génie et le meilleur songwriter que je connaisse.
I could say a lot about Coma Cinema (and have), but I'll leave it at this: Mat Cothran is a genius and the best songwriter I know.
8. Mr. Mail – Reign State (extrait de Neko Neko EP, autoproduction)
Amis d'un ami de Brooklyn. J'ai fait la fête avec Taja, la bassiste, à l'occasion du dernier nouvel-an et nous nous sommes bien marrés. Elle m'a envoyé son EP et il m'a soufflé. Il comprend les meilleures et les plus originales chansons que j'ai entendues depuis des lustres. ATTENTION CHERS LABELS INDIE : SIGNEZ CES GARS CAR ILS VONT DEVENIR ÉNORMES !
Friends of a friend from Brooklyn. Partied with Taja, the bassist, last New Years and we had a blast. She sent me their EP and it blew me away. Some of the best and most original songs I've heard in ages. ATTENTION INDIE LABELS: PICK THESE GUYS UP NOW. THEY ARE GOING TO BLOW UP HUGE.
9. Violet – Kiss Kiss Fantastic (extrait de The Red / Blue Shift EP, Summer Time in Hell)
Kiss Kiss Fantastic a été le premier projet que j'ai entendu de notre collectif éclectique et passionné de groupes/amis. Rachel a trouvé notre myspace et a laissé son commentaire habituel constitué de « x » et de « o », j'ai jeté un coup d'œil à sa page et j'ai été bouleversé par « Violet ». Je pense que j'ai répondu quelque chose comme «  J'adore Violet ! Un morceau avec le drumbeat de 'Be My Baby' est synonyme de perfection pour moi ! » Ensuite, Rachel et moi sommes allés manger à In 'N Out et avons inventé les termes « Ghost Animal Style Fries » et avons écrit une chanson ensemble un jour d'été paisible et ennuyeux.
Kiss Kiss Fantastic was the very first band in our loose but loving collective of bands/friends that I heard. Rachel found our myspace and left her trademark « x »s and « o »s and I checked out « Violet » and was blown away. I think I said something like, « Love Violet! Anything with that 'Be My Baby' drumbeat on it is fine by me! » And then Rachel and I went to In 'N Out and coined the term « Ghost Animal Style Fries » and also we wrote a song together one boring lazy summer day.
10. Gone For the Summer (Part Two) – Teen Daze (extrait de Four More Years, Wonder Beard Tapes)
Je n'ai pas cessé d'écouter ce morceau pendant les tièdes journées d'été. J'ai percé le mystère Teen Daze puis j'ai fait un concert avec Jamison à San Francisco. J'ai traîné à LA, j'ai rencontré Scott Pilgrim et j'ai surnommé son meilleur ami Chill Dave. Nous avons mangé du Chipotle, c'était la première fois pour Jame-o.
Played this one on repeat during tepid summer days in the valley. Cracked the Teen Daze mystery and played a show with Jamison in San Francisco and hung out in LA and saw Scott Pilgrim and nicknamed his best friend Chill Dave. We ate Chipotle and it was Jame-o's first time.
11. Awkward Situations (avec Rachel Levy & Mat Cothran) – Persona La Ave (autoproduction)
Le patronyme de Dylan Dawkins est parfait. Une musique à la fois planante et tangible, pâle et châtoyante, à laquelle il est bon de s'abandonner.
Dylan Dawkins' moniker is perfect: his music is both in flight and grounded, washed out and concrete. Gorgeous to get down to.
12. Cracked China – Faux Fur (extrait de Ghatham Watch Split Tape avec Ghost Animal, Scotch Tapes)
Le génial Jean Sebastian Audet excelle dans le garage rock. C'est un prodige, je le jure. Il sera partout dans quelques années. Oh ! Et on dirait qu'il n'a que quatorze ans.
Boy genius Jean Sebastian Audet makes verbed out garage rock. Kid's a prodigy, I swear. He's going to be everywhere in a few years. Oh and he's only like fourteen.
13. Beaches – Tan Dollar (extrait de Uneven EP, autoproduction)
Tan Dollar met le feu à l'image des débuts du label Slumberland (Black Tambourine, Rocketship) et No Age.
Equal parts early Slumberland (Black Tambourine, Rocketship) and No Age, Tan Dollar tears shit up.
14. Love Well Spent (feat. Emily Reo) – Craft Spells (extrait de Beauty Above All cassette, Sixteen Tambourines ; album prévu sur Captured Tracks en 2011)
Je ne pense pas avoir eu, par la musique, d'ami plus proche que Justin de Craft Spells. C'est un génie de la dance-pop capable de façonner des tubes accrocheurs et inimitables à la New Order à l'instar de You Should Close the Door. Love Well Spent est une des plus belles chansons que j'aie entendue (et on y retrouve une autre amie de FMLY, la superbe et talentueuse Emily Reo !). Justin et Frankie sont définitivement les plus cool mecs du monde et ils me manquent chaque jour. Ils viennent de signer sur Captured Tracks, un des meilleurs labels, indie et autres (nous ne pouvons que les remercier pour les meilleures sorties de 2010, à mon sens : Beach Fossils et Wild Nothing). En somme, j'aime Craft Spells.
I don't think I've made any closer friends through music than Justin, Craft Spells' main squeeze. He's a dance-pop genius capable of jaded two a.m. numbers and inimitably catchy New Order-esque pop tunes like « You Should Close the Door ». « Love Well Spent » falls somewhere in between, and it's one of the most beautiful songs I've heard (and, hey, it features another music-FMLY friend, the gorgeously talented Emily Reo!). Justin and Frankie are basically the fucking coolest and I miss them every day. Also they were just signed to Captured Tracks, one of the best labels, indie or otherwise, around (we have them to thank for what I think is 2010's soundtrack: Beach Fossils and Wild Nothing). Anyway, I love Craft Spells.
15. Amandine – Young & Wilder (autoproduction digital single Amandine / It's Wrong)
Groupe à quatre mains dirigé par mon ami Sam. Il est à Reed avec moi. Sa batteuse Caroline vient de terminer ses études. A priori, on dirait les White Stripes mais en concert c'est plus proche de Bruce Springsteen. Ce morceau est incroyablement entraînant et je me surprends souvent à le chanter. Amandine va aussi à l'école avec nous et, oui, son père est une movie star.
Two-piece band fronted by my friend Sam. He goes to Reed with me. His drummer Caroline just graduated. They almost have a White Stripes thing going on, but that's really only on the surface. Live he reminds me of Bruce Springsteen. This song is incredibly catchy and I find myself singing it all the time. Amandine goes to school with us too and, yes, her dad is a movie star.

16. Cool California – Youthbitch (autoproduction)
Youthbitch (les piliers en sont Stevie Pohlman et Nico Hualde, deux de mes amis à Reed) sont les héritiers apparents du punk du nord ouest initié il y a longtemps par the Sonics et poursuivi par The Wipers et The Exploding Hearts. Amusant aussi parce qu'ils sont tous les deux du midwest. Ce sont des bêtes de scène et ils écrivent le meilleur et le plus accrocheur du fuck-you garage punk actuel. Ils mériteraient plus de reconnaissance mais je ne suis pas très inquiet car je sens que cela va arriver assez vite… Cool California est une démo. Stevie me l'a envoyée cet été (les morceaux du groupe se trouvent là) et ça m'a remué les tripes. C'est un morceau que j'aurais voulu écrire.
Youthbitch (mainstays are Stevie Pohlman and Nico Hualde, both friends of mine at Reed) are heirs apparent to the Northwest punk legacy began so long ago by the Sonics and carried on through the Wipers and the Exploding Hearts. Funny too because they're both from the midwest. They are crazy to see live and write some of the catchiest and most fuck-you garage punk around. They should be bigger than they are but I'm not too worried because it's gonna happen, hopefully soon. « Cool California » is a demo Stevie sent me over the summer (full band stuff is here) but it clawed at my heart and sunk in deep. It's one of those songs I wish I'd written.
Texte : Michael & Thibault
Photo : Emeline Ancel Pirouelle
Traduction : Calogero Marotta