Photo: © Yosh Cooper
Traduction: Marie-Éva
Si vous suivez hartzine, vous savez toute l'affection que l'on porte pour le label de James Mejia Hand Drawn Dracula. Activiste de la scène musicale de Toronto, HDD dévoile depuis quelques années la scène vibrante de la ville d'Ontario. L'ultime sortie est le second album du groupe instrumental kraut-noise-psych rock Fresh Snow.
On a donc profité de cette actualité pour soumettre Bradley Davis (guitariste du groupe) à notre petite interview Out Of The Blue – il nous a en plus concocté une petite playlist à découvrir ci-dessous.
D'où venez-vous ?
Where do you come from?
Fresh Snow est basé à Toronto au Canada, mais moi (Brad) je suis originaire du Midwest des États-Unis.
Fresh Snow is based in Toronto, Canada but I (Brad) am originally from the Midwestern United States.
Où allez-vous ?
Where are you heading to?
En tant que groupe, on se préoccupe moins de savoir où on va que de ne pas revisiter les mêmes endroits. Je pense que notre but ultime est de nous surprendre nous-mêmes.
As a band, we are less concerned about where we are going than we are about not going to the same place twice. I think the ultimate goal is to surprise ourselves.
Pourquoi la musique ?
Why music?
Je suis amoureux de la musique depuis que j'ai 5 ans. J'adore aussi les sessions d'enregistrement. Je trouve qu'il y a de la magie à capturer des sons. Tim et moi partageons la passion de la manipulation du son, et c'est ce qui est a permis de construire le groupe.
I have been in love with music since I was 5 years old. I love the act of recording as well. I find that there is magic in capturing sounds. The love of manipulating sound is something that Tim and I share and have built the band around.
Et si tu n'avais pas fait de musique ?
And if music wasn't your thing?
Je tire un plaisir équivalent à faire mes propres tortillas et cultiver des tomates. J'adorerais apprendre à fabriquer des étagères.
I get equal enjoyment out of making my own corn tortillas and growing tomatoes. I would love to learn how to build shelves.
Une épiphanie personnelle ?
An epiphany of yours?
Les erreurs sont souvent ce qu'il y a de mieux.
The mistakes are often the best part.
Une révélation artistique ?
Your artistic breakthrough?
Je crois que ma révélation artistique personnelle a été d'apprendre à ne pas tout contrôler. J'ai toujours été obsédé par le contrôle en ce qui concerne la musique, mais c'est très libérateur d'admettre qu'il existe parfois quelqu'un de plus compétent pour une tâche.
I think my personal artistic breakthrough has been giving up control. I have always been a bit of a control freak when it comes to music but admitting that sometimes there is a better person for the job is very liberating.
Le revers de la médaille ?
Any downside?
On peut toujours voir le mauvais côté des choses si c'est ce qu'on cherche.
You can always find a downside if you look hard enough.
Y a t-il une vie après la mort artistique ?
Is there life after artistic death?
C'est un art en soi d'être en vie. Je crois que parfois certains artistes peuvent dépasser leur public mais ça peut aussi marcher dans l'autre sens. Certains artistes disent ce qu'ils ont à dire et par la suite, on n'entend plus jamais parler d'eux mais ça ne signifie pas qu'ils ne vivent pas une vie d'artiste. Un poète qui fait ses courses, c'est de la poésie.
There is art in staying alive. I think some artists outgrow their audiences and sometimes it works in the other direction. Some artists say what they need to say and then we never hear from them again but it doesn't mean that they aren't living the life of an artist. A poet buying groceries is poetry.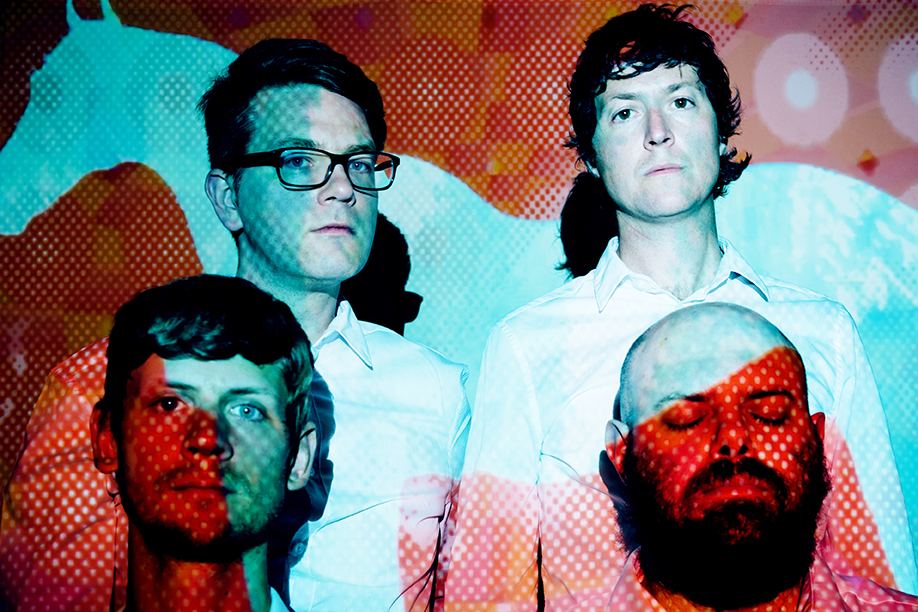 Un rituel de scène ?
Your pre-stage ritual?
Je n'ai pas de rituel établi. Je crois que ce que je préfère, c'est prendre 2 verres avant le concert, et si toutes les lumières s'allument sur mon matos je suis content.
I don't have any set in stone rituals. I think that 2 drinks before the show is my sweet-spot, and if all the lights are flashing on my equipment I am happy.
Avec qui aimerais-tu travailler (musique et hors musique) ?
Who would you work with (musically or not)?
On a eu la chance de collaborer avec de nombreux artistes talentueux qu'on respecte énormément. Laura Bates, Karen Ng, des membres de  METZ, Fucked Up, Doomsquad, DIANA, Holy Fuck, etc. Ce serait génial de bosser avec David Sylvian un jour mais c'est un peu hors de notre portée. On adore le processus de collaboration donc je serai ouvert à à peu près presque tout.
We have been lucky to have had the opportunity to collaborate with a lot of talented people who we really respect. Laura Bates, Karen Ng, Members of  METZ, Fucked Up, Doomsquad, DIANA, Holy Fuck, etc… It would be a dream to work with David Sylvian someday but he is a bit out of our league. We really enjoy the process of collaboration so I would be open to just about anything.
Quel serait le climax de ta carrière artistique ?
What would be the climax of your career?
On essaie d'enregistrer un album pour chaque couleur de l'arc-en-ciel. On a déjà fait le rouge, l'orange et maintenant le jaune. Si on achève cette mission, le trésor au bout de l'arc-en-ciel sera le climax de notre carrière. On pourra se séparer satisfaits.
We are trying to record a record for every colour of the rainbow. We have done Red, orange, and now yellow. If we complete the entire task, the pot of gold at the end will be the climax of our career. We can break up the band satisfied.
Retour à l'enfance, quel conseil te donnes-tu ?
Back to your childhood – what piece of advice would you give your young self?
Je m'encouragerais à faire quelques économies et passer le permis de conduire.
I would encourage my younger self to save some money and learn to drive.
Comment te vois-tu dans trente ans ?
How do you see yourself thirty years from now?
Si je suis toujours vivant, ce sera déjà une victoire. Dans 30 ans, j'espère être entouré de citronniers.
If I am still alive I will consider it a victory. In 30 years I hope to be surrounded by lemon trees.
Comment vois-tu évoluer ta musique ?
How do you see your music evolve?
Il y a tellement de choses que j'aimerais faire avec notre musique. J'ai un immense respect pour les artistes qui adhèrent au minimalisme et à la retenue. Fresh Snow a toujours été un groupe très maximaliste mais je serais très intéressé à l'idée d'explorer ces concepts un peu plus sur notre prochain disque. Si ça n'évolue pas, je crois que ce sera la fin du groupe.
There are so many things I would love to do with our music. I have great respect for artists who embrace minimalism and restraint. Fresh Snow has always been a very maximalist band but I would be very keen to explore that further on our next record. If it stops evolving, I think that will be the end of the band.
Un plaisir coupable ou un trésor caché ? (musique ou hors musique)
Your guilty pleasure or hidden treasure (musically or not)?
Une chose qui ne se voit pas beaucoup dans notre musique, c'est que j'adore la pop bubblegum des années 60 et 70. Je préfère Donovan à Bob Dylan et je choisirais The Archies au lieu des Doors à tous les coups.
Something that doesn't surface in our music very often is the fact that I adore 60s and 70s bubblegum pop. I prefer Donovan to Bob Dylan and I would take The Archies over The Doors any day.
Le second album de Fresh Snow intitulé One est sorti le 9 septembre dernier en digital et vinyl limité, il se commande ici ou vous pouvez l'écouter en intégralité sur le Bandcamp de Hand Drawn Dracula.

En attendant voici un premier extrait « Three Way Mirror ».

Mixtape Toronto
01. Neck – Ladybug
02.The Deadly Snakes – I Don't Wanna Have to Hate This City
03. Nadja – Now I Am Become Death, the Destroyer of Worlds
04. Picastro – Split Head
05. SlowPitch – Moooon
06. Carl Didur – I Dream I Saw Your Face
07. Casper Skulls – Devotion
08. Nhapitapi – Ndotamba Ndega (I Am Dancing Alone)
09. Bile Sister Haagen Baadz (Official Music Video)
10. Tasseomancy – Do Easy
11. The Magic – Call Me Up
12. Doctor Ew – Let's Make It Legitimate
13. Gates – This Door Is Forbidden
14. Constantines – On To You
15. Dusted – Property Lines
16. Our Founders – White Beetle
17. Blue Cougars – Can't You Hear Me Calling