Focus Berlin Atonal: interview Russell Haswell
On continue notre présentation du Berlin Atonal avec cet entretien phare de l'un de pilier de la scène noise actuelle, l'artiste anglais Russell Haswell. Parler de musique serait réducteur face à l'œuvre de ce génie touche-à-tout, à la fois multi-instrumentiste, concepteur visuel, sculpteur sonore… Pilier du label Mego et contributeur régulier chez Diagonal, étrange boîte à tubes techno-expé fondé par le jeune Powell. Il nous tardait de d'en savoir plus sur ce qui motivait cet écorché vif des arts extrêmes.
Aussi loin que tu te souviennes, d'où te vient ton appétence pour les arts visuels et la musique ?
As far as you remember, where did you get your appetite for visual arts and music?
Principalement grâce à la télé, aux films des années 70 et à la bibliothèque municipale où je pouvais emprunter des trucs. C'est ce qui m'a fait découvrir pas mal de livres, de vinyles et m'a fait comprendre la différence entre des compositeurs, des artistes, différents genres musicaux… Au milieu des années 80, j'ai visité la Coventry School of Art Library, avec son incroyable collection, surtout la partie qui concerne les Arts Conceptuels et les Nouveaux Médias.
Television and films in the 70s, and also the public lending library. That's where I became fascinated with books and vinyl records and gained an understanding of the difference between composers and artists and different musical genres. In the mid 80s I would visit the Coventry School of Art Library, which had an amazing collection, and there it obviously leaned towards Conceptual Art and New Media.
Tu es très proche des principaux acteurs du label Mego, comment vous êtes vous retrouvés à travailler ensemble ?
You are very close to the main actors of the Mego label, how did you ended up working together?
J'ai rencontré Peter Rehberg au début des années 90 à Vienne, juste avant ou au tout début du label avec Ramon Bauer et Andi Pieper. En quelques visites successives à Vienne, j'ai par la suite rencontré les premiers artistes qui collaboraient avec Mego : Farmers Manual, General Magic, Fuck Head, Elin, PURE… Dès le début, Peter m'a proposé d'enregistrer quelque chose, de faire un disque avec eux ! J'ai vite participé à quelques évènements et tournées avec Mego. Mon premier album solo m'a pris quelques années à faire, c'était en fait une compilation de prestations live captées lors de concerts organisés par Mego, ou carrément ailleurs, comme dans des squats, des vernissages de musée…
I met Peter Rehberg in the early 90s, in Vienna, just before or during its beginnings with Ramon Bauer and Andi Pieper! So across a few return visits to Vienna I met all the early Mego artists; farmersmanual, General Magic, Fuck Head, Elin, PURE … from the start Peter suggested I record something, make a record! In the early days there we quite a few Mego events and tours which I participated in. It took a few years, but my first solo release was a compilation of recordings of LIVE presentations I gave at Mego events, or completely different things, like squat parties or museum exhibition openings!
Ton style musical est unique et assez inclassable, penses-tu que ton multiculturalisme dans les domaines de l'art t'a aidé à définir ton propre style ?
Your musical style is quite unique and unclassifiable, do you think your multiculturalism in the fields of art helped you define your own style ?
Mon style est inclassable, oui. Je ne veux pas être étiqueté, je n'aime pas certains genres musicaux, certains artistes… Je ne veux pas qu'on m'identifie à eux. J'ai utilisé toute la douleur, la colère et la frustration que génèrent, chez moi, des dessins, des films ou des disques sur lesquels je tombe et que je trouve abominables ou qui m'irritent profondément. Parfois mes disques sont qualifiés de "difficiles" ou d' "extrêmes", je préfère plutôt dire qu'ils sont "vitaux".
My style is unclassifiable. I don't want be categorised. I dislike certain genres, as well as certain artists… I use the pain and anger and frustration that's generated when I see, read, and hear, Artworks, Films or Records that I loath, or they might just simply irritate. Sometimes my records are filed under "difficult" or "extreme", I'd suggest "critical".
Il y a dans ta musique un rapport très structurel et architectural, quelle place laisses-tu au chaos ?
There are in your music a structural and architectural construct, which space allows you to chaos ?
Une question difficile… Si l'on qualifie mes travaux audio de "musique", alors je dirais qu'il s'agit d'une musique structurelle ou matérialiste, en terme de théorie et de définition pure. Dans les années 90, je la voyais plutôt comme de la sculpture publique temporaire, un son qui occupait un espace ouvert, comme une gigantesque création publique de Richard Serra.
I'm confused by this question! If my Audio works are classified as 'music' , then mine is probably a structural or materialist music, in terms of theory and definition. In the 90s I was thinking of a temporary public sculpture, an audio that occupied open space, like a massive Richard Serra public sculpture.
Tu es généralement cité comme un musicien noise avant tout, pourtant on ressent beaucoup d'influences dans ta musique. Quels sont les genres ou les artistes qui t'ont influencés ?
You are generally cited as a noise musician, yet you music sounds full of various influences. What types of music or which artists have influenced you ?
Curtis Roads disait de mon premier album qu'il s'agissait d'une version XXIe siècle de Bohor (ndr : l'oeuvre de Iannis Xenakis créée en 1962). Parmi les genres que j'apprécie, je suis très influencé par tout ce qui est générateurs de sons, computer music, le grindcore, la techno ou l'improvisation au sens large, tout autant que par le cinéma ou l'art sous forme musicale. L'art conceptuel, les films matérialistes. Si je devais citer quelques noms, je dirais Iannis Xenakis, Alvin Lucier, David Tudor, Michael Heizer, Richard Serra, Incapacitants, Pain Jerk, Masonna, Merzbow, Art & Language, Yasunao Tone, Holger Hiller, Boredoms, Peter Gidal, Michael Snow, Carcass…
Curtis Roads said of my first CD, that it was "a 21st Century Bohor!" I like audio test signals, computer music, grind core, techno, improv, but I'm as equally influenced by cinema and art as music. Conceptual art or materialist film. To name only a few = Iannis Xenakis, Alvin Lucier, David Tudor, Michael Heizer, Richard Serra, Incapacitants, Pain Jerk, Masonna, Merzbow, Art & Language, Yasunao Tone, Holger Hiller, Boredoms, Peter Gidal, Michael Snow, Carcass…
Tu as également collaboré avec de nombreux artistes de tous horizons. Comment choisis-tu les artistes avec qui tu souhaites travailler ? Est-il facile d'imposer ta vision où dois-tu souvent faire des compromis ?
You have also worked with many artists with different backgrounds. How do you choose the artists you want to work with ? Is it easy to impose your vision or do you often have to compromise?
La plupart du temps, les choses se font après une vraie rencontre, en face à face. Ça n'est pas quelque chose que tu planifies à l'avance, ça arrive et ça demande parfois de se revoir plusieurs fois, pour vraiment créer une relation qui sera le socle d'une collaboration fructueuse. Je ne ferais jamais d'échanges de fichiers sur le web sans jamais avoir rencontré la personne. Je ne peux pas travailler avec des artistes associés à des genres musicaux que je déteste, comme ce que j'appelle le "turd jazz" (un jazz européen blanc sans aucune profondeur culturelle) ou des artistes épouvantables que je ne nommerai pas ici. Je ne peux pas travailler avec des artistes ayant mauvais goût !
Je ne peux pas imposer ma vision ou faire de compromis, je veux faire et créer, ou me documenter et travailler, sur une matière première qu'aucun de nous deux n'aurait pu faire séparément.
Usually it's something that happens face-to-face. It's not something you choose in advance, it happens over time, and maybe many meetings to forge a relationship that enables a fruitful collaboration. I wouldn't do a file-exchange project with someone I've never met. I dont wanna work with musicians associated with terrible genres e.g. TURD JAZZ (culturally insignificant white european Jazz) or appalling Artists I dont have to name here. Its not good to work with a musician with poor taste!
I don't want to impose a vision or compromise, I want to do and make, or document and work, on something that neither one of us could make individually.
Comme beaucoup de producteurs tu te prêtes à l'exercice de DJ set. Que t'apporte cette discipline ? Est-ce pour toi le moyen de te frotter à un public différent et de jouer une musique plus décomplexée ?
As many producers you are also playing DJ sets. What brings you this discipline ? Is it for you the way to you rub to a different audience and to play a more uninhibited music?
Hard Disco Jokey (HDJ) est un projet que j'ai lancé il y a quelques années. Je mixe avec des vinyles (des 80s surtout) et des CD (des 90s). En 2001, Sean Booth et moi-même avons imaginé une table de mix DJ 4 canaux pour une tournée aux États-Unis et en Europe où je devais faire la première partie d'Autechre. Je ne voulais pas utiliser Traktor ou les logiciels que tout le monde utilise ! Et nous, toute la bande Mego, on utilisait déjà principalement nos ordinateurs comme instrument, la plupart du temps. Cet ordinateur que j'utilise pour HDJ a aujourd'hui une collection assez importante de musique que je peux emmener de concert en concert, des tonnes de genres musicaux différents que je peux éclater les uns contre les autres avec des transition et des crossfaders automatiques, sans beat matching ! C'était super drôle à utiliser… En tant que HDJ je me vois plus comme un selector, influencé par des gens comme Claude Young, John Peel, JeffMills, Christian Marclay et DJ Carhouse.
Hard Disc Jockey (HDJ) is what Ive been doing occasionally in recent year… I did DJ with vinyl (80s) and CDs (90s). In 2001 Sean Booth and myself designed a max/nato mp3 four channel DJ player/mixer for a 60 date USA and Euro tour I supported Autechre on… I didn't wanna use Traktor, or what everyone else was using! And we, the Mego lot, had already been exclusively working with laptops as the only instrument for a good few years by then! This laptop HDJ set up enabled a massive collection of music files to be carried around from gig to gig, tons of genres to be mashed together with automated faders and cross faders, no beat matching! It was such fun to use… as a HDJ I feel more like a selector, but kinda influenced by the styles of Claude Young, John Peel, Jeff Mills, Christian Marclay and DJ Carhouse.
Tu seras bientôt sur la scène du festival Atonal à Berlin avec deux projets très différents. Peux-tu nous en dire plus ?
You will soon be on the stage of Atonal festival in Berlin with two very different projects. Can you tell us more about them ?
Oui je serai de retour à l'Atonal pour la troisième fois. Cette année, on m'a proposé de jouer un live solo et de curater un événement, par ailleurs. C'est un "flashback and comeback show", avec Peter Rehberg qui fera un set de musique modulaire, symbolisant la nouvelle direction prise par Pita, son projet solo. Et le soir, ce sera le climax avec 3 heures de set de Farmers Manual, reformés à l'occasion de ce "mini-festival" que j'ai curaté au Café Oto l'année dernière, une espèce d'échauffement pour cet événement un peu particulier.
Yes, I'm back at ATONAL… Third time… This year I was asked to perform live solo and to additionally curate a program. Its a Flashback and Comeback show at the same time, featuring Peter Rehberg performing a modular set, marking a new phase in the direction of Pita, and the night will climax with a 3 hour set from farmersmanual, who reformed for a "mini-fest" I curated at Cafe Oto last year, which acted as a warm up for this special long form event.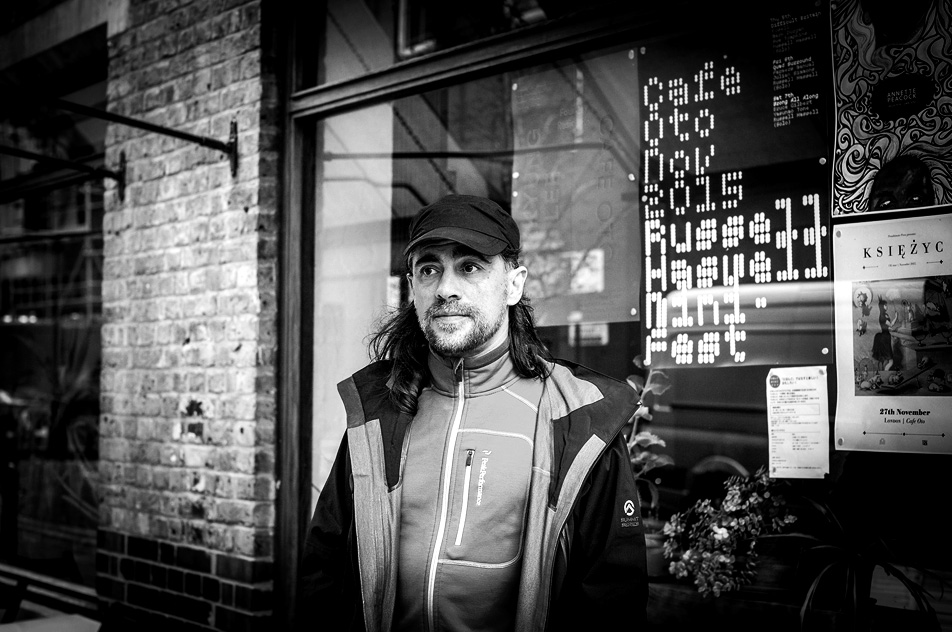 Tu es un artiste très prolifique, peux-tu nous parler de tes prochains projets en préparation ?
You're a very prolific artist, can you tell us about your upcoming projects under process ?
Mon prochain album sortira sur Bocian Records : Constitutional. Je travaille aussi sur un maxi et un albumc concept pour Diagonal. En octobre et novembre, je ferai de nouveau la première partie d'Autechre en Europe.
My next release is a LP for Bocian, Constitutional. I'm making a Single and developing a concept LP for Diagonal. In October and November I'm touring Europe, supporting Autechre.
Vidéo
Russell Haswell Boiler Room LIVE Show