FLA mixtape : Qui êtes-vous ?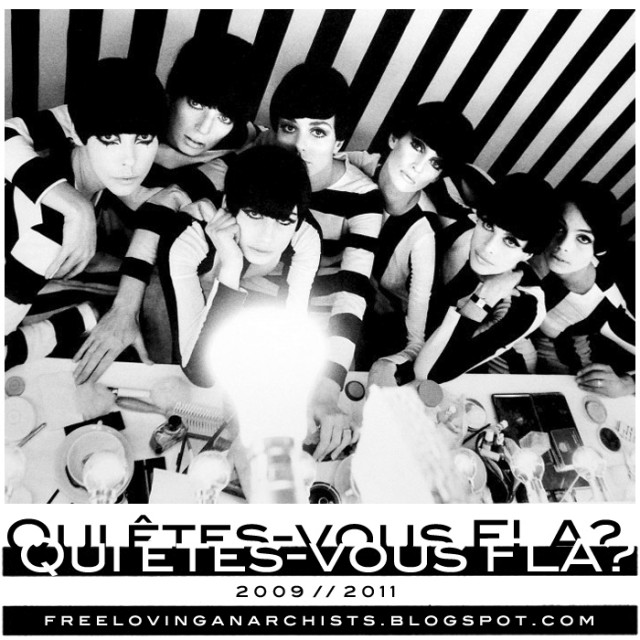 01. Pink Priest – Bombing Waves // 2009
Derrière Pink Priest, il y a William Cody Watson qui co-dirige Bathetic Label et qui écrit également pour Impose Magazine. Ce titre est tiré de ce que je pense être sa première sortie officielle en tant que Pink Priest. Prolifique !
Pink Priest is William Cody Watson whom co-runs the Bathetic Label and also writes for Impose Magazine. This is off what I believe to be his first official release as Pink Priest. Prolific !
02. Fluker Love – When You Leave EP // vers 2010

Flucker Love est le projet du Londonien Andrew Goldspink. Ce morceau est extrait de son troisième album. Il a récemment sorti un nouvel EP autoproduit, à trouver par là. Je l'écoute depuis un petit moment déjà… Il a toujours été très généreux avec sa musique… Je crois qu'il a un genre de connection avec The Weekend.
Fluker Love is Andrew Goldspink from London. This track is off what I believe to be his third release. He just recently self released an new Ep. Follow the links here. I've been listening to him for awhile… He's always been very generous with is music…I also believe he has some kind of connection to The Weekend.
03. Wicked Crafts – No Pleasure // 2010
Derrière Wicked Crafts, il y a Shawn Tony Hui de Montreal. Je l'ai rencontre via Morten de Skort Up avec qui j'ai sorti son premier album en 2010… dont ce morceau est extrait. Les stocks ont vite été épuisés ! Un son dark bien sympathique…

Wicked Crafts is Shawn Tony Hui from Montreal. I was introduced to him via Morten of Skort Up whom we both co-released his debut back in 2010…which this track comes from. Sold out pretty quick! Nice dark tunes….
04. The KVB – With My Gun // 2010
The KVB, un autre artiste prolifique ! Klaus, originaire de Londres, est un type vraiment cool avec qui on espère collaborer à nouveau. Il fait également partie de Die Jungen, Suicide Party, Man on the Moon et d'autres encore… je suis sûr que j'en oublie. Il a aussi réalisé notre toute première vidéo de Pink Playground en une seule journée… évidemment ! Ce morceau est tiré de son premier album ayant eu une sortie physique. Il a récemment sorti un 10 », et bien d'autres se profilent à l'horizon.
Another prolific one! Klaus is a real nice guy from London who we hope to do something else together in the future. He's also in Die Jungen, Suicide Party, Man on the Moon and others…I'm sure I'm forgetting.
He also made our very first video (Pink Playground) in a single day…of course! This track is off his physical debut. He just recently had a 10″ come out on downwards and he has many more lined up on the horizon.
05. Virgo Rising – In The Shade // 2010
Virgo Rising est un trio australien (Sean Duarte, Timothy Snape et Emily Hughes). Ce morceau est extrait de leur premier album. Ils bossent sur leur second depuis un moment… il devrait être prêt courant 2011. On l'attend avec impatience.

Virgo Rising is Sean Duarte, Timothy Snape, Emily Hughes from Australia. This is off of their debut. They have been working on their sophomore for a bit…should be ready sometime in 2011. Really looking forward to it !
06. Rape Faction – Vaporizer // 2011

Rape Faction, c'est Kahlil, Hamza et Mike, soit trois types de Montreal qui n'abandonnent jamais. C'est un extrait de leur premier 12 » qu'on a sorti en collaboration avec Skrot Up. J'aimerais qu'il y ait plus de gens comme ces trois-là dans ce bas monde !

Rape Faction is Kahlil, Hamza & Mike. Three dudes from Montreal who never back down. This is off of their Debut 12″ which we co-released w/ Skrot Up. I wish there we more people like these 3 in the world !

07. Martian Church XX – Max Shreck's Dead // 2009

Martian Church XX est le projet de Paul, habitant en Russie. Un gars très sympa qui a un tas de morceaux sombres et intéressants à offrir. On a pour projet d'en sortir de nouveaux ensemble mais dans ce cas précis, la distance est un véritable fossé. C'est une de mes sorties préférées sur FLA. Les Russes ont de la chance de l'avoir !

Martian Church XX is Paul from Russia. Very friendly and nice guy who has a lot of interesting and dark music to offer. We planned to work on some more in future together, but the distance has really been a rift in the situation. This is one of my favorite FLA releases. Russia is very lucky to have him ! I believe this is the sole Martian Church XX release to date.
08. Elks – Blight Fields // 2009
Elks, c'est Cody, originaire de l'Oregon. Il est pote avec tout le crew de Seattle, genre Grave Babies, Gape Attack, FNU Ronnies, etc. J'ai pas encore eu l'occasion de beaucoup discuter avec lui. Ce titre est extrait de son second album… enfin je crois.

Elks is Cody from Oregon. He's friendly with the whole Seattle crew of Grave Babies, Gape Attack and FNU Ronnies etc…Never had too many conversations with him. This is off Elks sophomore release….I believe.

09. Young Henry – Six Ceases // 2009

Young Henryest le fait de Kyle Yerhot du Minnesota. Ce titre est extrait de son premier disque. Il a sorti un tas de morceaux gratuits en ligne depuis. Des impros venues d'ailleurs… Je suis toujours partant pour écouter ce qu'il fait.
Young Henry is Kyle Yerhot from Minnesota. This track is off his debut release. He has released a lot of FREE tunes online since. Very alien type jams….always up for listening to some new Young Henry.
10. Badtimexpress – Hearts Decay // 2009
Badtimexpress est le projet de Joseph Vorskak de L.A. Ce titre est tiré de son unique album en tant que Badtimexpress. Il continue avec (…le bien plus connu) Disaro Records, peu de temps après avoir sorti cet album sous son nouveau nom… Raw Moans. Si tu aimes Raw Moans, tu aimeras Badtimexpress !
Badtimexpress was Joesph Vorskak from L.A. This track is off his only release as Badtimexpress. He went on to (…the much more popular!) DISARO records (sup squeaky!), shortly after releasing this debut under the new name..Raw Moans. If you like Raw Moans you will like Badtimexpress!

11. Sealings – Injured Kids // 2009

Sealings est le groupe de Micheal et Liam, originaires du Royaume-Uni. Je les ai connus via Carl de Clan Destine Recordsen 2009. J'ai vite chopé leur premier album et je leur ai immédiatement demandé de faire quelque chose avec nous sur FLA. Je suis ravi qu'ils aient accepté !

Sealings is Michael & Liam from the UK. I was introduced to Sealings via Carl of clandestine records back in 2009. I snatched up their debut Cs, and immediately asked them to do something with us on FLA. Glad they agreed !

12. Future Blondes – D.Z.S. Path Torn Child Skill // 2009

Future Blondes ou Domokos de Houston. On a bossé avec lui sur un tas de disques ces dernières années. Ce titre est extrait d'un de mes favoris, E.I.T.H.O.A. // 2009 Tears.
Future Blondes is Domokos from Houston. We have worked with him on a lot of releases through the years. This track is off one of my favorites by him, E.I.T.H.O.A. // 2009 Tears.

13. Bad Life – Howl // 2010

Bad Life, c'est Kurt Vonnegut du Tennessee. Le morceau est extrait de son quatrième album. Encore plus de musiques mémorables pour FLA.

Bad Life is Kurt Vonnegut from Tennessee. This is from his 4th release. More epic tunes for FLA.

14. Froe Char + Havah – Adoration // 2009

Froe Char, c'est Cris, un Italien qui vit maintenant a Paris. On l'a découvert via Chris Keys de Grape Attack. Ce morceau est une collaboration avec Havahet est uniquement disponible sur la version CD de son premier album… et GRATUITEMENT sur cette mixtape… bien évidemment !

Froe Char is Cris from Italy; now residing in Paris. We discovered her via Chris Keys of Gape Attack. This track is a collaboration w/ Havah and only is available on the CDR version of her debut….and FREE on this comp..of course !

15. H . . . N – You Swore You'd Never Leave // 2010

H Dot Dot Dot Nest composé de Shannon et Nathan de Dallas. Ils nous ont un jour contacté via MySpace et ont sorti ce premier album dans la foulée. De bien MEMORABLES morceaux.

H Dot Dot Dot N is Shannon and Nathan from Dallas. They got in touch with us through myspace one day and we put this debut out shortly after. Nice EPIC pieces.

16. Lois Magic – Sweetheart // 2009

Derrière Lois Magic, il y Rhys de Londres. C'est l'un de nos artistes préférés là-bas… et une personne extraordinaire. Ce morceau est extrait de son premier album.

Lois Magic is Rhys from London. He is one of our favorite artists out there…as well a people ! This track is from his debut.

17. Atlas Young – Breath in Newcastle // 2010

Atlas Youngest le fait de Yuji de Tokyo. On adorerait aller au Japon un de ces jours, et on espere que Yuji nous le fera visiter, si ce jour arrive… C'est l'un de mes morceaux préférés issus de son premier album.

Atlas Young is Yuji from Tokyo. We'd love to visit Japan one day and hopefully Yuji will show us around, if that day ever comes… This is one of my favorite tracks from his debut.

18. Colours – Could I ? // 2011
Colours, est l'œuvre de Tom, originaire d'Australie. On l'a découvert en traînant sur MySpace. On lui a demandé s'il voulait faire un disque et il a heureusement accepté. C'est le premier titre issu de cet album.

Colours is Tom from Australia. We discovered him just creeping around on myspace one day. We asked him if he wanted to do a record and he thankfully agreed. This is the first track off of that record.

19. Sacred Space – Love Like a Graveyard // 2010
Sacred Space… c'est Adam Pfaff de Détroit. Ce titre est extrait de son premier album éponyme. Je crois que Sacred Space n'existe plus maintenant… vraiment dommage. Encore un de nos favoris !
Sacred Space is Adam Pfaff from Detroit. This is off his self titled debut. I do believe that sacred space is now totally defunct at this point…. Shame really. Another one of our personal favorites !
20. Pink Playground – Low // 2010
Ce titre est extrait de notre second album Seventeen.

This is from our second release « Seventeen ».
Cette compilation a été éditée en coffret cinq cassettes, disponible par ici.