Ex Cops – True Hallucination
Le disquaire Other Music, avec ses jolis bacs à vinyles d'Animal Collective et ses showcases de Julia Holter, pourrait être le décor tout mignon d'une sitcom parfaitement générique et consensuelle consacrée à la culture branchée/underground/hype/tête-à-claque new-yorkaise (à quand un épisode de Girls là-bas, avec un cameo de Mac DeMarco ?). En effet, situé en plein milieu de NoHo, entre deux bâtiments de NYU et en face d'une salle de fitness pour traders buveurs de smoothie et executive women façon « hard bodies » d'American Psycho, Other Music ressemble à la cible parfaite pour nos amis les haters. Mais laissons les haineux haïr et intéressons-nous plutôt au versant label dont la boutique s'est dotée l'an passé.
Première signature de Other Music Recording Corporation, les rockers brooklynois psyché-pop et rétro-modernes d'Ex Cops viennent de sortir True Hallucination, un recueil de belles chansons positivistes qui respirent l'artisanat d'excellente facture. Rempli d'influences ensoleillées, ce premier album est un hommage guilleret aux grands de la pop qui grignotent des acides. Néanmoins, grâce à leur inventivité, Ex Cops réussissent à éviter le pastiche et la révérence.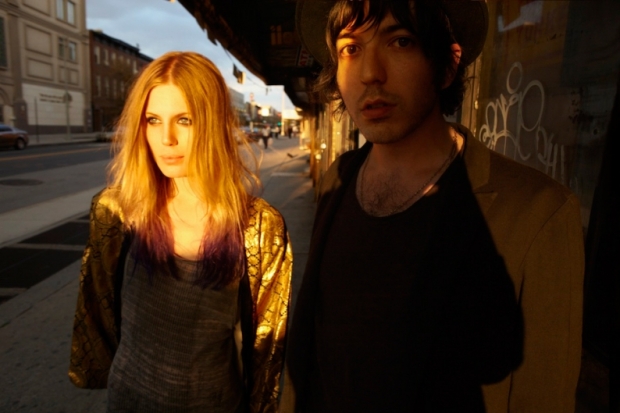 Ex Cops, c'est une version plus sucrée et plus évidente de Spiritualized, mais un Spiritualized avec plus de McCartney et moins de Lennon dedans, avec plus de jeux vocaux garçon-fille et moins de violons et de gospel. C'est du Flaming Lips de salon qui sonne comme du Feelies en plus conquérant et généreux. C'est le New-Jersey et la Californie dans un thé à la weed de Brooklyn. Et si les deux rigolos de MGMT arrêtaient de vouloir se débarrasser de leurs fans bas-du-front acquis grâce à leur premier album, ils essayeraient de faire de l'Ex Cops.
Certes, Ex Cops peut faire penser à encore tellement d'autres choses (XTC, les compiles Nuggets, The Stone Roses, The Beta Band, Sonic Youth, The Chills, Nick Lowe…) qu'on pourrait se demander à quoi sert tout ce beau bruit. On pourrait aussi décider de s'en foutre et d'être bien content d'avoir de nouvelles bonnes choses à écouter pour se rappeler, en plein hiver, que le printemps reviendra. L'écueil du beau gratuit et poli, c'est en effet le problème de l'artisanat, du savoir-faire et des belles productions de studio (derrière les manettes, c'est John Siket, producteur, entre autres, de Dirty de Sonic Youth et de pas mal de Yo La Tengo et de Blonde Redhead). Mais entre deux albums de revival synth/goth/cold wave comme il en sort dix par semaine depuis trois ans, sourire à l'écoute de belles guitares, de batteries 100% humaines et de synthés analogiques épais et, surtout, chaleureux, ça fait drôlement du bien.
En une demi-heure de fuzz et de réverb' à la Beach Boys, Ex Cops construit un édifice solide dédié au pouvoir médicinal de la pop à papa. Aussi, pour guérir votre apathie citadine, vous prendrez un bonne dose de Ken, single galopant, construit selon le modèle classique couplet à la coule/refrain tête dans le guidon ; quelques gouttes de James, chanson aérienne, fantaisiste, généreuse au possible et dotée d'un pont que les Kinks auraient pu composer s'ils s'étaient formés en 1989 ; deux-trois cuillères de Spring Break, malicieux duo masculin-féminin avançant les pieds dans l'eau et le sourire/le blunt aux lèvres ; et vous complèterez le tout avec quelques granules de The Millionaire, mélopée opiacée menée par un synthé tellement océanique qu'on pourrait s'y noyer.
Allez, bande de relous, laissez tomber votre posture de mec torturé, trouvez-vous un(e) amoureux(se) pour le retour du soleil et partez en balade en écoutant Ex Cops.
English Version
New York City Other Music record shop, with its trays filled with Animal Collective vinyls and its Julia Holter Tuesday afternoon showcases, could be the so-cute background for a perfectly generic and consensual sitcom about contemporary trendy/alt/indie/Tumblr/Instagram-ish good taste culture (who bets on an Other Music located Girls episode with a Mac Demarco cameo?). Placed in the middle of NoHo, between two NYU buildings and in facing a fitness center for smoothie-drinker traders and American Psycho-like hard bodies, Other Music looks like the perfect target for our friends the haters. But let the haters hate and instead let's focus on the music label the record shop launched last year.
First band signed on Other Music Recording Corporation  Brooklyn based retro-modern psych-pop rockers from Ex Cops just released True Hallucination, a collection of beautiful positivist songs that breath top-notch craftsmanship. Filled with sunny influences, that first album is a jolly allegiance to acid-fed grand pop music. Though, thanks to their inventiveness, Ex Cops manage to avoid getting lost into pastiche and deference.
Ex Cops, it's like a sugar-filled version of a string-less Spiritualized, but a Spiritualized with more McCartney and less Lennon inside, with more boy-girl playful vocals and less gospel choirs. It may also sounds like living-room Flaming Lips trying to pretend they're The Feelies, but generous and triumphant. It's California and New Jersey dip into a weed sweet tea bought in Brooklyn. And if the two MGMT fellows would stop trying to get rid of their frat-boys and sorority-girls fanbase they won over their first record, they would try to be Ex Cops.
Ex Cops may sound like so many other good things (XTC, the Nuggets compilations, The Stone Roses, The Beta Band, Sonic Youth, The Chills, Nick Lowe ..) that one may ask oneself what's the big deal with that pretty noise? One may also decide to not give a damn and to be happy to have new good things to enjoy that will make him remember that Spring shall come back. Indeed, politeness and polished boredom is the pitfall of know-how-ness, craftsmanship and of a beautiful studio production (John Siket (Sonic Youth's Dirty, among others, and plenty Yo La Tengo and Blonde Redhead) produces). But between two synth/goth/cold wave revival EPs we're getting fed off for the last three years, getting yourself a twee smile listening to gorgeous guitars, 100% human drums and warm synth, pardon my French, but it feels damn good.
During half a hour of fuzz and Beach Boys-like reverbs, Ex Cops builds a solid statement on the healing power of not-that-vintage pop music. So, to cure your city-slicker apathy, you'll get a dose of Ken, a galloping single, built on a classic quiet verse / loud chorus structure; a couple spoons of James, a sky-floating whimsical song extended by a bridge that The Kinks would have composed if they had formed in 1989; a few drops of Spring Break, a mischievous male-female duo running feet in the water and a smile on the face and a blunt between the lips; and you'll end with a shot of The Millionaire, a quiet opiated mélopée lead by a synth so oceanic you could drown in it.
Come on, you bunch of tormented posers, get rid of the lame pale-and-wan costume, go get a lover for the return of the sun and go for a ride with Ex Cops.
Vidéo
Tracklist
Ex Cops – True Hallucination (Other Music, 2013)
1. S&HSXX (Intro)
2. Ken
3. James
4. You Are a Lion, I am a Lamb
5. Separator
6. Spring Break (Birthday Song)
7. Jazz & Information
8. The Millionaire
9. Billy Pressly
10. Nico Beast
11. Broken Chinese Chairz