Ela Orleans – Tumult in Clouds
Avec Mars is Heaven (lire), paru en novembre de l'année 2011 via La Station Radar, Ela Orleans semblait atteindre un point d'équilibre fragile et miraculeux entre trame narrative, homogénéité de l'écriture et indicible beauté des arrangements. Une excursion baignée d'apesanteur dans les méandres duveteux et accidentés d'une adaptation d'un conte fantastique écrit par Ray Bradbury, doublée d'un accomplissement personnel et artistique maturé en prolongement d'une prolixe discographie débutée quatre ans plus tôt avec l'aride Low Sun/High Moon – réédité récemment en version cassette par Clan Destine Records (lire). Mais les apparences sont souvent trompeuses et la Polonaise résidant désormais à Glasgow n'allait pas s'arrêter en si bon chemin. Épaulant son ami Carl dans l'aventure sans cesse plus remarquable du label Clan Destine, Ela multiplie aussi bien les projets que les collaborations et participe – entre autres – au split The Statement (lire) partagé avec Dirty Beaches, Slim Twig et U.S. Girls, et ce tout en prêtant ingénieusement le flanc à la relecture avec la compilation de remixes Ela and Thee Prophets, où, pour ne citer qu'eux, Dan Melchior, Mushy, Nattymari et Os Ovni se réapproprient ses graciles compositions. Égrené en très petite quantité en décembre 2012, cette inénarrable re-contextualisation d'un univers si caractéristique dans des territoires musicaux franchement étrangers, telle la transfiguration house de She Who Could Bind You par Pyramids of Mu, étonne tout autant qu'elle met en perspective l'immense variété d'interprétation d'une oeuvre poétique et polysémique : d'un océan de larmes peut naître une douce comptine. Constat que confirme le récent Tumult in Clouds, mais à rebrousse-chemin : ne dédaignant pas l'affranchissement stylistique, ce double LP sculpte, en presque vingt morceaux, les contours d'un classicisme, référencé et inspiré, tutoyant allègrement les codes de l'intemporel. Après une première écoute – et outre les morceaux déjà dévoilés à l'occasion de l'ultime single du label digital Beko (lire) – Tumult in Clouds semble avoir toujours été nôtre : cette paisible mélancolie étirée sur l'entière longueur de l'album s'insinue à la manière d'un voyage onirique éprouvé, hors de toute temporalité sommaire et où l'on se plaît à divaguer sans autre but que la poursuite d'un dialogue intérieur à peine conscient. Bande sonore aux multiples recoins, aux innombrables mises en abîme, le cheminement s'opère à la fois dans le brouillard harmonieux d'infinies plages instrumentales (Dark Wood, Leopard, Risky Trip to the World), parfois parsemées de samples soulignant leur dimension cinématographique (l'introductive All Men, la sublime A Jealous Lover), mais aussi à l'aune d'astres objets de toutes les fascinations : de l'élégiaque clin d'œil en français dans le texte J'ai Bien du Chagrin, tiré du catalogue de Françoise Hardy, au blues céleste d'In the Night et Light at Dawn, sans oublier le langoureux chef-d'œuvre grimé d'insomnie que constitue le morceau-titre Tumult in Clouds. S'accordant deux détours insolites avec Longing, fourmillant de beats électro, et Your Fame, crépitante et conclusive saillie punk, Tumult in Clouds pose de la sorte les jalons de sa propre succession : là où l'inquiétude se fait expérimentation.
Vidéo (PREMIERE)
Audio
Entretien avec Ela Orleans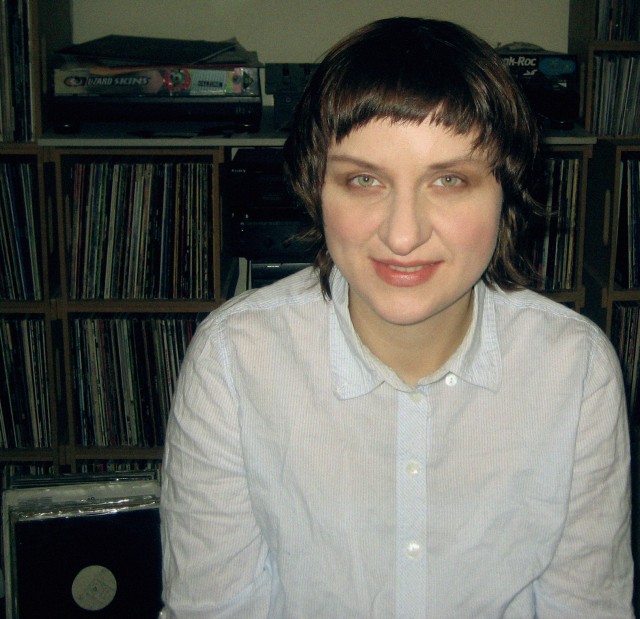 Tumult in Clouds est un double album qui contient à la fois des nouveaux et anciens titres. Comment l'as-tu imaginé et dans quel état d'esprit l'as-tu écrit ?
This new album is a double album consisted of news and older songs. How did you imagine it and in what state of mind did you write it?
J'avais en tête un voyage musical, un genre de livre de poésies, ou un livre de psaumes. Je voulais qu'il soit lyrique et méditatif. Cette année, j'ai fait un peu de DJing avec Carl et j'ai écouté énormément de disques… Maintenant je tente de déceler ce qui rend certains titres intemporels. Je recherche des qualités dans le rythme, la mélodie, l'espace et la dynamique. J'essaie aussi de protéger mon innocence et d'éviter d'avoir une attitude cynique envers la musique.
Et quant à l'état d'esprit, je ne sais jamais comment mon état général peut affecter mes enregistrements. Quand je travaille, je n'ai pas conscience de ressentir quoi que ce soit. En revanche, si tu lis les poèmes que j'ai adaptés pour cet album ou même si tu analyses les titres, tu peux te rendre compte rapidement que l'album est plutôt triste.
L'année dernière, trois morceaux ont été sortis digitalement par Beko DSL. Ils ont été diffusés virtuellement grâce aux blogs, ce qui est génial, mais je trouvais ça dommage de ne pas en avoir de copie physique. Ils s'accordent parfaitement avec la dynamique de l'enregistrement, c'est pour ça que j'ai décidé de les intégrer. Tous les autres titres sont nouveaux et inédits.
I had an idea of a musical journey in the style of a poetry book, or book of psalms. I wanted it to be lyrical and contemplative. I have been DJ-ing with Carl a bit and listened to enormous number of records this year. So now I am trying to detect what is it exactly what makes some of them timeless. I am searching for these qualities in rhythm, melody, space and dynamic. I also look for ways to protect my innocence and try to avoid getting too cynical about music.
As per my state of mind, I am never sure how my general state reflects on my recording. When I am at work I am not aware of feeling anything at all. On the other hand if you read the poems I adapted for this record or even scan the titles, you may quickly realize that the mood is rather grave.
Indeed there are three pieces, which were digitally released by Beko DSL last year. They got some virtual exposure over the blog sphere, which was great, but I thought that not having a physical copy of them is a bit of a shame and since they fit perfectly with the record dynamic I decided to take them in. All the other songs are all new and unheard.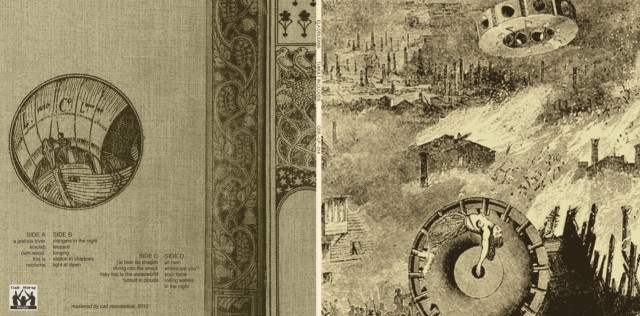 Pourquoi as-tu décidé d'appeler ton nouvel album Tumult in Clouds ? Quel est le rapport entre ce titre et le contenu de l'album ?
Why did you call your album Tumult in Clouds? In what does this title introduce the contents of the record?
C'est le titre phare de l'album. Je crois que ce titre évoque exactement le sentiment d'inquiétude qui est l'humeur principale de l'album. L'enregistrement de cette chanson a été l'apogée de ce projet et j'avais envie de souligner son importance en appelant le disque entier Tumult in Clouds. La chanson est une adaptation libre d'un poème écrit par W.B. Yeats, « An Irish Airman Foresees His Death » (« Un homme irlandais prévoit sa mort« ), dans lequel le poète décrit les circonstances de la mort de son ami Major Robert Gregory, un pilote de la première guerre mondiale abattu, par erreur, lors d'une mission en Italie.
It's the title of the song from the record (side C track 4). I thought it quite accurately suggests an apprehensive feel, which is the predominant mood of the album. Recording of this song was for me the creative culmination of the project and I wanted to underline its importance by naming the record after its title. The song is a loose adaptation of the poem by W. B. Yeats  « An Irish Airman Foresees His Death » in which the poet describes the circumstances surrounding the death of his friend Major Robert Gregory, who served as a pilot during the First World War and was shot down over Italy (by mistake).
Comment pourrais-tu décrire ton évolution d'écriture et de son depuis Mars is Heaven ?
How would you describe your evolution in terms of songwriting and sound since your Mars is Heaven?
Je crois que l'évolution arrive tout naturellement pour ceux qui travaillent et recherchent. Depuis que j'ai déménagé en Grande-Bretagne, j'ai la chance de pouvoir travailler presque exclusivement dans le domaine musical, ce qui est un grand progrès, et il me semble que le nombre d'opportunités a doublé ou triplé pour moi. J'ai aussi pu constater qu'il y a une plus grande diversité dans les projets qu'on me propose. Je fais toujours l'effort d'améliorer la qualité et j'approfondis mes connaissances sur l'orchestration et le son mais je veux tout réaliser moi-même, je ne précipite rien. Travailler pour un label m'a permis de sortir de mon monde, de montrer du soutien et d'être soutenue par d'autres artistes. Du début à la fin, cette année fut la plus difficile de ma carrière tant positivement que négativement ; elle m'a certainement rendue plus forte et m'a montré comment me concentrer sur ce qui en vaut la peine et ceux qui me sont chers.
I think for everybody who keeps working and searching, evolution comes naturally. Having opportunity to work almost exclusively on music is a huge progress for me since I moved to UK. It seems like the number of musical opportunities doubled or tripled. Also since I settled in Glasgow, the variety of projects is much greater. It definitely gave me a little bit more freedom and confidence. I press for better quality and I am not rushing anything. I am widening my knowledge about orchestration and sound but also I want it to be mine. Working for the label also helped me to get out of my own box and show support and be inspired by fellow artists. This has been from the start till the end the most difficult year ever (in a good and a bad way); it certainly toughened and made me more focused on everything what is worth and dear to me. I think the experience resonates in my music.
Depuis 2011, tu es installée en Grande-Bretagne, à Glasgow depuis janvier 2012. Est-ce ton vrai premier album britannique ? Quel influence a la Grande-Bretagne sur toi ?
You lived in UK since 2011 (in Glasgow since January 2012). Is it your first and real British album? In what does UK influence your music?
Je reste toujours très polonaise, haha ! J'ai des problèmes à mettre en relation l'art, la nationalité ou le sexe. Je ne reconnais pas ces catégories – si on ne parle pas de la musique folk. Mais ta question est intéressante, disons que cet album a été enregistré dans un endroit parfait. J'ai commencé à enregistrer ici et je suis ravie d'être de retour. Je suis particulièrement influencée par la musique britannique, surtout le post-punk et le trip-hop. Petite, je préférais l'ours Paddington à Mickey Mouse, mais la vraie raison pour laquelle je me sens comme à la maison ici est le sens de l'humour.
I still remain very Polish ha! I have trouble connecting art with nationality or gender. I never recognize these categories (unless we are talking about folk music). But your question interestingly gave me an answer… Let's say this record was made in the right place. I started my recording journey here and I am glad to be back. I am decidedly influenced by British culture. I am particularly influenced by British post punk and trip hop. As a kid I felt more for Paddington Bear than for Mickey Mouse. But what really makes me feel at home is the sense of humor.
Sur la reprise J'ai Bien du Chagrin de Françoise Hardy, tu chantes pour la première fois en français. Est-ce une manière de retourner l'attention que te porte ce pays ?
With the Françoise Hardy's cover J'ai Bien du Chagrin, you sing in French for the first time. Is it a way of returning all the attention which this country carries you?
C'est un clin d'œil à mon public français, c'est sûr. Mon français n'est pas au point alors j'espère que je ne vais offenser personne. Je suis plutôt étonnée par le succès que j'ai ici et j'espère que mon public français va encore s'agrandir. J'adore jouer en France.
It is a little curtsey in the direction of my audience in France for sure. My French is rubbish, so I just hope it will not offend anybody. I am quite amazed by the attention I get there and only hope my audience in France grows. I love playing there.
Est-ce que tu pourrais expliquer le concept d'Ela and Thee Prophets ?
Can you explain the concept of Ela and Thee Prophets?
J'ai fait quelques remixes, je les ai trouvée extrêmement inspirants, et je me suis demandé ce que j'aurais en retour en laissant en libre accès mes morceaux. Carl pensait que ça pouvait servir de prétexte pour regrouper des amis sur une compilation LP limitée du label. Le titre de ce remix est un clin d'œil aux grands dubs masters, qui sont ma principale source d'inspiration et Thee Temple ov Psychick Youth, la bible de Clan Destine Records.
I did a few remixes myself and found it incredibly inspiring, so I wondered how would that be to give stems of my music away and wait for what comes back? Carl thought this would be a great pretext to put together friends and artists on the label and make a limited run compilation LP. The title of the remix is a wink in the direction of great dub masters, who are my major inspiration and Thee Temple ov Psychick Youth – Clan Destine Record's bible.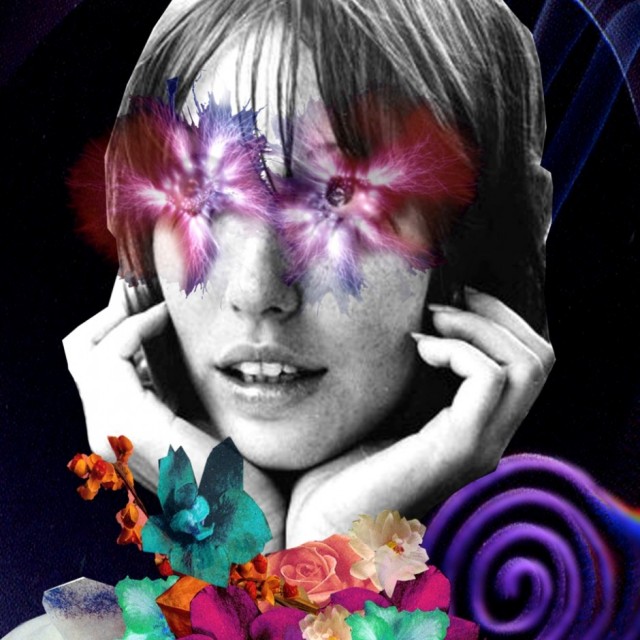 Tu travailles avec Carl de Clan Destine Records. Est-ce une source de motivation de plus pour produire ta propre musique ?
You're working with Carl for Clan Destine Records. Is it a source of additional motivation to produce your own music?
Bien sûr. C'est d'autant plus logique que j'enregistre avec Clan Destine car on habite dans la même maison. Depuis 2011, j'ai sorti sept singles avec Clan Destine : NEO PI-R (cassette et LP), High Moon/Low Sun (réédition cassette), 80 Minutes of Funk (cassette avec Curt Crackrach), Statement (cassette avec Dirty Beaches, Slim Twig et U.S. Girls), Ela and Thee Prophets (remix LP) et Tumult in Clouds.
On tourne et on fait du DJing ensemble. Nous sommes une bonne équipe ; on connait très bien nos rôles. Carl a une connaissance musicale incroyable et il partage généreusement son expérience. Il a monté tous mes enregistrements depuis Mars is Heaven et il est également mon principal conseiller sur les mixes finaux. Nous sommes une équipe mais aussi les meilleurs amis du monde. Je sais qu'il me dirait si ma jupe était accidentellement coincée dans ma culotte – musicalement aussi.
Naturally. It makes more sense that I release on Clan Destine since we live in the same house. Since 2011 I was involved in seven releases with Clan Destine. NEO PI-R – Tape and LP, High Moon/Low Sun – re-release on Tape, 80 Minutes of Funk – split Cassette with Curt Crackrach, Statement – 4-way split LP with Dirty Beaches, Slim Twig and U.S. Girls, Ela and Thee Prophets – remix LP and Tumult in Clouds – 2LP.
We tour together and we DJ together. We are a good team; we know our roles at this point pretty well. Carl's knowledge about music and sound is insane and he shares his expertise generously. He has been mastering all my records since "Mars is Heaven" and is my main advisor in final mixes. We are partners but also best friends so I know he would tell me if my skirt got accidentally tucked in my knickers (musically too).
Quels sont tes nouveaux projets ?
What are your next projects?
Peut-être une compil' de cinq CD avec hartzine ??!!! Haha ! J'ai quelques idées en tête. Pour l'instant, je suis obligée de me reposer jusqu'à la fin du mois de mars. Je devrais avoir les idées un peu plus claires – sois sûr que je te tiendrai au courant.
I have a few ideas but. Perhaps 5xCD solo box set with the zine… there is so much in my head. I am forced to rest till March. I will let you know then.
Traduction : Alexandra & Julien Strelcova.
Tracklisting
Ela Orleans – Tumult in Clouds (Clan Destine Records, 2012)
A1. A Jealous Lover
A2. Kinolab
A3. Dark Wood
A4. This Is
A5. Nocturne
B1. Clangers in the Night
B2. Leopard
B3. Longing
B4. Station in Shadows
B5. Light at Dawn
C1. J'ai Bien du Chagrin
C2. Diving Into the Wreck
C3. Risky Trip to the Underworld
C4. Tumult in Clouds
D1. All Men
D2. Where Are You
D3. Your Fame
D4. Rolling Waters
D5. In the Night
Ela Orleans – Ela and Thee Prophets (Clan Destine Records, 2012)
A1. Axon Terminal Voices (Silver Strain Remix)
A2. Amsler Grid (Slim Twig Remix)
A3. The Season (The-Drum Remix)
A4. She Who Could BIND You (Pyramids of MU Remix)
A5. Apparatus (Skitter Remix)
B1. Something Higher (Dan Melchior Remix)
B2. I Know (Mushy Remix)
B3. Planet Mars (Os Ovni Remix)
B4. Light at Dawn (Nattymari Remix)
B5. Walkingman (Fostercare Remix)
B6. Living World (U.S. Girls Remix)