Encore peu connu du milieu techno, affichant néanmoins plus de dix ans d'activités au compteur, Simona Calvani aka DJ RED fait une entrée fracassante avec Eyes Are Blind, son quatrième EP et première sortie sur la très fréquentable écurie BPitch. Un 3 titres prometteur ressassant les influences de la belle, allant de l'abstract décharné au minimal suave. Des productions complexes mais résolument dancefloor qui donnent un bref aperçu des aspirations de la musicienne italienne, comme en témoignent les titres Look Deep ou Eyes Are Blind, à la fois rugueux et enivrants. Un mélange détonnant qui n'est pas sans rappeler l'univers urbain et la poésie lunaire d'artistes comme Cio D'or ou Dasha Rush. À l'écoute de ce séduisant maxi, nous n'avons pu nous empêcher de contacter Simona afin d'en savoir plus sur ses secrets de fabrication.
Entretien avec Simona Calvani
Comment passe-t-on du milieu de la mode à la techno ? Un parcours qui rappelle un peu celui de Monika Kruse, non ?
How do we jump from fashion to techno music ? A path which look like that of Monika kruse or Nina Kraviz, don't you ?
J'ai étudié à l'Université de la Mode et du Design à Rome et j'ai travaillé en tant que styliste, j'ai créé ma marque d'accessoires tout en jouant de la musique parallèlement. La musique a toujours fait partie intégrante de ma vie. J'ai passé plusieurs années à naviguer d'un univers à l'autre jussqu'à ce que j'arrive à un point où il me fallait choisir entre les deux. Je ne pouvais pas continuer comme ça mais la decision a été fantastiquement facile à prendre. La musique à littéralement bouleversé ma vie, en conséquence de quoi j'ai décidé de continuer dans cette direction. C'est vrai que ce sont deux univers artistiques différents, mais il y a beaucoup de similitudes entre les deux avec la créativité comme facteur commun.
I've studied at the Accademy of fashion and design in Rome and I worked for several years as a stylist and created my own accessories brand while playing music at the same time. Music has always been an integral part of my life, I carried on working in these two worlds for many years until I reached a point when I had to make a decision and choose between the two. I couldn't continue like that so the decision was fairly easy… Music literally took over my life and subsequently I decided to continue in that direction. Is true that they are two different artistic worlds, but there are many similarities between the two with creativity being the common factor.
Tu es établie à Berlin maintenant, mais peux-tu néanmoins nous parler un peu de ton expérience en Italie ? Comment est la scène là-bas ?
You live now in Berlin, however could you tell us how was your dj experience in Italy ? How are the electronic stage there ?
Oui, actuellement je vis entre Rome et Berlin. J'ai été résidente pendant plusieurs années des soirées Ultrabeat au Goa Club de Rome, c'est là que j'ai musicalement gagné en maturité et Rome est une ville que j'aime beaucoup. J'adore jouer là-bas, le public de la scène électronique est très demandeur et exigeant. La scène techno y est forte et affirmée, je trouve que jouer là-bas est très stimulant.
Yes, I'm currently living between Rome and Berlin. I been a resident at the Ultrabeat club night at Goa Club in Rome for many years, this is where I matured musically and Rome is a city that I love very much. I love playing there; the electronic music scene crowd has always been attentive and demanding. The techno scene is strong and consolidated, I find playing there very stimulating.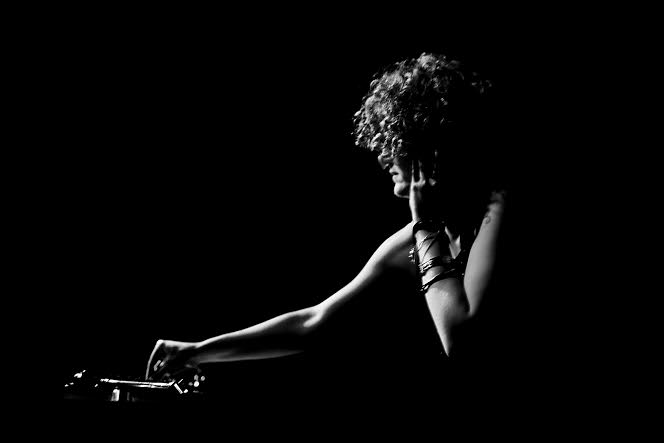 Eyes Are Blind est ta première sortie sur un gros label. Est-ce que ça a changé ta manière de bosser ?
Eyes Are Blind is your first release signed with a big label. Did it change your way to work ?
Depuis que je suis chez BPitch, mes méthodes de travail ont complètement changé et la sortie du disque m'a aidé à gagner plus de visibilité, maintenant tout semble bouger plus rapidement qu'avant.
Since I been with BPitch my working method has definitely changed and the record release has helped me gain more visibility, everything now seems to be moving much faster than before
Dans quelles conditions composes-tu ? Quelles machines utilises-tu pour bosser ?
What are your composing conditions? What machines do you use?
J'utilise Ableton Live que j'additionne à d'autres instruments comme des boites à rythmes ou de vieux synthés.
I use Ableton Live and additional external hardware such as drum machines and some old synth.
Tu as un style bien particulier, à la fois minimal mais rugueux. Quelle esthétique cherches-tu à donner à ta musique ?
You have a really particular style, minimal and rough at the same time. How would you describe your musical style, what aestethic are you looking for?
J'ai un son dark, deep et hypnotique… Durant mes sets je préfère les sons techno plus moites souvent accompagnés de lignes de basses puissantes/marquéss.
I have a dark sound, deep and hypnotic… during my set i prefer warm techno sounds often accompanied by marked/strong basslines.
Tu as commencé à mixer il y a à peu près quinze ans. Comment sens-tu les choses évoluer ? Quelles sont tes relations avec le public ? Aujourd'hui pas mal d'artistes se plaignent de l'omniprésence de la drogue dans les soirées, ce qui rend souvent le public aggressif, inattentif à la musique qui passe. Qu'en penses-tu ?
You have been mixing since 15 years, how do you feel electronic music is evolving? What is your relation with the public? And do you think like many artists that drugs are too present in electro parties, making the public aggressive and innatentive with the music?
Ce qui a change dans la manière dont les gens jouent de la musique, c'est la technologie qui va avec. Maintenant, il y en peu qui jouent des vinyles, tout le monde peut devenir DJ avec des outils comme Traktor, les controllers, les sampleurs… Disons que c'est devenu beaucoup plus accessible.
Ma relation avec le public a beaucoup change depuis mes débuts, j'ai toujours été un peu timide, mais faire ce job m'a aidé à l'être beaucoup moins. Ça m'a aidée dans mes relations avec le public, mais maintenant l'impact est différent parce que je suis plus ouverte et cela créée une atmosphère plus agréable en soirée.
En ce qui concerne les drogues, elles existeront toujours. Il est moins appréciable d'entendre qu'elles sont le plus souvent associées au contexte musical. Je ne juge pas ceux qui prennent des drogues, l'important est de garder la tête sur les épaules comme dans toutes les situations de la vie et de ne pas être un dérangement pour autrui en soirée. Après, chacun est libre de décider par lui-même.
What has changed in the way people play music, the technology behind it. Today not many people play vinyl, everyone can be a DJ with tools like traktor, controllers, sampling machines…let's say that everything has become more accessible.
My relationship with the public has changed a lot since when I first started I always been a little bit shy, but doing this job has helped me becoming less so. This has helped my relationship with the public, now the impact is different because I'm more open and this ultimately creates a nice vibe during the parties.
For what concern drugs, they will always exist. It may be not nice to hear but they're often associated with musical contexts… I don't judge those who take drugs, the important thing is to keep your head on top of your shoulders like in many other situations in life and make sure no to be a nuisance to other people during a party…after that, everyone is free to decide for himself.
Pour beaucoup d'étrangers, Berlin c'est l'El Dorado des soirées techno, pour d'autres c'est une utopie qui se meure. Quel est ton avis ? Trouves-tu toujours autant de plaisir à jouer et à sortir là-bas ?
For a lot of people, Berlin is techno parties El Dorado but for others it's a dying utopia. Are you still so excited playing and going out there?
Il y a toujours quelqu'un pour te dire "c'était mieux avant, l'atmosphère était différente, il y avait moins de touristes", des trucs comme ça. J'essaye toujours de voir plus loin et je pense que Berlin est une ville en constante évolution et que ça n'est pas près de s'arrêter. C'est pourquoi c'est un lieu aussi magique. Il y a toujours beaucoup d'acquis qui se perdent et de nouvelles opportunités qui se développent. Je cois que cette capacité à se régénérer soi-même en fait un lieu vraiment spécial. Par-dessus tout, que je sorte pour jouer ou pour le plaisir, j'ai la garantie de passer un grand moment… Il n'ont certainement pas besoin qu'on les conseille ici sur la manière d'organiser de bonnes soirées ;)
There always be someone that will say "it was better before, the atmosphere was different, there were less tourists » and things like that. I try to always look forward and i think Berlin is a city in constant evolution, i don't think it never stopped. This is why it's such a magic place. There are always many realities coming to an end and as many new situations developing, I believe its capacity to regenerate itself makes it a really special place. Whenever I'm out playing or i go out socially i'm guarantee to have a great time…they certainly don't need advice here on how to organize a good party ;)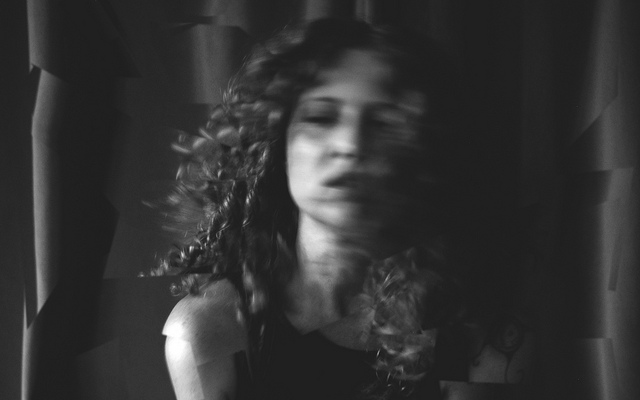 Quels conseils donnerais-tu à de jeunes artistes qui souhaitent se lancer dans la musique électronique ?
What advices could you give to beginner artists who would like to start making electronic music?
La recherche est la clé. Trouve ton propre style, sois déterminé et constant.
Research is key, find your own style, be determined and constant.

Y a-t-il un lieu particulier où tu rêverais de jouer et des artistes avec qui tu rêverais jouer ?
Is there a place where you will dream to play? Are they some artists you will dream to play with?
J'aimerais jouer dans plus de festivals. Je me sens privilégiée d'avoir joué avec certains des artistes que je respecte le plus.
I'd like to play more in festivals. I feel very privileged to have played already with some of the artists i respect the most.
À quoi ressemblera ta prochaine sortie ?
What will your next release look like?
Je bosse dessus, et la seule chose que je peux te dire c'est qu'elle aura une "saveur" techno.
I'm working on it, the only thing i can say to you is that it will have a techno "flavour".
Tracklist
DJ RED – Eyes Are Blind (BPitch Control, 2013)
1. Eyes are blind
2. Look Deep
3. Awake
Audio
Vidéo