Un peu à l'image d'In Aeternam Vale en France (lire), le minimalisme électronique que Danny Bosten proférait via le patronyme de Das Ding au début des années quatre-vingt en Hollande révèle aujourd'hui deux choses : à la fois du sens de l'anticipation d'une scène post-punk d'alors, notamment quant à l'intégration de nouvelles technologies analogiques, et du vif intérêt contemporain pour ces pionniers. En témoigne l'album H.S.T.A., sorti en 2009 sur le label de Veronica Vasicka Minimal Wave (lire) et né d'une collection de vieux titres de Das Ding, qui va littéralement remettre à l'ouvrage sur ce projet un Danny Bosten – qui parallèlement n'a jamais lâché son micro-label Tear Apart Tapes, responsable de douze sorties cassette en plus de trente ans. Mais plutôt que de continuer à exhumer toutes ses vieilles productions, c'est à la faveur d'une rencontre, celle de Spacemaker et Leather E., que notre homme réinvente le son de Das Ding : sur le point de créer leur propre label, Electronic Emergencies, les deux djs proposent à Danny de composer un album qui constituera leur première sortie. Ainsi est né Why Is My Life So Boring? – dont le morceau-titre est à écouter en exclusivité en fin d'interview – que le Hollandais viendra présenter au public parisien le 30 janvier prochain au Batofar dans le cadre d'une seconde Fête Triste du nom avec à ses côtés au line-up Femminielli et Moyö de Mind records (Event FB). Celui qui n'a rien perdu de sa passion pour les Moog et autres Rolland, et à qui l'on a posé quelques questions, était jeudi 22 janvier sur les ondes d'Ice FM. Le podcast est également en écoute ci-après.
Interview Das Ding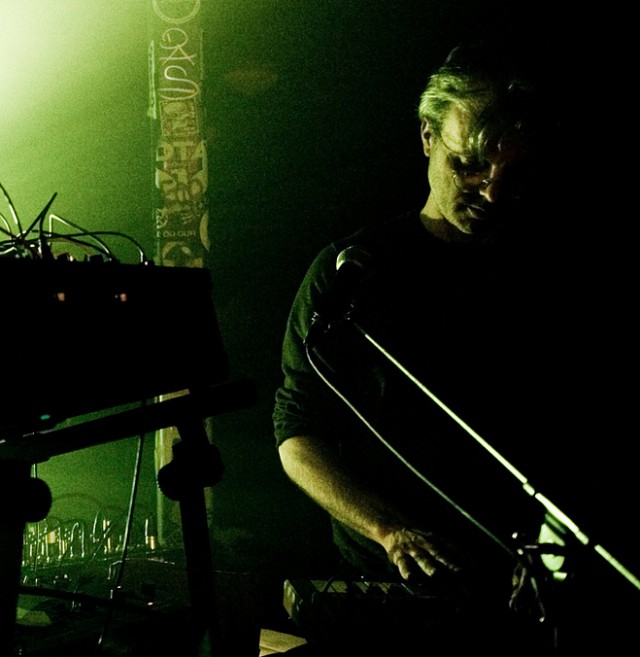 D'où vient Das Ding et Tear Apart Tapes ?
Can you tell us the origins of Das Ding and Tear Apart Tapes?
J'aime la science fiction, tout ce qui est futuriste, et la musique biensûr de puis mon plus jeune âge. Donc quel meilleur moyen pour combiner tout ça que l'utilisation de robots musiciens informatisés ? Lorsque le groupe de mon frère a décidé de prendre une pause, en 1980, je leur ai demandé si je pouvais emprunter un peu de leur matériel. Des amis m'ont prêté encore plus de synthés et ma chambre s'est transformée en un petit studio d'enregistrement. J'ai appris à me servir des machines et j'ai commencé à enregistrer. Les résultats étaient passables donc j'ai décidé de produire quelques cassettes à vendre et à échanger. Je regardais la télé un soir et le classique de 1953 (ndlr : 1951 en réalité) La chose d'un autre monde passait sur une chaîne allemande et j'avais trouvé un nom : Das Ding (aus einer anderen welt) !
A l'époque on aurait dit que tout le monde faisait de la musique ou une sorte de bruit. Ça semblait justifier le lancement d'un label cassette, du coup, avec Johan de Koeyer, qui faisait Les Yeux Interdits, on a démarré Tear Apart Tapes. Notre première sortie était un split cassette C-20 Das Ding / Les Yeux Interdits. J'étais étudiant en graphisme à l'époque donc j'ai réalisé l'artwork, la pochette et les illustrations
From an early age I was into Science Fiction, all things futuristic, and music of course. So how better to combine all these things than through 'Robot Music Computers'? When my brother's band decided to take a break, this was in 1980, I asked if I could borrow some of their equipment. Some friends lent me more synthesizers and  my bedroom turned into a small recording studio. I learned to operate the machines and started recording. The results were more than passable and so I decided to produce a few cassettes to sell and trade. Watching television one evening, the 1953 classic sci-fi movie 'The Thing From Another World' came by on a German channel, and I had found a name: 'Das Ding (aus einer Anderen Welt)!'
At the time, it seemed that everyone was making music, or noises of some sort. This seemed to warrant starting a cassette-label, and so, together with Johan de Koeyer, who was operating as 'Les Yeux Interdits', I set up 'Tear Apart Tapes'. Our first release was a split C-20 cassette featuring 'Das Ding' and 'Les Yeux Interdits'. I was studying graphic design at the time, so I designed the artwork, cassette-sleeves and illustrations.
Comment décrirais-tu Das Ding ?
How would you describe Das Ding?
C'est inspiré par le matériel lui-même, des séquences rigides et des rythmes durs avec des mélodies plus douces par dessus. Mes plus grandes influences sont Fad Gadget, Kraftwerk et New Order.
It is very much inspired by the equipment itself, rigid sequences and hard rhythms, with softer melodies over it all. My biggest influences would be Fad Gadget, Kraftwerk and New Order.
A cette époque en Hollande, il y avait une émulation particulière pour la musique minimale électronique ? De quels musiciens te sentais-tu proche ?
Was there a particular emulation at this moment there in Netherlands for the minimal electronic music? Of what musicians/movement did you feel close?
Il y avait une grande activité post punk DIY, mais plus centrée autour des grandes villes et de leurs écoles d'art, dont on ne se sentait pas vraiment proche, mais peut-être qu'il y avait un esprit commun. Des groupes comme Mekanik Komando, Van Kaye et Ignit pour en citer quelques-uns, m'ont influencé.
There was a lot of Post-Punk DIY activity going on, but more centered around the bigger cities, and the art schools there, to which we felt not very close, but in spirit, maybe. I was inspired by bands like Mekanik Kommando and Van Kaye and Ignit, to name a few.
La musique de Das Ding semble muter avec le temps, d'un son new-wave à quelque chose de plus électronique et minimal. Cela est du aux évolutions technologiques ou a une conception esthétique différente ?
The music of Das Ding mutated in time, of a sound more new-wave in a more electronic and minimal sound. Is it because of the technological evolutions or of your musical and esthetic approach?
J'imagine que s'il y a une telle évolution, elle vient du dispositif de machines et aussi de la connaissance de ce qui me convient le mieux à force d'expérimentations.
I guess, if there is such an evolution, it is borne out of the particular set-up of machinery, and also the sense of what works best for me, arrived at after a lot of experimentation.
Entre 1982 et 1985, Das Ding a sorti quatre albums. Puis plus rien jusqu'au H.S.T.A sur Minimal Wave. Qu'as-tu fait durant ce hiatus ?
Between 1982 and 1985, Das Ding brought out four records. Then nothing more until 2009 and the album H.S.T.A on Minimal Wave. What have you make during this hiatus?
Il s'agissait de cassettes plus que de disques et de quelques contributions sur des compilations vinyles par ci par là. Mais j'ai toujours fait de la musique, dans des groupes aussi, à la guitare, à faire de la noise avec d'autres gens. Produire des émissions à base de paysages sonores sur des radios pirates etc. C'est simplement cette réécriture historique faite après coup qui donne l'impression que j'ai disparu. C'est drôle comme ça fonctionne.
Well, They were tapes rather than records, and some contributions on vinyl compilations here and there. But I was always making music, in bands also, playing guitar, making noise-music with others. Producing pirate-radio sound-scape shows, etcetera. It is just the after-the-fact history-editing that makes it seem like I disappeared. It's funny how that works.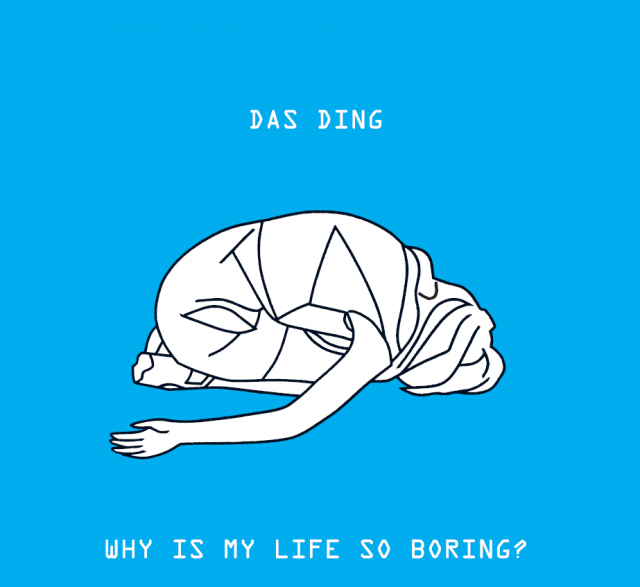 Comment expliques-tu cet engouement pour ta musique, en particulier celui de Minimal Wave ? Comment Véronica t'a-t-elle contacté ?
How do you explain the craze for your music, in particular those of Minimal Wave? How did Veronica contact you?
Je n'étais pas du tout au courant de ce nouvel engouement revival 80's au début du millénaire. Veronica m'a contacté en 2007 après que Frans de Waard ai posté quelques unes de ces vieilles cassettes sur son blog No Longer Forgotten Music. Il était en charge du catalogue cassette holandais et possède donc une énorme collection de cassettes et de disques underground hollandais. En vérité, j'avais totalement oublié Das Ding mais après j'ai percuté et réalisé que ce n'était qu'une question de temps avant qu'ils ne viennent me chercher. Veronica m'a donc envoyé un mail que j'ai failli effacer en croyant que c'était un spam, heureusement ce ne fût pas le cas. J'ai exhumé de vieux enregistrements et lui en ai envoyé certains. Elle a fait une sélection, on a un peu marchandé et voilà.
I was totally unaware, at the start of the new millenium, of this new 80ies revival craze. Veronica contacted me in 2007 after Frans de Waard had posted some of the old tapes on his blog 'No Longer Forgotten Music'. He used to run the Dutch tape-catalogue and so has a huge collection of all kinds of Dutch underground tapes and records. In truth, I had all but forgotten about Das Ding, but then it clicked and I realized it was only a matter of time before they would come look for me. So Veronica sent me an email and I almost deleted it, thinking it was spam. Luckily I didn't. I unearthed the old recording and sent her some. She made a selection, we haggled a bit, and that was that! 
Tu viens de sortir le LP Why Is My Life So Boring? Dans quel état d'esprit l'as-tu composé et que représente-t-il pour toi ?
You brought out recently the LP Why Is My Life So Boring? In what state of mind did you compose it and what does it express for you?
Le nouvel album, Why Is My Life So Boring ? a été assemblé de main de maître par les deux patrons du label Electronic Emergencies, Spacemaker et Leather E, deux Dj de Rotterdam, à partir d'une grosse collection de morceaux que je leur ai donné. C'est une chance de pouvoir faire un pont entre le nouveau et l'ancien et d'échapper en quelque sorte au « ghetto revival 80's ».
Le titre est celui de la première chanson qui a été composée comme un truc expérimental en fait. Les paroles et le titre viennent du moteur de recherche Google. Si tu commences à taper « why is… » c'est le premier truc qui sort. Apparemment « Why Is My Life So Boring ? » est la question numéro un dans l'esprit des gens (du moins sur Google) suivie de près par « Why is my internet so slow ? » L'image sur la pochette illustre parfaitement ce titre. La plupart des morceaux sont inspirés par les machines que j'utilise. Certaines chansons sont faites avec un vieil outil Roland, la CMU-800, un vieil instrument électronique pre-midi pour lequel un japonais a créé une interface midi 8 sorties CV/gate qui permet de contrôler des vieux synthés. Je l'ai branché et ai enregistré Want Need d'un coup d'un seul. J'aime quand un album est un tout, que tous les aspectes soient cohérents, le titre, la pochette, l'ordre des morceaux etc.
The new album (Why Is My Life So Boring?) was skillfully put together by the two label-owners of Electronic Emergencies, Spacemaker and Leather E, two Rotterdam DJ's, out of a big collection of tracks I gave them. It is a chance to bridge the old and the new, and to sort of 'escape the 80ies revival ghetto'. The title is the name of the first song, which was put together as an experiment, really. The lyrics and title are taken from Google Search's auto-fill feature; if you start typing 'why is…' that is what comes up. Apparently 'why is my life so boring?' is the number one question on people's minds (well, on Google at least) closely followed by 'why is my internet so slow?' The image on the cover fit perfectly with that title. Most of the songs are directly inspired by the machinery used. Some of the songs are made with an ancient Roland device, the CMU-800, a pre-midi computer-music device, for which a Japanese guy made a midi-interface, giving you 8 times control voltage and gate signals to control old synths. I plugged it in and recorded 'Want Need' straight away, for instance. I very much like an album to be a package, something that fits together in all aspects, title, sleeve, song order, etcetera. 
Cet album est la première sortie du label Electronic Emergencies. Comment et pourquoi as-tu commencé à travailler avec eux ?
This album is the first one release of Electronic Emergencies. How and why did you begin to work with this label?
Je les ai connu parce qu'ils m'ont organisé un concert ici à Rotterdam et nous sommes devenus par la suite amis. Comme ils commençaient leur label, ils m'ont demandé d'être le premier artiste à sortir un disque sur celui-ci. La collaboration a été plus que simple vu qu'ils sont tous passionnés de musique. D'ailleurs, cela se voit dans l'objet. J'ai une foi absolue en eux. Vous en entendrez parler certainement très bientôt.
I know them because they organized a gig here in Rotterdam for me, and we became friends. They told me they wanted to start a record label and asked if I wanted to be the first artist on it. See above. It was the smoothest collaboration ever, and they are very passionate about the music. It shows in the product. So I have absolute faith in them. You will certainly hear more from them soon.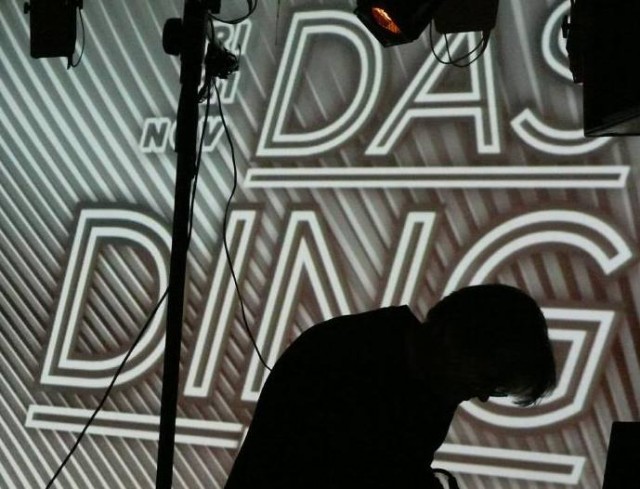 La techno explore de plus en plus les sonorités new-wave et l'analogique. Tu te sens proche d'artistes techno contemporains ?
Techno explores since few years new-wave tones and analog works. Do you feel close to techno artists at present?
Pas vraiment. Musicalement beaucoup de choses me plaisent mais la plupart sont faites pour du club et parfois ça manque de personnalité, de fond. Je préfère la musque plus écrite en fait. C'est marrant parce que les gens que tu rencontres lorsque tu es Das Ding ont l'air de penser que tu écoutes ce genre de musique toute la journée et que tu es au courant de tout ce qui se fait. J'ai bien peur que ça ne soit pas le cas. Chez moi j'écoute PJ Harvey, Nine Inch Nails, Pink Floyd et Cat Power. Et le Velvet Underground, qui pour être honnête est mon groupe préféré depuis toujours.
Not really. I like a lot of the music, but most of it is made for clubs, I guess, and sometimes a little faceless and formless. I prefer music with a face, a structure, really. It's funny because the people you meet when you are 'Das Ding' seem to think you listen to this kind of music all day, and know all of the other bands. I'm afraid this is not true. At home I listen to PJ Harvey, Nine Inch Nails, Pink Floyd and Cat Power. And the Velvet Underground, which is my all-time favourite band, to be honest. 
Quelle est ton approche du live ? Que nous réserves-tu pour la Fête Triste ?
What's your approach of the live set? What do you reserve us for La Fête Triste party?
J'ai une setlist de vieux et de nouveaux morceaux. J'utilise un laptop pour les structures de base et le timing et ça pilote les synthés ce qui permet un peu de manipulation en temps réel. Je joue par dessus ça avec d'autres synthés donc je pense que c'est un bon mélange entre des choses prédéfinies et de l'improvisation. J'utilise un peu d'équipement fait maison comme un petit kit modulaire pour les beats et les synthés. je développe une grosse addiction de construction DIY de synthés modulaires. Après presque chaque concert je modifie un peu mes synthés pour obtenir un meilleur résultat. C'est agréable de pouvoir réparer son propre matériel.
I have a set-list of old and new songs. I use a laptop to provide basic structure and timing, and this drives the synths, which allows for some manipulation and tweaking in real-time. I play over that on other synths. So it is a good mix of preset and improvisation. I use some home-built equipment, like a small modular case for drums and synths. I am developing a big do-it-yourself addiction in building modular synths. After every gig I sometimes modify my synths a little to get better results. It is really nice to be able to build and repair your own equipment.
Quels sont tes projets futurs ?
What's your near future?
Je ne sais pas. Je suis actuellement sans emploi depuis les restrictions budgétaires qui ont touché le secteur culturel et cet environnement néo libéral brutal dans lequel nous vivons me fout en boule. Les gens sont tellement stupides de nos jours, c'est comme si rien ne changera jamais. J'espère que ma musique continuera à offrir un contre point plus agréable. Je construis beaucoup d'éléments de synthés modulaires et parfois je vends des trucs. Je vais bientôt écrire un roman.
I don't know! Currently I am unemployed, since the cutbacks in the cultural sector, and the harsh neo-liberal environment these days frankly pisses me off. People are so stupid these days. Seems like nothing will ever change. I hope my music will continue to provide a more pleasant counter-balance to this, as it has done. I am building a lot of modular synth parts, and sometimes sell some stuff. Next, I'm going to write a novel !
Traduction : Alex P
Audio (PREMIERE)
Ice FM with Das Ding
Tracklisting
Das Ding ‎– Why Is My Life So Boring? (Electronic Emergencies, 24 novembre 2014)
A1. Why Is My Life So Boring?
A2. Want Need
A3. Zombie Botnet
A4. So Beautiful
A5. Billionaire Space Tourist
B1. ModStim
B2. Hyperinformed Superconsumer
B3. Emotional Firewall
B4. Wannabe Hasbeen
B5. Styrofoam Cathedral