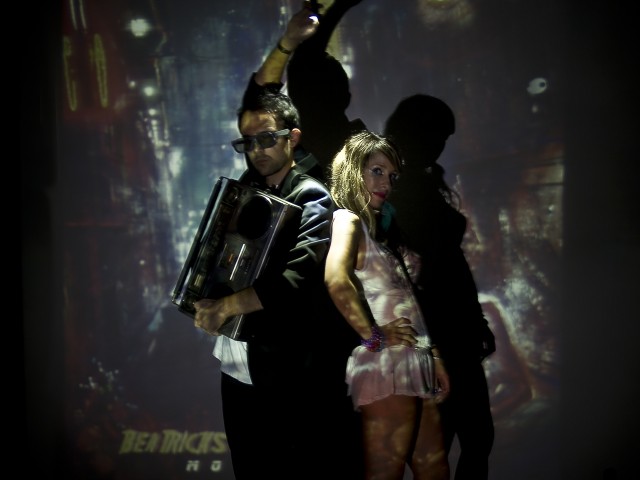 Class B Band sort de l'ombre, cette année, avec son album sur Wagon Repair, Movie T. Derrière ce nom se cachent Beatmaster G, considéré comme un des meilleurs beatboxers sur la planète – il a joué aux cotés d' Afrika Bambaataa, Talib Kweli, Danny Tenaglia, DJ Hype ou encore Scratch Perverts – et Bea Tricks, DJ, qui depuis six ans tourne avec les Dollz at Play… Rien ne laissait présager que ce duo hispanique allait délivrer un album techno de haute volée. Explications avec Beatmaster G.
Comment est né ce projet ? Que souhaitiez-vous explorer avec ?
How was this project concieved? What did you want to explore?
Nous nous sommes rencontrés dans un restaurant de sushi. On a été présenté par notre ami commun, Pepito Grillo, qui était persuadé que nous devions réunir nos forces pour « créer ». Il avait raison ! Un mois et demi plus tard, nous avions fini notre premier EP, Be at Risk, que Wagon Repair (le label de Mathew Jonson) a reçu à bras ouverts et qui a atteint le statut « Top Tune » décerné par IDJ Magazine. Nous partageons une vision de la musique et nous nous amusons à en faire. C'est un partenariat qui vaut le coup d'être exploré.
We met at a sushi restaurant. We were introduced by our mutual friend Pepito Grillo, who was convinced we had to unite forces to "create". He was right! A month and a half later we had accomplished our first EP "Be At Risk" that Wagon Repair received with their arms wide open and that achieved the "Top Tune" status awarded by IDJ magazine. We share a vision of music and we have the extraordinary skill of being able to have fun whilst we make it, so its a partnership worthy of exploring!
Comment produisez-vous les morceaux à deux ? Qui fait quoi ?
How did you two produced tracks? Who's doing what?
Nous produisons nos tracks aux Tracknotic Studios à Ibiza en utilisant une combinaison de hardware et de plugins de Logic et Protools. Nous utilisons la flexibilité des VST et le son si particulier de certains vieux synthés… Ça peut varier d'un Casio cheesy à un Virus graveleux. De temps en temps, des intruments live comme une guitare ou un piano et le plus souvent le beatbox et la voix. Il n'y a pas de rôle prédéfini. Nous piochons aussi dans de vieux samples… et en échangeant des idées que nous ne prenons pas très au sérieux.
We produce our tracks at Tracknotic Studios in Ibiza using a combination or Hardware and Plugins in a Logic and Protools environment. We extract the flexibility of VST's and the analogue character of some old Synths that we have… it can range from a cheesy Casio to a gritty Virus. Sometimes we use live elements like Guitars and Piano and more often Beatbox and Vocals. There is no set role for either of us in any case. We will also dig for old samples together and bounce ideas of each other whilst laughing about it all!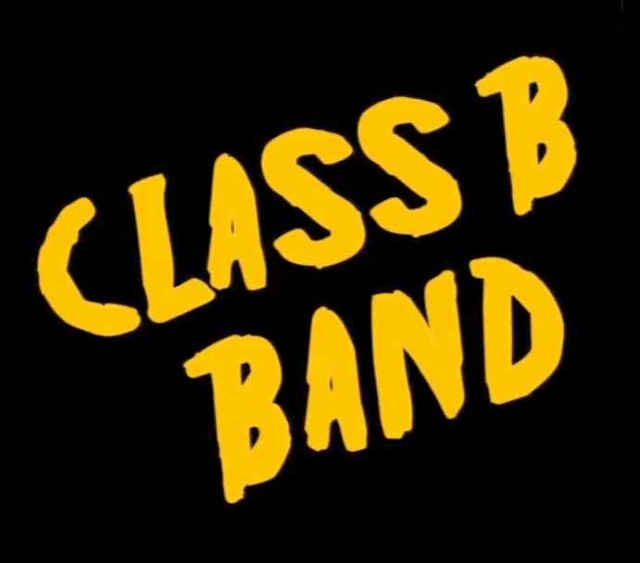 Dans votre bio, vous faites référence aux « films d'horreur des années 80 et aux films d'espion de séries B, Quentin Tarantino, un androïde, un mexicain saoul, une dose d'humour noir, la SF et les anti-héros« . La pochette de l'album ressemble à une couverture de comic. A quel niveau les autres formes d'arts influencent-elles votre musique ?
On your biography you're refering to « favourite 80's horror and spy B movies, Quentin Tarantino, Elvis, an android, a drunk Mexican, a dose of dark humour, Sci-fi and anti-hero » The cover of Movie T looks like a comic's cover. How can other forms of art influence your music?
Nous avons des goûts variés concernant la musique ou toute autre forme d'art… Notre processus de création est intimement lié à nos goûts en matière d'art visuel ou littéraire. Par exemple, notre track Chale Guindas est né d'un brainstorming entre Une Nuit en Enfer de Tarantino et l'expérience de Bea au Mexique, en passant par certains de nos comics préférés des années 80… Nous faisons toujours des mises en scènes et des histoires comme des scénarii, que nous exprimons ensuite au travers de la musique. Notre album Movie T (d'où le nom) a été entièrement conçu de cette manière… chaque morceau est une scène avec ses influences et son histoire.
We have very varied tastes when it comes to music and anything artistic or creative… Our creative process is very intimately related to our tastes in visual and literary content. For instance, our track « Chale Guindas » originated from a brainstorm that took us from Quentin Tarantino's « From Dusk til Dawn » to Bea's experiences in Mexico, and passing by some of our favourite comics of the 80's…We always set up a scene and movie-like story, that we then express in a musical format. Our Album « Movie-T » (hence the name) was created entirely in this way… where every track is a different scene with a different influence and story behind it.
Comment se déroulent vos lives ?
How do your live shows take place?
Beat Tricks mixe une sélection de nos tracks tandis que j'ajoute les voix en direct ainsi que du beatboxing, des effets et du synthé pour finaliser les morceaux. C'est basé sur 100% de nos tracks. Les « Class B Band DJ Sets » sont des mixes par Bea Tricks, où elle mixe nos tracks aux cotés du meilleur de la musique actuelle. Une chose est certaine… dans un monde de clones, on essaie de faire notre propre truc ! Tu peux toujours t'attendre un set éclectique.
Bea Tricks mixes a selection of our tracks and taylor made remixes whilst Beatmaster G add's live vocals, beatbox, FX and Synth parts to complete the tracks. It's set which consists of 100% of our own music. The « Class B Band Dj Set » is performed by Bea Tricks where she will mix a selection of our tracks alongside some of the best music out there. One thing is for sure… In a world of clones we try to present our own thing! So you can always expect an eclectic dj set.
Vous avez signé sur le label de Mathew Jonson, Wagon Repair. Comment ça s'est passé ?
You have signed on Mathew Jonson label Wagon Repair. How did this happen?
Très très bien ! C'est comme travailler avec des amis… toujours à l'écoute. Nous les remercions souvent de nous avoir donné la chance de sortir notre musique et d'avoir une entière liberté. Mathew, Adam, Konrad et Nathan sont de bons amis et nous espérons sortir nos futurs projets chez eux… Ils sont une excellente équipe !
Very Well! Signing our work with Wagon Repair has been like working amongst friends… always helpful and appreciative for our collaboration. We'll always thank them for giving us a chance to release our tracks and for giving us creative freedom with our project. Mathew, Adam , Konrad and Nathan are good friends and we hope to release future projects with them… They're a great team!
Vous venez de sortir un maxi sur le label My Favorite Robot. Vous pouvez nous en dire plus ?
You released an EP on My Favorite Robot. Can you tell us more about it?
L'EP Strange Wolves est le style de projet que nous souhaitions faire après l'album sur Wagon Repair. Pour nous, il est dans la continuité de nos précédentes sorties, mais peut-être plus taillé pour My Favorite Robot et pour les DJ… Chords & Knives est plus tech-house, plus « peak time » avec moins de voix, contrairement à Strange Wolves qui contient une bonne dose d'années 80 ainsi que notre « spooky touch » à la Movie T. Nous avons de bonnes critiques à son sujet… Les deux remixes qui sont des tueries par Darabi et Dead Seal ne sont en aucun cas à laisser de côté !
Strange Wolves EP was the type of project that we wanted to do after the release of our full length Album on Wagon Repair. In our opinion it follows the style of our previous releases but its perhaps a little more taylor made for My Favourite Robot and for mixing needs of fellow DJ's… Chord's & Knives is more tech-house and a club track to be played at a peak time of a set and a lot less « vocal » driven than Strange Wolves which contains a high dose 80's nostalgia and our favourite spooky touches a'la Movie-T. It is getting really good reviews… The two killer remixes by Darabi and Dead Seal shouldn't be missed!
Vos futurs projets ?
Any futur projects?
Nous produisons de nouveaux tracks qui devraient voir le jour d'ici 2012, et quelques lives.
We are making new tracks that will hopefully be released early 2012 and we're doing shows.