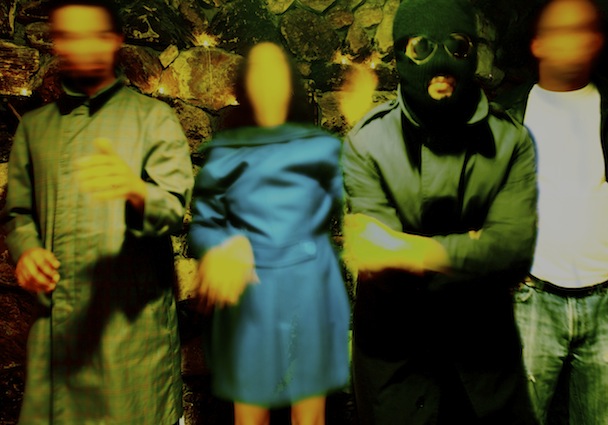 Porté par les formes d'une actrice X (Sasha Grey), aTelecine vient de publier le premier opus d'une trilogie en cours sur Pendu Sound Recordings. Pourfendeur d'une musique informe, le groupe semble néanmoins commuer la ligne de conduite noise de ses premières productions en une base propice au développement de « chansons ». Pablo St. Francis, membre fondateur, s'est entretenu sur les phases du songwriting, la portée mystique de sa musique et la performance noise en 2011.
Quelle est l'importance des sources sonores que vous utilisez ? Avez-vous une préférence pour une source sonore déterminée (sample, instruments…) ? Y'a-t-il des sources que vous n'avez pas encore pu exploiter ?
How important is the sound source for your recording? Are there any sound sources you'd rather to work with (sample, instruments…), or haven't yet been able to?


La vie est une éternelle source d'inspiration sonore pour nous. Qu'il s'agisse du trafic aérien de L.A., des vents de Santa Ana ou des coyotes hurlant dans le canyon, tout est intégré à nos enregistrements. Je crois vraiment qu'il serait super de pouvoir travailler avec un orchestre entier un jour. Les fantômes de Stockhausen et de Sun Ra.
Life is a constant sound source for us, the L.A. air traffic , the Santa Ana winds, the coyotes howling through the canyon were we record. I do think it would be great to get a chance to  work with a full orchestra one day . The gohsts of Stockhausen and Sun Ra.

Comment enclenchez vous la composition d'un titre ?

How do you decide to start a song?


L'un d'entre nous a une étincelle, une idée, ça peut être quelque chose de plutôt ésotérique et de non musical. Ça peut partir de là… La plupart des groupes sont focalisés sur la recherche d'une mélodie accrocheuse alors que nous cherchons à l'inverse une atmosphère… Cela ne veut pas dire que nous n'attachons pas d'importance au sens des paroles ou au rythme, même si celui-ci n'est pas vraiment dominant sur un morceau… le rythme et la poésie favorisent la création d'une atmosphère que nous voulons un peu angulaire et bizarrement cinématographique sans être linéaire d'un point de vue narratif. Nous ne voulons pas reproduire une image trop évidente pour l'auditeur qui serait ennuyeuse pour chacun.
One of us has a spark, an idea , it could you know be something very esoteric and not musical at all . It then might evolve from there…most groups are fettered to finding a melody a hook or that sort  i think with us it's really about atmosphere …thats not to say that the lyrics have little meaning or the rhythm even if the track doest feature drums isn't important…rhythm and poetry help create an atmosphere that is hopefully somewhat angular and strangely cinematic without being to linear in a narrative sense. i don't think we want paint the complete picture for the listener that what boring for everybody.
Comment stoppez-vous le songwriting d'un titre ?

How do you decide to stop a song?

Le morceau lui-même te dit quand le travail est terminé…  Vous vous levez, vous quittez la table de mixage, vous allez manger un sandwich et peut-être boire du café ou autre chose,  revenez, réécoutez votre morceau, refaites un mix rapide et puis vous écoutez attentivement… vraiment … est-ce que le résultat vous enthousiasme ? Vous ressentez quelque chose et cela vous évoque des tonnes d'images ? Vous vous retrouvez dans ce morceau ? C'est que le travail est probablement terminé…
The track tells you it's done … it's like this you stand up, you walk away from the mixing desk go eat a sandwich mabey have a coffee or a drink…you come back , give it a listen , do a quick mix of it and really listen to it …is it trying to excite you, is it making you feel something , are you seeing images do something for you …you know are you into it? If you are it's proably done.
Vous composez régulièrement ? Vous avez du bruit 24h/24 dans la tête ?

How often are you writing? Is it noise in your head all the time?

Les idées circulent librement 24h/24. Nous pouvons commencer des morceaux en juillet et y revenir en étant plus inspirés en octobre. Nous créons tout le temps, c'est parce que nous pensons tout le temps à la création. C'est rassembler ces idées en vue de les enregistrer et d'en faire une œuvre qui est compliqué, car chacun a son propre rythme de vie dû à ses activités quotidiennes. En résumé, nous essayons de travailler la plupart du temps ensemble et quand nous n'y arrivons pas, nous le faisons séparément.
Ideas are free flowing 24/7 we might start a track in july and come back to it with more ideas in oct. We are creating all the time, this is because we are thinking all the time about creating… now the collective act of recording and making a document of these ideas is difficult with everyone having different trajectories in there day to day affairs so again when we can we do together when we cannot we do apart.
 

Tu peux nous en dire plus sur les 3 LP qui sortent prochainement sur Pendu Rec. ? Ça semble être une trilogie ésotérique.
Could you tell us about these 3 LP soon released on Pendu Rec.? It looks like esoteric trilogy…

Vous devez les écouter pour vraiment pouvoir les comprendre, cependant oui ça a été conçu comme une trilogie. Ésotérique sûrement, avec toutefois un fil conducteur… difficile à expliquer mais je peux vous donner trois indices … (prenant la voix de Carnac the Magnificent) l'appel de l'amour sans retour qui traverse le cosmos, les nombreux visages qu'incarnent le mal et Carl Sagan. J'espère que ça vous aide.
You have to hear them to truly start to understand them, but yes it was conceived as a trilogy . Esoteric sure , however there is a linking lose narrative that connects them all. Can i explain that …um no but i will give three clues … (in a Carnac the Magnificent voice) the telling unrequited love across the cosmos , the many faces of evil and carl sagan. Hope that helps.
 
La musique industrielle et noise est associée à des doctrines politiques, mystiques, voire occultes tranchées. Cette dimension semble oubliée par les plus jeunes auditeurs. Selon toi, ce type de musique peut-il rester neutre du point de vue conceptuel ?
Traditionally, industrial and noise music have been driven by strong ideas, mystical doctrines or political edged-opinions. This dimension seems overshadowed by the young audience interested in this music. According to you, is that kind of music can be neutral from a spiritual point of view? 
J'aime à penser que tout art valable, pas juste les formes de musique industrielle et noise, est influencé par des doctrines mystiques, des opinions politiques tranchantes, etc. Je ne pourrais pas facilement définir le point de vue spirituel, le cas échéant, que ce type d'art sous-tend pour son public (en particulier pour ce qui est de la musique industrielle). Toutefois, je comprends l'attirance d'un jeune public négativiste pour cette musique, étiquetée comme dark et dissonante, sans qu'il ait forcément besoin de comprendre totalement le contexte de l'œuvre d'art et ce qui en ressort.
I'd like to think that all good art not just industrial and noise music forms are influenced by mystical doctrines, political edged-opinions, etc. I wouldn't feel comfortable defining what if any spiritual POV that kind of art holds for it's audience (talking about industrial music specifically). However i understand the appeal from a dystopian youth's POV to be interested in such subject matter that is…cliched dark and dissonant without fully understanding the totally context of the art work and what it's trying to define itself as.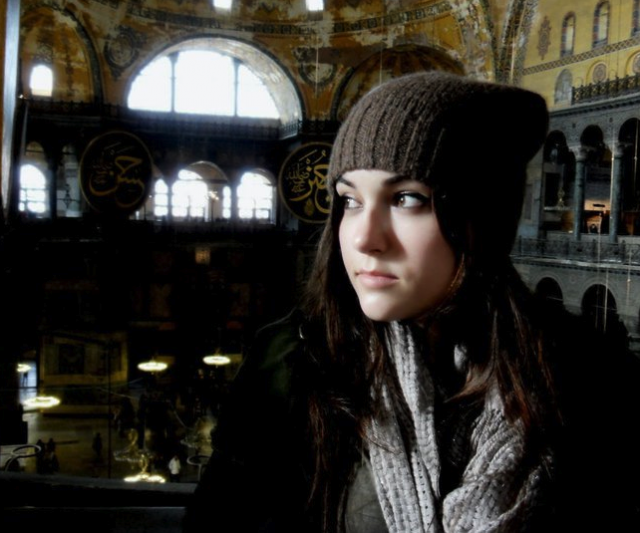 J'aimerais te poser la même question concernant la façon dont la musique industrielle doit être « performée » en 2011. Imagines-tu des lieux, du matériel, une scénographie propices ?
I could ask you the same question about performing industrial in 2011. Which kind of places, backline, staging… should be used to ?
Vu tout ce qu'il nous reste encore à faire avant de jouer publiquement, je n'ai vraiment pas grand chose à dire à ce sujet. La première partie pourrait se faire autour d'un grand écran projetant des images ou des films abstraits intéressants et bizarres comme une œuvre de Stan Brakhage. Cela pourrait ensuite devenir un condensé d'influences… peut-être que nous entrerons sur scène entourés de draps comme George Clinton mais avec des draps de Darth Vader et pas de Scooby-Doo bien sûr… peut-être avec des cascades de lumières blanches brechtiennes autour de nous, dans un décor caricatural d'un 4 pièces à Northampton UK. Je devrais plutôt dire ce à quoi ça ne ressemblera pas : quatre personnes autour de laptops… à moins que votre groupe puisse se le permettre et fasse partie de la vieille école, dans ce cas il s'agit juste d'une question de commodité. Honnêtement, quand je vais à un concert, je n'ai pas envie de voir le visage des membres éclairé par leur laptop, à moins que le spectacle ne se passe dans votre chambre à coucher ou avec du vieux matos démodé, à la manière de Kraftwerk ou TG. Ces gars peuvent faire ce qu'ils veulent et je suis sûr que ce sera toujours mieux que n'importe quel truc contemporain réalisé avec ces laptops.
Seeing how we have yet to play publicly i really don't have to much to say on such matters. The simple first part would be ugh… some large videos projecting interesting and bizarre images/pieces of abstract motion like a Stan Brakhage work. Perhaps it might become a mash up of influences… perhaps we would enter the stage dressed in bed sheets like Gorge Clinton but of course we would have Darth Vader sheets and not Scooby-Doo… perhaps with all white Brechtian stage lights cascading around us , inspired by or mocking an old four piece from Northampton UK. I can say this on the subject of what it shouldn't be , not four people standing around laptops … unless your band have earned it and is old school so this is just a matter of practicality. Honestly i don't want see a group of laptop lit faces when i go to a live show unless that show is in your bedroom or your fucking Kraftwerk or TG or that type old school stuff those guys can do whatever they want and i'm sure it will always be better than anything that  most contemporary acts can come with.
Si tu devais recommander un de vos albums à une personne qui s'apprête à découvrir aTelecine, lequel serait-ce ?
If someone was interested in checking out aTelecine for the first time, what release
would you recommend?
En fait, je pense que ça dépend de la personne… Nos quatre albums et l'EP que nous avons sortis sont tous super (tous issus d'endroits différents, certains sont des revisites de vieilles idées et d'autres sont des albums-concept à part entière) mais je suis vraiment fier de cette nouvelle trilogie d'albums. Aussi, je demanderais aux gens de commencer avec The Falcon and the Pod et de poursuivre la trilogie dans l'ordre… Sounds that Gods Fear et Are you Attracted to Wounded Animals.

Really I think that depends on who wants to start listening… all four albums and the ep that we have previously put out are great (all coming from difernt places really  some are collections finding old ideas new again and some are complete concept albums) but I myself am very proud of this new trilogy of albums so i would ask people to start with The Falcon and the Pod, and then move into the rest of the trilogy respectfully… Sounds that Gods Fear, Are you Attracted to Wounded Animals.
Audio