En début d'année, nous avions rencontré le duo mancunien AnD, paire de sales gosses naviguant dans le giron de Sandwell District et Surgeon, suite à la sortie d'un nouvel EP chez Electric Deluxe étrangement intitulé Kundalini. L'occasion de revenir sur le parcours pas comme les autres de cette étrange machine à danser mise en lumière par deux incroyables disques sortis sur le label de Norman Nodge, Horizontal Ground et de décrypter avec Andrew et Dimitri, passé, présent et avenir.
AnD l'interview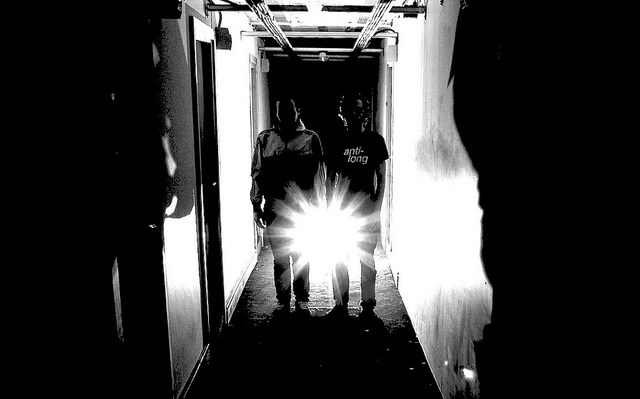 Comment vous-êtes vous rencontrés ?
How did you meet each other?
Nous nous sommes rencontrés grâce à des amis communs quand nous avons tous les deux déménagé à Manchester il y a neuf ans. On aimait la même musique, on s'est mis à discuter et voilà.
We both met through mutual friends whenever we both moved to Manchester 9 years ago. We were both really into similar music and got talking and the rest has just happened.
Quel est ton souvenir de club/clubbing le plus marquant ? As-tu toujours su que tu voulais jouer de la techno ?
What is your biggest nightclubbing memory? Did you always know that you wanted to play Techno music?
Ces deux questions ont la même réponse : oui, nous savions que nous avions toujours voulu jouer de la techno et c'est le style de musique qui a toujours eu la plus grande influence dans nos vies. Aller à Shine à Belfast en 1996 pour la première fois et y entendre Dave Clarke éclater la salle pendant trois heures est la meilleure introduction que tu puisses avoir à la techno !
These both have the same answer, yes we knew we'd always want to play techno as it's been the style of music that has always had the biggest influence in our lives. Walking into Shine in Belfast in 1996 for the first time and hearing Dave Clarke tear the place apart for 3 hours, is one of the best introductions you can have to techno!
Vous venez de Manchester, une ville avec un important héritage musical. Pensez-vous que cela influence votre manière de travailler ?
You come from Manchester, a city with a strong musical legacy. Do you think this musical heritage influences your way to work?
Manchester bénéficie d'une importante histoire musicale et c'est un endroit formidable où vivre en tant qu'artiste étant donné que ce n'est pas très cher et que la ville est très ouverte d'esprit concernant la musique. Mais nous ne dirions pas qu'elle a eu une influence sur notre manière de travailler ou sur notre musique, on essaie simplement de faire notre propre truc.
Manchester has a massive amount of musical history and it's a great place to live as an artist as it's quite cheap to live in and also it's very open minded when it comes to music. But we wouldn't say that it has been an influence on our style of working or music, we are just trying to do our own thing.
Vous travaillez avec de nombreux labels différents. Est-ce par opportunité ou par choix ?
You're working with many differents labels, is it by good opportunities or by choice?
Nous avons été très chanceux parce que nous avons été approchés par pas mal de bons labels que nous aimons musicalement et d'un point de vue personnel et professionnel pour travailler avec eux.
We have just been very fortunate in the fact that we have been approached by quite a lot of good labels that we like musically and on a personal and professional level to work with.
Vous avez récemment créé votre propre label. Quels sont vos projets à ce sujet ? Y-a-t-il des artistes que vous prévoyez de signer ?
You've recently created your own label. What are your projects for it? Are there some artists you plan to sign?
Le label AnD est uniquement destiné à nos propres sorties. Quand nous aurons l'impression d'avoir quelques morceaux qui correspondront au label blanc, alors nous les sortirons. Nous avons Inner Surface Music que nous dirigeons avec Tom Dicicco et ce label est celui que nous utilisons pour sortir d'autre artistes que nous aimons et respectons. Nous avons beaucoup de projets très excitant prévus pour Inner Surface et AnD cette année et nous avons vraiment hâte de voir ce que 2014 nous apportera.
The AnD label is solely just for us to release music on, when we feel that we have some tracks that will really work for the white label, then we'll release them. We have Inner Surface Music that we run with Tom Dicicco and this label is what we use to release different artists that we really love and respect. We have a lot of really exciting stuff planned for Inner Surface and AnD this year and were really looking forward to see what 2014 will bring!
Comment concevez-vous vos productions ? Y-a-t-il un concept derrière ?
How do you conceive your productions? Is there a concept behind them or something else?
En général, on fait simplement la musique qui nous convient sur le moment selon notre humeur, ou si nous avons été inspirés par un film, un livre, une oeuvre d'art ou une expérience. Il n'y a jamais de plan fixe, nous aimons travailler et voir ce qui se passe.
Generally we just make music that feels right to us at the time depending on what mood we are in, or if you've been inspired by a film, book, piece of art or an experience. There is never a set plan, we like to work and just see what happens.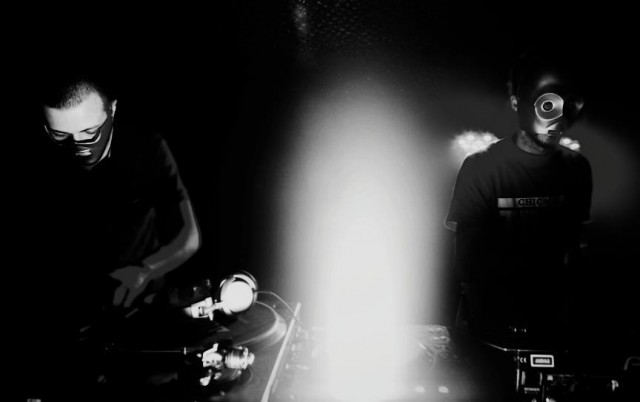 Quelle était votre inspiration pour Kundalini ?
What was your inspiration for Kundalini?
Notre inspiration pour l'EP Kundalini vient de notre intérêt pour les philosophies orientales et certaines choses comme le yoga et la méditation. L'énergie Kundalini est décrite comme une force potentielle interne. C'est un des composants d'une description ésotérique des "corps subtils" qui consistent en des courants d'énergie, les chakras, le prana et le bindu. C'est une source de puissante énergie à la base de la colonne vertébrale et souvent représentée par un serpent enroulé sur lui-même.
Our inspiration for the Kundalini EP, comes from our interest in eastern philosphies and things like yoga and meditation. Kundalini energy is described as potential force within our bodies. It is one of the components of an esoteric description of the subtle body consisting of energy channels, chakras, prana's and bindu. It is a source of powerful energy at the base of your spine and is often depicted as a coiled serpent.
Kundalini semble plus technique et complexe que vos sorties précédentes. Avez-vous modifié votre façon d'aborder cet EP ?
Kundalini seems more technique and complex than your previous releases. Did you change your way to elaborate this EP?
Non, nous n'avons rien changé de notre approche lors de l'écriture des morceaux de Kundalini. Nous avons étudié les effets sonores et l'ésthétique générale des éléments beaucoup plus en détail qu'auparavant.
No we didn't change any of our approach when making the tracks on Kundalini. We have been concentrating more on the sound design and the general aesthetic of the elements in a lot more detail than before.
Votre musique est à la fois cérébrale et adaptée au dancefloor. Comment décririez-vous votre style de musique ?
Your music are mental but also dancefloor, how can you describe your musical style?
Notre musique est agressive et énergique, soit on l'aime, soit on déteste.
Our music is in your face and high in energy, you'll either love it or hate it.
Avez-vous déjà songé à sortir un LP ? Que pourrait-on en attendre ?
Have you already think to release a LP? What could we expect from it?
Pour être honnête, ce n'est pas une chose à laquelle nous avons beaucoup pensé, nous aimons simplement travailler ensemble et écrire. Mais si une opportunité se présente alors oui, ce serait définitivement quelque chose qui nous intéresserait.
To be honest it has been something we haven't thought about too much, we just enjoy working together and writing. So if the right opportunity comes around then, sure it would definitely be something we are interested in doing.
Que peut-on vous souhaiter pour 2014 ?
What can we wish you for 2014?
Tout ce que nous souhaitons pour 2014 est de continuer à faire ce que nous faisons.
All we wish for in 2014 is to keep doing what were doing.
Traduction Marie-Eva Marcouyeux
Audio