Cela fait plus de cinq ans que l'aventurier Damon McMahon trace sa route sous le nom d'Amen Dunes. Après D.I.A. un premier album obscur enregistré dans une cabane au milieu des bois et un séjour de deux ans en Chine dont il tirera le fascinant Through Donkey Jaw, le poète voyageur revient cette fois rempli d'amour, enfin débarrassé des chaines du lo-fi à la grâce d'un enregistrement dans le studio des membres de Godspeed You! Black Emperor. Avec Love, Damon s'ouvre enfin au monde, l'invite à le rejoindre dans sa galaxie. De passage à Paris le temps d'un concert à l'Espace B, il a accepté de répondre à quelques questions, avec comme seule exigence le détour par une boulangerie afin de manger une authentique baguette parisienne, objet de tous ses désirs. Une obsession qui refera d'ailleurs surface à plusieurs moments lors cette interview.
Vidéo
Damon McMahon, l'interview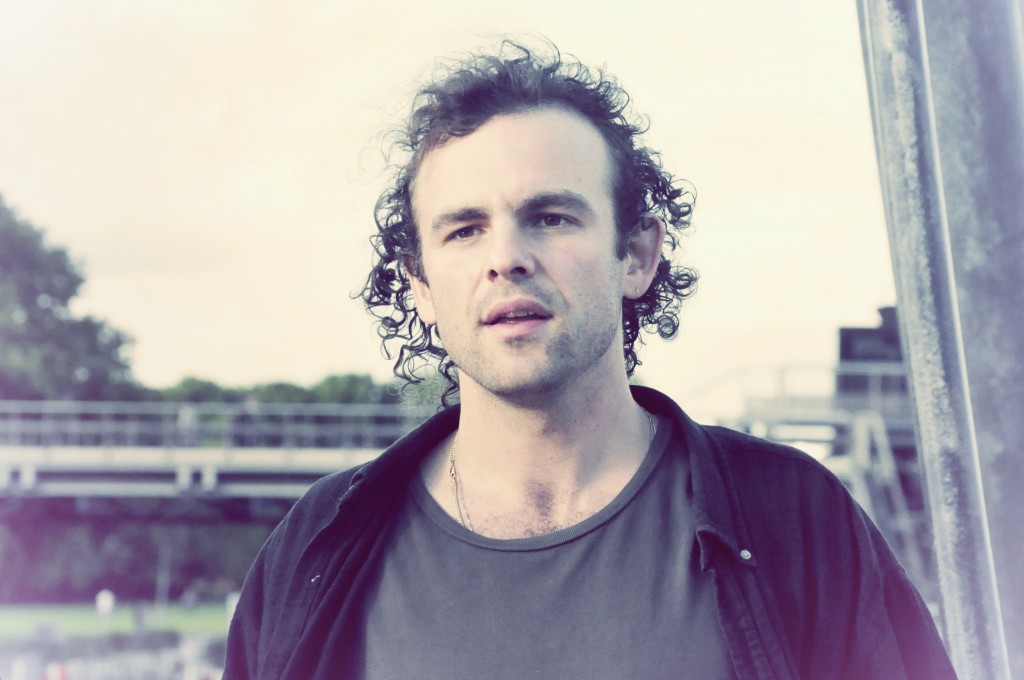 Photo © Helene Peruzzaro
Un an et demi a été nécessaire pour la réalisation de l'album. Qu'est-ce qui a pris autant de temps ?
I read that the record took a year and a half. What took you so long in the making?
J'ai voulu essayer d'y mettre plus d'intention cette fois, de faire quelque chose de plus savamment pensé. Je voulais des arrangements plus détaillés. J'ai passé beaucoup de temps à écrire. J'ai réalisé des démos puis je marchais des heures dans mon quartier pendant des semaines, en écoutant les chansons et en imaginant ce dont elles avaient besoin et où elles en avaient besoin. Je suis allée jusqu'à faire des schémas remplis de choses excessivement détaillées. L'enregistrement a également pris du temps. Ce n'est pas évident de trouver immédiatement la bonne formule. J'ai dû continuer à essayer.
I wanted to try and do it with more intention this time. More thoroughly thought out. I wanted more detailed arrangements. I spent a lot of time writing. I would demo these songs and then walk around my neighborhood for hours for weeks, listening to the songs and imagining what they needed and where they needed it. I would make all these charts and write out all these excessive detailed things. So it took time. And then recording took a lot of time too. It takes time to get it right and it wasn't right at first. I had to keep trying.
Un petit côté perfectionniste ?
A little perfectionist?
Complètement. Dans tout ce que je fais mais encore plus particulièrement dans ma musique. Ça doit être parfait.
Very much so. In everything I do but particuly in my music. It has to feel perfect.
Comment ça s'est passé de collaborer pour la première fois avec d'autres personnes en studio ?
So about the studio, how was it collaborating for the first time with other people?
C'était super. Les principaux collaborateurs sont les membres de mon groupe, Jordi Wheeler et Parker Kindred, avec qui je joue depuis toujours. Ces gars sont mes frères spirituels. J'apporte les chansons, j'écris les arrangements et ensuite on fait l'essence de la musique ensemble. Ensuite j'ai eu la chance de collaborer avec des gens que j'admire énormément. Les mecs de Godspeed You! Black Emperor nous ont invités à enregistrer chez eux à Montréal. Et comme il nous manquait des musiciens, la moitié du groupe joue sur l'album. Il y a également mon ami Elias, le chanteur d'Iceage, qui était à Brooklyn pendant un moment et à qui j'ai demandé de chanter. L'album est vraiment ouvert. Je contrôle tout mais si je travaille avec quelqu'un en qui j'ai confiance, je vais le laisser faire ce qu'il veut. Ça me prend beaucoup de temps pour laisser quelqu'un rentrer mais une fois qu'il est dedans, c'est la liberté.
It was great. The main collaborators are my band mates. I have two people that I've been playing with forever. One is Jordi Wheeler and the drummer is called Parker Kindred. Those guys are my spiritual brothers. They are the people I really make music with. I bring the songs, I write the arrangements and then the core music we always make together. It was great collaborating with them. And then I had the chance to collaborate with people I really admire. The guys from Godspeed You! Black Emperor asked us to record with them and invited us in Montreal. And we needed people to play so half the band plays on the record. And then my friend Elias who is the singer in Iceage was in Brooklyn for a while and I asked him to sing. The record is very open. I'm controlling but if I work with someone I trust, I will let them do their thing. It takes a long time for me to let somebody in but when I let them in, it's free.
Pourquoi ce titre ?
So, why is the record called Love?
Tout d'abord, je me suis dit que c'était le titre le plus dangereux possible. C'est la chose la plus folle pour nommer un album. C'est tellement évident que c'en devient intéressant. Il y aussi d'autres raisons. Ce disque est question d'ouverture et de générosité. C'est de la musique dévotionnelle. C'est ma tentative de faire du Marvin Gaye, du Van Morrison ou de l'Elvis Presley. Ces gars étaient comme des chamans spirituels. C'est de cet amour-là dont il s'agit. La deuxième explication, c'est que j'ai commencé à travailler dessus au moment même où je me séparais de quelqu'un. Beaucoup des chansons parlent donc de cette fille et de notre couple. Green Eyes par exemple parle du fait d'être révulsé par quelqu'un mais dans le même temps complètement fasciné. La dernière raison est que je me suis dit que c'était un super titre punk, un geste couillu. Ça ne fait ni cool ni dark, c'est un vrai nom risqué.
Well first off I just thought it would be kind of a dangerous title for an album. It's the most crazy thing to call a record. It's so obvious it's interesting. And also I had other real reasons for it. This record is about openness and generosity. It's devotional music. It was my attempt of making Marvin Gaye music or Van Morrison or Elvis Presley. These people were like spiritual shaman of some sort. This is the love that it's about. The second meaning is that I started it when I ended a relationship. A lot of the songs are about this girl and our relationship. Songs like Green Eyes are about being repulsed by someone and at the same time mesmerized. And the final reason is that I thought it was a super punk rock title. A ballsy move. It's not cool or dark, it's a really risky name.
Quels sont les thèmes ou sentiments que tu as voulu transmettre dans l'album?
What themes or feelings did you want to put in the record?
Le sentiment qui prédomine sur ce disque est la générosité. Les anciens albums d'Amen Dunes étaient furieux. Ils parlaient de l'échec et de la souffrance d'un point de vue sombre. Celui-ci parle de l'échec et de la souffrance d'une manière belle et pleine d'espoir. Chuter avec grâce, voila comment on pourrait résumer le disque. Cela parle d'être un musicien, une personne, de faire ce que je fais et de vivre ce que je vis. Mais j'espère que de nombreuses personnes pourront s'y retrouver. Parce que tout ne se passe pas toujours comment on veut dans la vie. Et il s'agit d'accepter ça. Il y a quelque chose extrêmement punk dans l'échec. Historiquement, c'est même toute l'essence du punk : être merdique mais avec dignité. C'est ça Amen Dunes.
The feeling I wanted for this record is generosity. It's what Love is all about. The old Amen Dunes records were angry. They were about failure and suffering in dark way. This one is about failure and suffering in a beautiful, hopeful way. Failing gracefully is what this record is about. It's about being a musician, being a person, doing what I do, living what I live. But I think a lot of people hopefully can relate to it. Failing beautifully. Because things don't always go the way we want to in life. But it's about being ok with that. And there's always something punk about failing. Historically it's what's punk is all about. Be shitty in a graceful way. Amen Dunes is about that.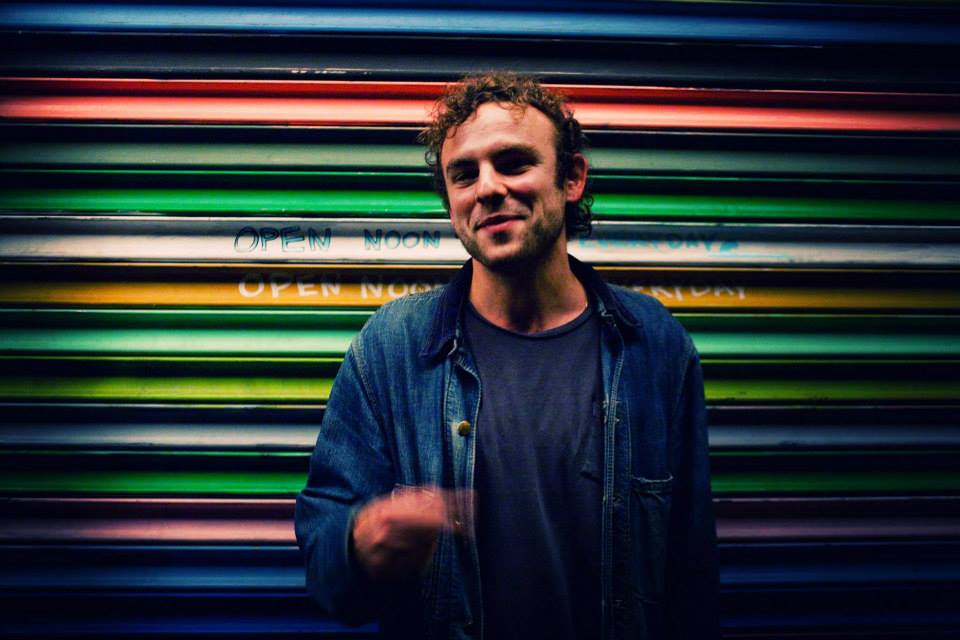 Tu te sens influencé par l'esthétique punk ?
You're influenced by the punk aesthetic?
Oui, j'ai grandi avec de la musique agressive, entre autres millions de choses. Même si c'est de la country, du blues, de l'acoustique, si c'est agressif j'aime ça. Comme Eyehategod, qui est un de mes groupes préférés. Pour moi, Amen Dunes est punk.
Yes, I grew up on aggressive music, among a million things. Even if it's like country, blues, acoustic music, if it's aggressive, I love it. Like Eyehategod which is one of my favorite bands. Amen Dunes is punk music for me.
Complètement. Justement, comment vis-tu ces étiquettes qui te collent à la peau depuis ton premier disque : Syd Barrett, le psyché… ?
Definitly. By the way, how do feel about being labeled the same things since your first record: Syd Barrett, psych…?
Je fuis Syd Barrett comme la peste. Mais uniquement pour ce qu'il représente pour les gens. En privé, j'adore ça. C'est du punk, c'est diabolique, c'est avant-garde. Mais dans la tête des gens c'est du flower power ou autre connerie hippie. Concernant l'étiquette psychédélique, je la déteste. Je préfère être considéré comme un artiste folk. Amen Dunes c'est de la drug music, pas du psyché.
I avoid Syd Barrett. But only because of what they think Syd Barrett means. Privately, I love it. It's punk music, it's evil, it's avant garde. But they think it's flower power, hippie shit. So I get labeled all that stuff. I hate the psych thing, I rather be folk. Amen Dunes is drug music, but it's not psych.
Du coup, l'éclaircissement du son, c'est pour trancher avec tout ça ou c'est uniquement la conséquence du passage dans un vrai studio ?
Is that why the record sounds clearer than the previous ones or is it just because you stepped in a real studio?
Tous les précédents disques d'Amen Dunes, c'était uniquement moi et ma machine ; je jouais de tous les instruments. C'était juste moi à la maison en train d'essayer d'avoir un bon son. C'est pour ça que le son n'est pas terrible. Cette fois-ci je suis allé dans un vrai studio et ça fait toute la différence. J'ai toujours voulu le faire mais je n'en avais pas les moyens. Je commençais à être fatigué du son dégueulasse. Je déteste le lo-fi, c'est agaçant. Les groupes maintenant ont trop tendance à se cacher derrière ce son. C'est le cas 99% du temps. La vraie musique lo-fi l'utilise parce c'est beau et que c'est un merveilleux outil sonique, pas pour faire effrayant. C'est ce que fait un groupe comme Dead C. Ils ont un son horrible et terriblement envoûtant. C'est incroyable, alors que la plupart des nouveaux groupes abusent du lo-fi parce qu'ils sont vides, il n'y a rien à l'intérieur. Comme une baguette vide. Avec mon frère on se disait souvent que les groupes doivent passer le challenge acoustique. Ce n'est pas tout le temps vrai car certains sont trop expérimentaux. Mais l'idée est que sous toute cette réverb et distorsion y a-t-il une bonne mélodie ? Sinon c'est insupportable. Autant rester chez soi à lire un livre.
All the old Amen Dunes records, they were all me with with my tape machine. I played all the instruments. It was just me at home trying to make it sound good. That's why it sounds bad. This time I went to a proper studio so it sounds clearer. I've always wanted to do that but I couldn't afford it. I was getting tired of not sounding good. I hate lo-fi, it's so annoying. Bands tend to hide too much behind lo-fi. 99% of the time. The real lo-fi music, they use it because it's beautiful. Like Dead C, they are not lo-fi to sound spooky but because it's a sonic tool. They sound horrible and more evil. These new bands they use lo-fi because they're hollow, there's nothing inside. It's like an empty baguette. My brother and I we used to say that bands would have to play the acoustic challenge. It's not always true because some bands are really experimental and you can't play it. But the idea is that underneath all this sound and reverb, is there a good melody or song? Otherwise it's unbearable. I'm better at home reading a book.
Même si Love n'est pas un concept album, j'ai l'impression que tu racontes une histoire tout au long du disque. Tu as passé beaucoup de temps lors du séquençage des chansons ?
Even though Love isn't a concept album, I really feel you're telling a story throughout the record. Did you spend a lot of time sequencing the songs?
Oui, beaucoup. Mais plus en terme de son que d'histoire. Après, je pense que toutes les chansons parlent d'une même histoire autour de l'échec, des choses qui nous échappent. Lonely Richard parle de moi, Splits Are Parted parle de ma façon de gérer une relation amoureuse, Sixteen parle de l'enfance, Lilac in Hand et Rocket Flare parlent de drogues. Au final, ce sont différentes façons de faire face à la vie, donc je suppose que ça raconte une histoire. Ce sont des portraits. Je parle d'autres personnes mais en fait je parle de moi. Enfin je pense. Parfois je ne sais pas d'où ça vient. Quand j'écris, je ne me dis pas à l'avance : « Je vais écrire une chanson sur une baguette ». J'allume le micro, je me sens bien et je commence à chanter les mots comme ils viennent. Peut-être que ça donnerait : « J'avais une baguette et j'étais si content d'être à Paris ». Je sais pas comment ni pourquoi ça vient. J'essaye d'obéir à ce qui sort. Lonely Richard est un nom crétin pour une chanson. Je déteste ce nom. Mais c'est ce qui m'est venu donc j'ai dû le garder.
Yes a lot. I didn't sequence them for a story but for the sound. But yeah, all those songs are telling a story about failing, things not going your way. Lonely Richard is about me, Splits Are Parted is about me dealing with this relationship, Sixteen is about being a kid, Lilac in Hand and Rocket Flare are about drugs. They all are ways of dealing with life. So I guess they do tell a story. They are character portraits. I talk about these other people in the songs, but they really are about me. I think, I don't know. Sometimes I don't know where it comes from. When I write, I don't think ahead of time "I'm gonna write a song about a baguette". I put the microphone on, I feel a good mood and I just start singing and these words are going to come. Maybe I'll go "I had a baguette and I was so happy to be in Paris". I don't why it comes but it comes. I try to obey to whatever comes. Lonely Richard, that's a stupid name for song. I hate that name. But that's what came so I had to keep it.
Tu as sorti les paroles en même temps que la chanson. C'est si important que ça pour toi que les gens puissent comprendre ce que tu chantes ?
You realeased the lyrics at the same time as the music. Is that important to you that people know what you're singing and what the song is about?
Tellement. Je passe un temps fou sur les paroles. Pour moi, elles sont aussi importantes que la mélodie ou la musique. Les gens n'écoutent pas les paroles. Plus personne ne pose de questions. C'est triste. Gamin, quand j'écoutais la musique, je me demandais tout le temps : « Qu'est ce que ça veut dire ? Pourquoi est-ce qu'il dit ça ? Qu'est ce que les Beatles chantent à la fin de cette chanson ? ». Je lisais les paroles et ça pouvait passer une chanson du jaune au rouge. « Oh c'est ça qu'il dit. Ça sonne si joli mais il parle de la mort. » Ça change un morceau. Ça peut également être sarcastique comme Bob Dylan. Toutes les expériences humaines se retrouvent dans ses chansons. Donc j'espère que les gens lisent mes paroles. Elles sont toutes sur l'album.
So much. I spend so much time on the lyrics. They are as good as the melody or the music for me. People never listen to lyrics. No one asks any questions anymore, I hate that. When I was a kid listening to music, I kept asking "What does that mean? Why did he say that? What are The Beatles singing at the end of that song?" I would read lyrics and it could turn a song from yellow to red. "Oh that's what he said. It sounds so pretty but he's talking about dying" So you need to hear the lyrics. It can also be sarcastic like Bob Dylan was all about. You listen to him it's like all human experiences in his songs. I hope people read them. There's a liner sheet with the lyrics on the album.
En parlant des paroles, je trouve qu'elles ont un côté très poétique. Est-ce que la poésie est un art que tu aimes particulièrement ?
Speaking about the lyrics, I think they sound quite poetic. Is poetry an art form you're fond of, reading or writing?
Merci. Je suis très influencé par les écrits et la littérature. J'adore ça, je vénère ça. En fait, je préfère la littérature à la musique. C'est si difficile d'écrire un beau roman ou une œuvre non romanesque. J'adore la façon dont marche le langage. Ça rend la musique d'autant plus belle. Tout est intentionnel, à sa place pour une raison. Je ne lis plus tellement de poésie mais quand j'étais plus jeune j'en ai lu énormément.
Thank you. Yeah I'm very influenced by writings and literature. I love it, I revere it. I actually prefer literature to music. Because to write a beautiful novel or non-fiction is a big deal. And anyway I do love how language works. It makes the music more beautiful. It's all intentional. Everything's in place for a reason. I don't read so much poetry anymore but when I was younger, I read a lot of it.
Tu as déjà prévu d'écrire un livre ?
Ever planned on writing a book?
Oui ! J'en ai écrit la moitié. Ce sont des sortes de mémoires de quand j'habitais en Chine. Cela parle de cette importante période de l'histoire chinoise, pendant les Jeux Olympiques, ainsi que de mon cerveau dérangé et de ce que je faisais à l'époque. J'ai écrit environ cent trente pages mais c'est tellement dur. Je ne sais pas vraiment comment faire. Mais j'adore ça. C'est quelque chose que je veux faire, ça c'est sûr.
I have! I've written half of a book. I used to live in China and I wrote this book as sort of memoirs of my time there. It's about this period of China's history which is very important, during the Olympics and my weird brain and the things I did at that time. I've written a hundred and thirty pages, but it's so hard. I don't know how to really do it. But I love to write. That's what I want to do in my life, definitely.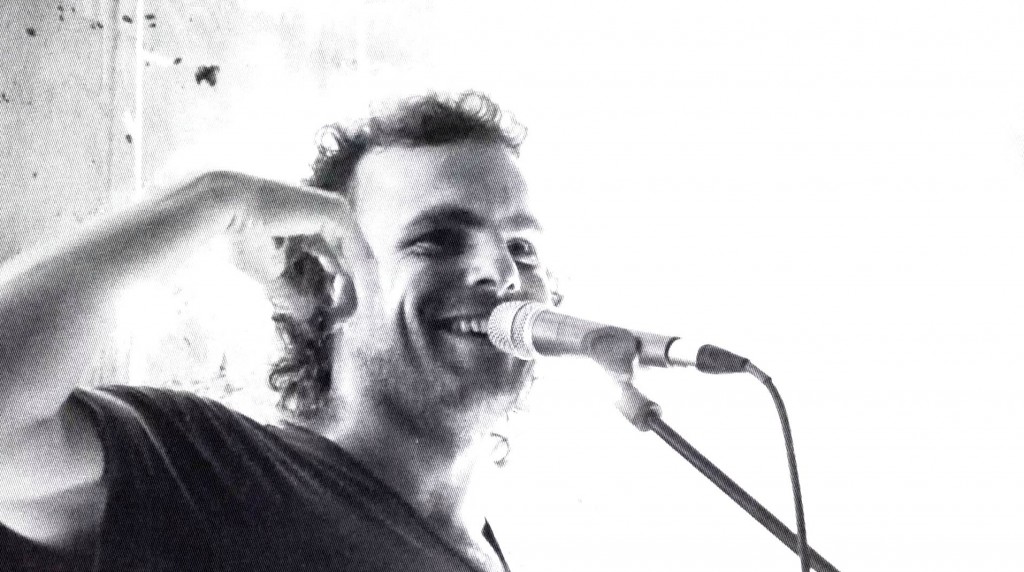 Ta voix semble plus en contrôle et plus belle que jamais. Est-ce que tu la travailles beaucoup ?
Your voice is more controlled and beautiful than ever. Do you work on it a lot?
Oui, je la travaille beaucoup. Au début, j'ai passé plusieurs années à écouter les autres chanter et à les étudier. Puis j'ai commencé à développer mes propres outils. Mais maintenant, je prends des leçons de chant, je m'entraîne tous les jours. Il faut pouvoir être en contrôle, savoir se servir de son instrument. Et je me suis rendu compte que je ne savais pas ce que je faisais. J'ai voulu que ce soit plus pur. Je suis vraiment content des parties vocales de l'album. J'essaye de moins utiliser la réverb. En fait je m'en sers uniquement parce que je suis paresseux. Je suis tellement pris par la création que je ne pense pas aux détails techniques. J'ai acheté une pédale réverb il y a huit ans et je ne l'ai jamais changée. Pas parce que je l'aime bien mais parce que je suis fainéant et que c'est tout ce que je sais faire. Mais avec Love, j'ai vraiment voulu faire un disque de chanteur.
I work on it man. First I listened to people for several years and studied how they sing. Then I developed my own tool. But now, I take voice lessons. I practice every day. I'm so serious about it. You have to be in control, you have to know how to use your instrument, and I realized I didn't know what I was doing. So I wanted it to be more pure. On this record I'm really happy about the vocal takes. I'm trying to use less the reverb. I only use it because I'm lazy. I get so wrapped up in the making of the music, I don't think about the technical details. So I just happened to buy this one reverb pedal eight years ago and I never changed it. It's not because I like it, I'm just lazy and I don't know anything else. Then I realized it doesn't sound very good sometimes. But with Love, I really wanted to make a singer's records.
Comment c'était d'avoir d'autres chanteurs sur l'album ?
How was it having other vocalists on the record?
C'était cool. Il y a deux autres chanteurs, Elias et mon frère. Les deux sont de magnifiques chanteurs mais de façons très différentes. Elias est un chanteur assez cru. Il a cette vérité élémentaire dans sa voix. Il a juste à ouvrir la bouche et c'est incroyable. C'était un vrai privilège de les avoir sur l'album. Il n'y a pas tant de bons chanteurs de nos jours. Enfin de vrais chanteurs, avec du caractère. C'est ce que j'aime, des voix en qui on a confiance.
It was cool. There are two other vocals: Elias and my brother. The two of them are beautiful singers, very different though. My brother is an incredible, beautiful singer. Elias is a little more of a raw singer. He has that very elemental truth to his voice. He just opens his mouth and it's amazing. It was a real privelege to have them on this record. There aren't that many good singers these days. I mean real singers, with characters to their voice. That's what I love, voices you can trust.
Comme qui ?
Like who?
De nos jours ? Kurt Vile est génial. C'est un des mes seuls contemporains que j'écoute. Je me sens vraiment similaire. J'ai l'impression qu'on est né dans les mêmes petits cubes, qu'on a été élevé en écoutant les mêmes choses. C'est vraiment bizarre, on pense de la même façon musicalement. Et j'adore vraiment son chant. Sinon, dans les notes du disque, je rends hommage à certains de mes chanteurs préférés : Tim Hardin, Tim Buckley… Alex Chilton de Big Star n'est pas dessus mais c'est sûrement mon préféré. Sa voix est si étrange. Il l'abîme pour la rendre encore plus belle. Une autre grande influence est Mayo Thompson de Red Crayola. La première fois que je l'ai entendu je me suis dit : "Oh mon dieu, mais on a le droit de faire ça ? Il se moque de lui-même". Donc c'est ce que j'essaye de faire, avoir une belle voix tout en m'attaquant en même temps. C'est le but d'Amen Dunes. Sinon il y a aussi Lee Mavers du groupe anglais des années 80 The La's. Ou Judee Sill, une chanteuse des années 60. Donc oui j'aime énormément les chanteurs.
Nowadays? Kurt Vile is great. He's like my only contemporary that I can listen to. I feel really similar to him. I feel we were born in the same little cubes. He was raised on the same stuff as me, it's weird. I think like him musically. So I really love his singing. In the record, in the liner notes I pay tribute to my favorite singers : Tim Hardin, Tim Buckley… Alex Chilton from Big Star. He's not on the record but he's one of my favorite. His voice is so strange. He messes with his own voice. An other big influence on me is Mayo Thompson from Red Crayola. First time I heard him I was like "Oh my god, you can do that? He's making fun of himself" So I try to do that, sound beautiful and attack myself at the same time. That's the Amen Dunes' goal. There's also this english band from the eighties called The La's. Lee Mavers is my hero. Judee Sill. So yeah, I really care about singers.
Justement puisque tu en parles, I Can't Dig It, qui tranche avec le reste de l'album, a un côté très Alex Chilton.
Since you're talking about it, I Can't Dig It that stands out from the rest of the album actually has this Alex Chilton vibe.
Carrément. C'est une chanson d'Alex Chilton d'une certaine façon. Il a d'ailleurs une chanson qui s'appelle I Can Dig It. Je l'ai écrite quand je vivais en Chine et que j'étais paumé. J'étais dans une période de ma vie où j'avais toujours une mauvaise attitude, où que ce soit. Je trainais avec les mauvaises personnes, à faire des conneries. Cette chanson parle de ce sentiment classique du rock'n'roll : tout va mal mais je m'en fous parce que j'ai pas à essayer. C'est ça le rock'n'roll, c'est Elvis. J'ai pas besoin de filles, j'ai pas besoin de sexe, j'ai pas besoin de drogues… J'en n'ai rien à foutre alors pourquoi se donner la peine d'essayer. Et à la fin de la chanson, je me moque de moi. Et puis ensuite c'est encore pire : "Je sais que tu penses "tues moi" alors vas-y, fais-le". C'est moi qui chante à mon autre moi : "Ah, t'es si triste, tue-toi". Voila pourquoi j'aimerais que les gens écoutent les paroles. Ça rend un morceau tellement plus intéressant. Alex Chilton, mec. Mon album préféré de tous les temps est Sister Lovers. Une personne lambda écoute ça et se dit c'est du rock 70's. Mais si tu lis les paroles, c'est juste incroyable. Tellement poétique. "Dreams and wishes, like shooting stars Coming up rushes I want to white out" C'est littéraire. Alex Chilton est vraiment le plus grand. Il écrit sur les filles d'une manière si humaine, si contemporaine. Pour moi il a créé l'indie rock. Cette chanson, Thirteen, où il dit : « Dis à ton père ce qu'on pense de Painted Black », c'est tellement référentiel, tellement ironique. Je pourrais en parler pendant des heures, il a changé ma vie. Pour moi, Nighttime est l'exemple parfait. Elle débute en contant un début de soirée joyeux classique : "At nighttime, I go out and see the people, air goes cool and hurrying on my way". Puis sans prévenir ça se termine sur : "Get me out of here, I hate it here". Il prend la chanson et la retourne complètement. C'est du génie. Ça peut paraître un peu ringard de dire ça mais il y a quelque chose de James Joyce, qui possède cette capacité à changer toute une histoire sur la dernière ligne. Chilton n'est bien sûr pas James Joyce mais c'est quelqu'un de spécial. Donc c'est vraiment triste que les gens ne portent pas plus d'attention aux paroles. On ne vit la chanson que sur un seul plan. Mais on ne peut pas contrôler tout le monde et leur dire comment écouter. Je pense que lorsque l'on fait de l'art, on lâche prise et ça ne nous appartient plus. On n'a plus aucun droit dessus. Après je comprends, c'est l'époque internet, les gens sont tout le temps occupés et n'ont plus le temps. Et puis quand il y en a qui comprennent, ça me touche d'autant plus.
Definitely. It's an Alex Chilton song, kind of. He has this song called I Can Dig It. I was living in China and I was feeling all fucked up. I was in this period of my life when I was misbehaving always, everywhere. Hanging around bad people, doing all sorts of bad thing. The song is about this very classic rock'n'roll sentiment : everything is going wrong but I don't care cause I don't need to try. That's the all rock'n'roll thing, it's Elvis. I don't need girls, I don't need sex, I don't need drugs… I don't even care. I can't dig it so why should I even try? And then in the end I make fun of myself. Then it gets even worse: "I know you think "just kill me" so stiffen up and do it". It's me singing to the other me: "ah, you're so sad, go kill yourself". See, that's why I wish people listen to the lyrics. It makes the songs more interesting. Alex Chilton, man. My favorite record of all time is Sister Lovers. A normal person might listen to that and think its just some 70s rock record. But then you read the lyrics and it's fucking crazy. So poetic. "Dreams and wishes, like shooting stars Coming up rushes I want to white out…" It's literary. Alex Chilton is the best. He writes about girls in a way that is so human, so contemporary. It's the first modernist pop singer. I think he started indie rock. That song Thirteen: "tell your dad what we thought of Painted Black", it's so referential, ironic, sarcastic. Amazing song. I could talk about him forever. He changed my life. Nighttime is the perfect example. He takes the all song and turns it over. It's genius. It may sounds cheesy to say but you read James Joyce, he does that to his stories. At the end at the story there's a line that changes everything. Alex Chilton is not James Joyce but he's very special. So it's sad, I wish people would pay more attention. You're experiencing on only one level. But you can't control people and tell them how to listen. I think when you make art, you let go of it and it's not your anymore. You have no right to it anymore. But I get it, it's the internet, people are busy, they don't have the time. And when they do understand, it's really means a lot to me.
Retrouvez Amen Dunes en version live au Garage Mu via ce lien (octobre 2013).
Audio
Tracklisting
Amen Dunes – Love (Sacred Bones, 13 mai 2014)
01. White Child
02. Lonely Richard
03. Splits Are Parted
04. Sixteen
05. Lilac in Hand
06. Rocket Flare
07. I Know Myself
08. Everybody Is Crazy
09. Green Eyes
10. I Can't Dig It
11. Love