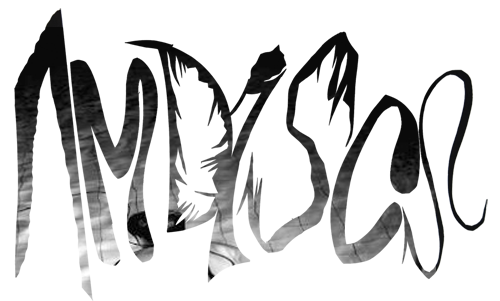 A force de croître de la sorte, chaque personne s'intéressant de près ou de loin à  l'indierock aura une histoire personnelle à  conter à  propos dudit Future Reserve Label, Amdiscs. Lorsque les volutes de fumée s'amusent du monde de la nuit, lorsque la faible lumière d'une lampe de bureau créé un îlot de lumière dans un océan de noir, lorsque les heures s'évaporent dans un tour de cadran irréel. Je cheminais de page en page, scrutant celle du blog-label de Matt Cothran, Summertime In Hell, satisfaisant mes lubies de noctambule perverti. Je découvrais le shoegaze sauvage du duo Ghost Animal – nous ayant récemment gratifié d'une mixtape, Heart Knocks, exsudant d'amitié – pour atterir sur une page dédiée à  leur EP, In Your Room (lire). Une page d'Amdiscs. Indescriptible. Un brusque sentiment d'altérité entre mes pupilles dilatées et l'écran, vite comblé par une curiosité irrépressible. Là  où Pitchfork se fait l'apôtre d'une mise en page consciencieuse et chloroformée, rendant sa lecture aussi laborieuse qu'un article du Financial Times, Amdiscs se joue des codes et des modes, étrillant le bon goût de couleurs criardes, constellées d'énormes caractères, le tout mâtiné de multiples collages artisanaux. Le dépaysement esthétique est total, voire brutal. A la manière de l'internationale punk d'alors, ayant consumé la fin des années soixante-dix d'un do it yourself intégral et passionnément anticonformiste, Amdiscs renverse, par sa spontanéité et son étrangeté revendiquée, l'outrecuidance du landerneau indierock actuel, méconnaissant sciemment frontières nationales et artistiques. Prolongement « naturel » du collectif praguois AM 180, créé en 2002 par Å tepán Bolf, Jakub Hosek et Anezka Hoskova, ayant pour activité principale l'organisation de concerts et de performances en tout genre, Arty Maniac Discs, est né en 2007 à  l'occasion de la sortie de l'album Songs About God, Love And Bitches du groupe post-punk Climatizado, l'une des seules références tchèques du label avec Table ou Dné. S'ensuit une pause d'environ deux ans durant laquelle les affaires d'AM 180 prennent le pas sur les activités balbutiantes du jeune label et ce, jusqu'à  l'arrivée de l'artiste underground Rado Zrubec au sein du collectif. Appliquant à  la bête un traitement cardiaque à  forte teneur en amphétamines, Arty Maniac Discs renait de ses cendres et se conjugue au présent sous l'acronyme Amdiscs, proposant son savoir-faire à  une multitude de groupes américains, mais aussi russes, portugais, mexicains et canadiens, tout en s'entichant d'une blogosphère indie en perpétuelle extension. Variant les styles et les plaisirs, avec pêle-mêle, la pop-shoegaze de Ghost Animal, la chillwave embrumée de unouomedude et Teams, l'énergie punk des Young Adults, la psyché-noise de Chrome Wings, l'expérimentale camée de Mickey Mickey Rourke, CVLTS, ou Pink Priest, la pop synthétique de Coolrunnings et celle racée de Jeremy Jay, l'ambiant éthérée de Teen Porn et de Persona La Ave, ou encore la witch haus viciée de Dream Boat, l'hallucinante Asapizza Anal Compilation reste le témoignage le plus déroutant d'une diversité ne rimant pourtant jamais avec hétérogénéité. Un esprit commun unit les groupes au label, qui, s'ils ne sont pas forcément cul et chemise, partagent cette même liturgie de l'anonymat et de l'effacement de l'artiste derrière sa musique. De même, à  rebours de l'industrie du disque étudiant son marché histoire d'imposer les goûts préfabriqués de demain, une ligne de conduite sibylline façonne la philosophie du label : ne sortant que des groupes qu'ils apprécient musicalement à  deux cent pour cent, les activistes d'Amdiscs – à  savoir Anežka et Jakub HoÅ¡ek, Rado Zrubec et Å tepán Bolf – espèrent, avant toute chose, pouvoir divulguer leur musique au plus grand nombre possible. Supposant la recherche du support idoine, une véritable avalanche de sorties digitales, gratuites la plupart du temps, ou sous format cassette, ayant l'avantage d'allier fétichisme de l'objet et moindre coût de production, déferle depuis 2010 à  la faveur de nos esgourdes, soit trois parutions cassettes pour une trentaine digitale. Traçant sa route sur les décombres encore fumants d'un music business littéralement transfiguré par internet, Amdiscs n'attend pas même 2011 afin d'inaugurer son catalogue vinyle : tel un symbole d'étroite connivence, la première référence est un split vinyle de Coma Cinema et Teen Porn, dernier projet en date de Matt Cothran et Rachel Levy de Kiss Kiss Fantastic, à  commander par ici, quand la seconde est un LP, disponible par là , des trublions punk de Young Adults. Nul doute que l'histoire n'est pas prête de s'arrêter en si bon chemin. Preuve en est, l'ineffable mix – agrémenté d'un bonus – écoutable et téléchargeable ci-dessous, que Rado nous à  concocté, en plus d'avoir répondu à  nos quelques questions. Cerise sur le gâteau, le clip inédit des Américains de Dream Boat, à  visionner par là .
Entrevue avec Rado Z.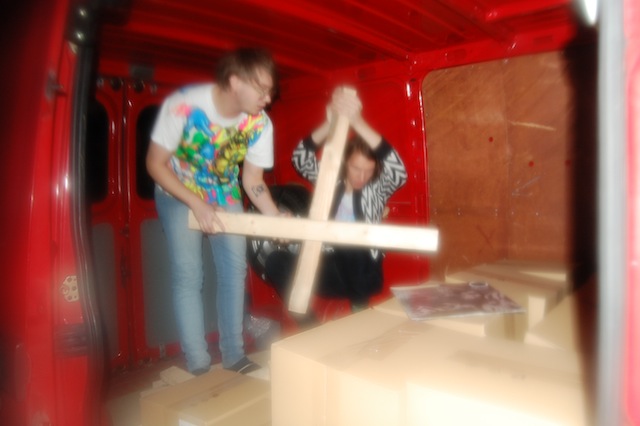 Peux-tu présenter Amdiscs en quelques mots ? Dis-moi comment Amdiscs est né, qui est derrière et comment vous vous êtes rencontrés et quelle fut l'idée à  l'origine ? Pourquoi ce nom, « Future Reserve Label » ?
Can you present yourself in few words? Tell me how Amdiscs was born? Who is behind? How you met and which was the idea of origin? Why this name, « Future Reseve Label »?
Pour répondre à  la première partie de ta question, certains d'entre nous viennent de l'Europe de l'Est, essentiellement de Prague, et d'autres vivent en périphérie de villes comme Londres ou New-York, un peu à  la manière de gens défavorisés voulant profiter d'une location dans un milieu économique développé. Nous avons tous une soif inétanchable de musique, pour la plupart sous-estimée, et renforcée par notre goût pour l'inconnu. Le label compte aussi des gars impliqués dans A.M.180 collective, Creepy Teepee Festival, All Everyone United et des pages tumblr qui valent la peine d'être mentionnées comme Gothic Disneyland ou Mnauk (une page dédiée aux Lolcats). Amdiscs est né en une belle journée de l'année 2007, puis est tombé dans le coma jusqu'à  sa résurrection cette année. Nous avons choisi le nom Future Reserve Label parce que nous aimons imaginer d'où l'avenir tire son origine, quelle est la graine qui détermine sa forme. Nous avons essayé de penser un futur dans lequel nous aurions un réel pouvoir politique et où la dévalorisation du génome humain serait évitée, par des fêtes sans alcool, par exemple.
To pin down the answer for your first question, we are bunch of guys from eastern europe, mostly living in Prague or nearby cities like London or NYC, sort of a poor relatives who want to profit from rent in developed economics. We all have an inconsolable starving disorder for great sounds, mostly underrated, and stressed by our questionable farts. Behind the label are guys who are also behind A.M.180 collective, Creepy Teepee Festival, All Everyone United, and some tumblr's which are worth mentioning (Gothic Disneyland, Mnauk). Amdiscs was born on a sunny day back in 2007, then it fell into coma, in its present habitat it was brought to life earlier this year. Future Reserve Label, because we remember where the future set its seeds and grew into how we know it now, we just spent time imagining the future in which we gain real political power and prevent the overall devaluation of human genome, like party without alcohol, or something…
Si tu devais définir Amdiscs en trois mots, quels seraient-ils ?
If you had to define Amdiscs in three words, which words you would choose?
Tout en un.
All in one.
Quel est la ligne de conduite du label ? Il y a une esthétique, un concept que vous essayez de conserver à chaque sortie ?
What is the guideline of the label? Is there an aesthetics, a concept which you try to keep at every release
Le fil conducteur est notre goût, et il est incontrôlable. Il est comme un bâton d'aveugle que nous baladons autour de nous. Nous aimons découvrir de nouvelles choses que nous ne cherchions pas forcément. Ensuite, nous dépensons notre énergie à  défendre chaque chose que nous avons découverte, c'est une sorte d'engagement volontaire.
The guideline is our taste, and our taste is incontrollable, thats all we got to say, our taste is like a blind guys stick, we just swing with it all around. We love to find something we weren't searching for, in the end we share our energy with each thing we stumble upon, its a sort of voluntary commitment.
Comment choisissez-vous les artistes avec qui vous travaillez ?
How chooses artists with whom you work?
Ils nous choisissent par leur musique.
They choose us by their music.
Quels sont les relations entre les groupes et le label ? Il s'agit juste de sortir leurs disques ou les relations peuvent être plus fortes et durables ?
What are the relations between the groups and the label? It is only for an release or the relations are stronger and more sustainable?
Parfois, les relations que nous entretenons sont vraiment courtes, lorsque l'artiste se rend compte que nous n'allons pas lui ouvrir la voie vers le sommet. Mais c'est plutôt rare. Dans tous les projets dans lesquels nous nous engageons, nous trouvons quelque chose qui répond à  l'un ou l'autre de nos désirs. Nous aimons l'idée que, d'une certaine manière, c'est différent pour chacun. Mais nous aimons ces artistes qui nous forcent à  signer des contrats, c'est une garantie que nous gagnerons beaucoup d'argent…
Sometimes we do have really quickie relationship, when the artist doesn't get that we are not gonna pave him the way to charts.It's like no cock no drama. But thats odd. In all of the guys with whom we work together, is to be found something that appeals to some of our desires, we like to cherish that in certain way, with everyone its different. But we like those artists who force us to sign contracts most, its a guaranty that we will earn a lot of money…
Amdiscs a une attirance particulière pour la musique indie américaine ?
Particular charm for the music indie american?
Qualifie-nous d'indie rockers…
Call us « indie rocker »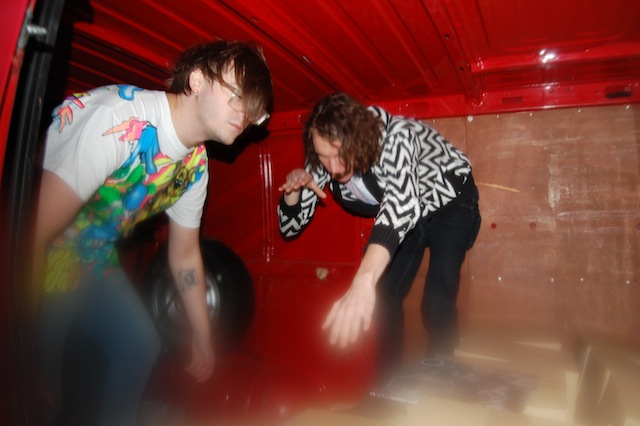 Comment se porte la musique indépendante en République Tchèque ?
You are Czech. How goes the independent music over there?
Pas trop bien mais soyons optimistes, même si ça sonne neuf, mais nous remercions le ciel de réaliser nos fantasmes.
Less than desirable cause shit ain't a big deal, even if it sounds like brand new, but we still thank god, facing our fantasies.
Trois groupes tchèques pour vingt-sept groupes américains dans votre catalogue ! Putain ! Ils ne savent pas se servir de leurs dix doigts dans ton pays ?
Three Czech bands for twenty seven Americans! Damned! They do not know how to use their ten fingers in your country?
On trouve toujours de la détermination pour rester debout et on peut trouver des maîtres auxquels s'identifier mais le nombre de groupes étrangers est supérieur, nous n'avons juste pas le temps de mettre le site à  jour pour le moment.
You still find fortitude to stand up, and there can be found mantors to look up to. But the number of foreign bands is bigger we just dont have time to update the website nowadays.
Quels sont les amis d'Amdiscs dans une blogosphère en perpétuelle expansion ?
What are your friends in a blogosphere ceaselessly in extension?
Beaucoup de personnes nous aident consciemment ou non, et je les en remercie tous. Nous voulons surtout remercier Pitchfork. Ce sont des gens qui nous aiment et nous détestent à  la fois, et ce qui est marrant c'est qu'avec le temps on n'arrive plus à  savoir vers quoi penche la balance.
Lot of guys knowingly or unknowingly help us, and here goes the thnx to all of them. But we want to thank Pitchfork in the first place. There are guys who like us and hate us too, funny is that in time we just dont have time to update the website nowadays.
Que peux-tu me dire sur vos relations avec Mat Cothran (Coma Cinema) et Summertime In Hell ?
Tell me more your friendship with Coma Cinema and Summertime in Hell?
Il n'y a pas grand chose à  dire. Mat Cothran veut devenir une star du x et nous avons donné notre accord.
There is not much to say, Mat Cohran wants to be a porn star, and we just agreed.
Justement, Teen Porn (Mat Cothran + Rachel Levy)… c'est excitant ?
Teen Porn should be exciting ?
Teen Porn est excitant… mais probablement pas pour ceux qui en scrutent la sortie chaque jour, ça pourrait avoir un effet débandant.
Teen Porn is exciting, but probably not for those who check it out on a daily basis, for them its a sort of a cockblock.
Tu peux me dire quelques mots sur Ghost Animal ?
Tell me some words about Ghost Animal…
Ghost Animal est un duo gars-fille radical qui produit des sons fabuleux. C'est assez ? On prévoit de sortir avec un peu de chance un 7″ dans un futur proche. Nous y travaillons déjà . Ce serait pour fin novembre.
Ghost Animal is really rad guy and girl duo doing really awesome sounds, is that enough? There will be 7″ dropping hopefully in near future, we are working on that already. Check it out late november.
Pourquoi Jeremy Jay sur Amdiscs ? Comment les choses se faites avec lui ?
Why Jeremy Jay is on Amdiscs? Say to me how things were made with him?
C'est un contrat qui a impliqué des avocats et des millions de dollars. Cela a nécessité d'importants transferts sur des comptes bancaires.
It was a deal involving lawyers and millions of dollars. Some major shifts on bank accounts occured…into debut…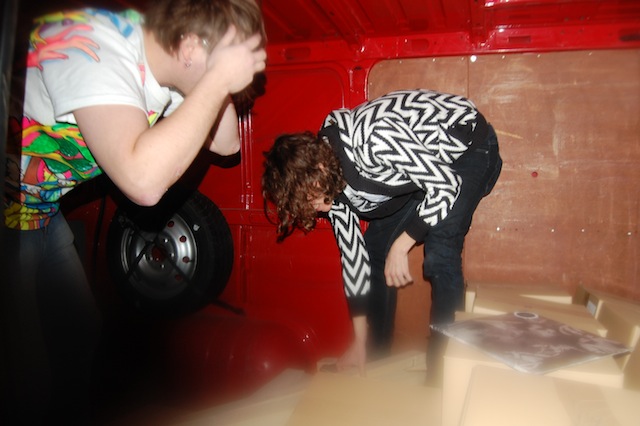 Tu fumes des joints à  cinq du mat' en écoutant CVLTS, Pink Priest et Mickey Mickey Rourke. Lequel de ces trois groupes provoque la plus grosse montée ?
You smoke joints by listening to CVLTS, Pink Priest and Mickey Mickey Rourke at five o'clock a.m. Which one provokes the biggest trip?
Tous ces artistes ont le même pouvoir de désordonner tes schémas mentaux et de jouer avec les cordes à  l'intérieur de ton squelette.
All of the above mentioned artists share the same ability to dig into your mental patterns, and play with the strings inside your skull.
Quel est le futur de Coolrunnings sur Amdiscs ?
What's the future of Coolrunnings on Amdiscs?
L'avenir de Coolrunnings sur Amdiscs est brillant.
The future of Coolrunnings on Amdiscs is bright.
Explique-moi The Asapizza Anal Compilation : une orgie comme testament précoce ?
Explain me the Asapizza Anal Compilation : a early testament in the form of orgy?
As-tu déjà  essayé de changer la tonalité d'une vuvuzela ? Essaie…
Have you tried to change pitch on vuvuzela? Try it…
Quel est ton coup de cÅ"ur du moment ? Le truc qui te rend addict…
What are your knocks of heart of moment? The things which make you addict…
Jaromir Nohavica avec Comet Karaoke.
Quel est ton sentiment sur l'industrie de la musique et internet : les rapports de force ont-ils changé ? La musique a-t-elle un prix ?
What's your feeling with music industry and internet? Things are different? The music doesn't have more price?
La musique a toujours un prix mais cela dépend de la manière dont on voit les choses, de l'évaluation.
Music has a price, depends on the evaluation.
Quel est le futur proche d'Amdiscs ?
What's the near future of Amdiscs?
Des vinyles et du papier hygiénique.
Vinyls and toilet papers.
Peux-tu présenter la mixtape que vous nous avez concoctée ?
Can you introduce your mixtape?
Notre mixtape est composée d'artistes recrutés pour l'occasion. Personne ne voulait contribuer, mais finalement on les a obligés, Hartzine n'est pas encore assez connu… en tout cas par eux.
Our mixtape consist of artist we have spoken into it, nobody wanted to contribute, but we finally pushed them into doing it, hartzine is not that famous yet…for them
Pour finir, demande-moi quelque-chose.
For finishing, ask me anything…
Tout a déjà été demandé.
Anything asked…
Traduction : Calogero Marotta
Mixtape
Mind Blowing Mix for Hartzine, Brain Peeling (download)
Tracklisting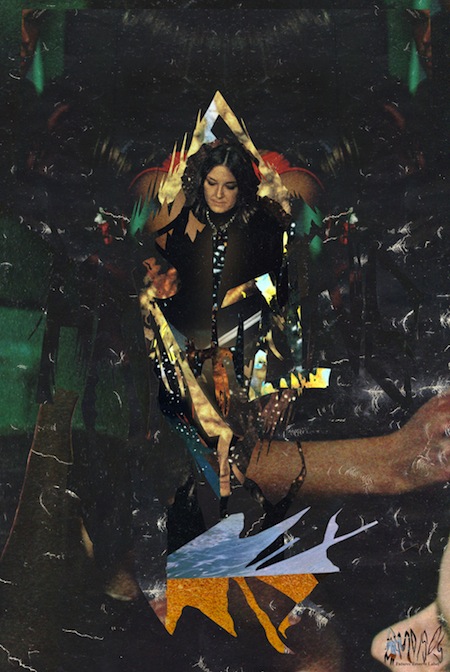 01. Every – Check in Deck Trite
02. Tempelhof – Crakkhouse
03. Wild Eyes – Dark Rooms
04. Lord Boyd – Space Jordan 96
05. Red Psalm – Monster City
06. Monroeville Music Center – Panopticon Curator's Hymn
07. Λ – Nothing
08. DannielRadall – Lil'john
09. Teams – Comfort Slave (Instrumental)
10. Nites – It is an Excuse to Get Hurt and to Hurt
11. Police Academy 6 – 1Lesb
12. BL¤¤d Ou† – †DF
13. Family Den – AM Vibe
14. Teen Porn – Whori Amos
15. Chrome Wings – Wake me up When it's Summer
16. Port City – Ambrosia (Redux Demo)
17. Spent Man (Maine Coons) – Cannibal Laughter
18. BL¤¤D Ou† – ¤PNNR¤
19. Λ – Tide Plane
20. Dreams – Gone
21. Lord Boyd – Your Temple
22. Faux Fur – Vukk Roz
23. Kiss Kiss Fantastic – Lovely
24. Jef Barbara – Homme Universel
25. Sensible Soccers – Have a Summer With Us (Filipe)
26. Coolrunnings – Chorus
27. Persona La Ave – Pornwave
28. Every – Flood Steps
29. Outro Every – Triangularathonanon

Artwork par Jakub Hosek & Rado Z.
Samples extraits des prochains album d'Every, Halley Con, et Monroeville Music Center.
Les liens correspondent à  des pages du site d'Amdiscs.
Bonus Mixtape
Other Side (download)
Tracklisting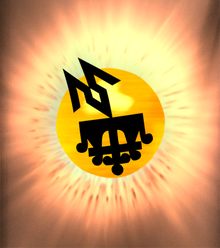 01. Lx7x – Other Side
02. Wild Eyes – Northern Darkness
03. Coma Cinema – Blue Suicide
04. The Present Moment – Loyal to a Fault
05. Wool – Sort of Dues